Learn how to build a desk in a closet for the perfect small space solution.
One of the most important parts of my office & craft room makeover was a desk. It is first an office, and I need a place for my computer. When I first took over our old nursery, I knew immediately I wanted to build a desk in a closet in this room. There are two 5′ closets in this space.
It was a great way to add a desk without taking up much needed crafting space. Also figuring out how to build a desk in a closet was the perfect budget friendly solution since I am redoing this entire space for only $100!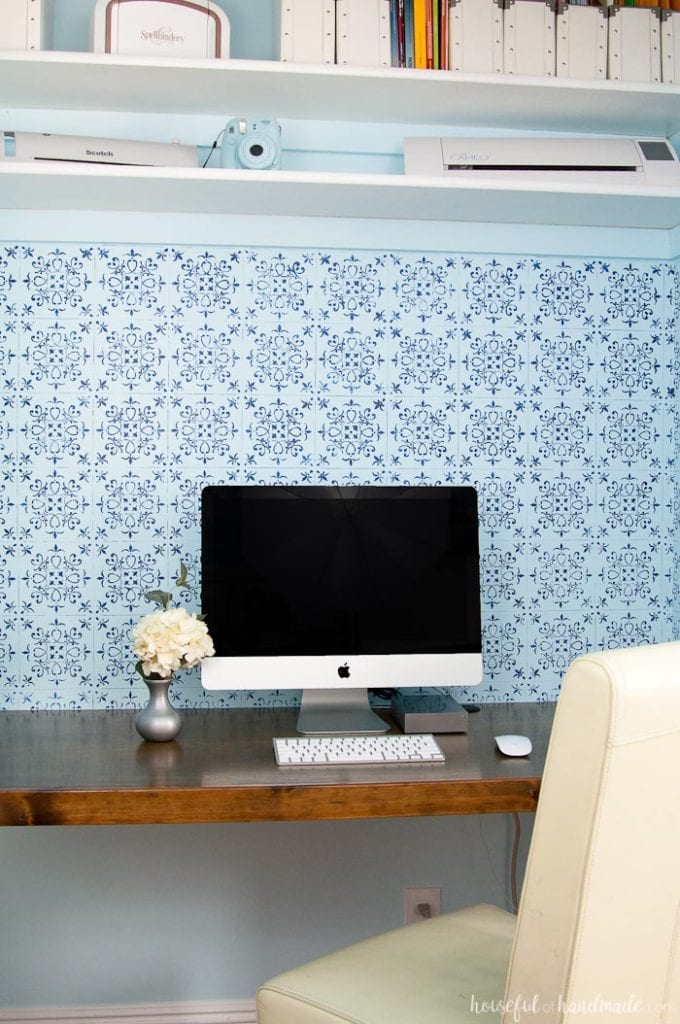 Yep, you read that right! I am redoing my entire office & craft room for only $100 as part of the the $100 Room Challenge. It may seem impossible to makeover an entire room for only $100, but it it totally doable with just a little creativity. Which is why this desk in a closet was the perfect solution.
I knew I could build a desk, but the cost of wood can easily come to $100 alone. That leaves me with nothing for the rest of the room. But in a closet, I only need to build the top, no legs are needed, so the cost of wood is much less. I built this entire thing (and painted the space) for only $40.
One of the things I was worried I would miss what the drawers on the side of my desk. You know, someplace to keep pencils and such. But I don't miss it at all. I am making a cute little desk organizer to hold the things I need immediate access to, and the rest are stored with all the other craft stuff in my room.
And I can tuck a little trash can under my desk now, where before there was no room for one.
I also love that I have walls on either side of my desk. I was afraid I would be claustrophobic at first, but instead I love those little walls. My plans for the room include a paper organizer one of these walls. I also plan on doing some cute mirrors or other decorative pieces for my new favorite space.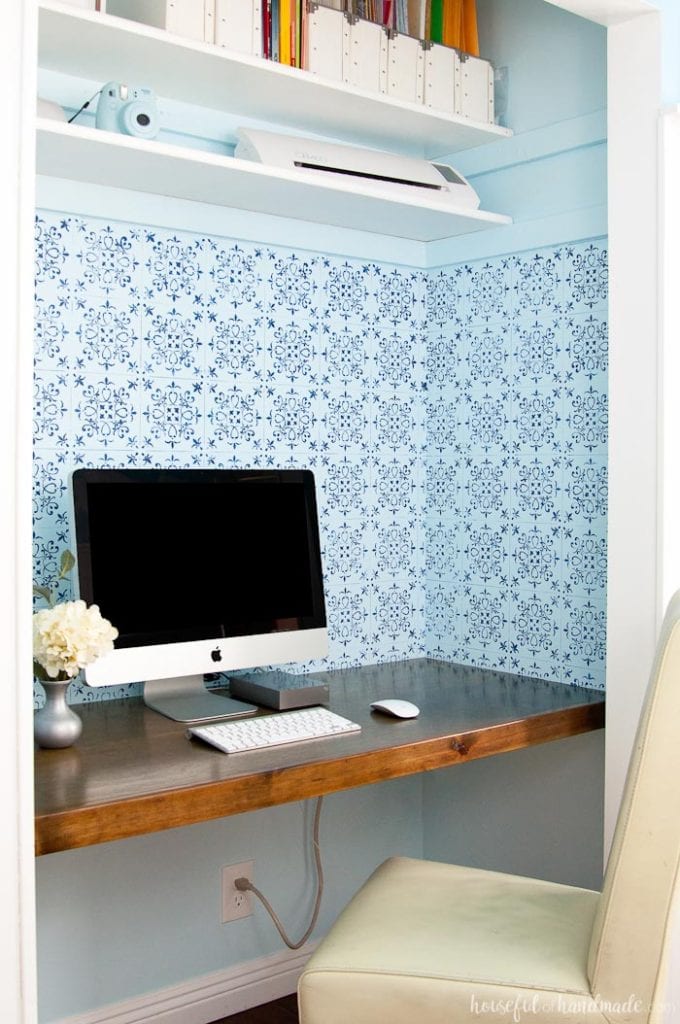 Since this was a clothing closet, there were already a couple shelves. I just moved them up and out of the way. I also moved them closer together and now they are the perfect place to store my paper crafting supplies.
Plus, I am planning on hanging a couple sconces from the shelves to add a little more light to my desk area, which will come in handy when I am working late at night.
After I got the desk built, I needed to decide on how to paint the area. I had a bit of paint left over from our dining room and since I absolutely love the color, it was the perfect solution for my budget remodel. But I needed something more.
After tossing around a lot of ideas with my husband (thanks to a 6 hour flight layover on our trip to Hawaii), and looking at lots of beautiful inspiration rooms online, I decided I needed to add some pattern to my desk area.
A patterned wall can be a little intense, but in a closet desk area, it adds the right amount of chic without taking over the whole room. I created a stencil that looks like the patterned tiles that are popping up all over home designs these days.
This is the best way to get the high-end look of hand-painted patterned tiles for just a few dollars and a few hours of work. I couldn't be happier with how it turned out!
If you want to see how to build a desk in a closet for just $40, click the arrow below for the tutorial. And to see how I am doing with my $100 Room Challenge this month, check out the week 2 update and then follow along to see all the creative (and budget friendly) projects.