Create a DIY vertical garden for the perfect small space garden solution.
This cedar vertical garden has a lot of space to grow your favorite herbs and plants. And the built in drip watering system will help make watering your vertical garden even easier.
Now that spring is officially here, it's time to start gardening. I look forward to getting dirt under my nails each year.
I partnered with Kreg Jig to create this easy DIY vertical garden that's perfect for a small outdoor space.
You can plant a lot in a small space by going vertical!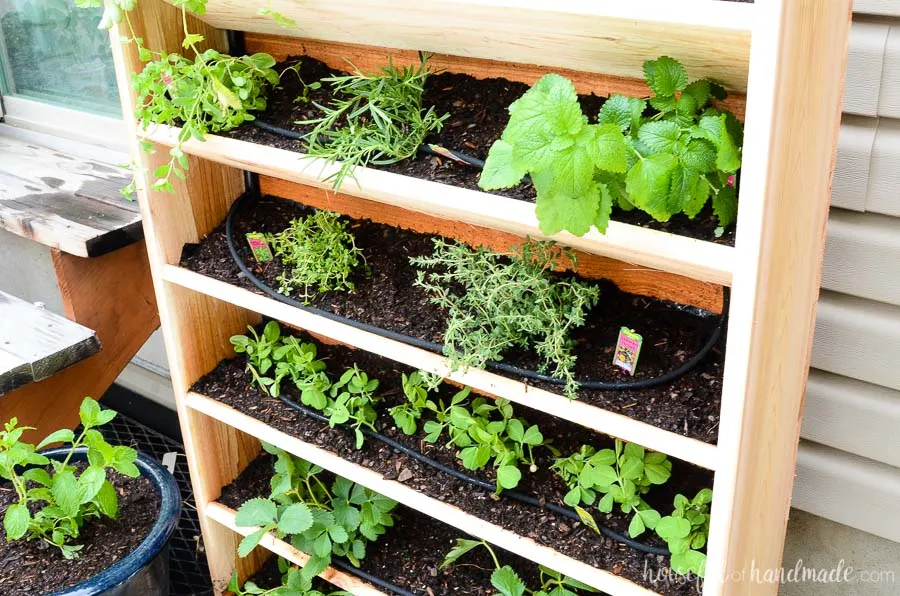 We have a small backyard, but we use ever inch of it!
Between our outdoor kitchen & dining room, outdoor playhouse, seating area, vegetable garden, and of course a bit of grass for the kids to run, we are running out of space quickly.
So I am getting really good at maximizing our space. This vertical herb garden is the perfect solution. It does not take up a lot of room, but it holds a ton of plants.
And for even more vertical planting fun, check out this modern ladder planter. The two vertical gardens means I can grow even more!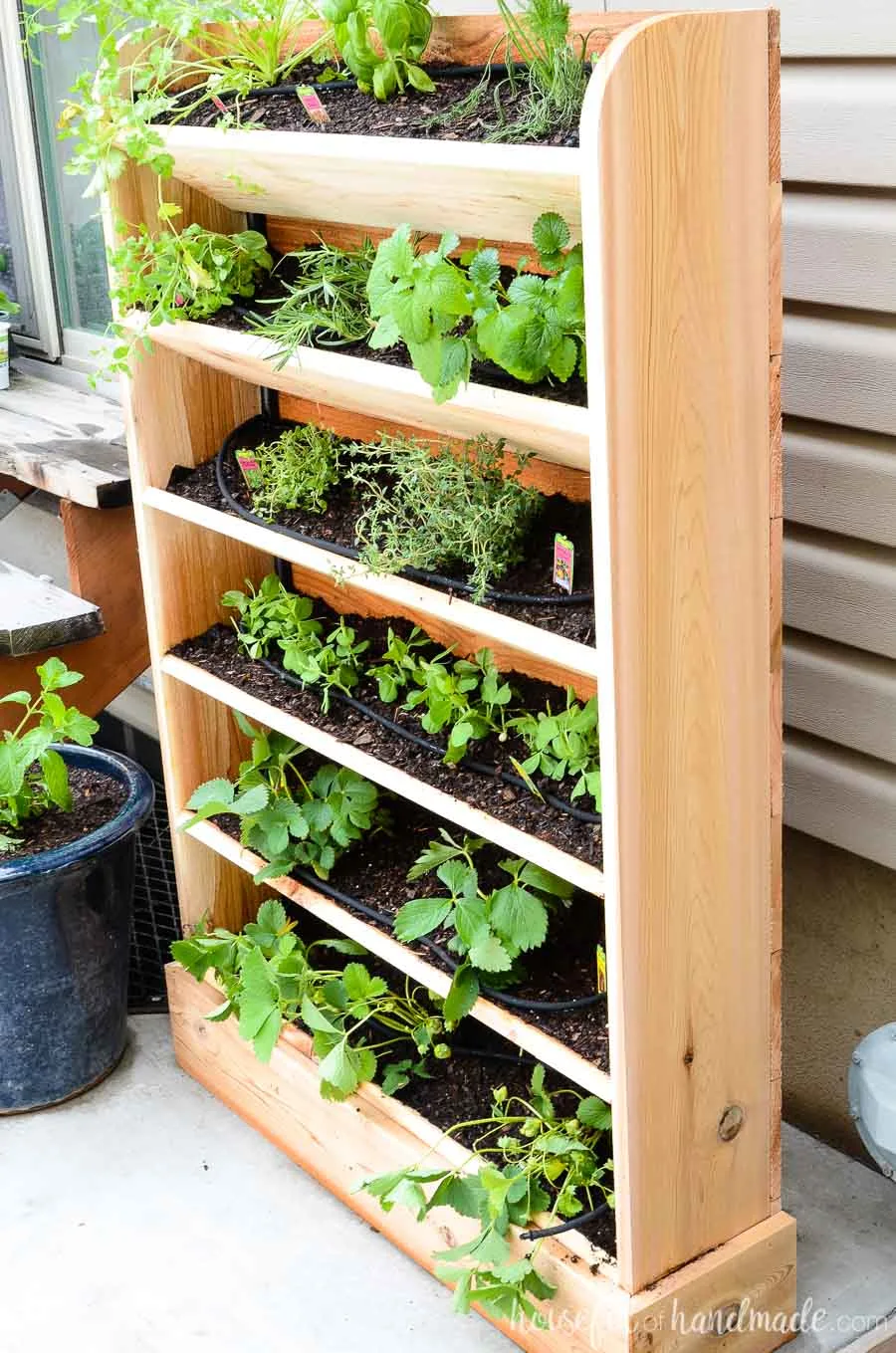 Vertical Herb Garden
Of course I added all my favorite herbs to our cedar wall garden. I have cilantro and basil and rosemary and more.
But since there was so much space, I decided to do some new herbs too. This is my first year planting lemon balm. And I have both English and German thyme.
But there was still space! The bottom 3 shelves are filled with snap peas and strawberries too. I can't wait for them to bear fruit. Yum!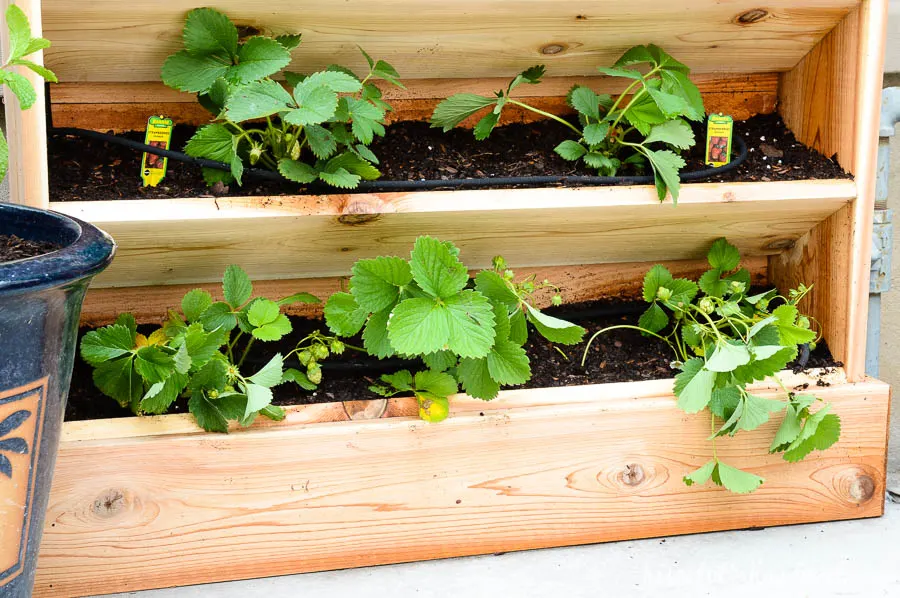 I did however keep the mint out of my herb garden. It tends to spread like crazy and so I like to contain it in a large pot.
Usually it grows back year after year, but last year it was mad at me for moving it while we installed the cement and didn't come back this year. Hopefully this new plant will like it's home and grow as well!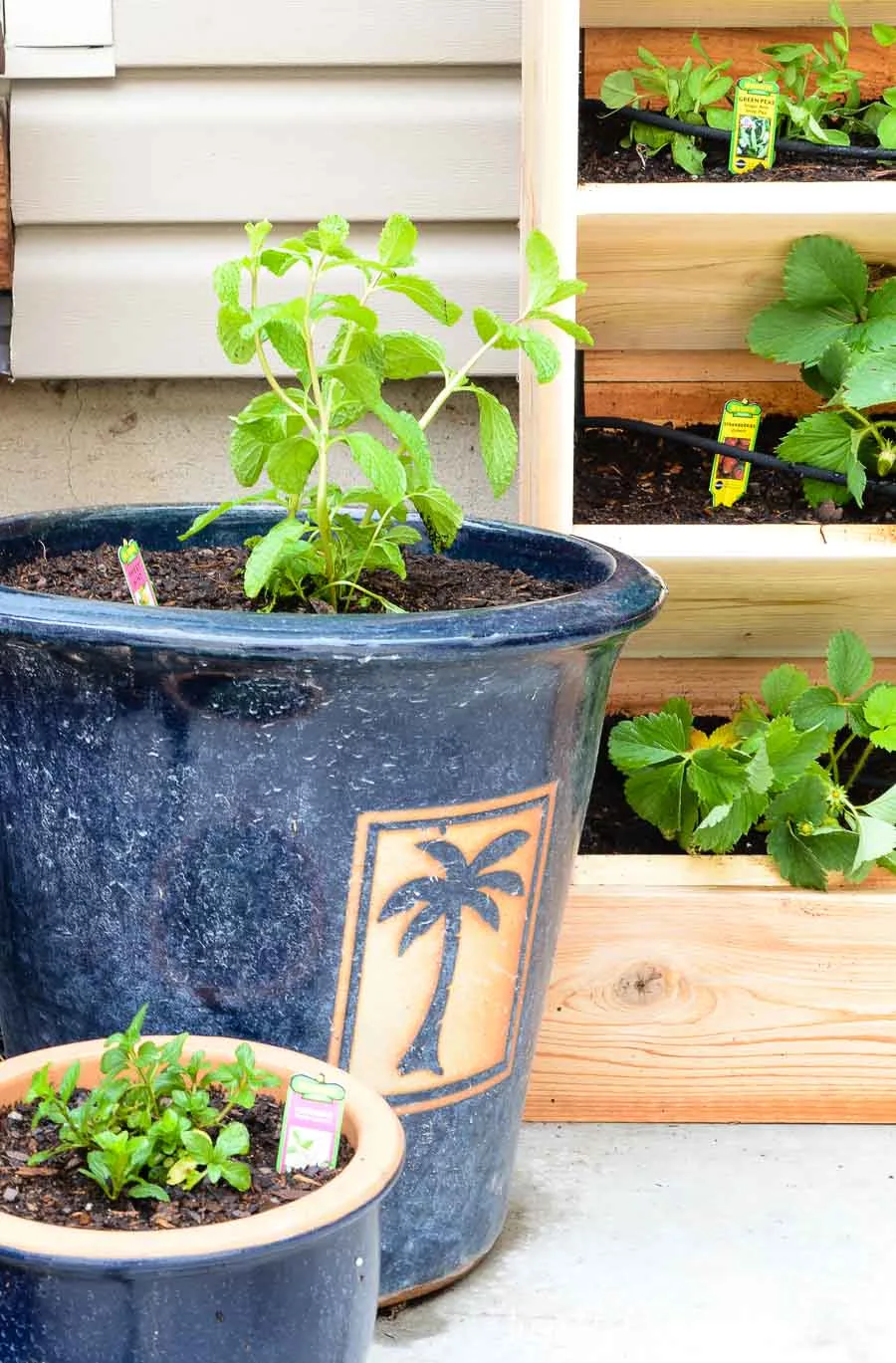 Quick and Easy Garden Build
This DIY vertical garden is a fun and easy build with the Kreg Jig. It came together in about an hour.
I made it out of cedar to withstand many years outdoors. But even better, you do not have to worry about finishing the cedar herb garden. Just build and you are ready for planting.
Unless you want to add a drip watering system like I did!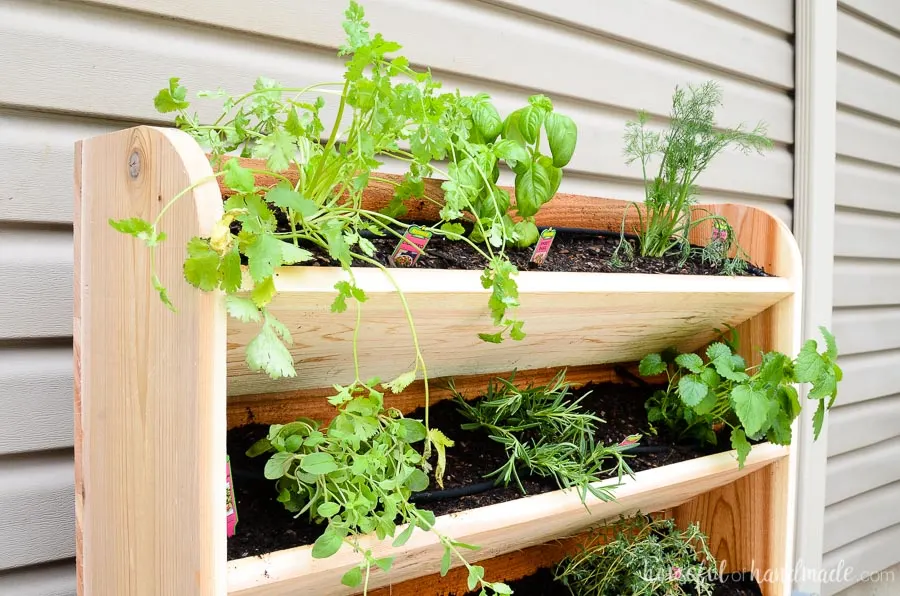 Vertical Garden Drip Watering System
As much as I love gardening, I suck at watering my garden. Sad, I know.
But I have found the perfect solution. I set up my vegetable garden on a drip watering system that is attached to our sprinkler system. Every year, I set it up when I plant the garden and magically my garden thrives.
Of course, I still have to try to remember to weed it, and fertilize it. But even if I forget, we still get a decent amount of vegetables each fall.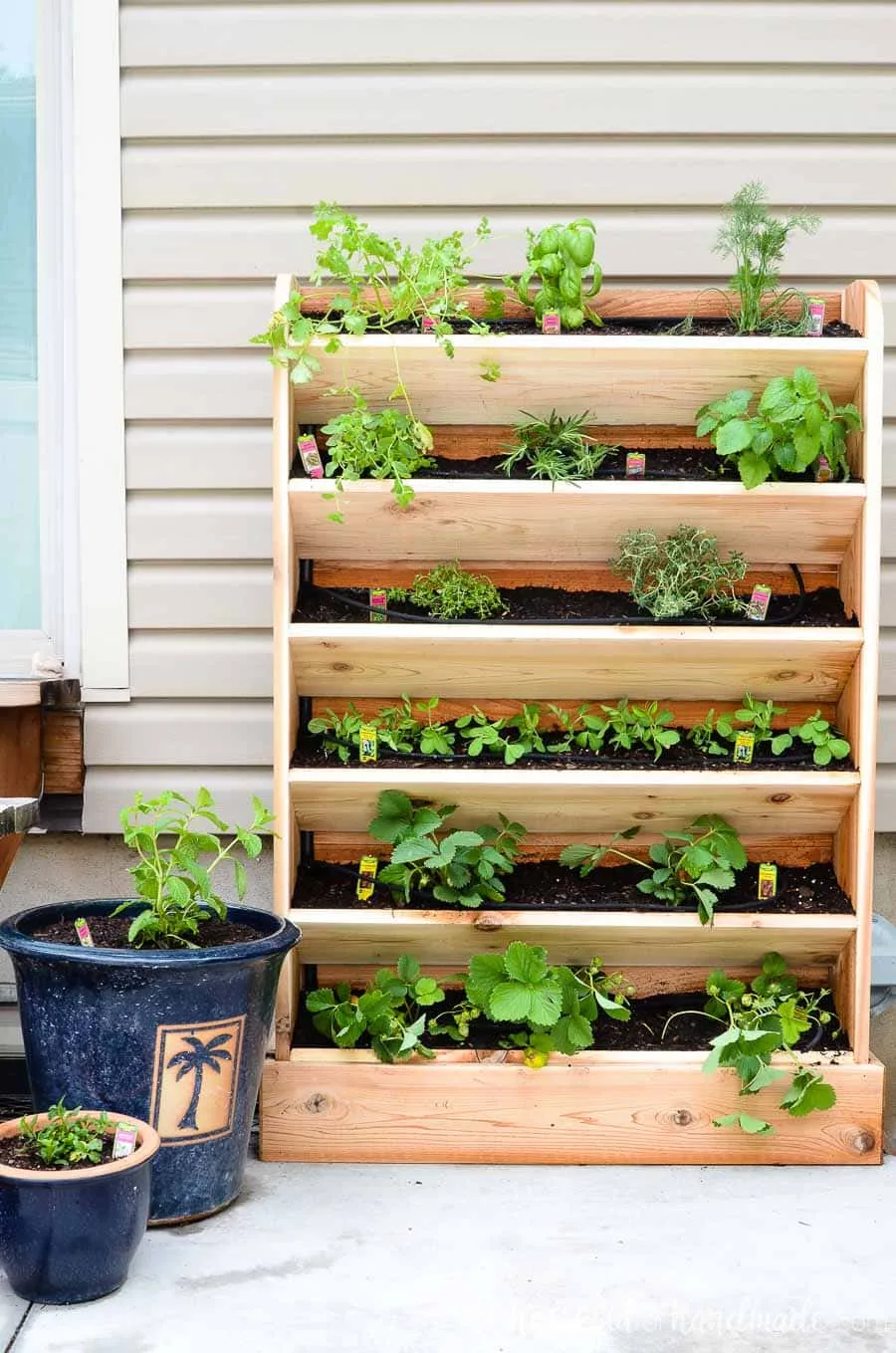 So I figured I would try to use that same system for our DIY vertical garden. I want to make sure my herbs thrive too.
The design of the vertical garden is perfect for adding a soaker hose to each shelf. And out the back you can attach a hose to it.
Did you know you can even buy timers to put on your hoses so they water automatically? This is going to be super sweet when we take our vacations this summer. We will come home to big bushy herbs because they will be watered even when we are gone!
Herb Garden Build Plans
If you are ready to build your own DIY vertical garden, I am sharing the free build plans on Kregtool.com.
And if you want to see how I installed the drip watering system, read below for all the details.
How to Install a Drip Watering System in the Vertical Garden
Supplies:
1/2″ cap
1/2″ compression elbow
Hose pressure reducer
1/4″ barb coupling
1/4″ end plug (or goof plugs)
Slide the 1/2″ tubing down the back of the herb garden. Keep it all on one side of the garden.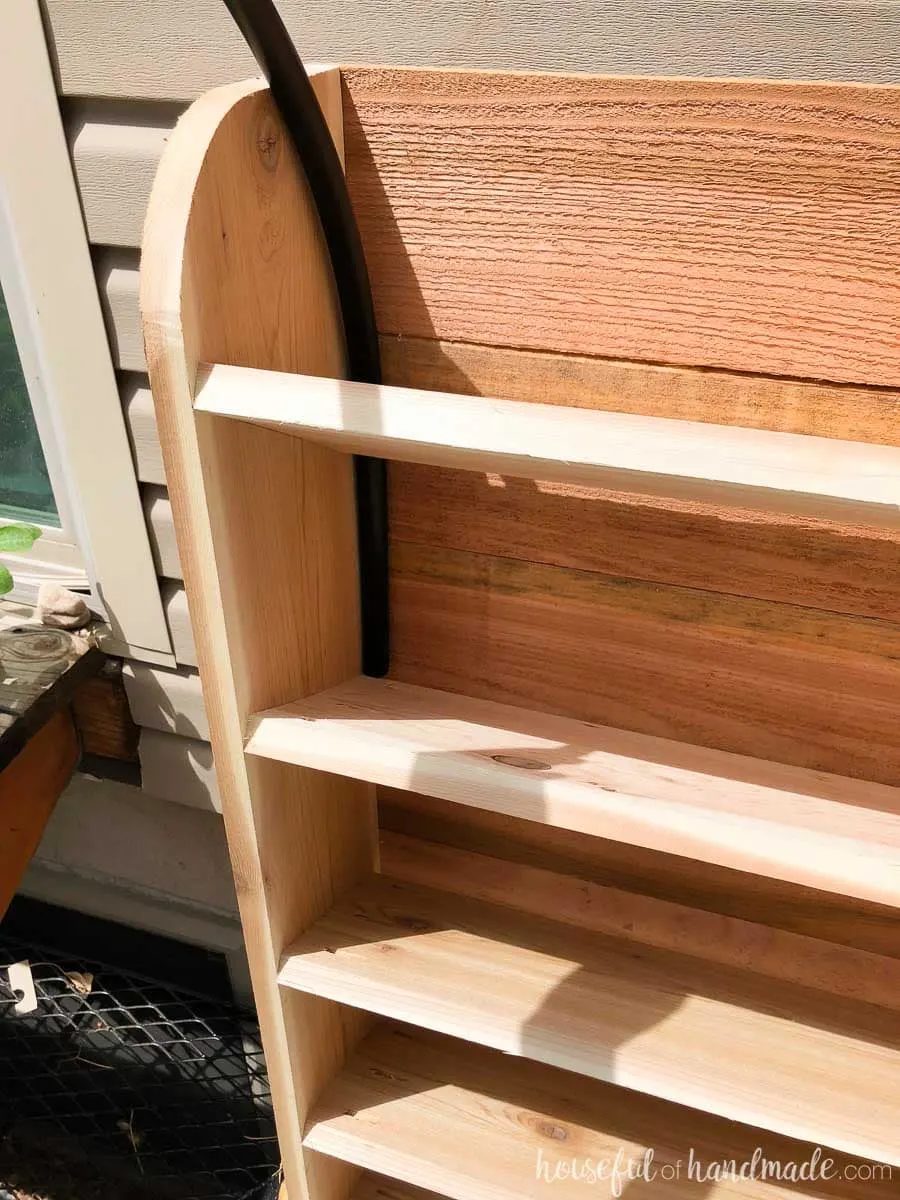 Lay the DIY vertical garden face down and pull the tubing out the bottom. Cut out about 1/2″ notch in the bottom of the back.
Press the elbow onto the bottom of the tubing and then press it tight against the bottom shelf of the garden until it is flush with the bottom of the base.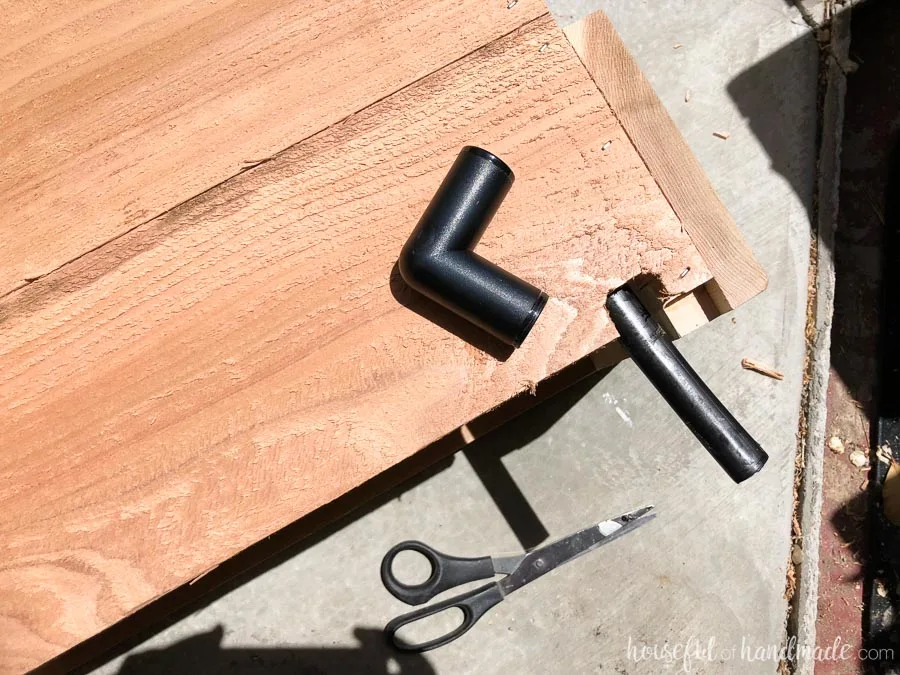 Attach another piece of tubing (abut 6″) to the other end of the elbow. This allows you to have room to pull the drip system end around to attach the hose.
Then press on the hose adapter. Screw on the pressure reducer then the back flow preventer. Now you can attach the hose to the back of the back flow preventer.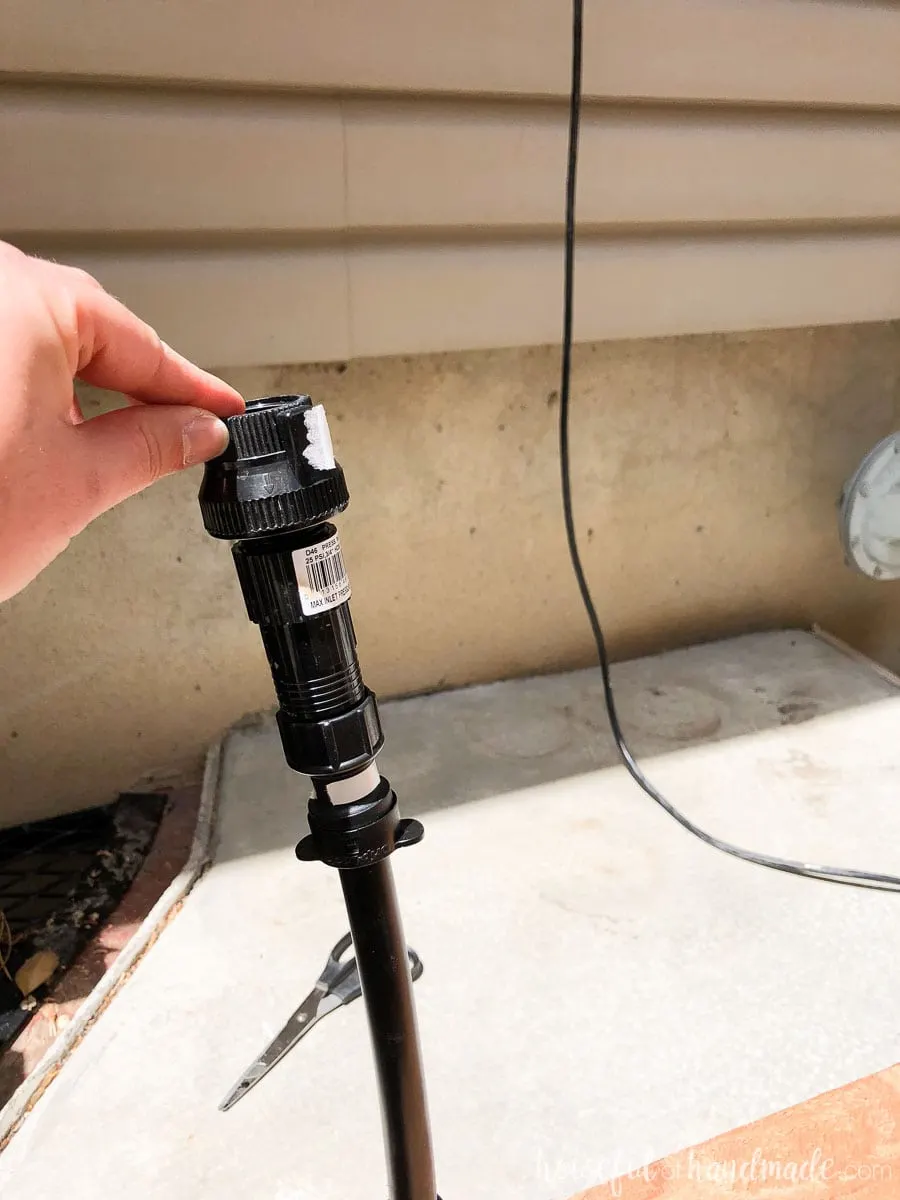 Cut the top of the 1/2″ tubing at the top of the herb garden and then attach the cap. I wish I would have left a bit more room to attach the soaker hose (mine was a little short on top).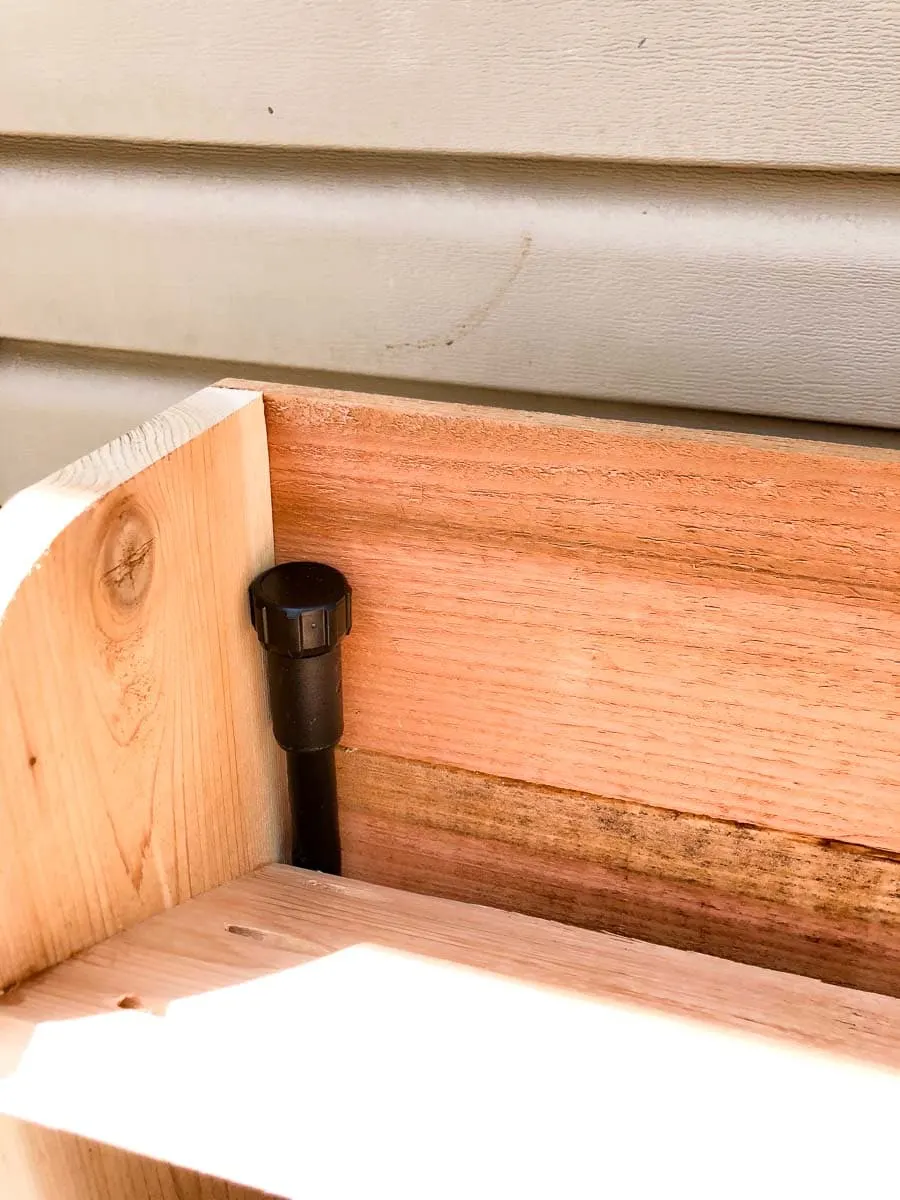 Add the landscaping fabric to the shelves of the vertical herb garden now. Poke a hole in the front of the 1/2″ tubing with the hole punch.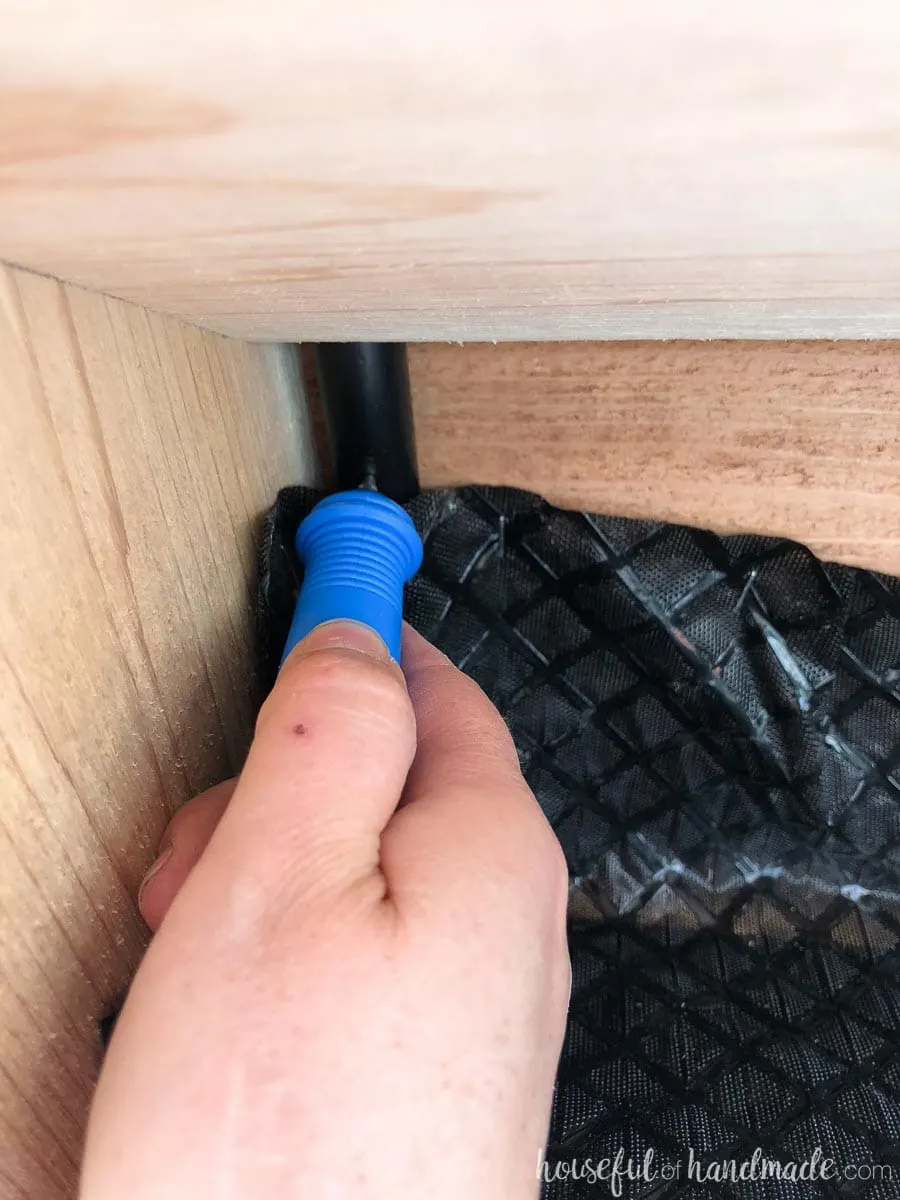 Cut a piece of soaker hose to fit across the garden shelf. Press a barb coupling into one end of the hose and a plug into the other.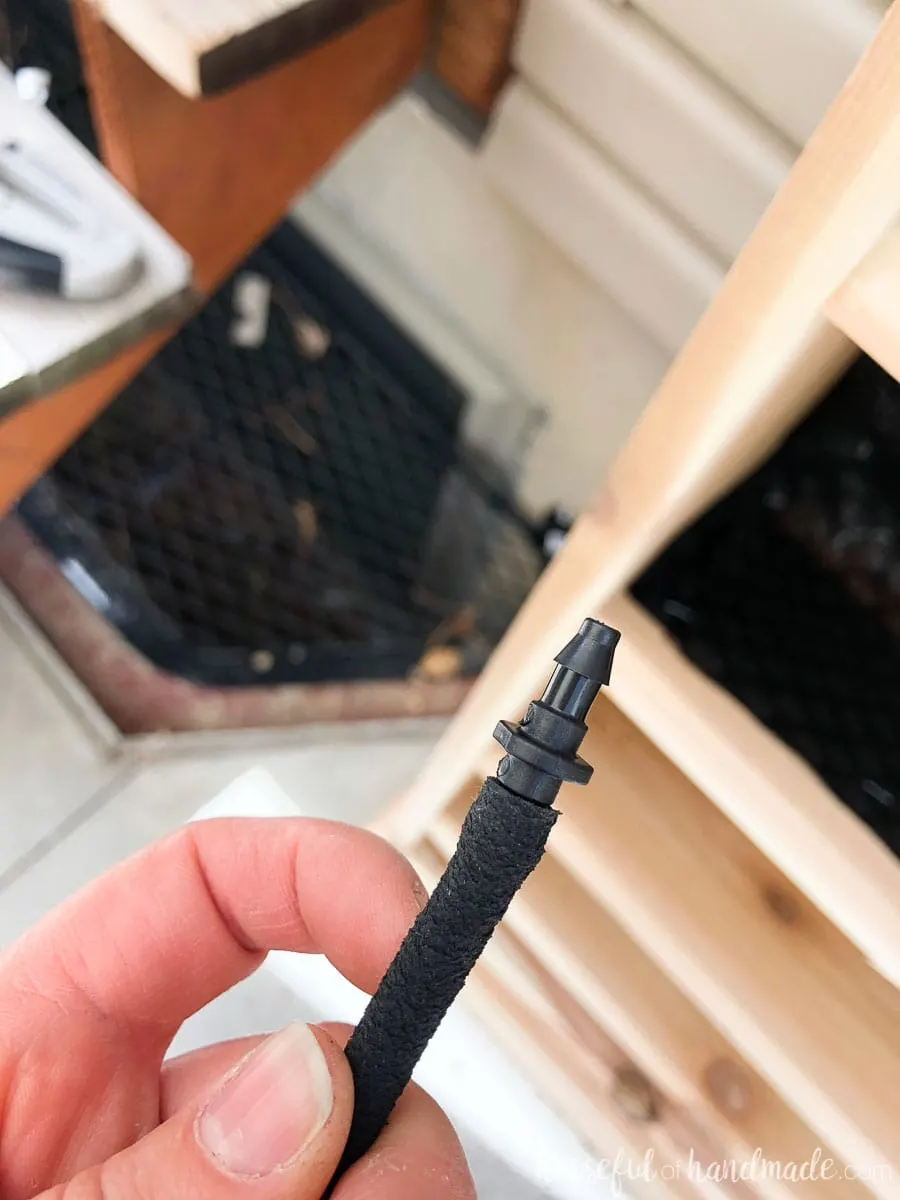 Press the other end of the barb coupling into the hole on the 1/2″ tubing.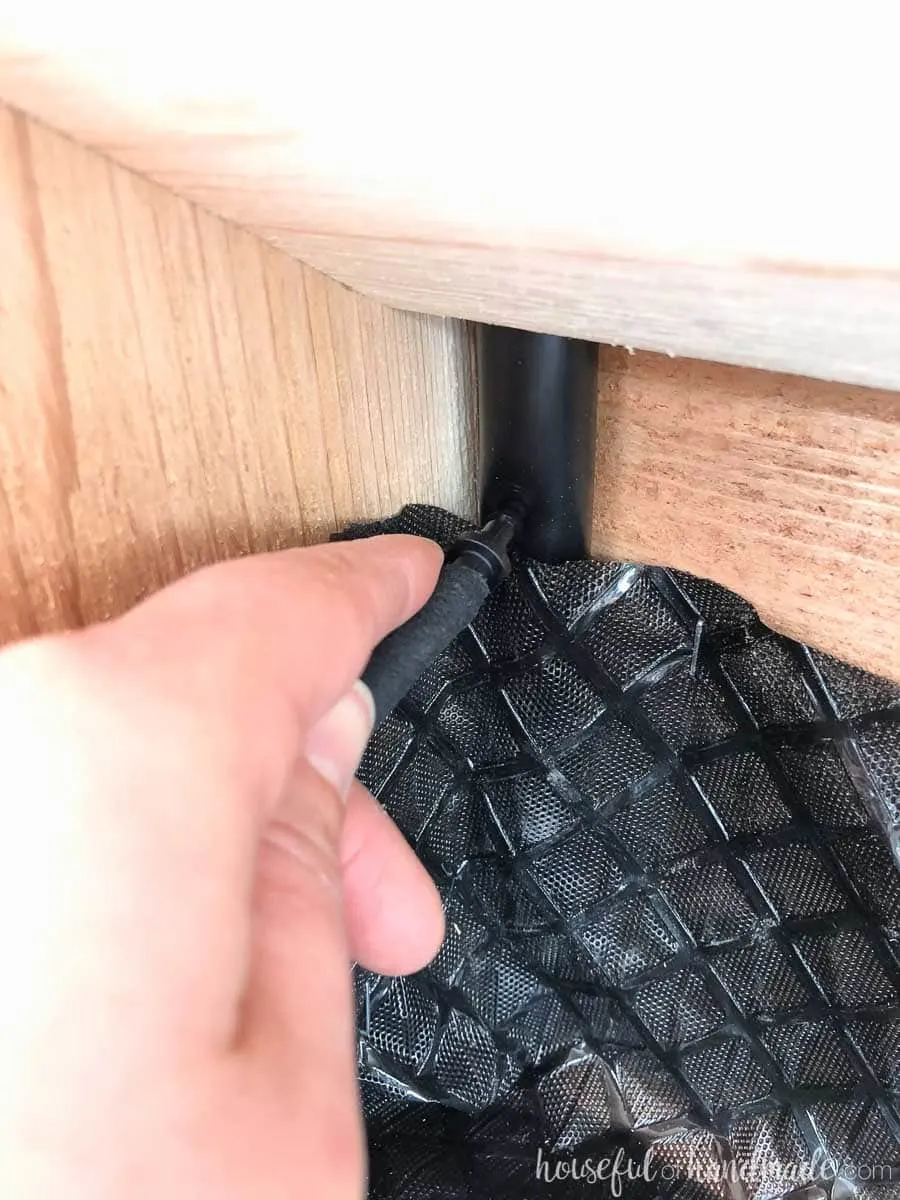 Now you are ready to fill your garden with your favorite herbs and plants. And when you are ready to water, just attach the hose to the end and turn it on.
Easy as that to have fresh herbs all season long!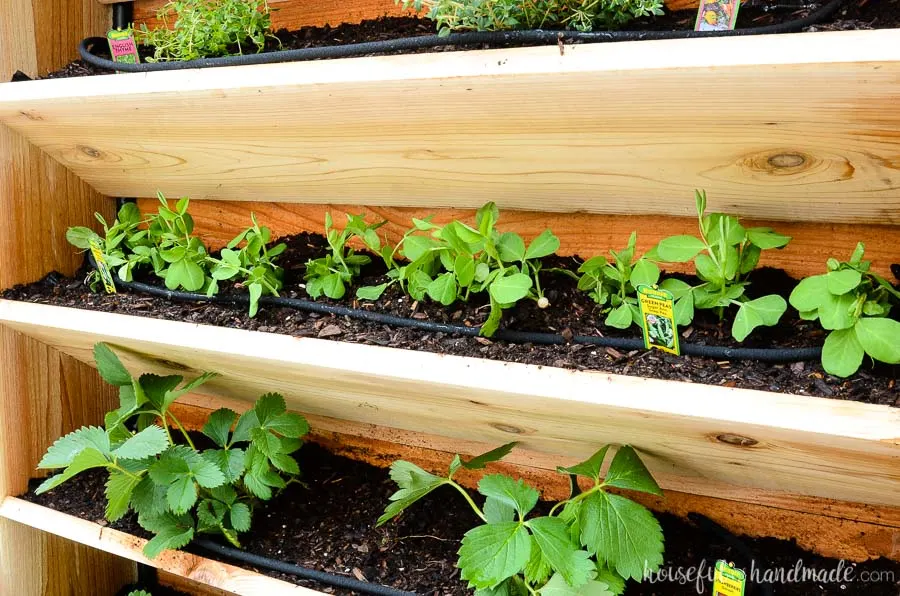 Happy gardening!