Learn how to build an outdoor playhouse for kids in your backyard. Complete with sandbox, slide, climbing wall, and clubhouse with roof.
Welcome to our outdoor playhouse, aka: The Adventure Clubhouse!
We were able to turn a corner of our patio into the perfect wooden playhouse for our kids this summer. Even though we do not have a large yard, the outdoor playhouse is full of fun.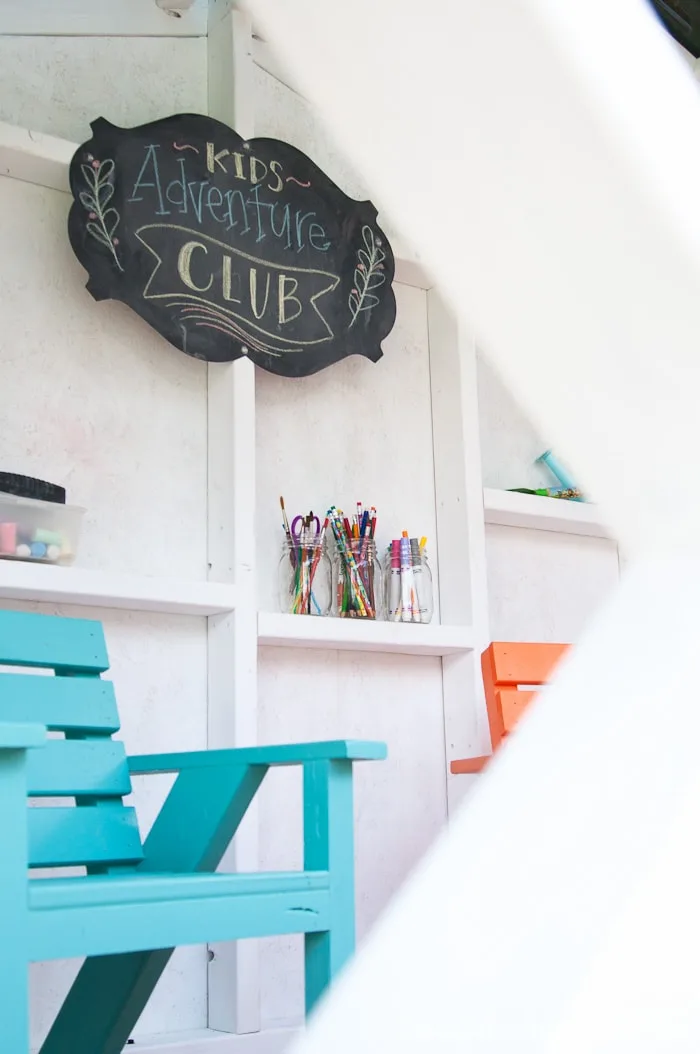 The kids spend hours in the sandbox, host club meetings in the clubhouse, and climb all over the wooden playhouse. I can't wait to share all the details of our playhouse build.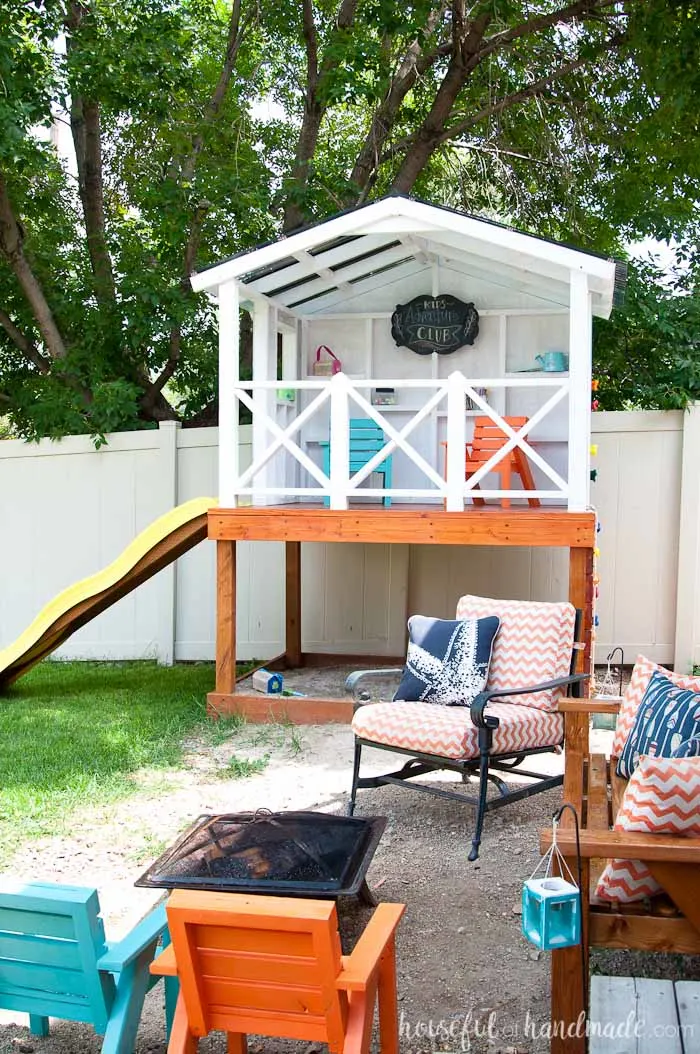 It's time for the last round of the Room by Room Summer series. I hope you have had as much fun visiting everyone's homes as I have.
Even though I wasn't able to share every room in our home, I did enjoy sharing our Summer Farmhouse Entryway Mudroom, Summer Kitchen & Dining Room, Bright Summery Living Room, and Decorating Ideas for a Summer Bedroom.
Now for the last week, everyone is sharing a bonus room. I figured it wouldn't be a proper summer home tour without sharing our favorite new room: The DIY Wooden Playhouse!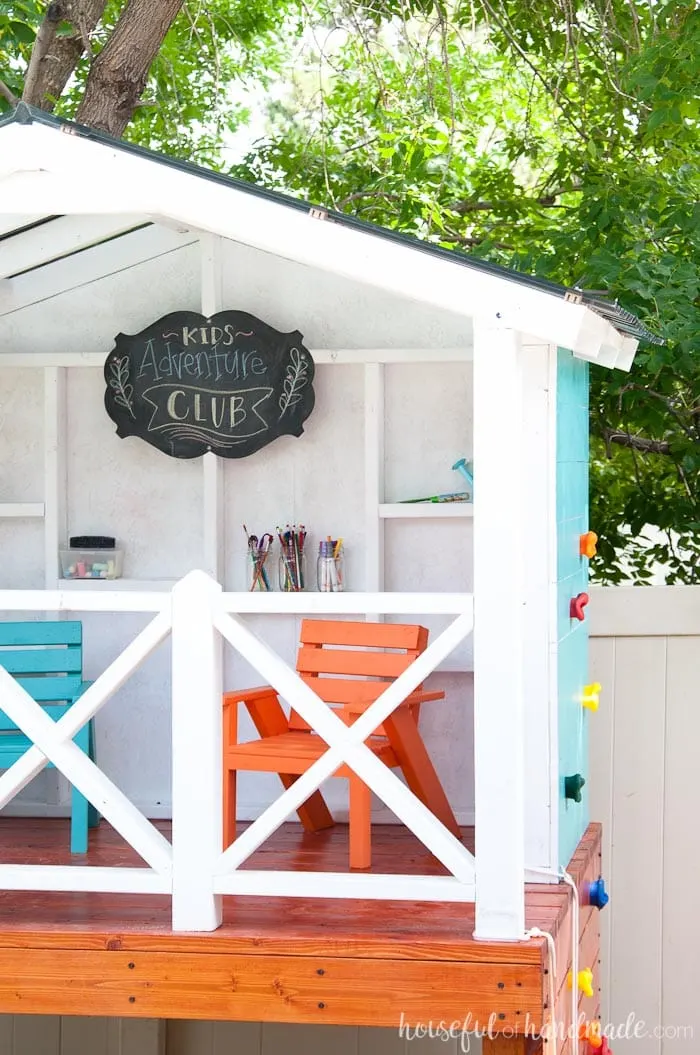 If you have been following along, you may have seen some of the stages of our kids outdoor playhouse. We have been working on it over the summer.
I have wanted to build a playhouse for my kids for years now, but always figured our yard was too small for it. This year I decided I needed to stop making excuses!
So we built the perfect small backyard playhouse for the kids. Our outdoor wooden playhouse is only 5′ x 7′ but is perfect for our kids big imaginations!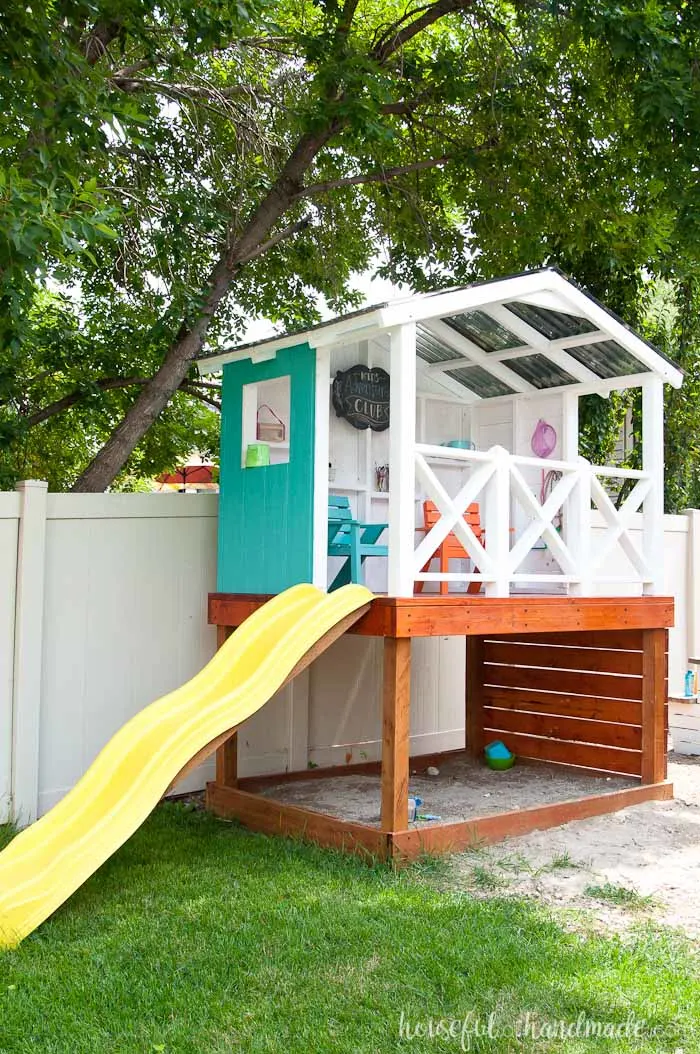 As soon as the walls were up, my daughter started an "Adventure Club". She gathers anyone she can and they talk about nature, create, and have all kinds of fun.
The outdoor playhouse is the perfect clubhouse. The covered loft makes it perfect for having meetings any time of the year.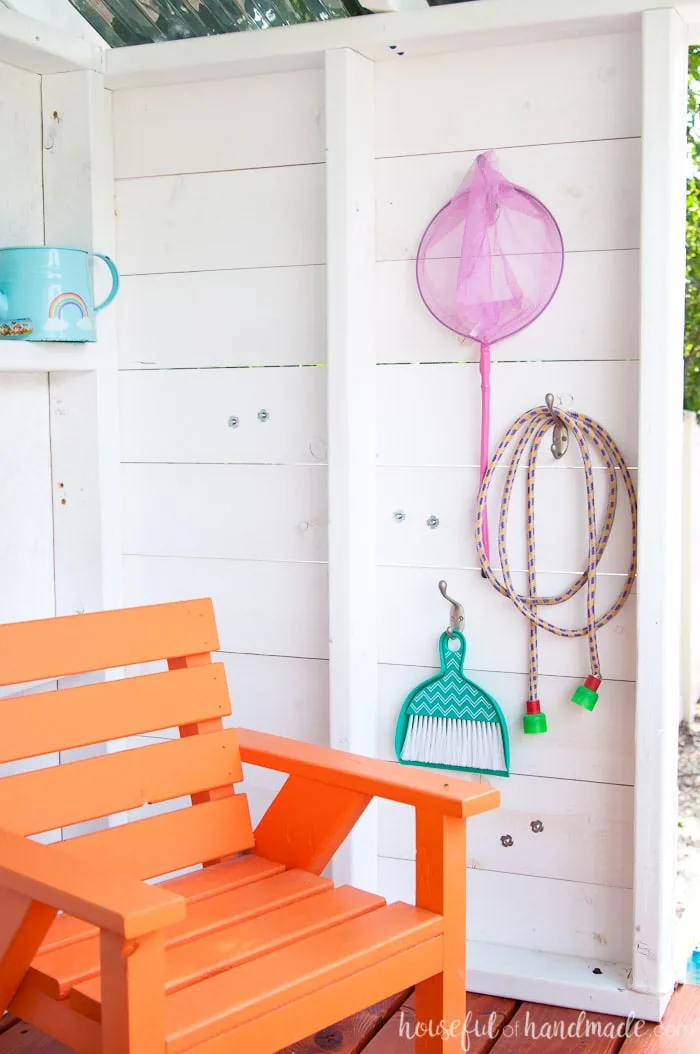 One of the requests my daughter had for their clubhouse was a chalkboard. It was very important to have a place to write on during meetings.
I found a magnetic steel chalkboard that can hold up to the elements outdoors. It was the perfect solution for the outdoor playhouse. And with a box of sidewalk chalk, the kids have used it for so many hours of fun.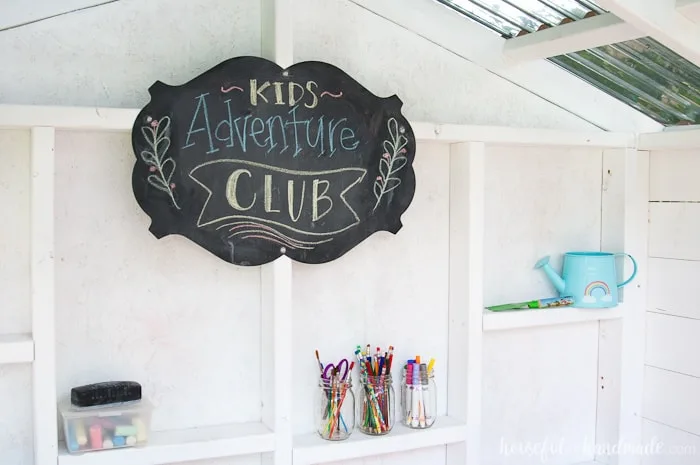 The clubhouse also needed some seating. I built 4 kids patio chairs earlier in the year, and 2 of them fit nicely in the kids wooden playhouse.
They love having a place to sit. And they have been enjoying eating their lunch in the playhouse all summer long. Which makes me happy because my floors have stayed much cleaner 😉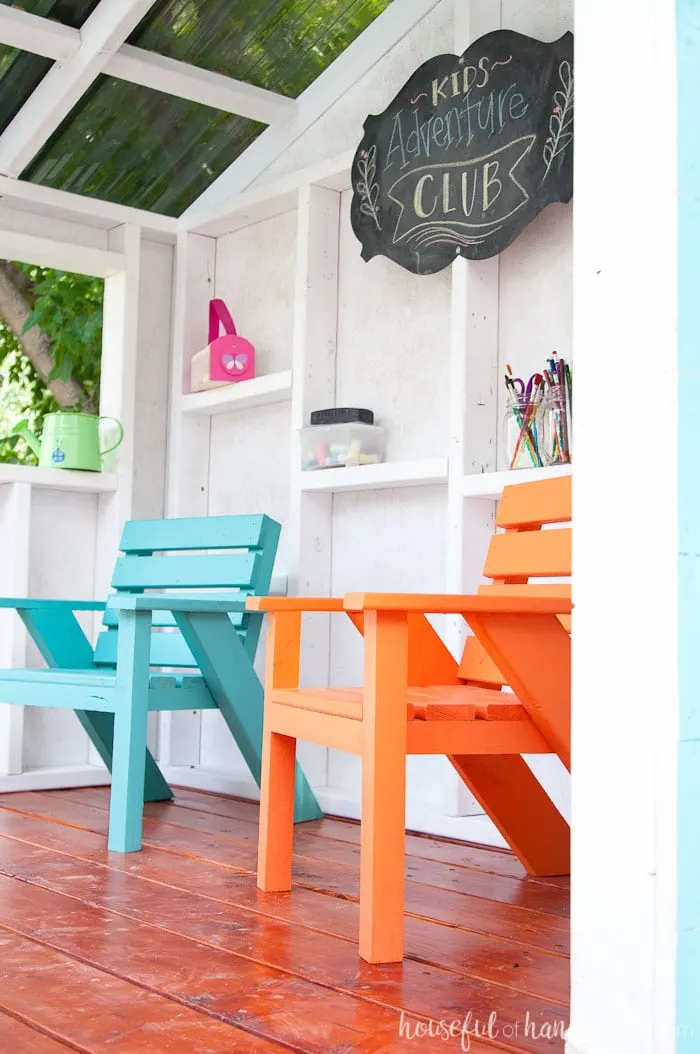 The open framework was the perfect background for adding some shelves to the DIY playhouse. This idea was one of my daughter's favorite from our inspiration playhouse, the Handmade Hideaway by The Handmade Home.
Because my daughter is a bit of a hoarder, shelves to store all her knick-knacks was a must.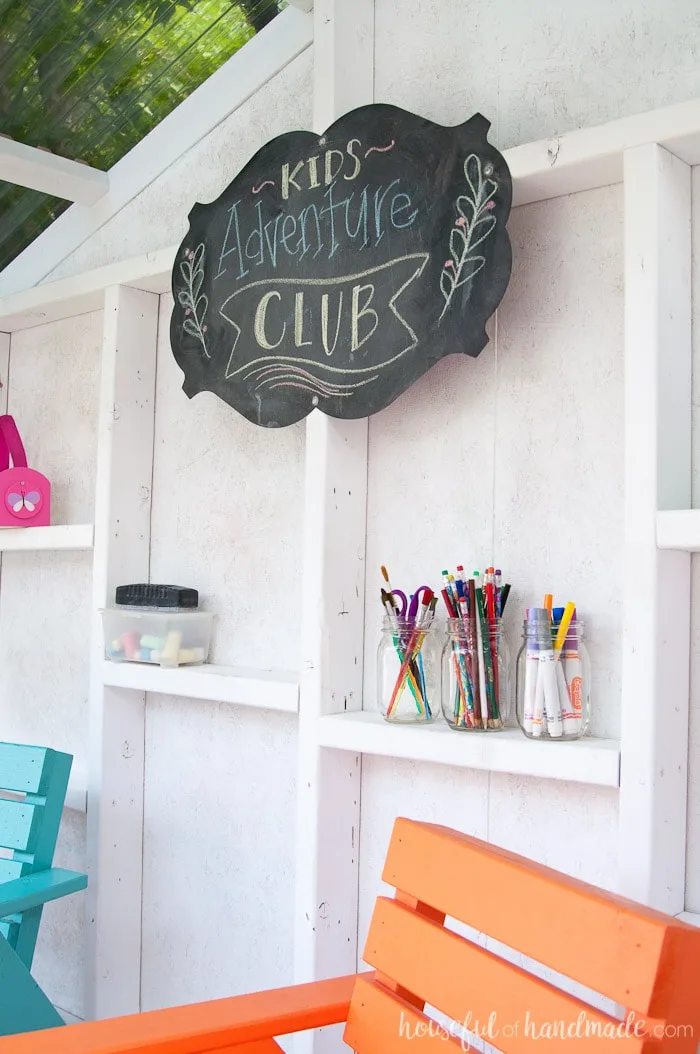 But don't think I didn't add a lot of fun things for our son to the playhouse too! He loves the climbing wall (and what boy wouldn't).
It was also his request to add a rope ladder to the outdoor playhouse. Something about a rope ladder just spoke to him.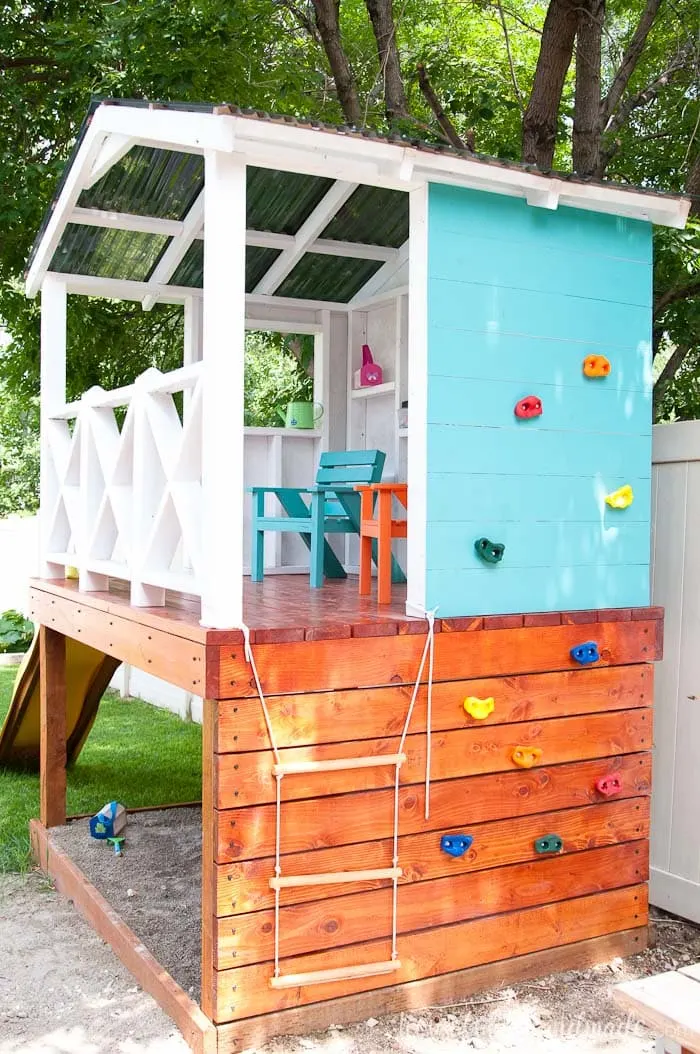 And let's not forget to talk about the sandbox! I have a love/hate relationship with the sandbox.
I love that my kids play in it all the time… for hours. They love to dig and the new sandbox keeps them from digging where they are not suppose to.
However, their clothing is always covered in sand! They leave sandy footprints everywhere they go. And I have to sweep right inside the door to the backyard constantly.
But it's a small price to pay for imaginative & active kids.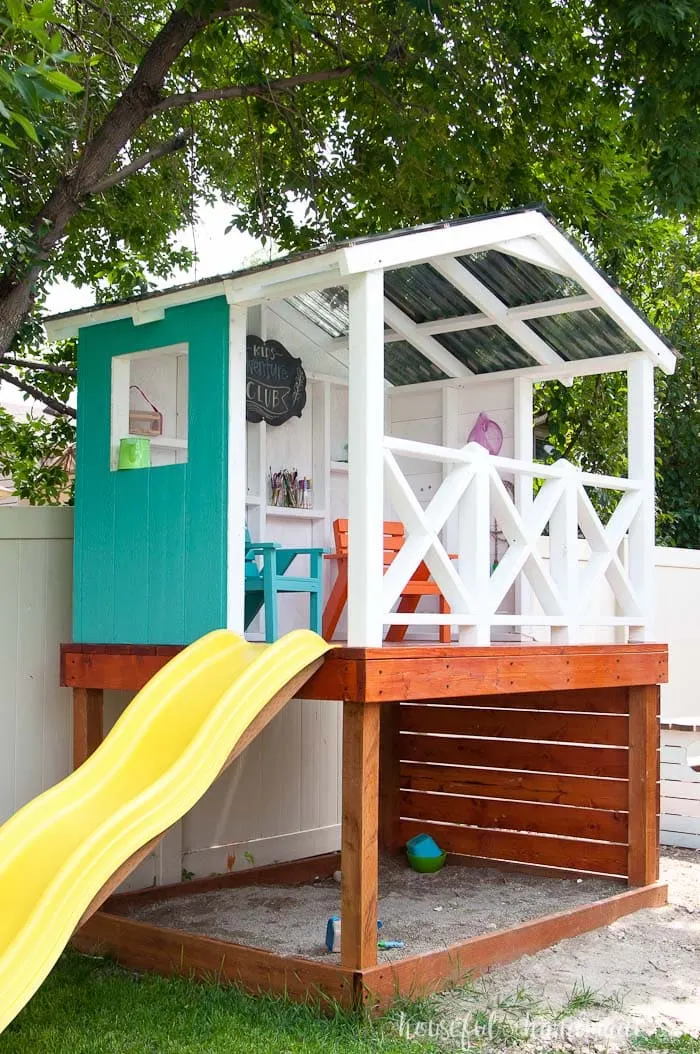 However, the absolute best part of our new backyard playhouse is that we built it for less than the cost of buying a boring swing set!
Now I do love a swing set. And my daughter is sad her playhouse did not come with swings. But they have a much larger footprint. We would have to loose most of our grass area to a swing set.
Instead we created the perfect playhouse, clubhouse, activity area and sandbox, complete with a slide, for under $775. And there is still plenty of room for the kids to run around in our tiny backyard!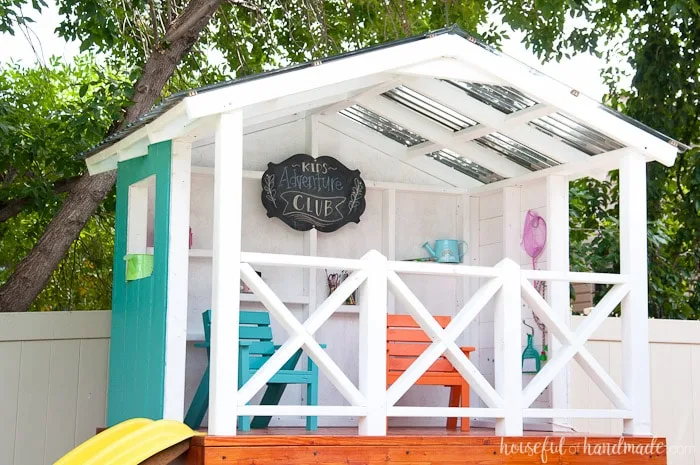 So if I have convinced you that you also need a outdoor playhouse for the kids in your backyard, I have all the details on how to build one yourself.
The posts all include detailed tutorials, build plans, supplies lists, and cost breakdown. And everything was done with basic tools. Time to get building!
Printable PDF Plans
Prefer to print the instructions?
Grab the complete build plans (from all 5 posts) in one easy to follow printable PDF here. The plans include:
List of required tools
Detailed supply list
Easy to read cut list
Step-by-step instructions
Easy to follow 3D drawings of each step
Material and cut lists include the totals for the entire build, as well as a break down for each step. Makes it easy to buy all at once or purchase as you go.
Click the link below for everything you need to build your own playhouse and so you can get the kids outside playing for hours on end!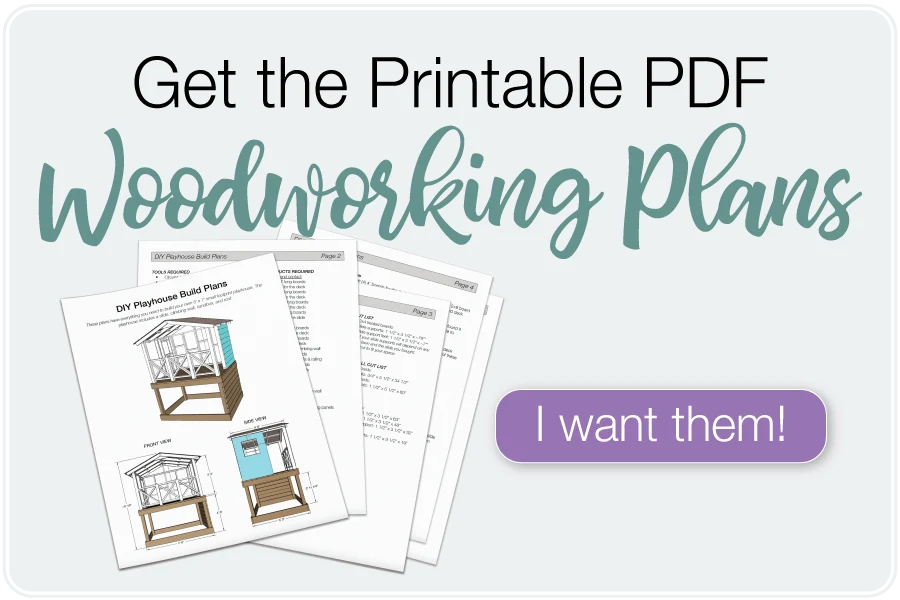 How to build a kids wooden playhouse:
And for more summer rooms, check out the rest of the bonus rooms being shared in the final installment of the Room by Room Summer Series.An InLinkz Link-up
Like this post? Don't forget to subscribe to my weekly newsletter so you never miss out on all the DIY goodness.
How to Build a Wood Playhouse
Get the kids outside by building them a playhouse! This small scale playhouse only has a footprint of 5'x7' (not including the slide) so you can fit it into any backyard.