So last week was fun, my unplanned demo of our entryway closet has put a new project in my head. I am still trying to stay focused on the master bathroom so we can finally get the vanity done but now I am also dreaming of a beautiful entryway. I know a DIY renovation takes longer (we are going on 10 years of remodeling with our home) but I just want it all done right now.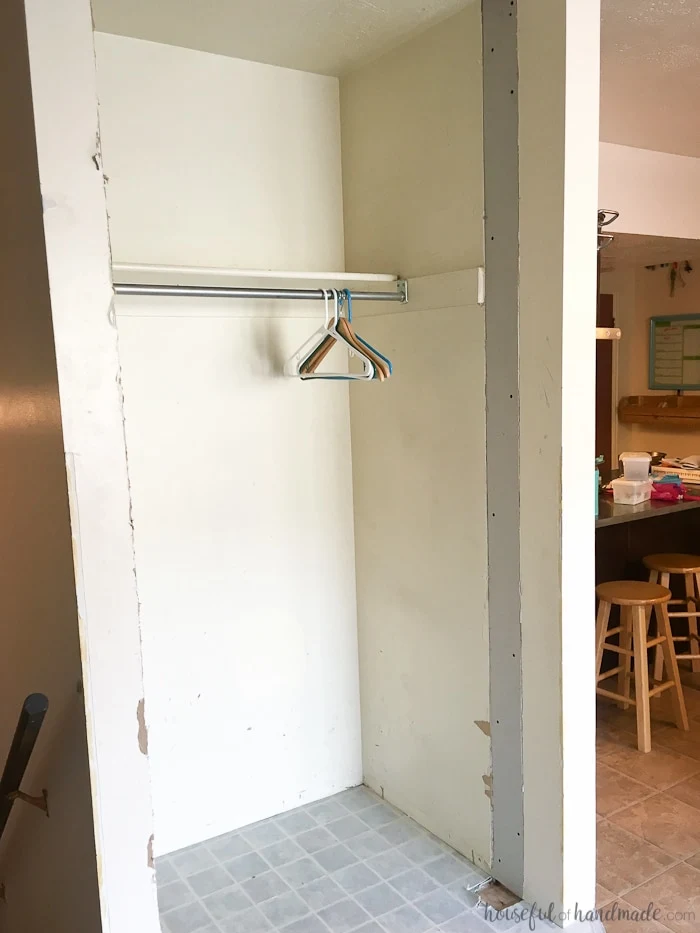 Since we bought the wood needed to build the master bathroom vanity last week, I am going to work on it this week and leave our entryway closet in a bit of disarray for a while. So instead, I wanted to share some beautiful entryway inspiration from my amazing blogger friends.
I love this Entryway Built in Table from Lehman Lane. They didn't just add a table to the wall, they built it into the molding so it looks like a beautiful feature of their home. The detail they added with the molding is genius! I am thinking of adding some wall texture in my new entry way and this is great inspiration for it.
For more wall texture inspiration, check out this beautiful Raised Ranch Entry Reveal from Just Call me Homegirl. We don't have a raised ranch style home, but we have a challenging entryway platform (it makes the perfect stage for my daughter to perform). Because of the small defined space of the platform, we have to get creative with storage and design too. Tara's reveal shows me there is hope for my small entry to look bright and beautiful too.
While we do not live in a place where removing your shoes upon entering the house is part of the culture like Kathy does, our entryway does serve as a place to store shoes. I love how this Bright and Eclectic Foyer from Up to Date Interiors hides the shoes, is super organized and beautiful, and there is a bench for you to sit at while removing your shoes.
I definitely want to incorporate a bench into our little entryway. I've been wanting one for a long time. Beautiful and functional are two of my favorite things.
Living in Utah, coats are a necessity and our entryway needs to be a place for storing them too. I am removing our closet rod in exchange for something more beautiful. I love the simplicity of this Easy Wall Mounted Coat Rack from Kenarry.
I am also learning that coats hooks are much easier for small hands so if I want them to be able to hang their own coats, loosing the closet rod and adding hooks is a no brainer. And hopefully I will have the new entry fully functional before winter sets in (or else my husband might disown me for ripping it out on a whim)!
Now I have all the inspiration I need for a beautiful welcoming entryway. And with the kids starting school soon, I will have the motivation to get things done so we have a place for their backpacks and coats to live.
But first, the long awaited master bathroom vanity must be done so my husband can stop nagging me (and you thought only girls did the nagging).