I love having a wreath on my door. And as we have been spending a lot more time outside I realized I haven't updated my wreath for summer. I still had my Monogrammed Moss spring wreath on the door. I guess moss and butterflies are great for summer too, but I always love to go nautical for summer.
I guess since I can't live on the beach, at least I can surround myself with beach inspired decoration and then I won't feel so bad. Probably not, but I'll keep trying. So this week I made this Nautical Compass Wreath for our summer door.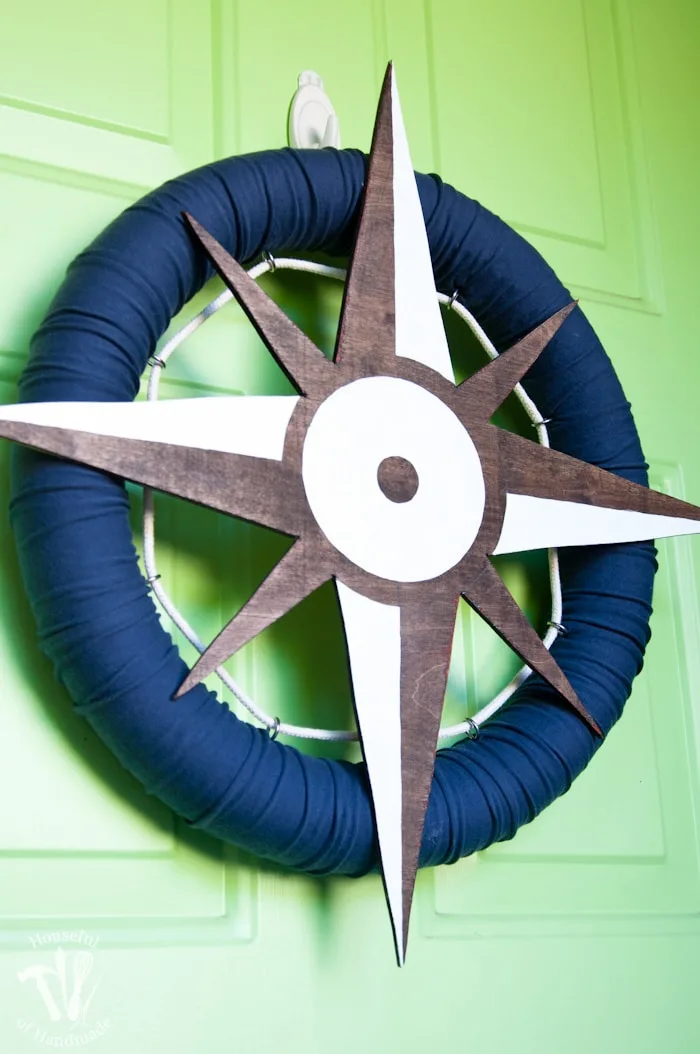 I love anchors and whales and all things nautical. I actually bought an anchor last year on clearance that I was planning on using for a wreath this year. But as I was looking at nautical stuff for another idea I came across a nautical compass and my brain just put it into a wreath. Ever since then, I have been wanting to make this wreath.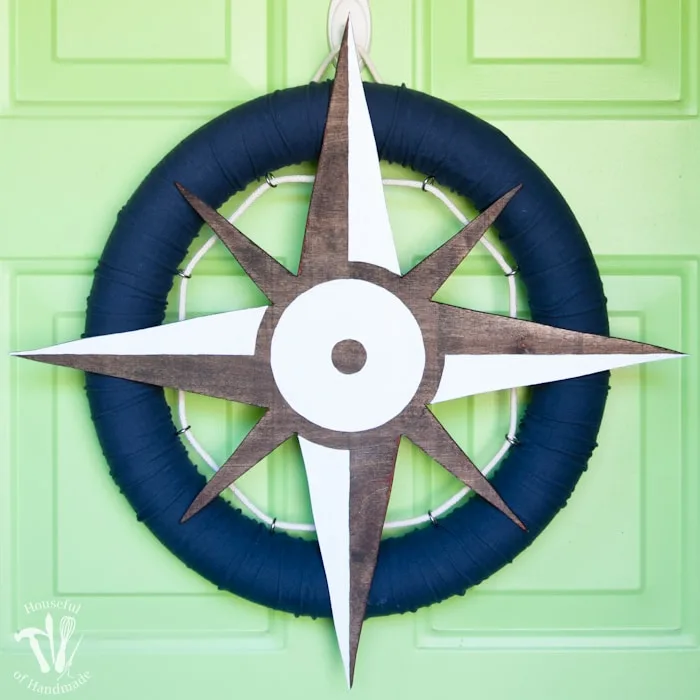 I wanted to make it simple, a nautical compass has a ring around the compass so it was perfect for a round wreath. I had recently loaded up on pool noodles at the dollar store (I always buy 10 at the beginning of the summer because I know I can use them) and so I decided to start with a pool noodle ring for the wreath form. I love using $1 pool noodles for wreath forms, so much cheaper than buying actual wreath forms.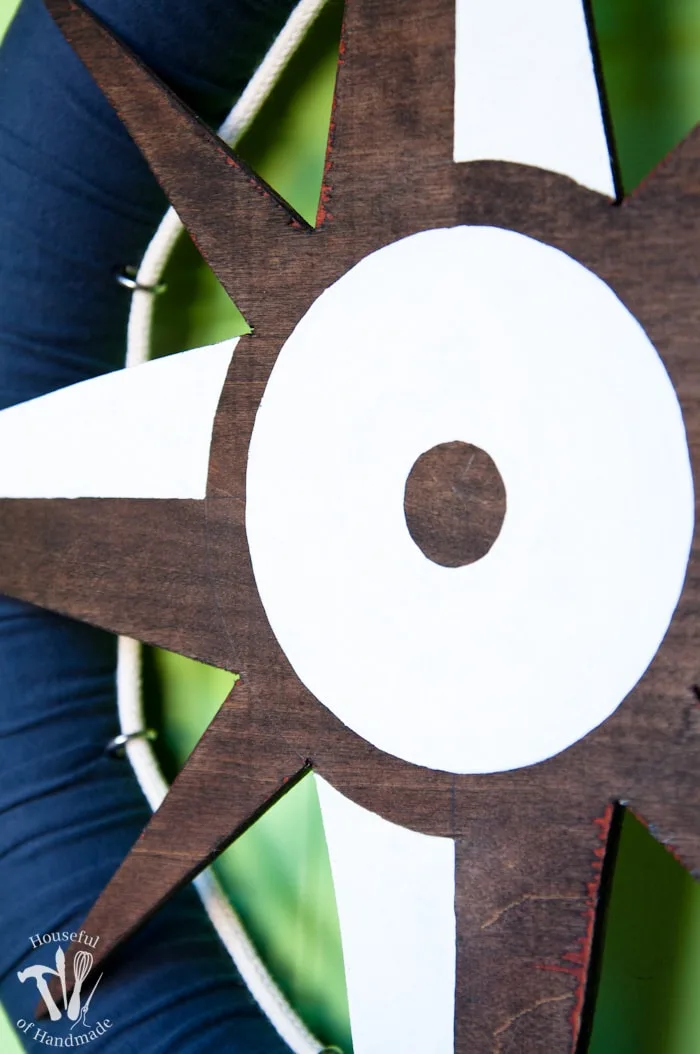 Then to make my compass to sit on top of the ring, I had some left over pieces of 1/4 inch plywood. It was nothing fancy, and 1/4″ plywood is super light so perfect for a wreath. Once I figures out the basics, it was time to get to work. I apologize for the dark tutorial pictures, I was crafting at night because we have been having too much fun doing summer things during the day.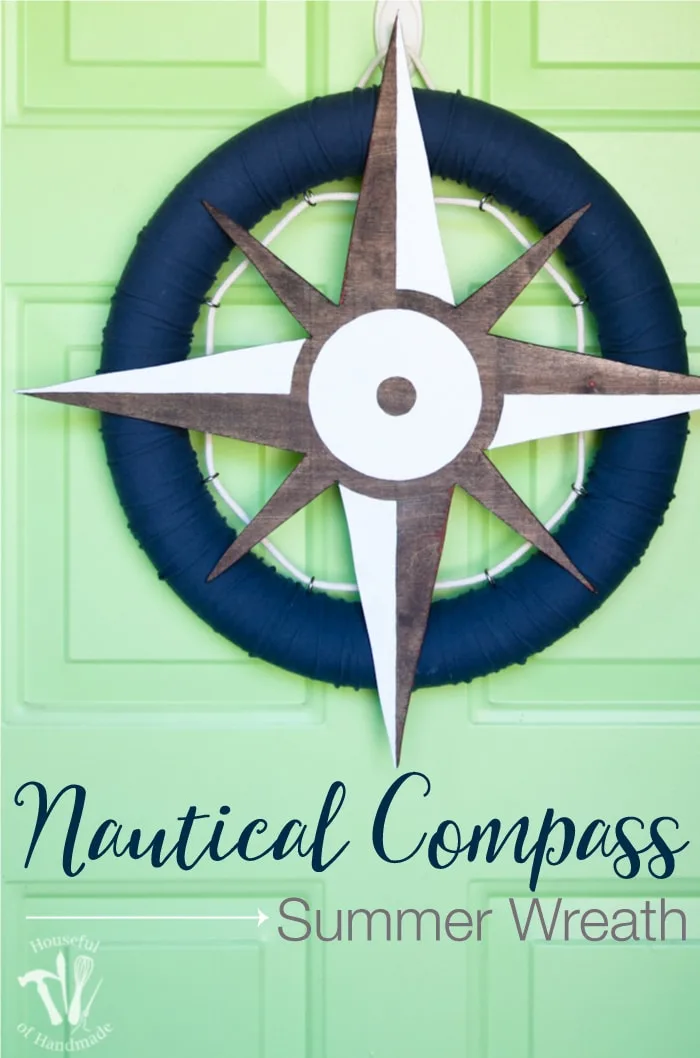 To make the compass shape, I made a template that was 1/4 of the design. You can download the template here if you want to make your own wreath. The 1/4 of the design fit on one piece of paper with just a little bit of piecing together so it worked nice. I printed it on cardstock and then cut it out. Then I traced it on the scrap of plywood 4 times so it was the full compass design.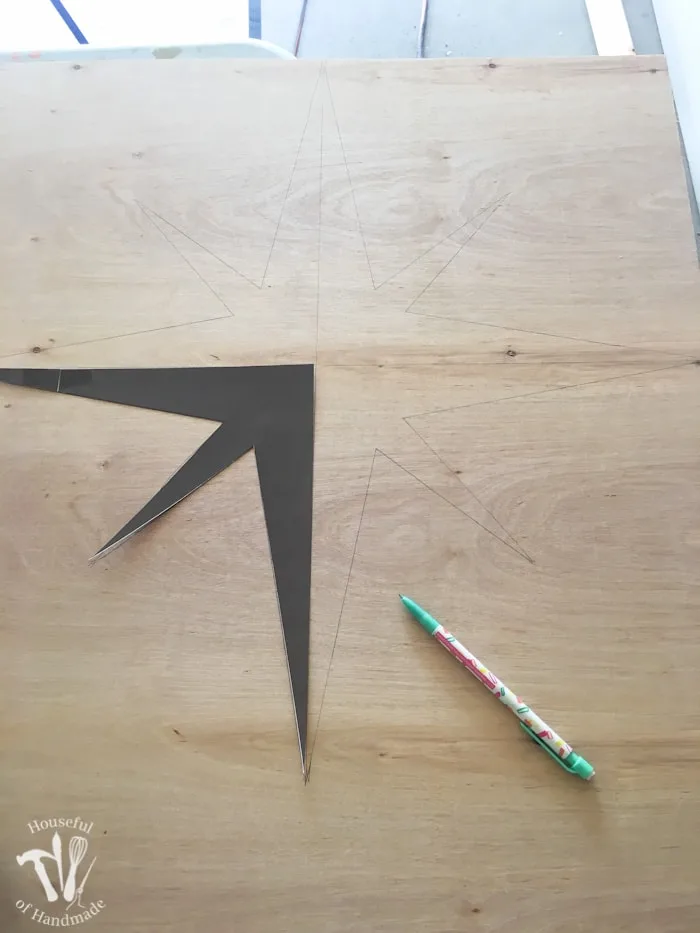 To cut out the compass, I used my jigsaw. I found it easiest to clamp the plywood down to the table so it didn't jump too much. Then cut from the tip toward the center on each spoke of the compass.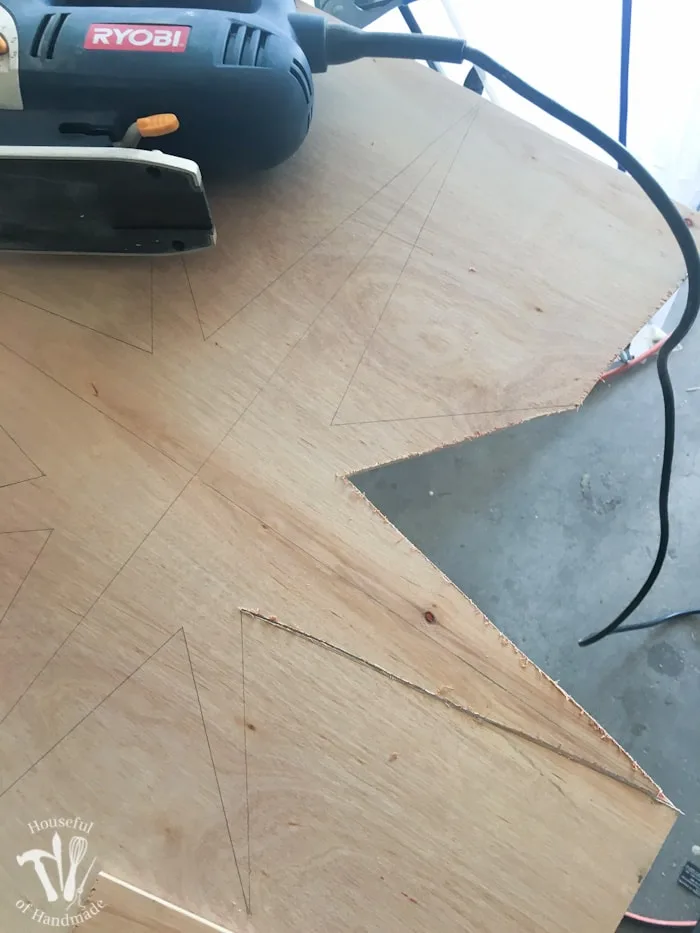 Take it slow and then it'll be all cut out and ready to sand. I sanded the edges by hand, the 1/4″ plywood is a little fragile so sanding by hand is best. And you can see here that I did not learn my lesson last year and am still using power tools while wearing flip flops… I'll probably never learn!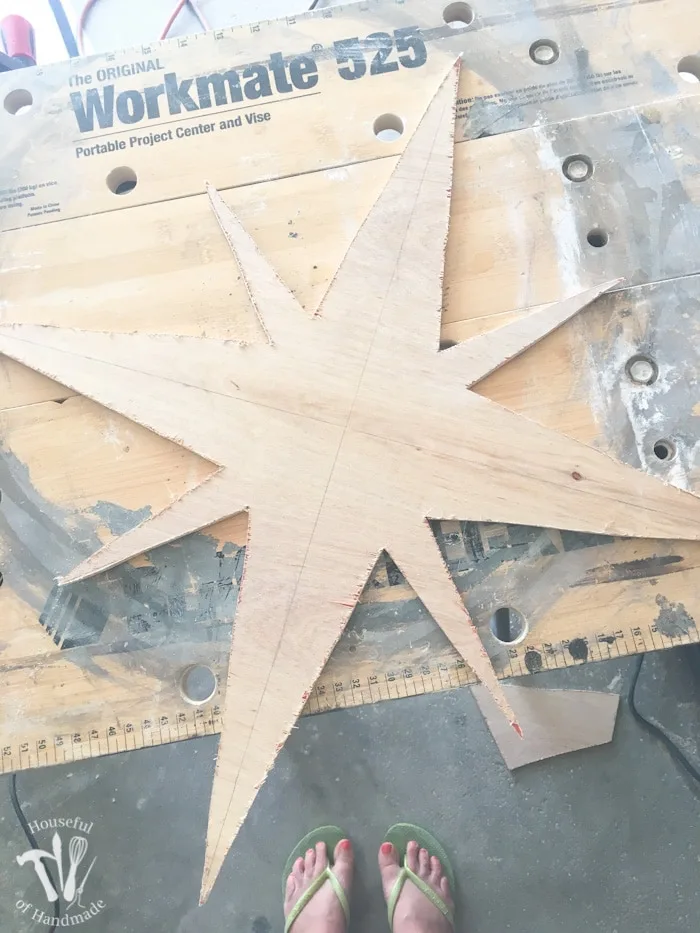 After sanding I added a coat of stain to the compass. I just used some left over stain I had on hand.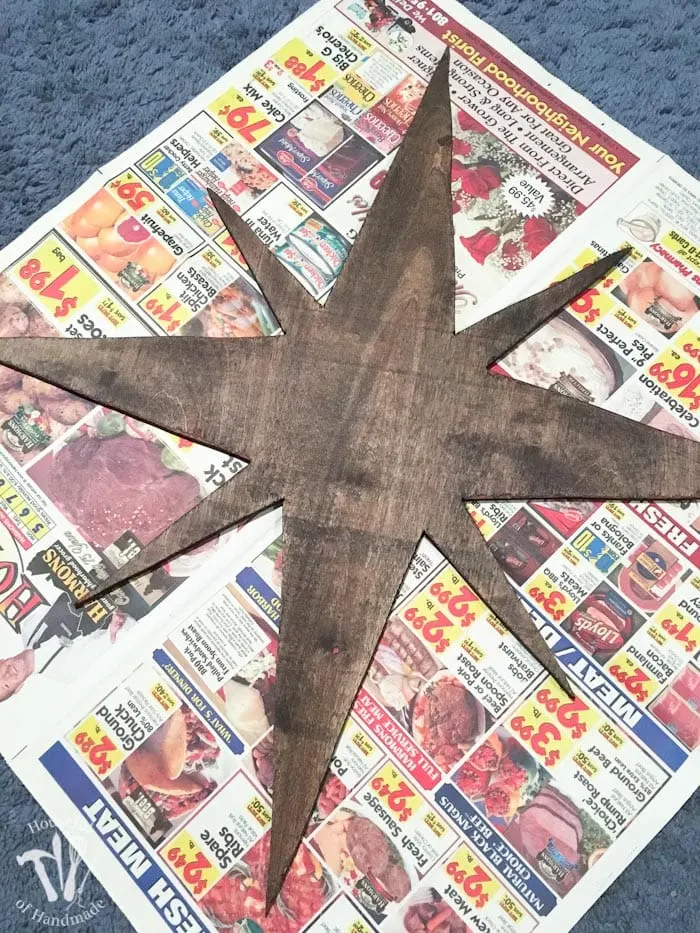 Then it was time to add the nautical compass design to the top. I used a very scientific method to draw circles on it… bowls. I found a bowl that was about the size I needed and just centered it on the compass then traced around it.
Then I added another circle with a smaller bowl, and finally the smallest circle was made by tracing around a lotion cap. Nothing too specific, just sizes of items I had lying around.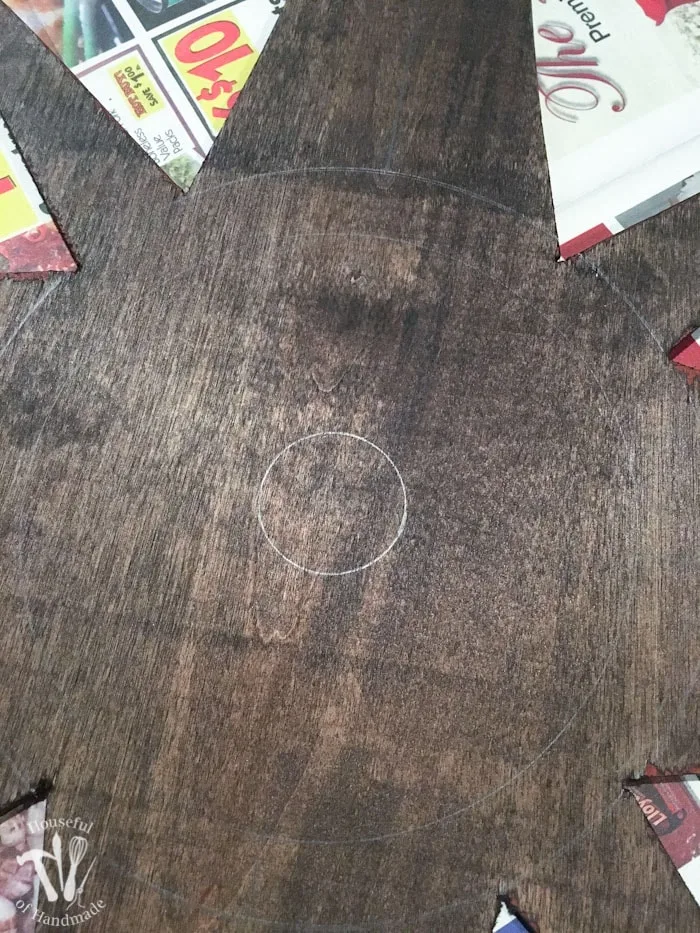 I also made lines from the center of each of the 4 large points to the middle with a ruler.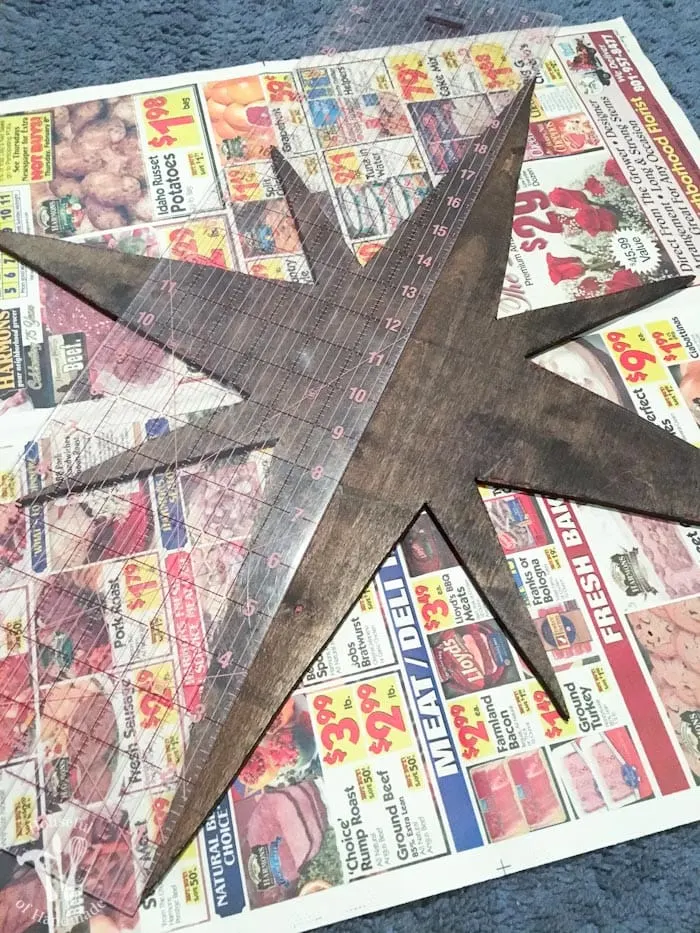 Then I painted the white design on top of the compass with a small paint brush and some left over white paint (the same paint I used to paint my baseboards). It took 2 coats, I thinned the second coat down a little bit so it would go on nice and smooth.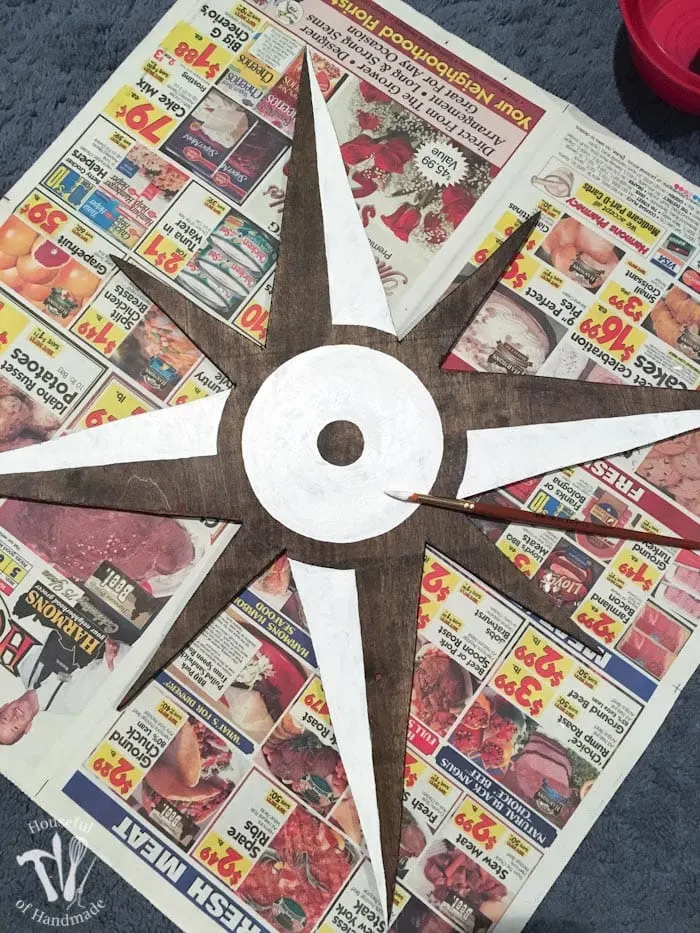 While this dried, I made the wreath. I wanted to make the wreath navy because I love navy for summer and I knew it would look awesome on my green front door! The wood and navy would really pop on the green.
I had an old navy t-shirt of my husbands that was in the recycle pile in my craft room. I cut it into 8″ strips and sewed them together until I had one 60″ long strip. Then I sewed it together so I had a long tube. I turned the tube so the seams were inside and then I threaded it onto the pool noodle.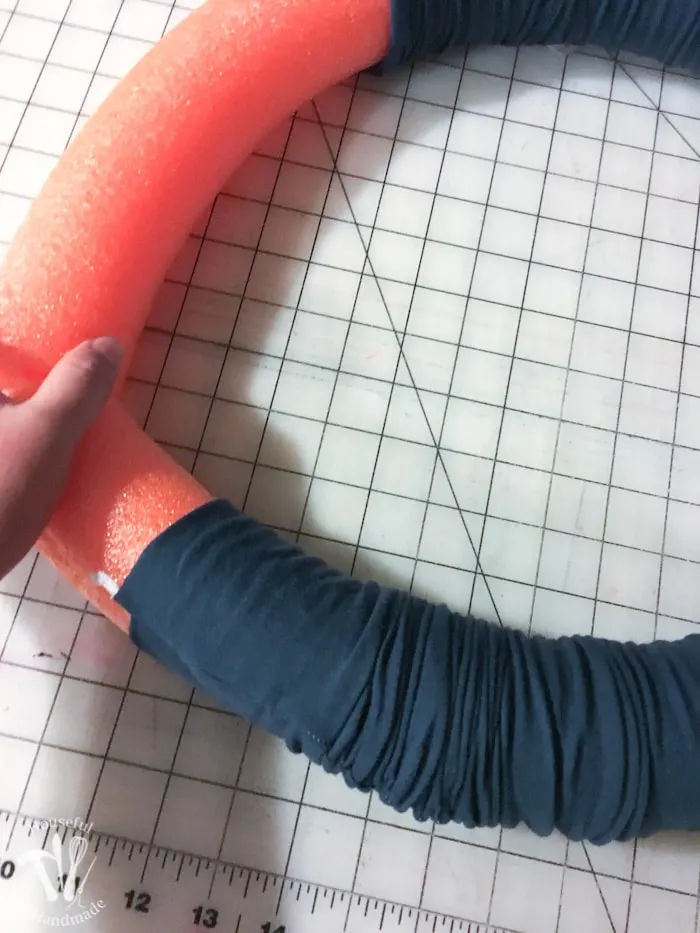 Once the knit tube was completely on the pool noodle, it was time to turn it into a ring. I prefer using the really fancy craft tool: packing tape. Just run a few strips around the seam and it'll stay together really well.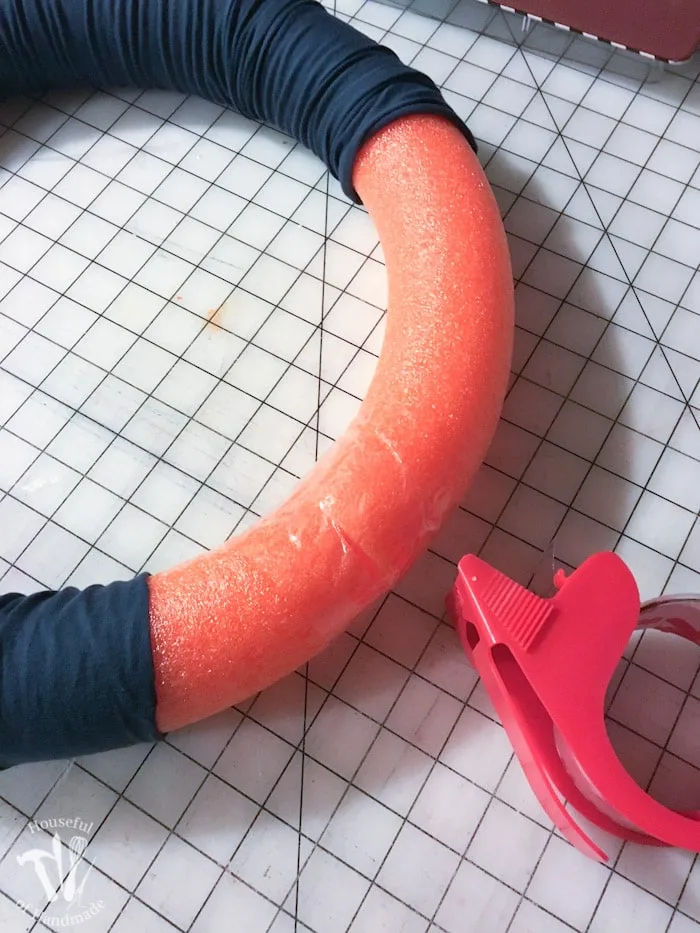 Then push the tube back so it covers the entire noodle. Secure the two seams to the pool noodle with some hot glue. I secured the two open ends all the way around because I wanted it to be secure enough for me to attach the wood compass on top of it without it moving.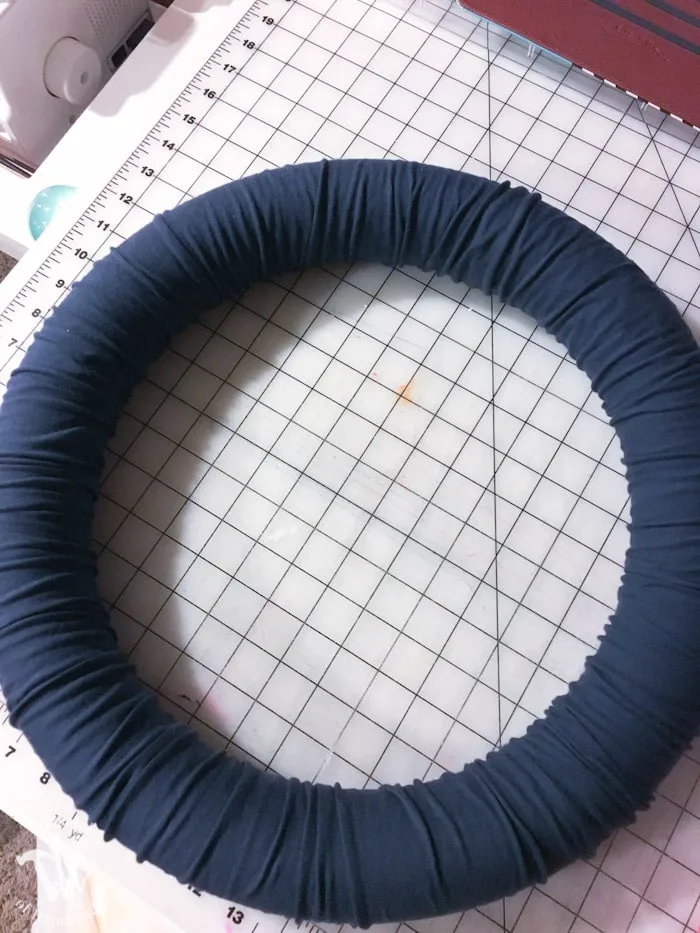 I put the compass on top of the wreath and realized I needed something more to it. I had some rope left over from my Nautical Art Display Wall so I decided to add another layer to the nautical compass wreath.
I used #12 eye hooks I bought at the Home Depot. They were easy to poke through the knit fabric and then into the pool noodle. They don't need to be able to hold a lot of weight, just a little bit. I added 8 of them around the center of the wreath.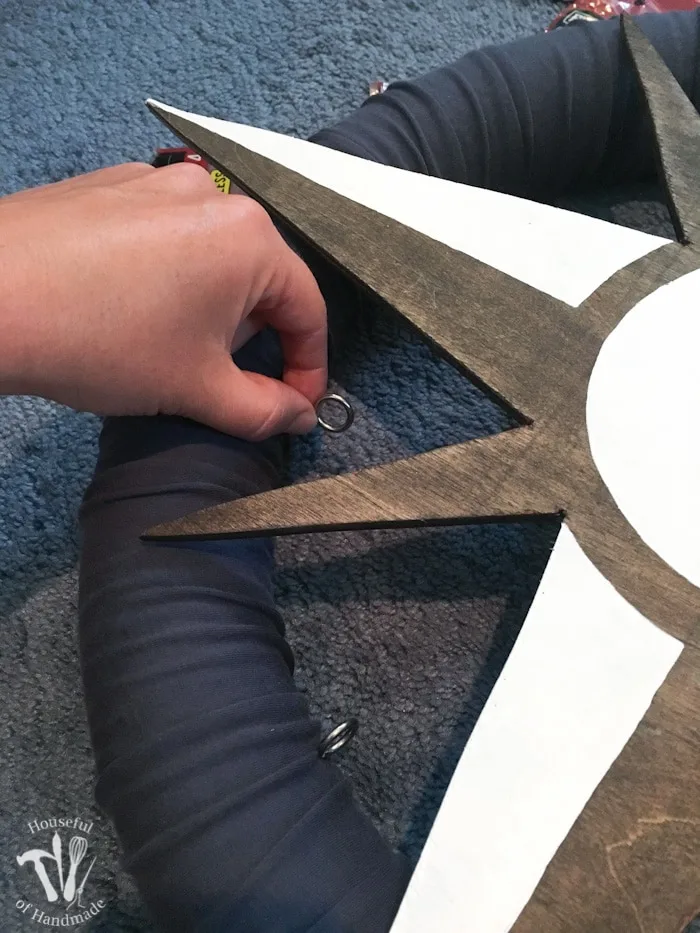 Then I threaded the rope through the hooks and glued the ends together so the seam would be behind one of the spokes of the compass. Then I glued the compass on top of the wreath, centering it up nicely. And I glued a second piece of rope onto the back to hang the wreath while I was at it. I love myself some hot glue!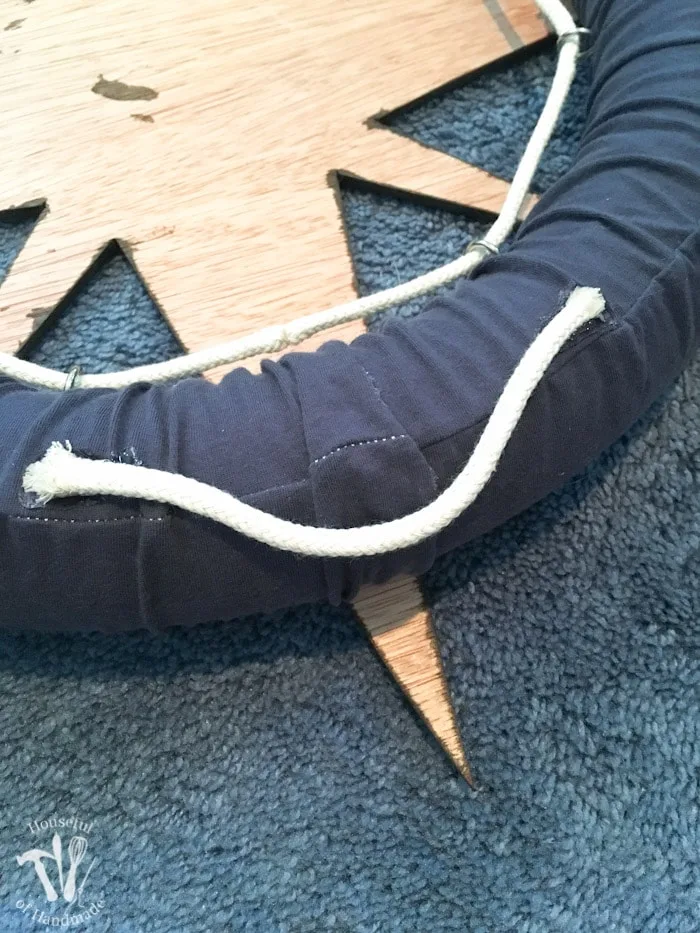 Then all that was left was to hang it on my green door and admire my handy work.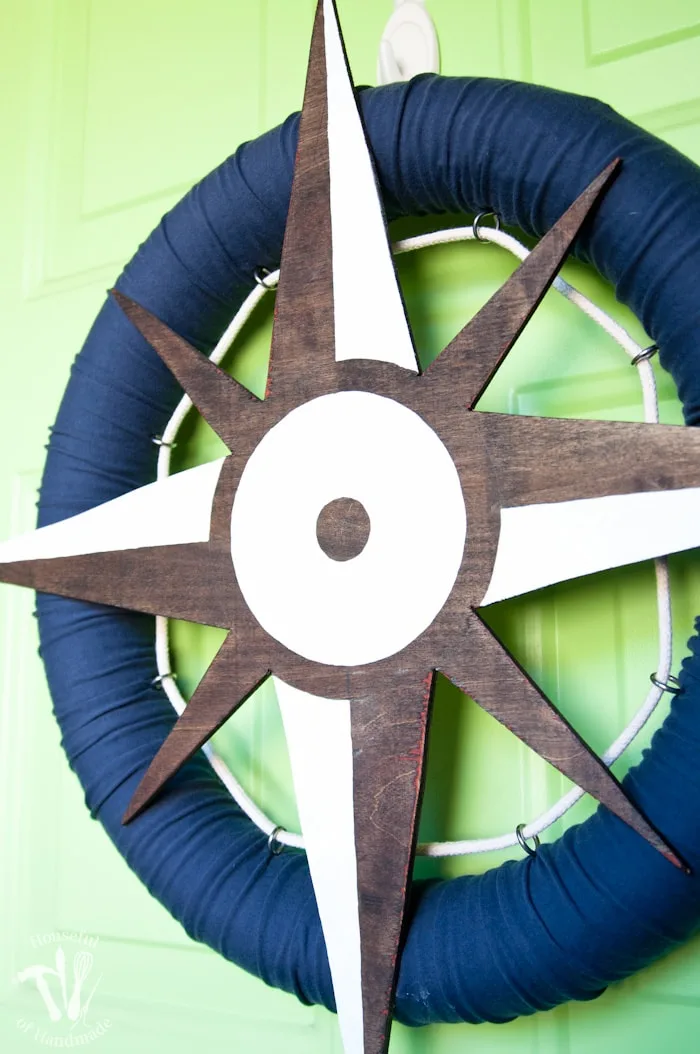 I really love how it turned out and it was super easy. Now I need to find some other way to use the anchor I bought last year.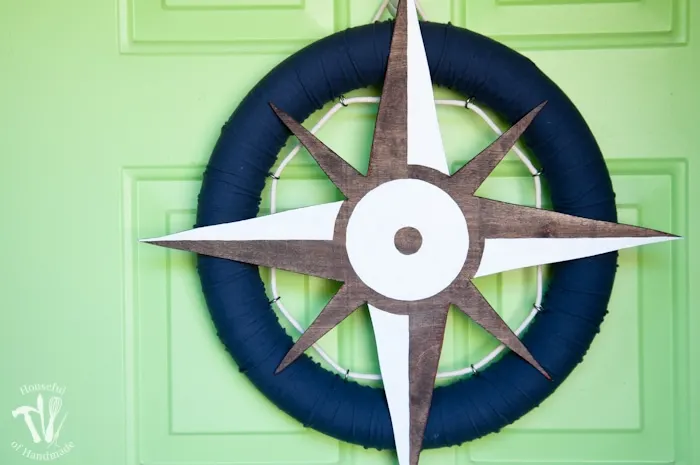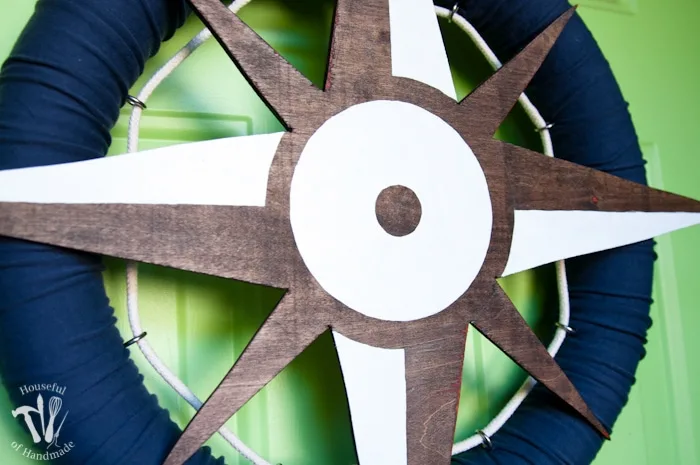 Are you a fan of nautical inspired design? I think it's just perfect for pool days and all things summer.