This post contains some affiliate links for your convenience. Clicking these links will help support this blog so I can keep creating things to share with you, but you will never pay more by using an affiliate link. Click here to read my full disclosure policy.
How to Make Stackable Laundry Basket Storage
Tools:
Circular Saw

I pair my circular saw with the Kreg AccuCut and RipCut to easily rip down sheets of plywood with amazing accuracy all by myself (something I could never do with my table saw).

Kreg Jig
Finishing Nail Gun
Drill
Measuring Tape
Clamps
Supplies:
(1) sheet of 3/4″ plywood
(1) 4′ 1×4 board
(36) 1 1/4″ pocket hole screws
(4) 1 1/4″ finishing nails
wood glue
23″ x 19″ x 10″ laundry baskets
Optional: 1/4″ thick strips of wood or edge tape to finish off the edges of the plywood.
Cut the plywood according to the diagram below.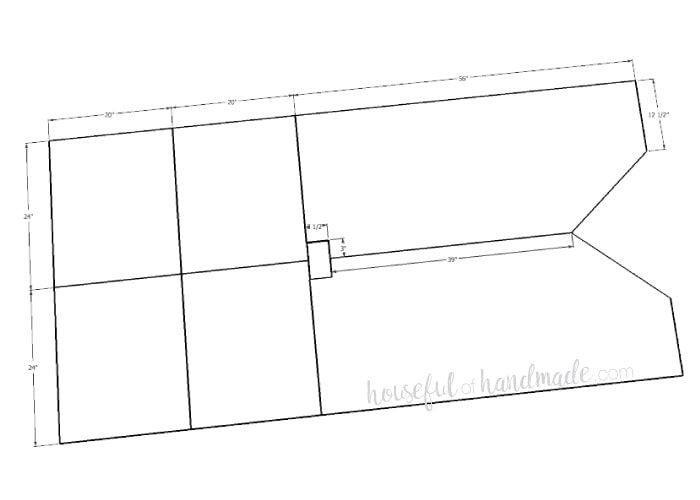 Attach the shelves to one of the side pieces. Drill 4 pocket holes into each side of the shelf board.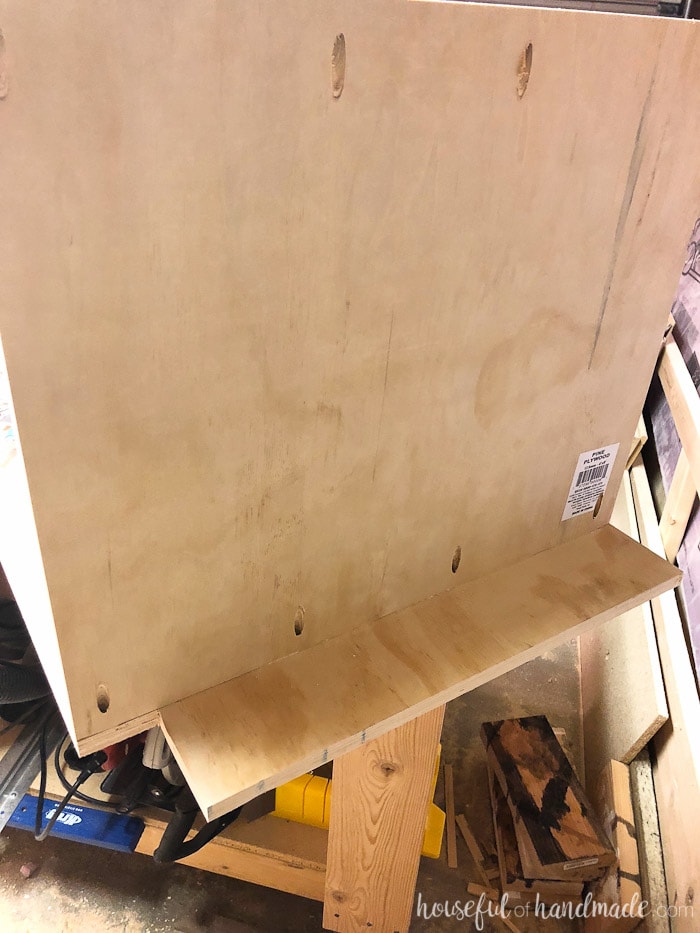 Secure them 12″ apart so the bottom shelf is flush with the top of the toe kick and the top shelf is flush with the top of the angled part of the side.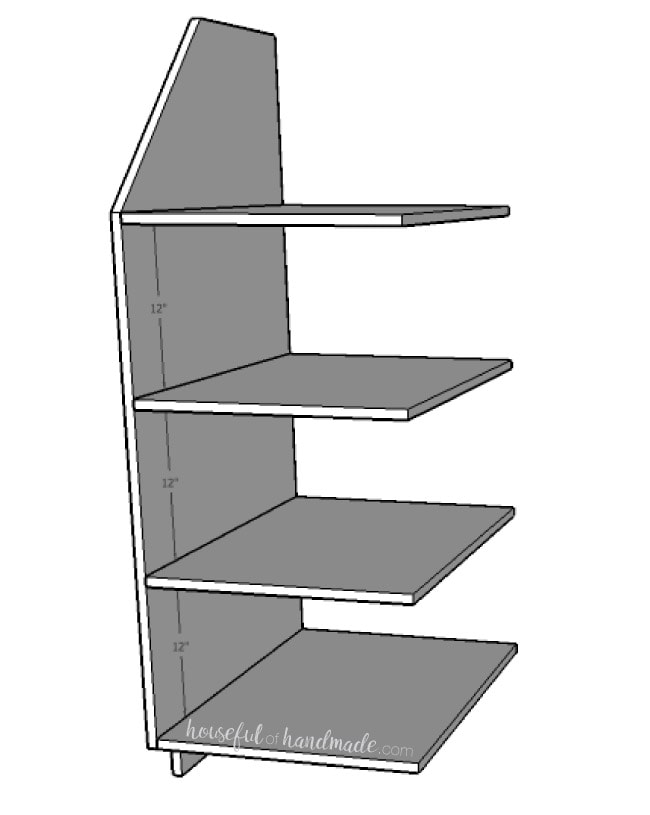 Attach the other side piece with the pocket holes on the other side of the shelves. Make sure to correctly space the shelves on this side as well to ensure square and level shelves.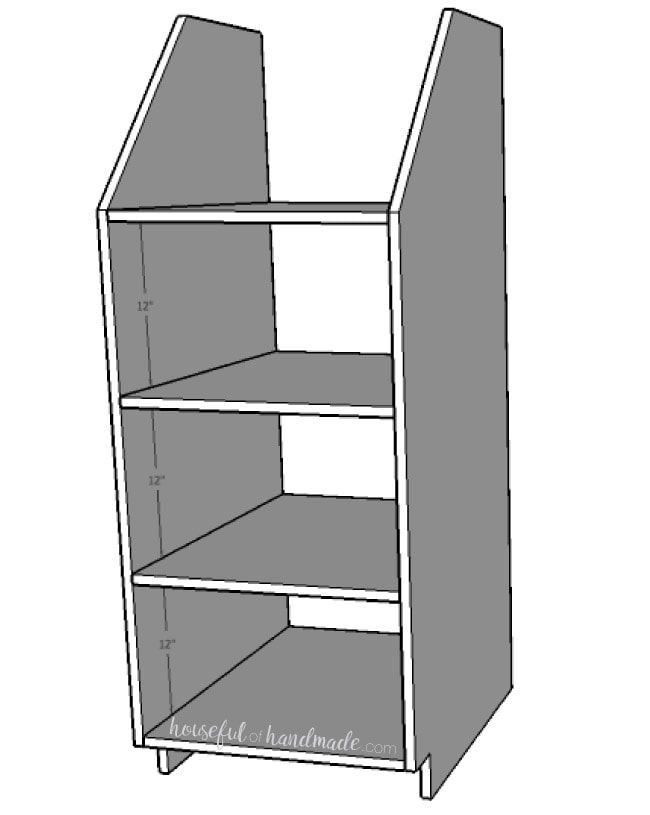 Cut the 1×4 board for the toe kick and back support. Attach the toe kick with wood glue and finishing nails. Attach the back support with two pocket holes on either side so it is flush with the back of the shelf unit.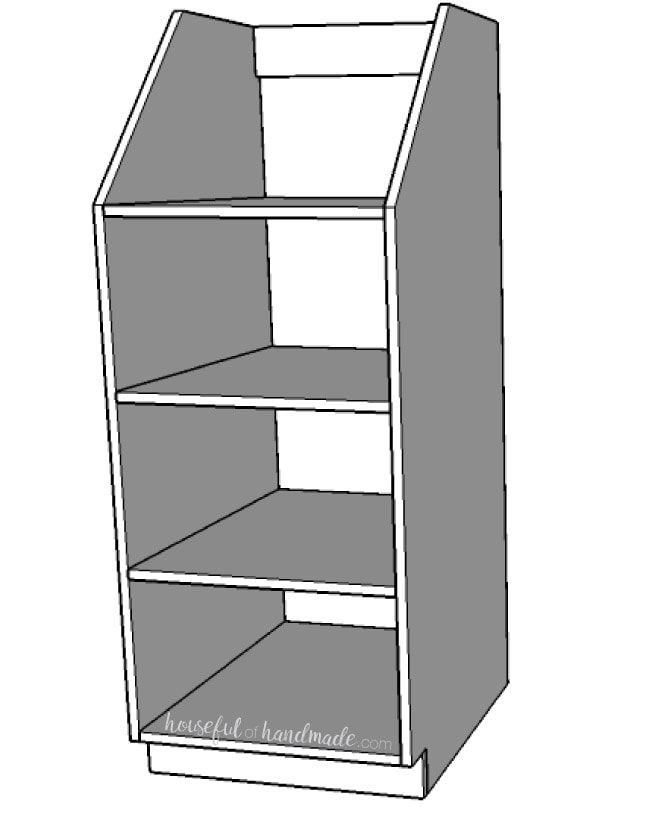 You can leave the shelves as it or finish the edges. I finished the edges with 1/4″ thick strips of pine wood (I ripped them down with my table saw but you can also do it with the AccuCut and circular saw if you support the AccuCut with scraps of wood). Attach the strips to the front of all the plywood with wood glue and finishing nails. Or you can finish the edges of the plywood with edge tape. However, finishing the edges of the plywood is not necessary. I didn't do it in these plywood closet organizers and love the industrial look of the unfinished plywood.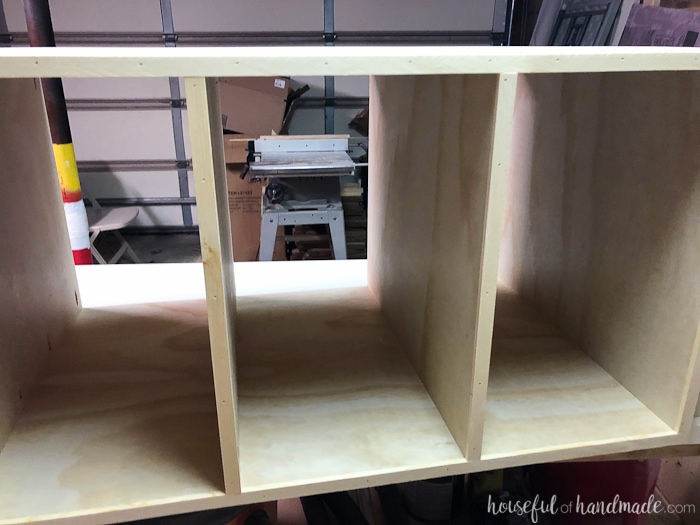 Now sand and stain or paint the finished stackable laundry basket organizer. This weekend I plan to get mine painted as well as the ugly 80s cabinets. I can't wait to see the transformation after the paint is done!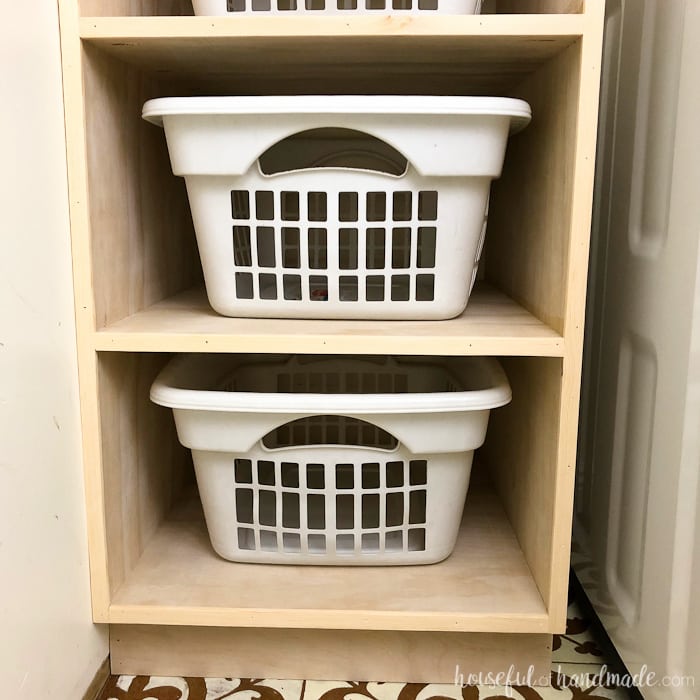 This $100 laundry room makeover is going to be amazing!