Use these amazing DIYs to Organize your home this year.
There are lots of DIY organization ideas to help you get organized in the kitchen, closet, office and more.
If getting and staying organized is one of your goals, these DIYs to organize the home will help you finally do it! Use these DIY organization ideas to make your home more organized and more beautiful. There are so many great ideas for organizing all the rooms in your home.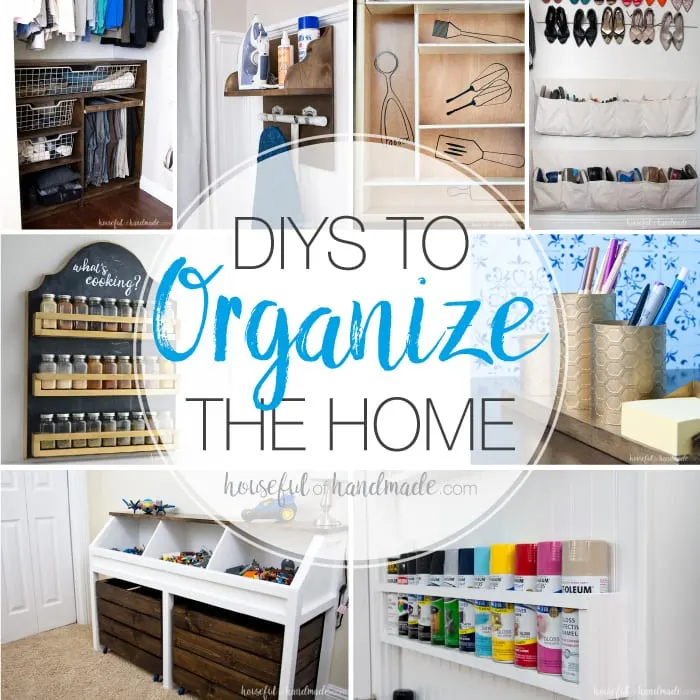 DIYs to Organize the Kitchen
An organized kitchen makes all the difference when life is busy. I hated spending my precious hours searching for things that should be right there. These easy kitchen organization DIYs are perfect for keeping you sane while cooking. And there will be plenty more kitchen organization solutions coming because we are finally going to remodel our 1979 kitchen this year!
Not being able to find the utensils in my kitchen drawers was a big problem. Not anymore! I solved the problem with a scrap of 1/4″ plywood and some vinyl. Check out how beautiful our drawers look with these kitchen utensil drawings & kitchen drawer organization.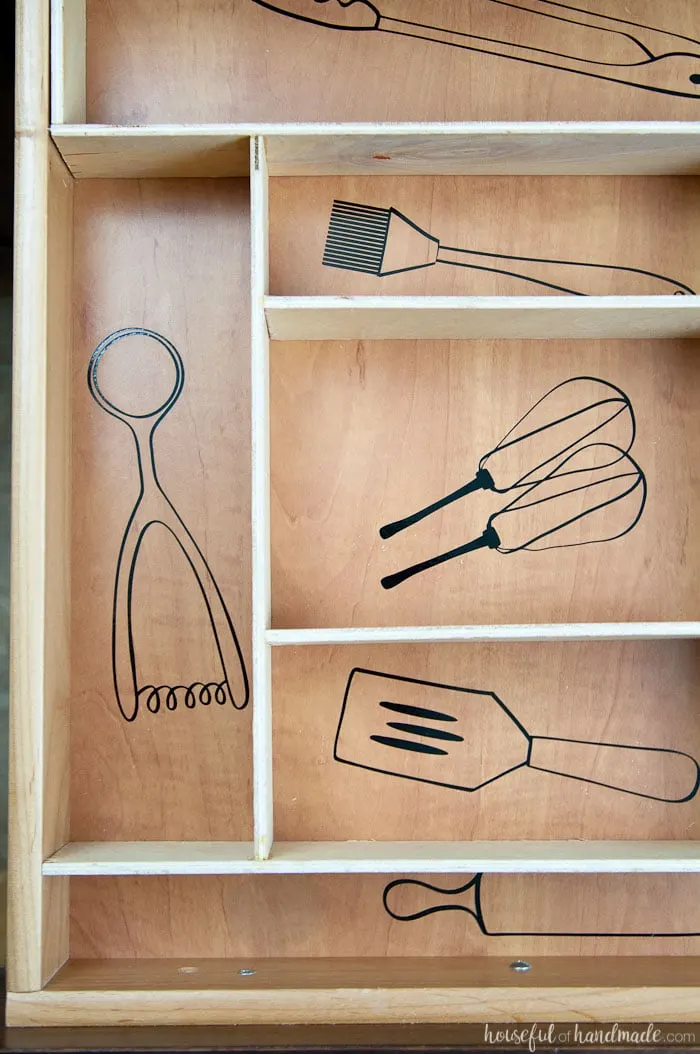 The other place in our kitchen that needed big organization help was the spices. Our love of many cuisines left our spice cabinet a mess. Now they are a focal point of the kitchen with this beautiful wooden spice rack. You can make your own too with the free build plans!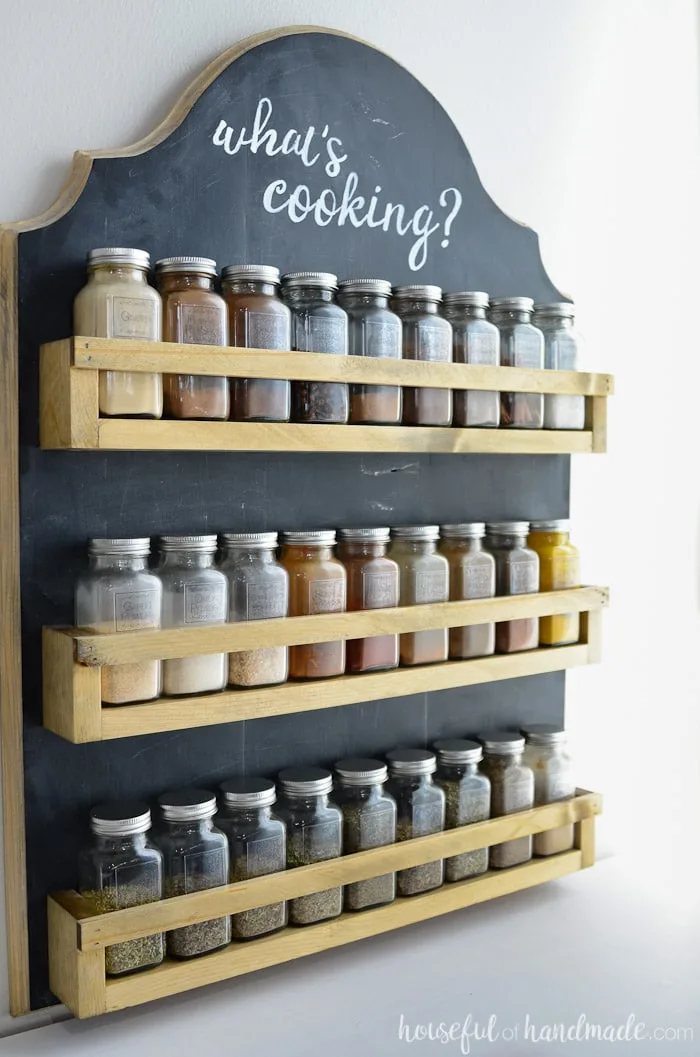 I never realized how much this coffee station would change our lives! Seriously, it is the perfect place to keep all our coffee and tea paraphernalia so it is ready to go when we need it. And the two large drawers hold all those pesky phone and tablet chargers and homework supplies. It has truly become the go to spot of the home.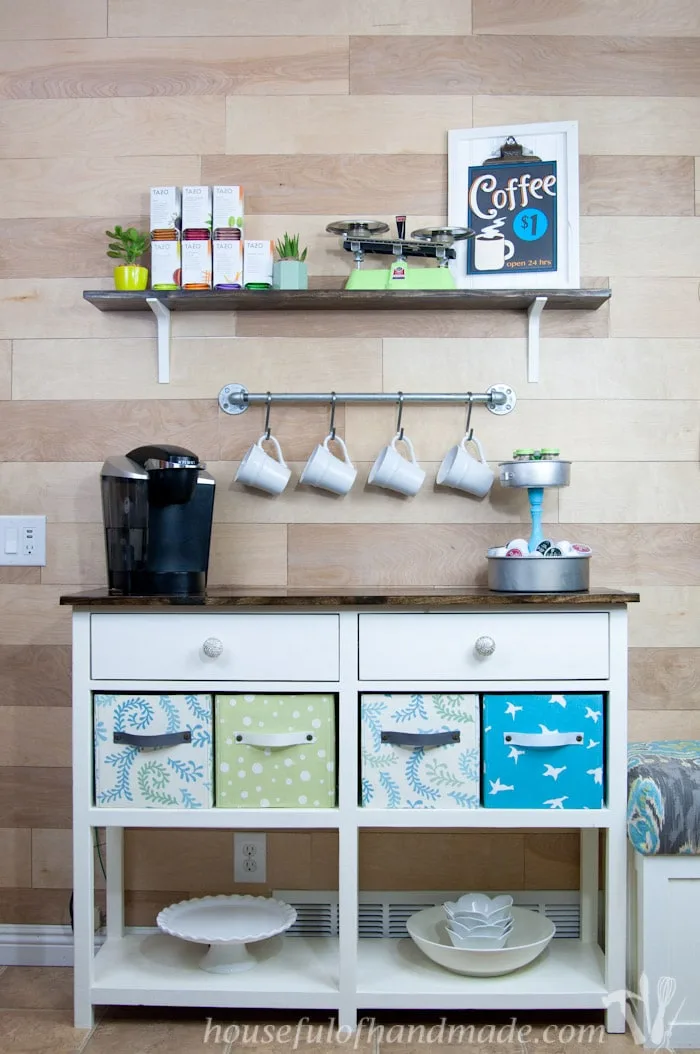 When we built our outdoor kitchen and dining room, organization was a big priority. I needed a place to store all the outdoor dining supplies so we didn't have to come in the house over and over. So we built this outdoor kitchen island with loads of storage solutions. And it was made with 2x4s and cedar fence pickets!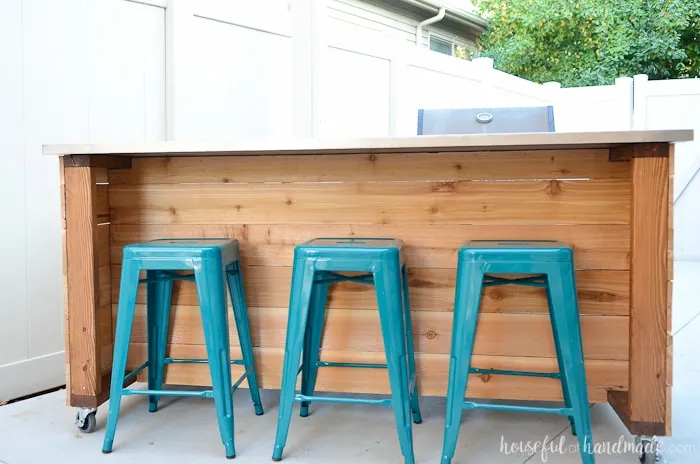 DIYs to Organize the Closet
An organized closet it a dream come true! It makes getting ready to much faster so you can get on with your day. Last year we completely redid our master bedroom closet and now the space works with us instead of against us. And can you believe we did it all for only $100?
A big part of a great closet is a closet organizer. These DIY plywood closet organizer build plans can be customized to fit your space and add so much usable storage to a small closet.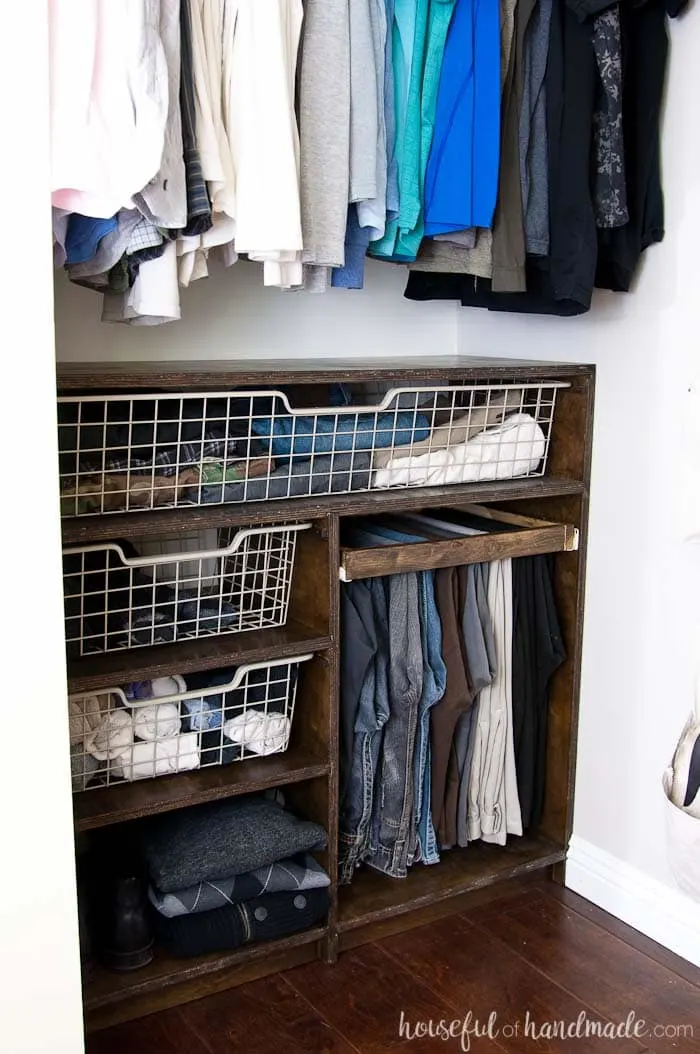 I am a bit shoe obsessed and so shoe organization was a huge part of our closet remodel. Now we no longer have a pile of shoes on the floor because they are all hung up and organized in this drop cloth hanging shoe storage.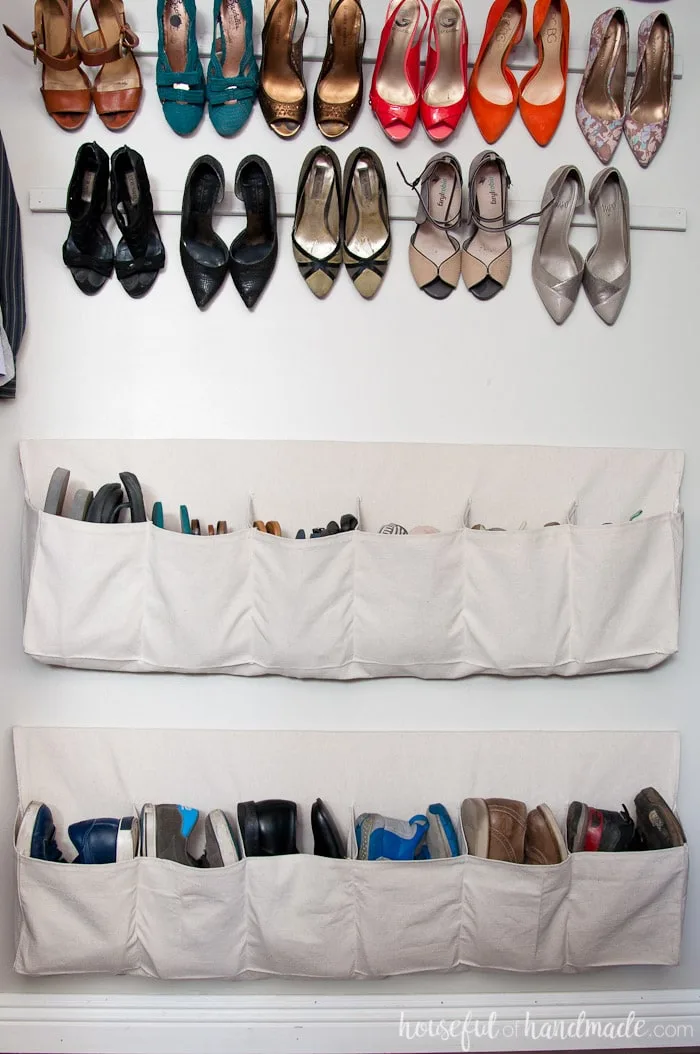 To help organize smaller items in the closet, I upcycled empty cardboard boxes into easy drop cloth storage boxes. Now those small items are stored away until needed and the closet stays pretty.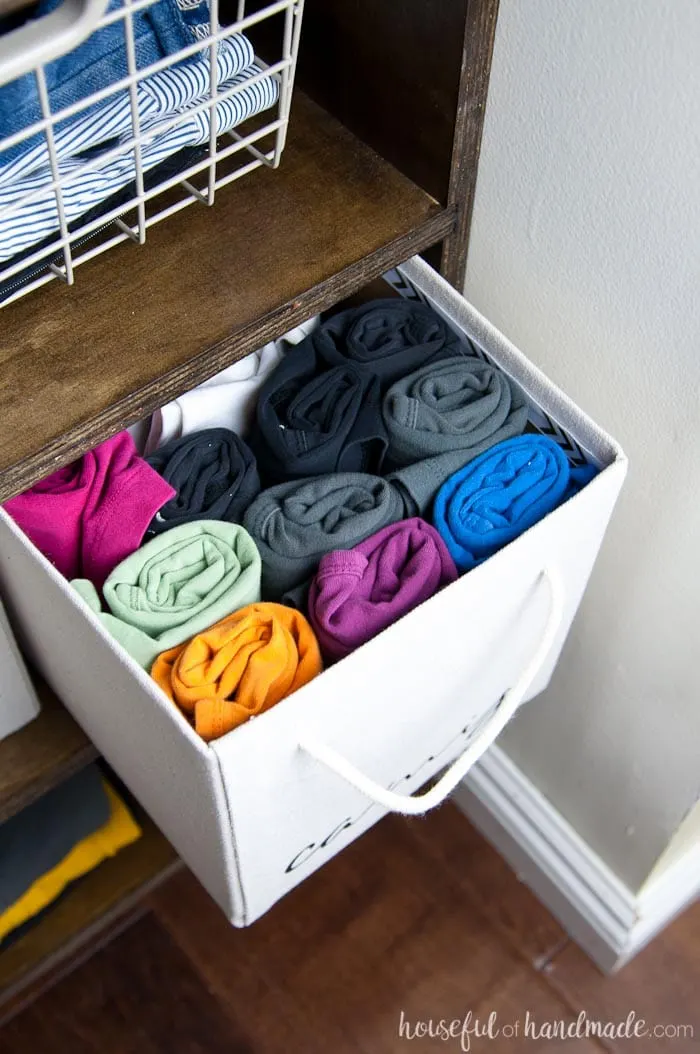 DIYs to Organize the Office
An organized office helps improve productivity. These easy DIYs will keep you working better and smarter in a beautifully organized office. You might be so productive you'll even get a raise!
I hate a cluttered desk! It makes my brain scattered and confused. But I want to have all my desk supplies at my finger tips so I make this DIY desk organizer. You will never guess what it is made out of.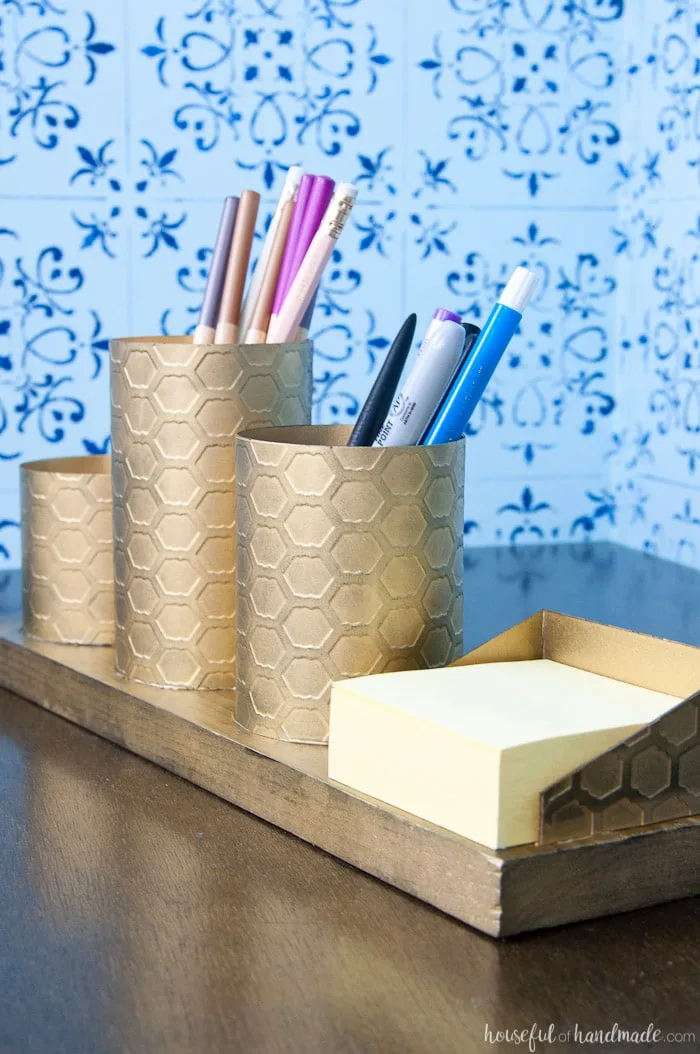 Organize your thoughts and ideas with a DIY idea board. It's the perfect homemade whiteboard for any space. I made ours out of a thrift store picture frame. See how we did it and how I updated the beat up frame.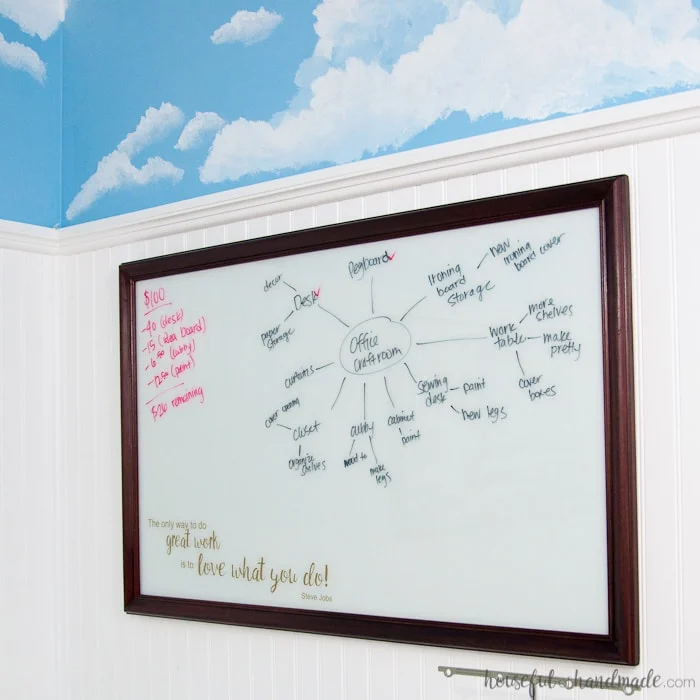 No room for an office? This easy rustic industrial wall-mounted desk is perfect for adding office space to small homes or rooms. And with two large desk drawers, you can keep all those pesky office supplies organized and hidden away.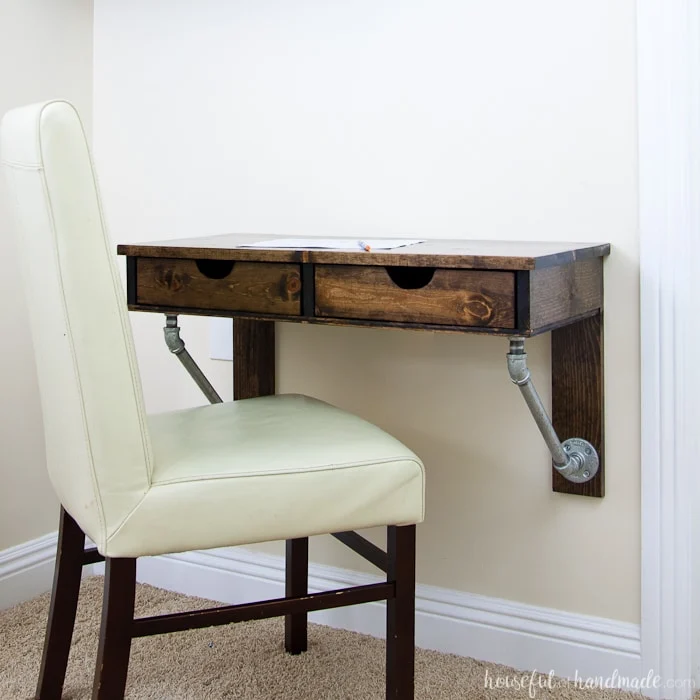 DIYs to Organize the Living Room
A living room is the place you share with your friend and family. Keeping it organized is so important for keeping you sane! Especially if you have kids. Hide away all the clutter and organize your life with these DIYs.
Turn your old college cube bookcase into a beautiful farmhouse console table DIY. All those compartments are perfect for organizing books, decor, and nick-knacks. And for even more organizing potential, add easy DIY fabric storage boxes to the compartments to keep things hidden.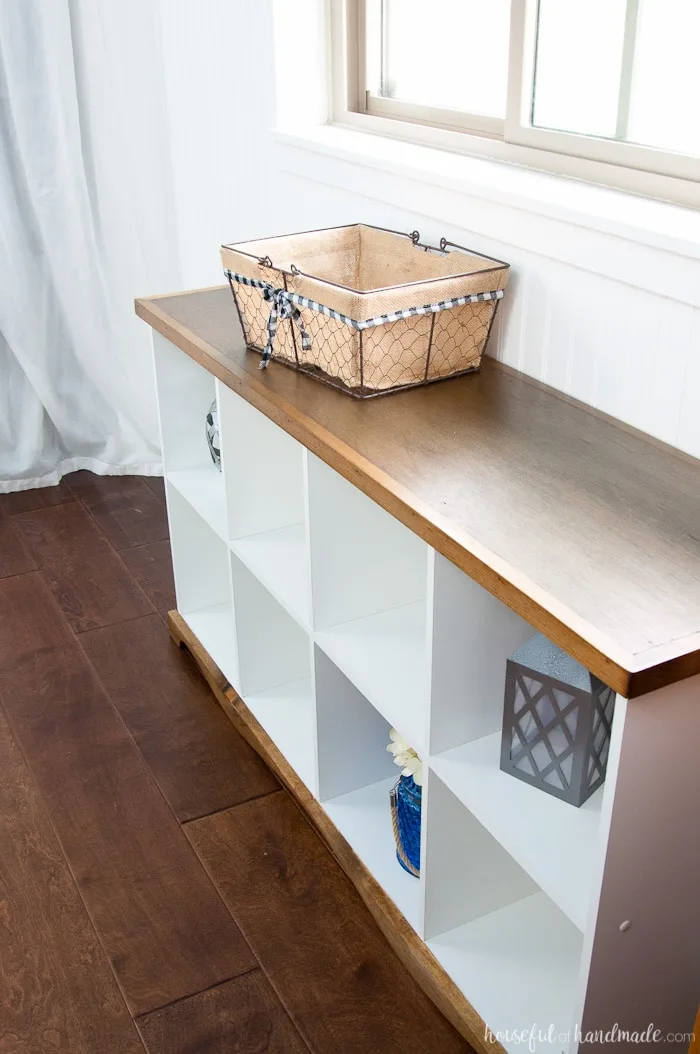 You may not think of a coffee table as an organization piece until you live without one! It's the perfect place to organize your tv remotes, magazines, extra blankets or pillows, and more. We love our farmhouse coffee table with the extra shelf so we can use the bottom for organization and keep the top free from clutter.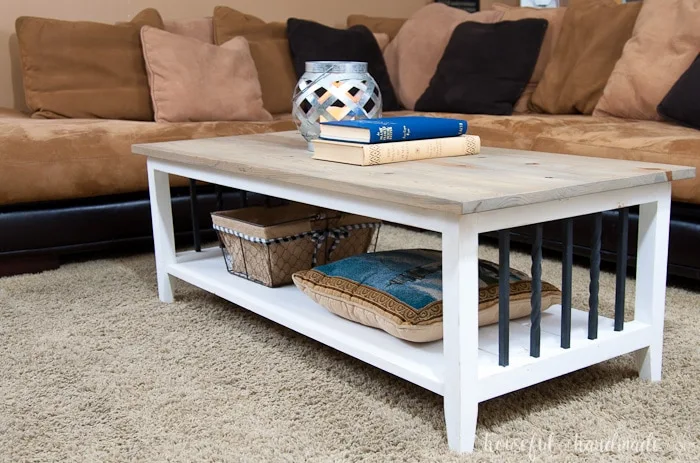 Labels are the mother of all organizing ideas! Keeping everything labeled keeps it organized. To keep our farmhouse entryway mudroom organized we opted for DIY chalkboard organizing labels so we can change out what is stored in the bins for each season.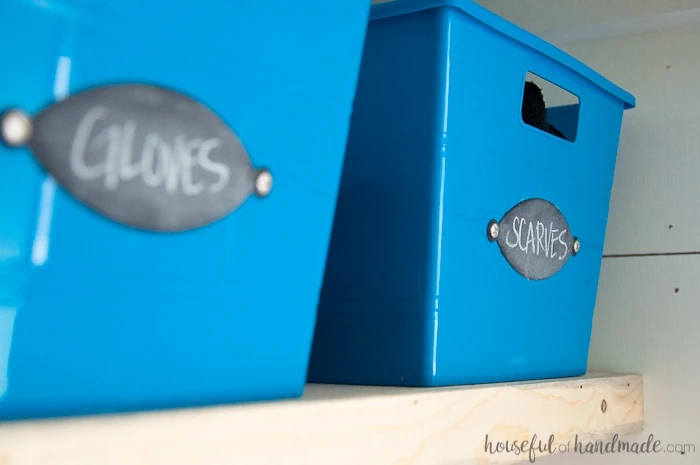 DIYs to Organize the Toys
If you have kids, you understand the frustration of having so many toys! They are everywhere. Finding solutions to help organize all those toys is a lifesaver. Here are some of our favorite solutions!
Legos. Legos. Legos! All Lego moms know the pain of piles of Legos. This rustic toy storage unit is the perfect solution. All the Legos and other small toys are organized in the upper bins, but the bins are open enough for the kids to play without having to get them all out. And the large bins below store larger toys.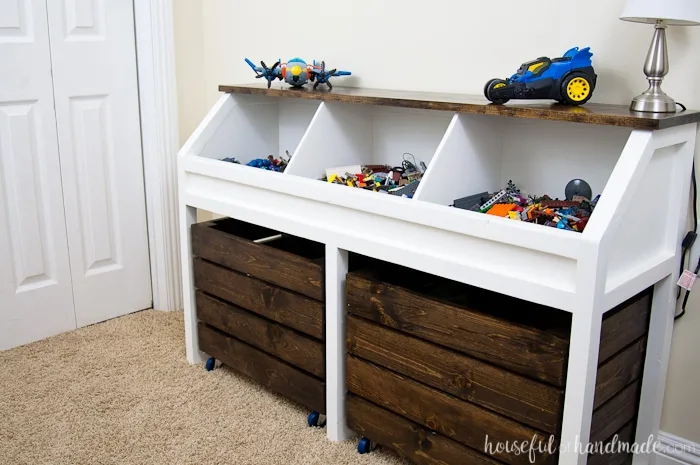 Our outdoor toys were a hot mess until I built this super fun DIY treasure chest toy box. Now the kids have a place to store all the outside toys and they can play pirates and hunt for buried treasure too!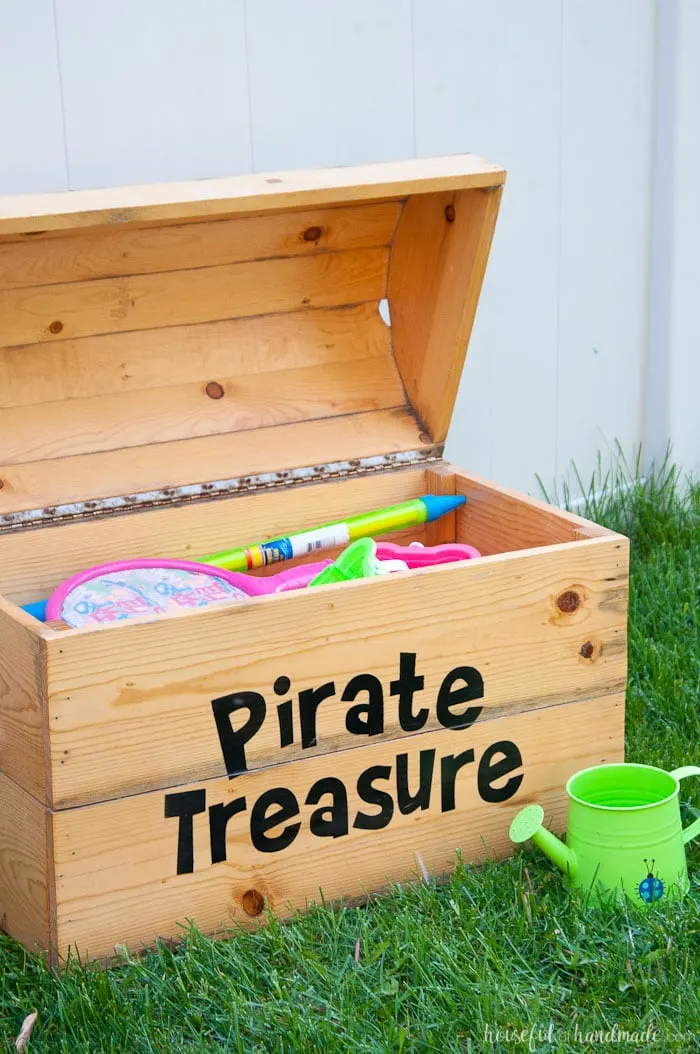 DIYs to Organize the Laundry Room
Nothing makes laundry more bearable, but a beautifully organized laundry room does help a little bit! So if you are struggling to deal with all that laundry too, maybe these DIYs can help.
Having a place to hold the iron, ironing board, and accessories was a life changer for me. We use to just store it wherever it would fit. But now it has a home and looks amazing thanks to this DIY iron holder with ironing board storage.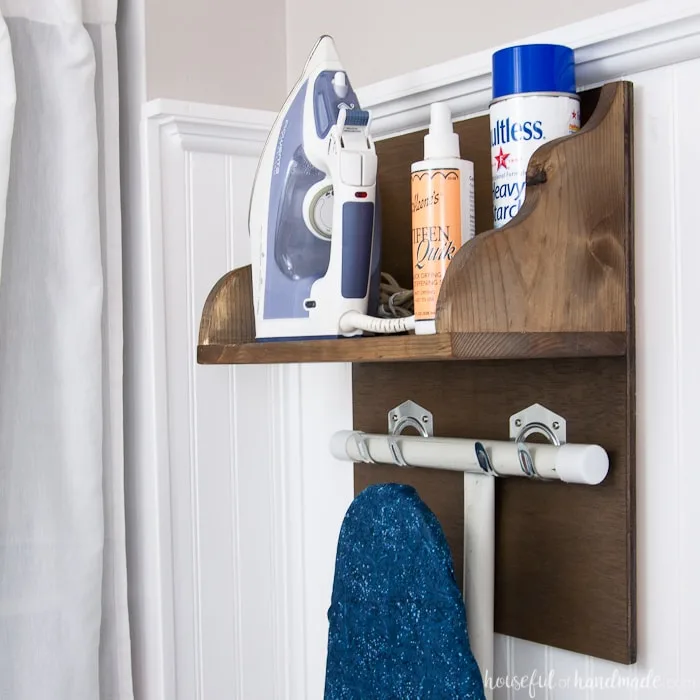 Now even our dirty laundry has the perfect place to be organized! This stackable laundry basket storage holds all our laundry baskets so we can sort the laundry easily. And it keeps our dirty laundry out of the hallway (which is where it use to be stored on laundry day).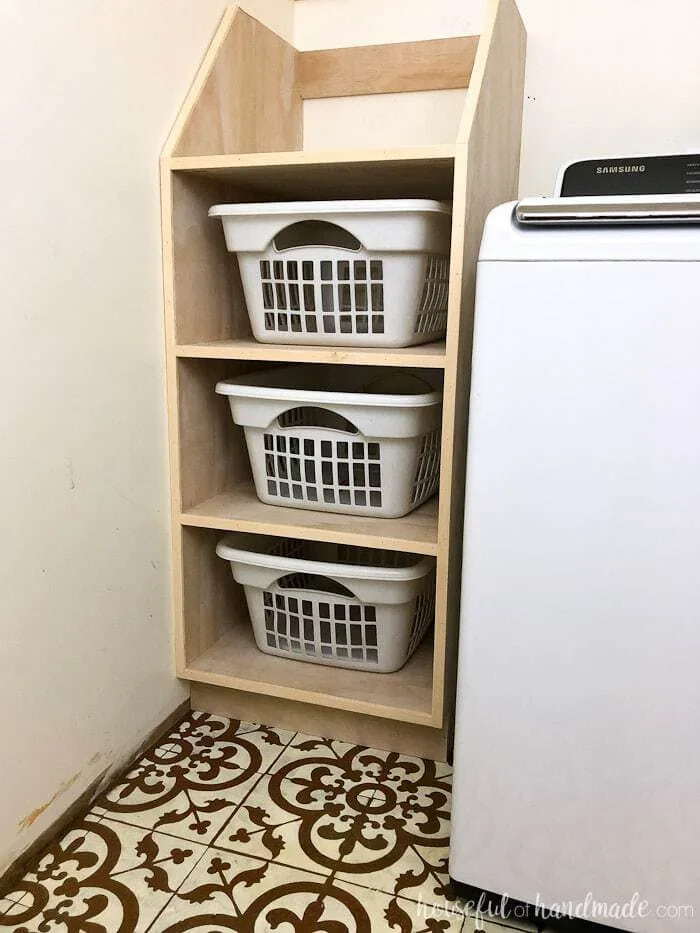 DIYs to Organize the Craft Room
Probably the messiest room in any crafters life. The entire house can be spotless, but my craft room is always in a state of organized disaster. However a few easy DIYs have made all the difference in keeping the most important craft supplies at the ready.
A pegboard is typically found in the garage, but I brought it inside to organize my crafting tools too. This pegboard is the best organization element in my craft room and we even figured out how to hang pegboard so it is removable so it can come with me when we move someday.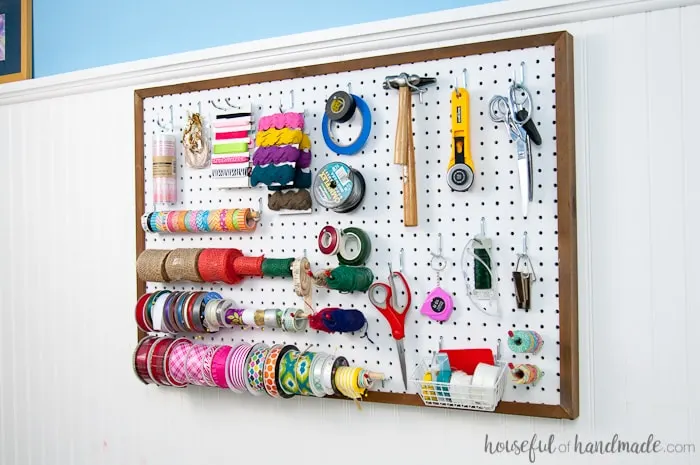 Organizing my supply of paints was a huge help in the craft room. Now I actually know what colors I have! It has stopped me from buying duplicates and makes it way easier to find things. See how I built these easy DIY Paint Storage Shelves from scraps of wood.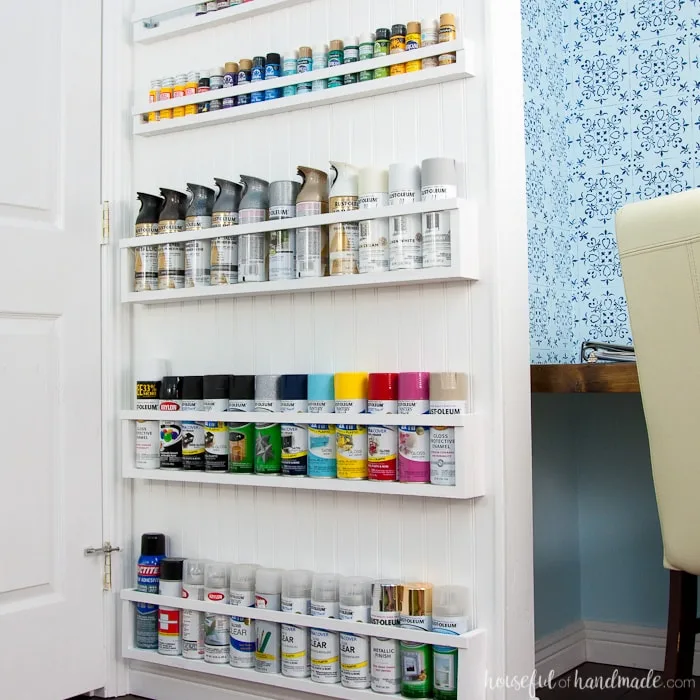 I turned my organizing into art with these DIY Wall Vases from Upcycled Jars. They are perfect to hold all the art markers and look pretty while they are at it!
Now you are armed and ready to organize your entire home. This year will be the best and most organized ever!