Build a farmhouse style produce basket for your kitchen. It's the perfect fruit basket for your home.
It has been a crazy month for us with camping, vacation, an unplanned family trip for a funeral, and now today I am planning on more family coming to stay at our house. I haven't had anytime to work on the remodel but I have been lucky enough to sneak in a little DIY time.
I go crazy if I don't get a chance to create (and no one wants crazy Kati around!). This week I managed to use all my favorite ways of crafting to make this totally awesome DIY farmhouse style produce basket. It was definitely the perfect kind of therapy for me after a long month.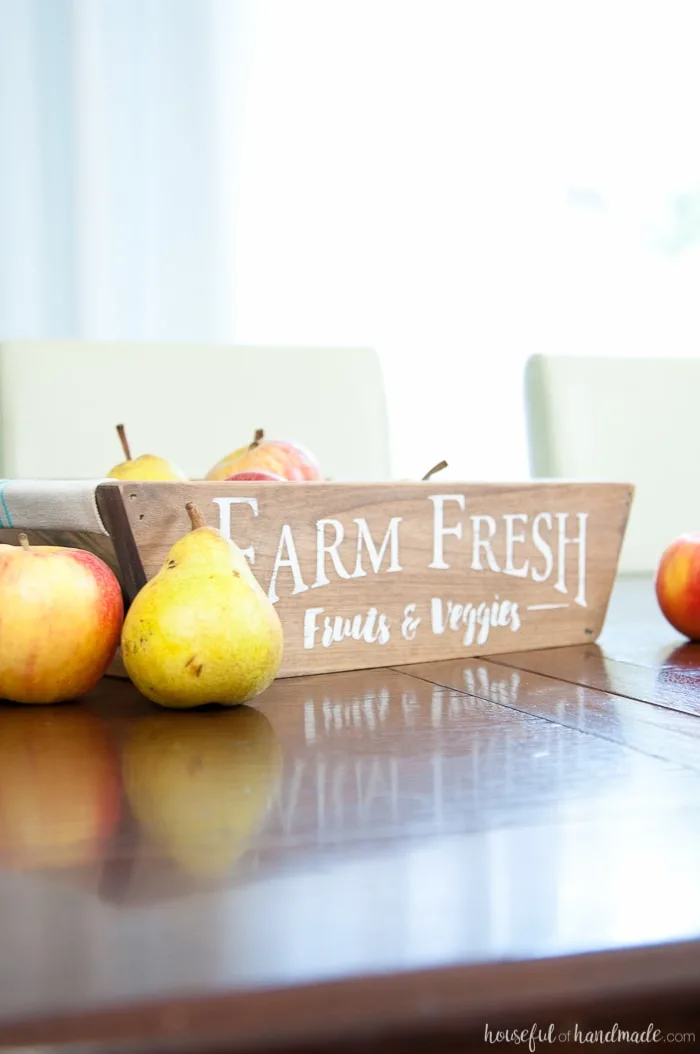 I'm a big fan of projects that can be completed in a day, or night. I had just put my kids to bed, but my husband was still out of town helping family after the funeral. It had been a long day so to relax I reached for some power tools.
I had this idea of making a farmhouse style table centerpiece to hold all the produce of fall. I had a pile of scrap wood left over from our rustic railings so I set to work and came up with this. It's funny how the smell of sawdust can really calm me!
One of the things I really love about farmhouse style is the way you can use whatever you have to create beautiful things. I don't know if you've noticed, but I love making things with scraps and leftovers. I am so afraid of throwing out good crafting/DIY supplies that my craft room and garage are bordering on hoarder!
But luckily for me, it means I can take a few hours after the kids go to bed and create something beautiful without having to make a run to the store.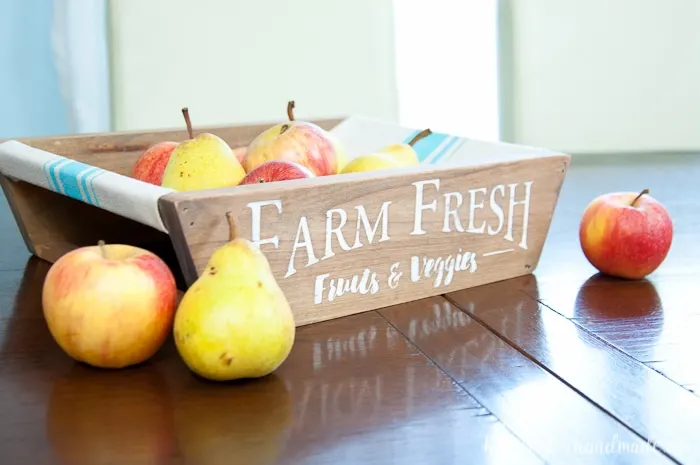 I needed something that would carefully hold the delicate fruits and vegetables. Again, I reached for scraps! I had a few pieces of drop cloth laying around from one of my many drop cloth projects (purse, Christmas stockings, or roman shades maybe). And to give the drop cloth even more of a farmhouse look (if that is even possible), I decided to paint it to look like a flour sack.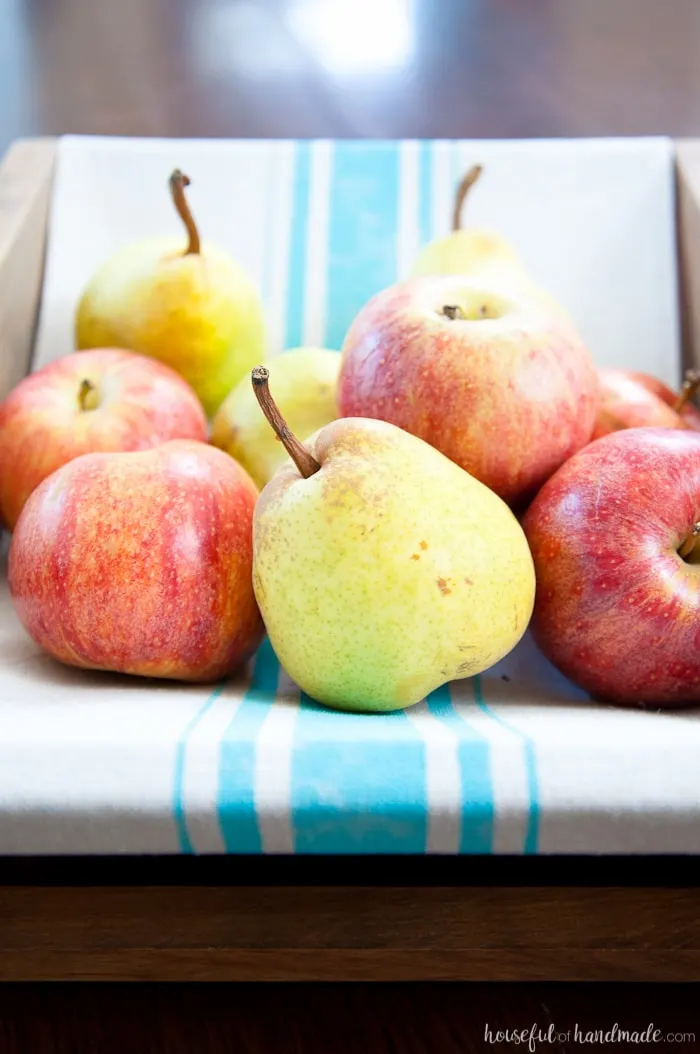 The final icing on the cake was using my Silhouette to cut out some vinyl to stencil a farm fresh sign to the sides of my produce basket. Now it really looks like an old crate. And after just a couple hours of therapeutic crafting I was left with this, and I love it! It's the perfect decor for fall as our garden starts really supplying us with all kids of goodies.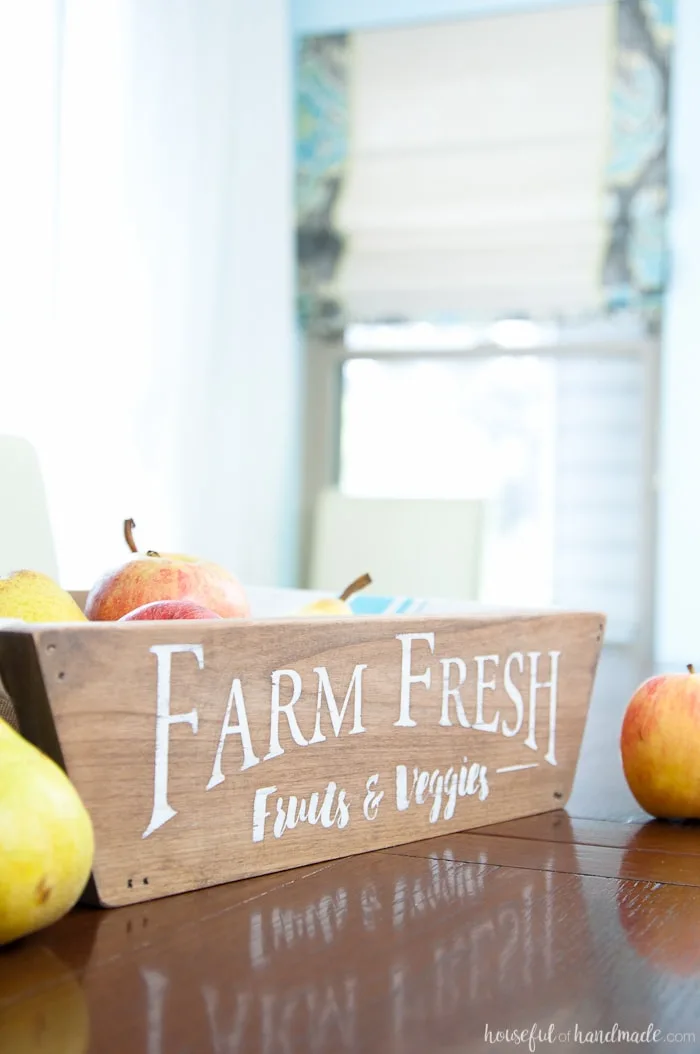 And the best part is, it cost me absolutely nothing since I used leftovers from other projects. But if you don't have hoarders tendencies, you can still make your own DIY farmhouse style produce basket with just a few pieces of wood and some drop cloth for a still very frugal decor piece with the tutorial below.

[products limit="3″ columns="3″ category="diy-kits"]
How to Build a Farmhouse Style Produce Basket
I started by making the wood frame. I used 2 14″ pieces of 1×4 and cut the sides so they were angled in at a 20 degree angle. To make sure my cuts are exact on two pieces of wood that have to be the same, I like to cut them at the same time. Makes for perfect cuts every time!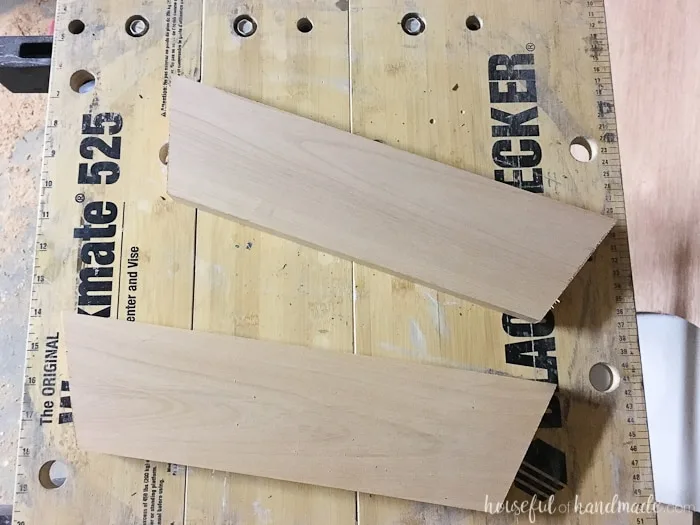 Then I cut 4 pieces of 1/2″ x 3/4″ scrap boards at 9″ long. I like the slightly thinner boards, but if you don't have access to a table saw to rip down the boards, a 1×1 (which is actually 3/4″x3/4″) will work great.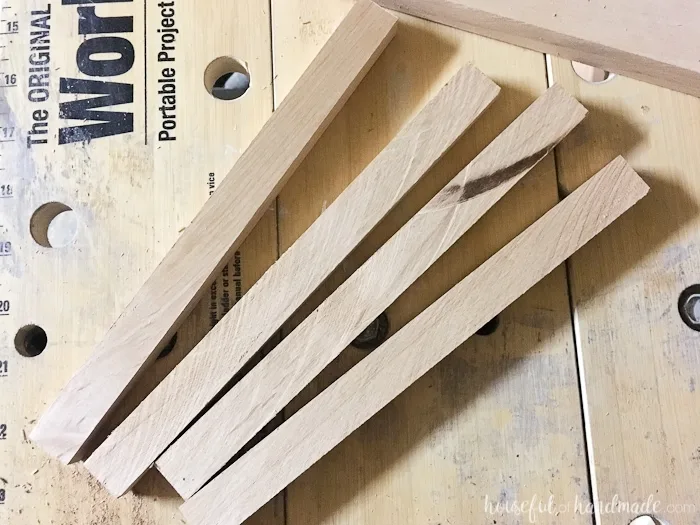 To assemble the frame, I used some wood glue and my battery powered nail gun. I attached two of the 1/2″x 3/4″ pieces to the bottom of the 1×4 pieces. These pieces were attached so they were level with the bottom of the 1×4 pieces.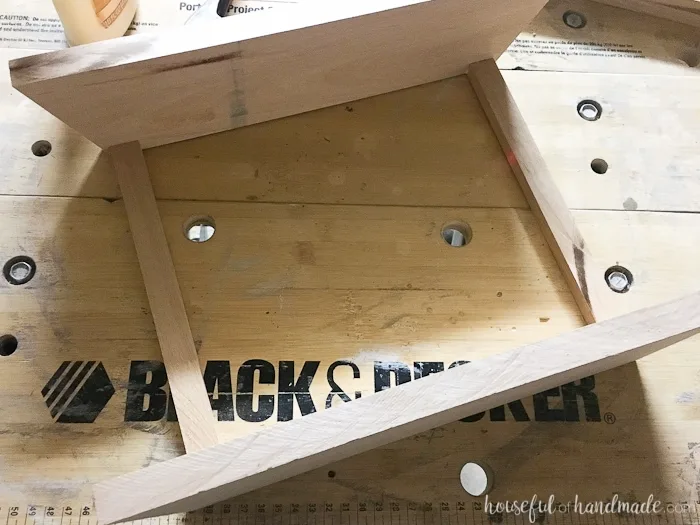 Then to attached the other two 1/2″x3/4″ pieces to the top of the 1×4 pieces. This time instead of being level to the bottom, I made the edge flush with the angled side.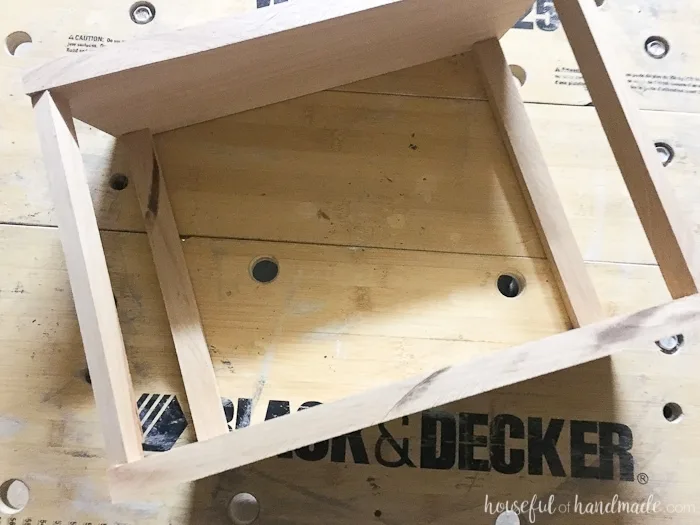 Now it was time for a quick sand and stain. I used a gray stain on the knotty alder wood and it turned out so beautiful! I am now considering this stain for my rustic railings. It's a big decision, I still haven't made up my mind.
While things were drying I designed the "crate" front. I really wanted my basket to resemble an old farm crate. I designed my text and then used my Silhouette to cut it out of vinyl.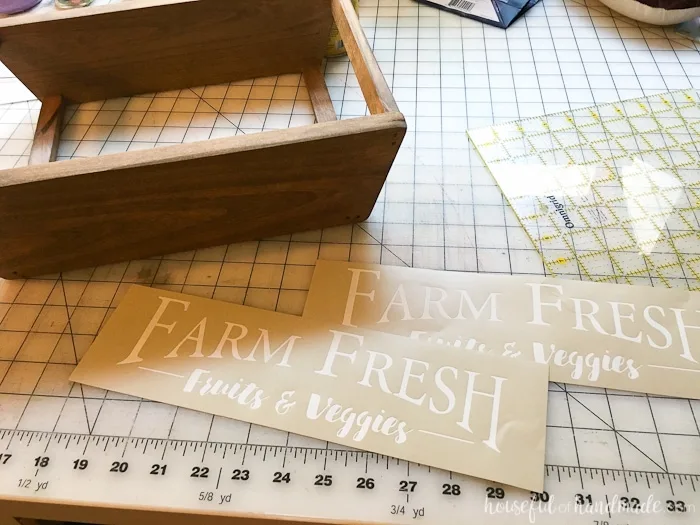 I used the vinyl as a stencil for my paint. I weeded out the parts I wanted painted. Then used transfer paper to transfer the stencils to the sides of the DIY farmhouse style produce basket. Then I covered it with a not so smooth coat of white paint using a dry brush.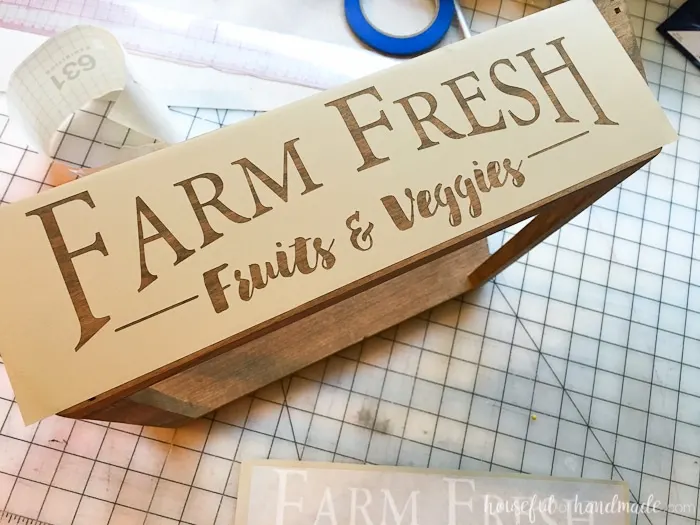 I always peel the vinyl stencil off when the paint is just barely dry, maybe slightly tacky, so the paint doesn't stick to the stencil. I find I get cleaner lines and don't have to worry about the paint coming off when I do it this way.
Then I let if finish drying and gave everything a little roughing up with a piece of sand paper. Nothing too crazy, I just wanted it to look a little worn. And finally I sealed everything with a coat of finishing wax.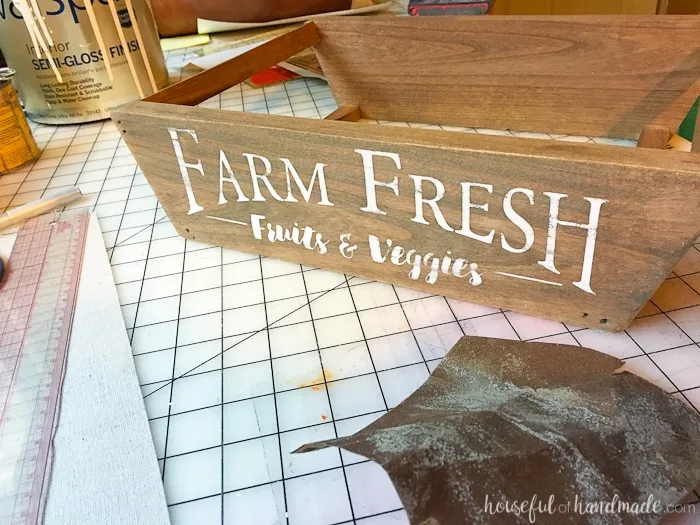 Now on to the drop cloth part of the basket. I cut a piece of drop cloth 9 1/2″x 18″. Along the long sides I did a 1/4″ rolled hem so I was left with a 9″x18″ piece. I used my serger to finish off the other two sides.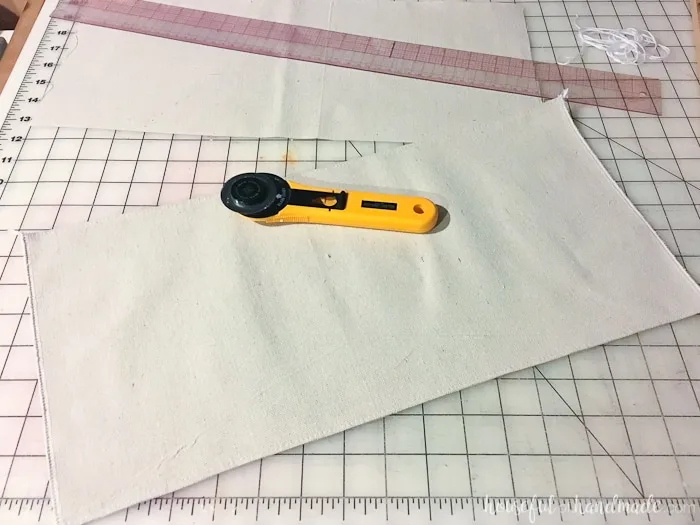 To create my flour sack lines, I used some 1/4″ blue painters tape and made lines in the pattern I wanted down the center of my piece of drop cloth like I did with my flour sack purse.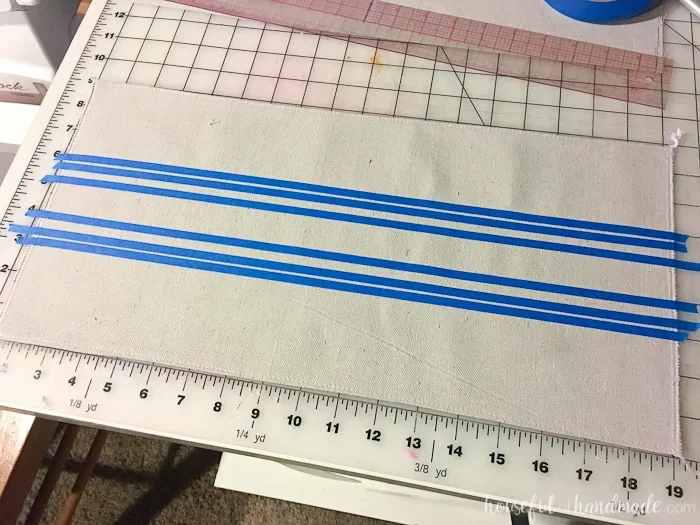 Then I used some paint and a stipple brush to fill in the lines with a turquoise blue to match our dining room.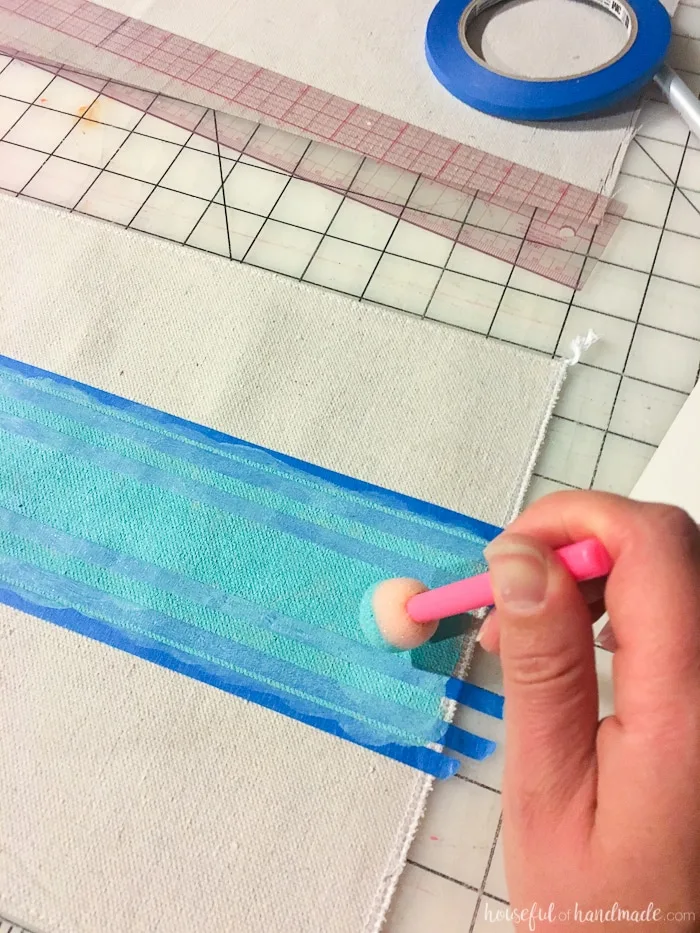 Again I removed the lines when the paint was barely dry so the tape came off cleanly. Then I ironed the paint with a hot iron and a pressing cloth to set the paint into the drop cloth.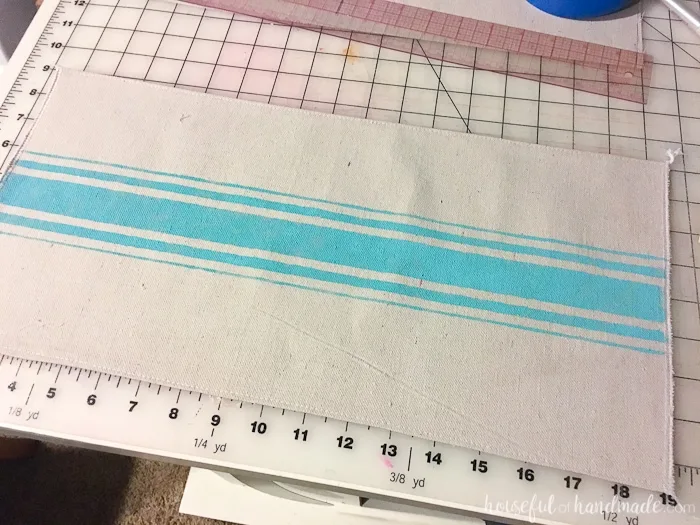 Now all that was left was attaching the drop cloth to the crate like frame. I made it super easy on myself and grabbed my handy staple gun. A few staples on the underside of the wood and it was all done.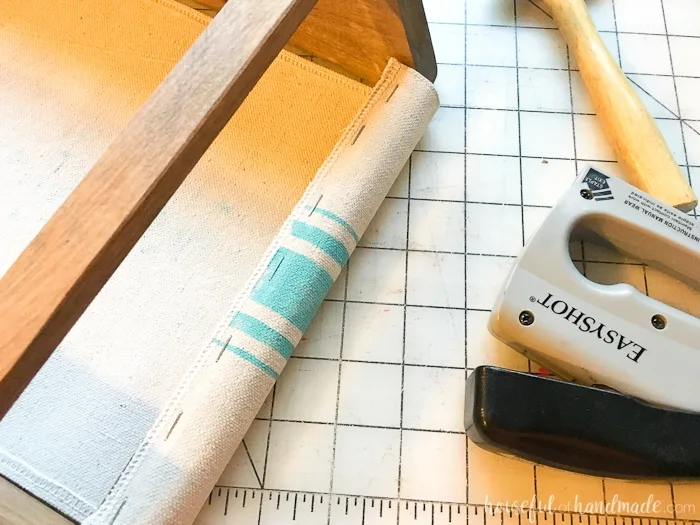 I was eager to fill it up with fruit and put it on the table. It looks so pretty, and already my kids are reaching for an apple instead of something else for their afternoon snack. I'll take that as a mothering win!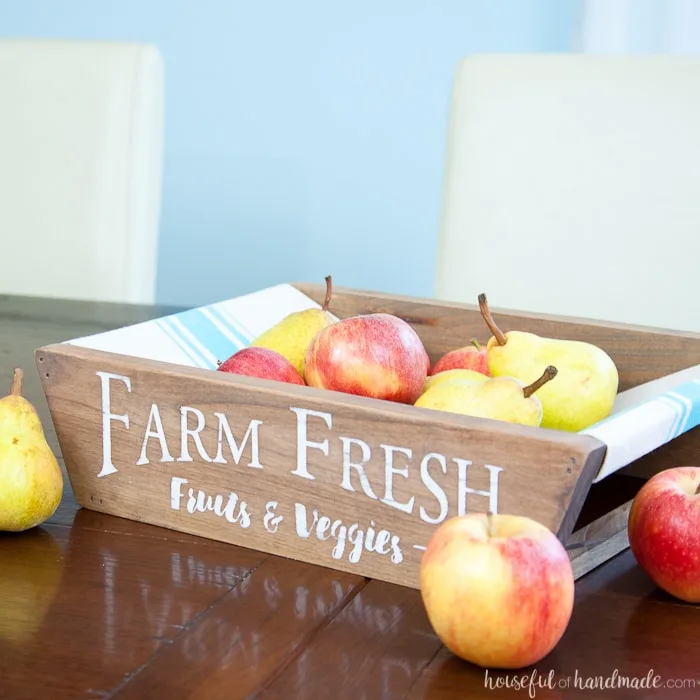 When my parents got to our house, my mom put in a request for me to make her one too, but with coral stripes! I didn't know I was making custom orders now.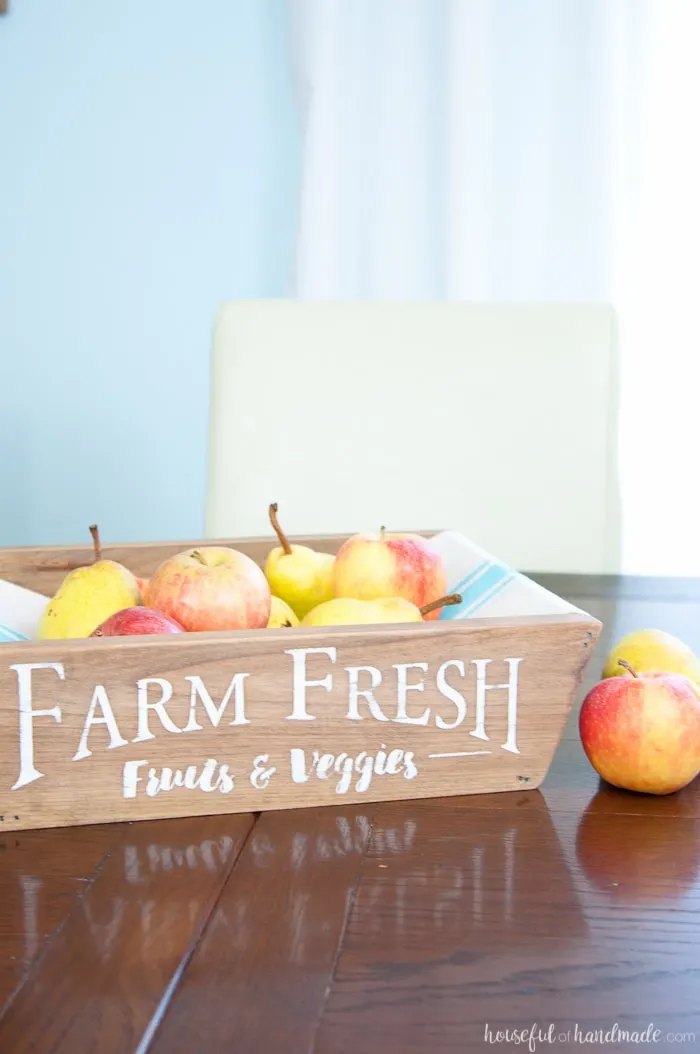 Now maybe after a few days with company at our house, we can get back to this business of remodeling our bathroom and living room. I am really hoping to get things done by the end of the month (is that too hopeful?). But until then I will just enjoy the little victories like this DIY.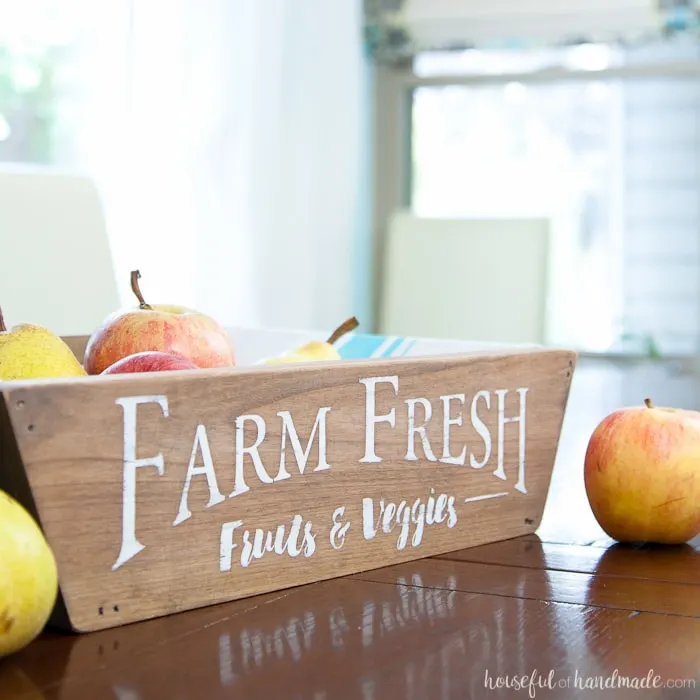 **Update: You guys have asked for the cut file for the Farm Fresh design I used on the front on my baskets so I decided to add it to the Library of Free Printables & Downloads. Click here to subscribe for access to the library today!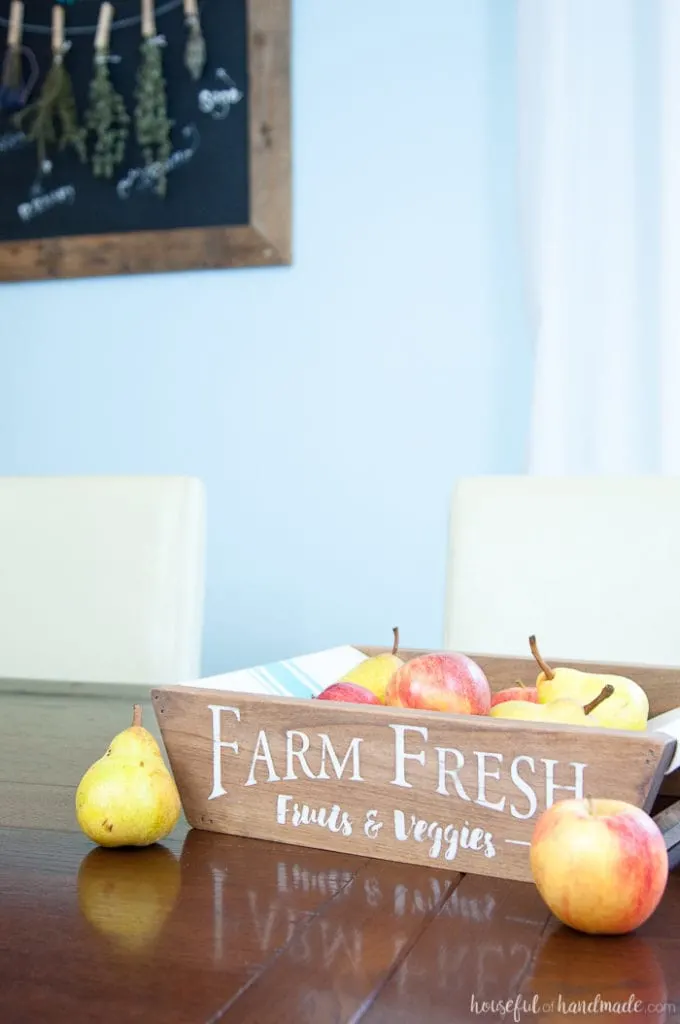 I hope you are having a wonderful summer too.