You will love these easy to make wood Christmas trees out of inexpensive 1×2 boards.
I'm in full on holiday mode! So much to do before the the business of the holiday season is upon us. And that means getting lots of Christmas decor made.
As I was looking through my Christmas decorating posts from the past, I remembered these amazing wood Christmas trees made from 1x2s that I never shared.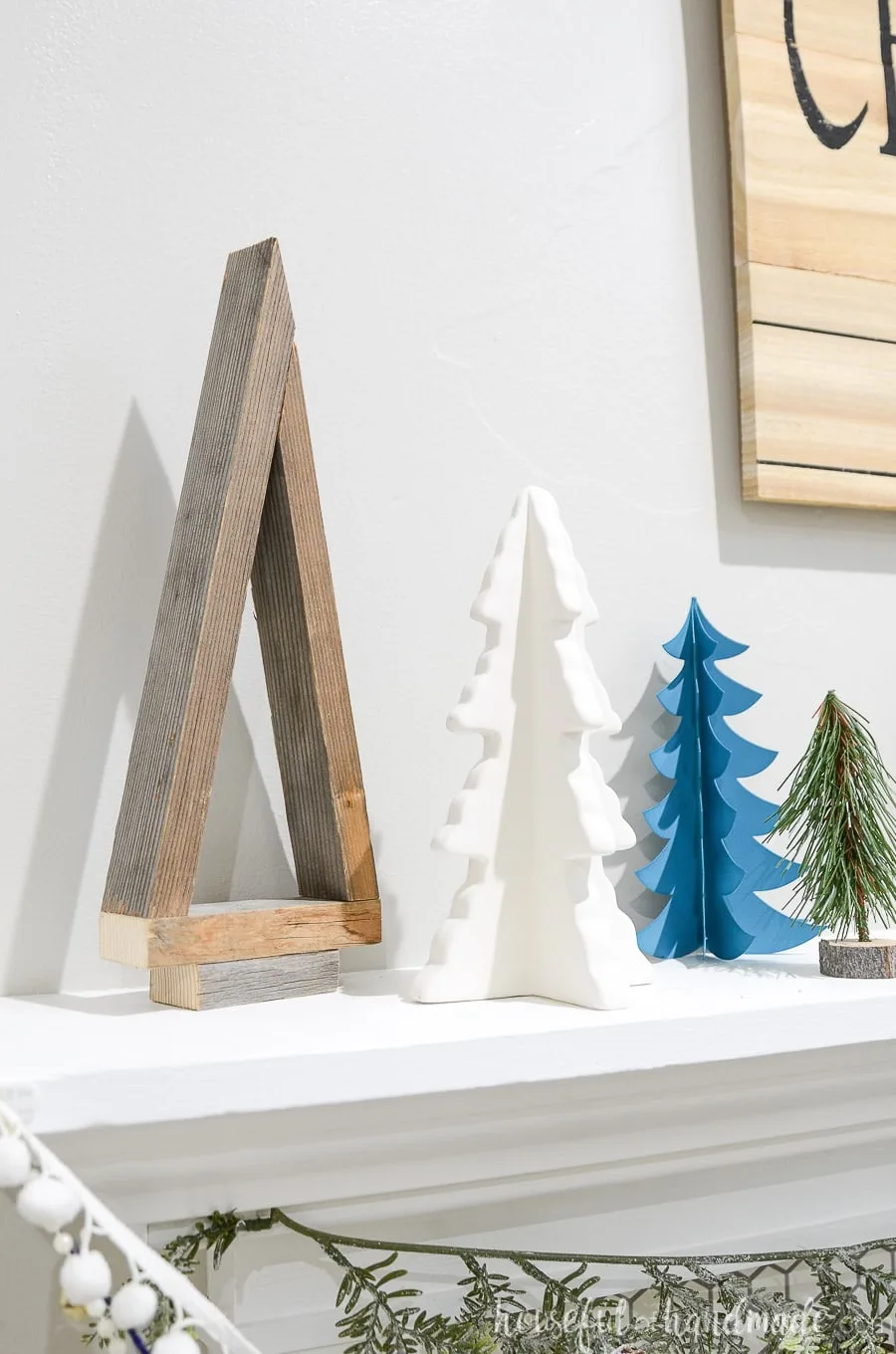 So I found all my photos (and am loving the memories of my beautiful mantel in our last home) and put together a tutorial for you to make your own cute wood Christmas trees.
Reclaimed Wood Trees
When I made my table top Christmas trees, I used reclaimed wood that my father-in-law collected for me. It was mostly 1×2 boards that were used as a garden fence.
The reclaimed wood makes this project even easier because the wood comes with all the color and character you need. I just built the trees and instantly displayed them!
But if you don't have reclaimed 1x2s laying around, you can still make these amazing trees. Use an aged wood accelerator like this one to give your brand new 1×2 boards a rustic reclaimed appearance.
Or enjoy the newness of your own 1×2 Christmas trees and have fun staining them beautiful colors. I love this red stain and this navy wood stain. But this sage stain or this aqua stain would be amazing for wood Christmas trees too.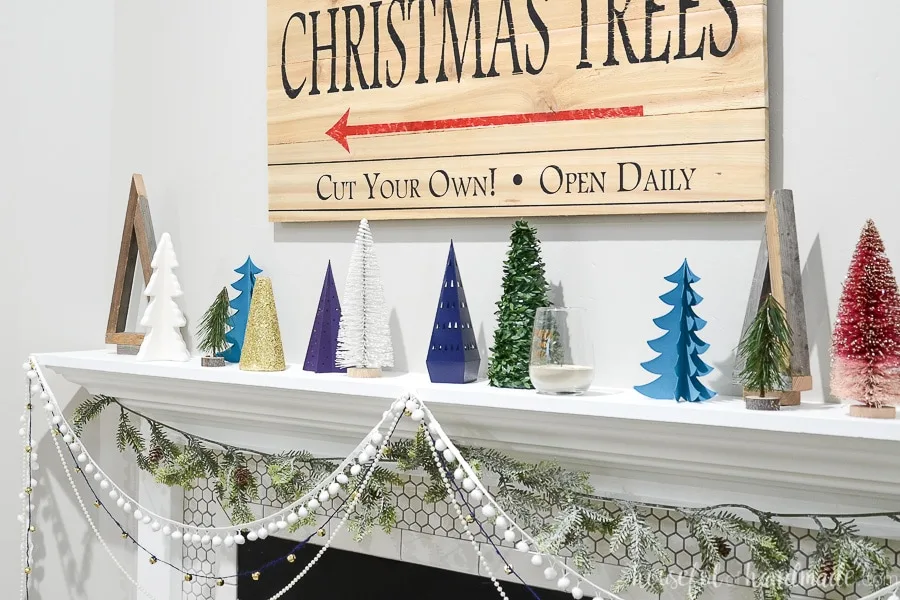 Easy to Build Wood Trees
These simple wood Christmas trees couldn't be easier to build! They also require just a few basic tools.
Of course you will need a saw to cut the wood for your trees, but it doesn't have to be a power saw. You can easily cut the 1×2 boards with a handsaw. I prefer a flush trim saw, it cuts quickly and easily.
And can also use a miter box to help you cut straight lines. I like using one when cutting board with my handsaw.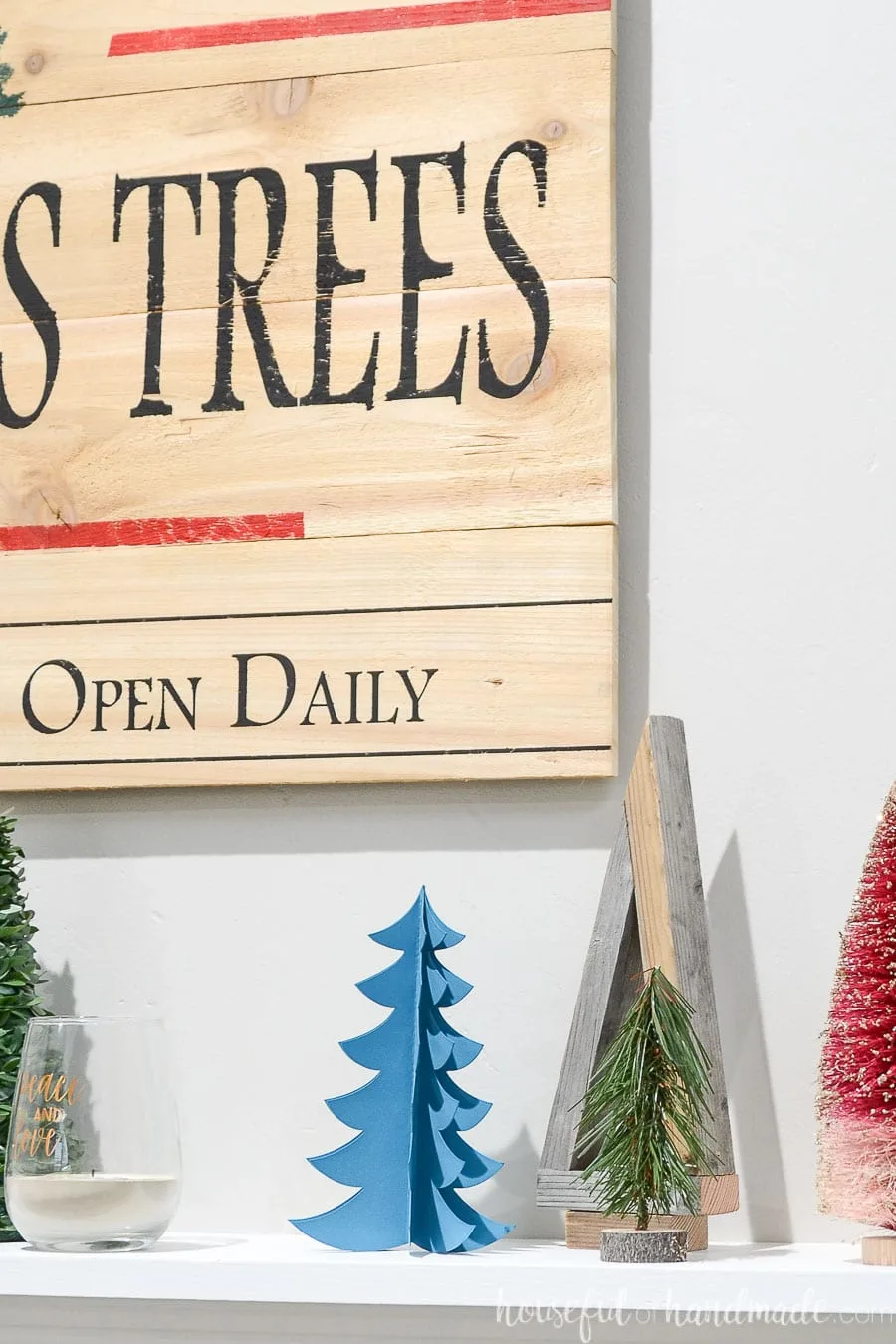 The other tool you need for these table top Christmas trees is a nail gun. You could try hand nailing, but the odd angles will make it harder to hammer in. And using a nail gun is fun!
I love my battery powered nail gun for easy projects like this. No need to get out the compressor and fill it up for just a couple quick nails.
And lastly, you will want one of my most used (and most useful) tools: a speed square. I use this thing all the time in the shop for everything from drawing cut lines, to measuring angles, to making a quick miter saw stop.
For these wood Christmas trees, the speed square is used for getting the angles right and drawing where to cut.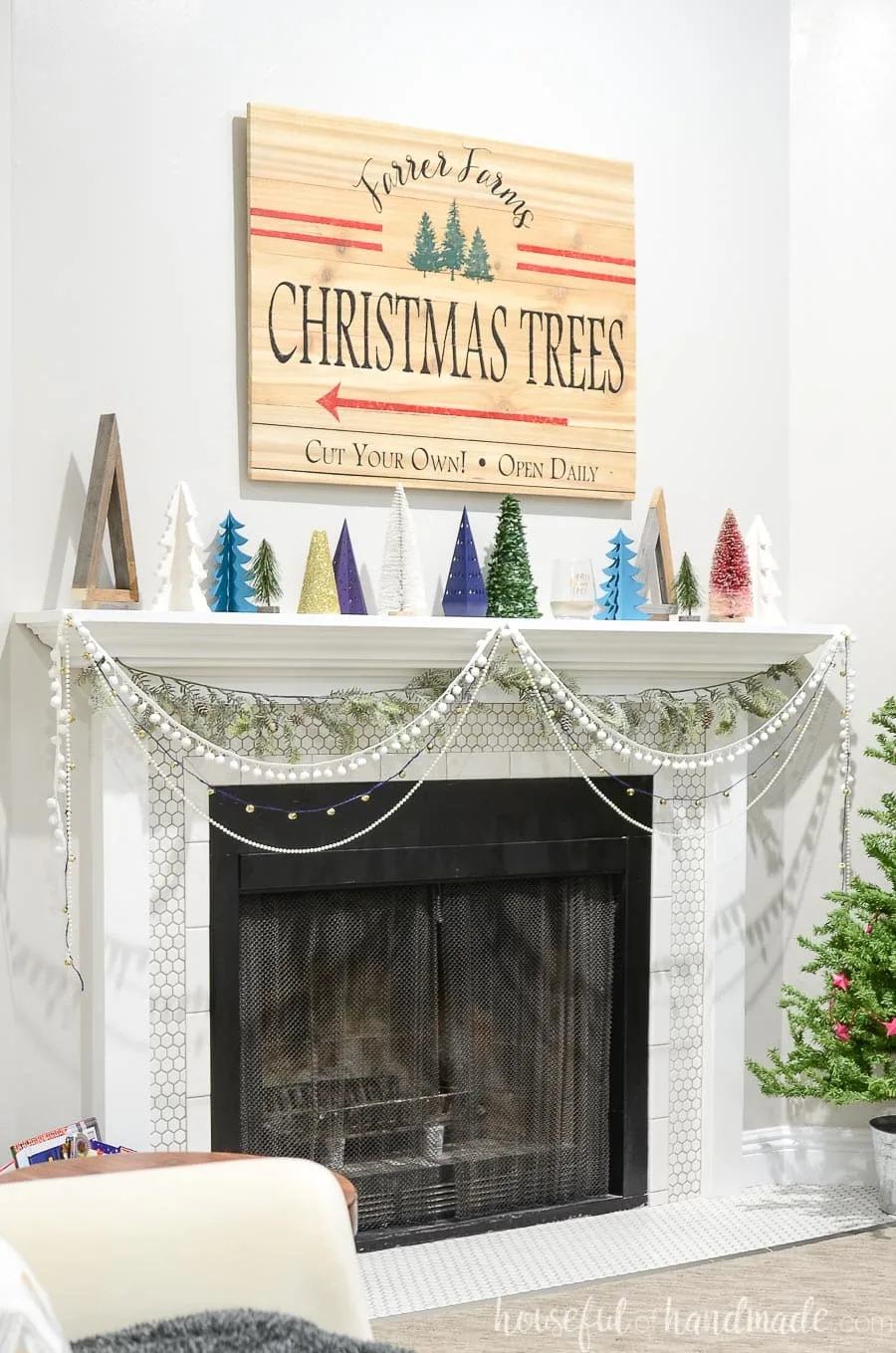 How to Make Tabletop Christmas Trees from 1x2s
Tools Needed:
Saw
Nail gun
Speed square
Measuring tape
Supplies Needed:
1×2 board (reclaimed or new)
1″ brad nails
wood glue
optional: paint or stain
Cut a 3″ piece and 5″ piece for the base. Attach the smaller piece to the bottom center of the large piece with wood glue and a couple nails.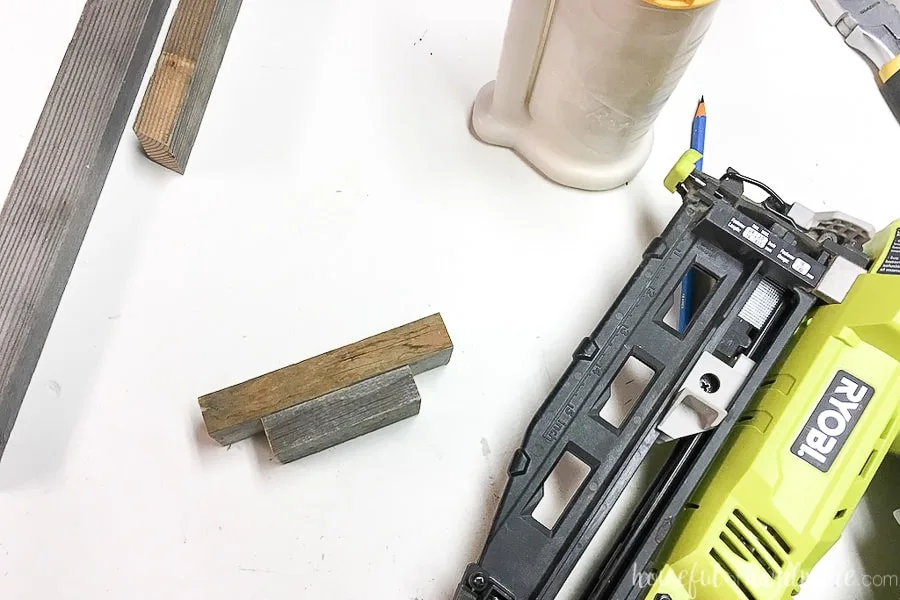 Cut a 8″ piece of 1×2. The bottom should be cut at a 15 degree angle and the top at a 60 degree angle.
Nail this piece to one side of the assembled base. Secure with wood glue and nails.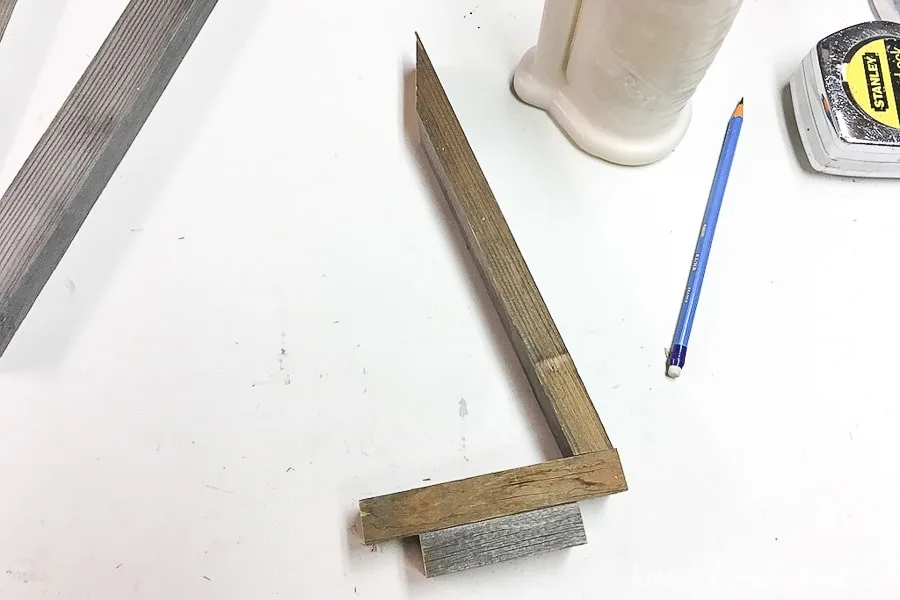 Cut a 10″ piece of 1×2 with the bottom at a 15 degree angle. Attach it to the other side of the assembled base. The top will hang over the other piece quite a bit.
Secure with wood glue and nails to the base and the top of the other side.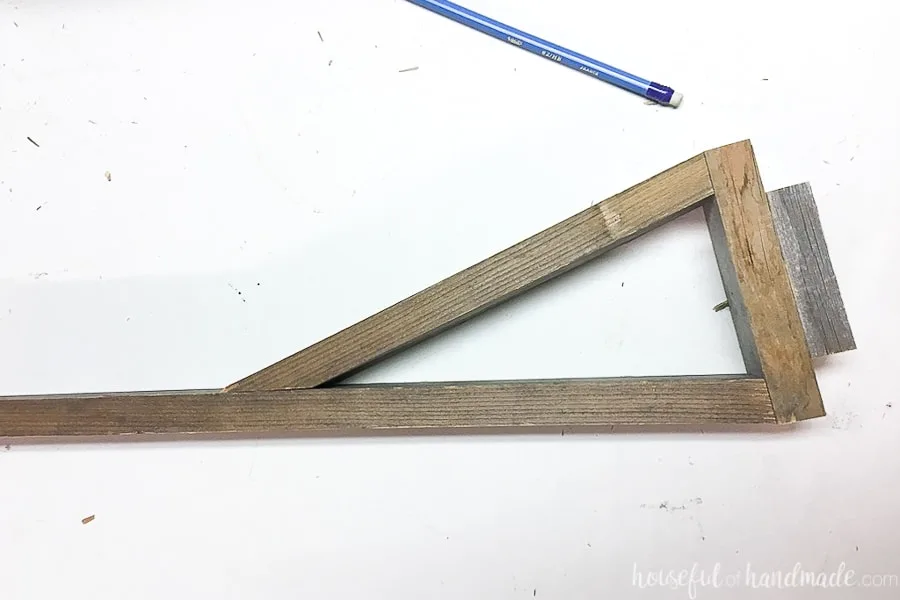 Line up the speed square with the short side. Draw a line from the edge of the short side to top of the tree.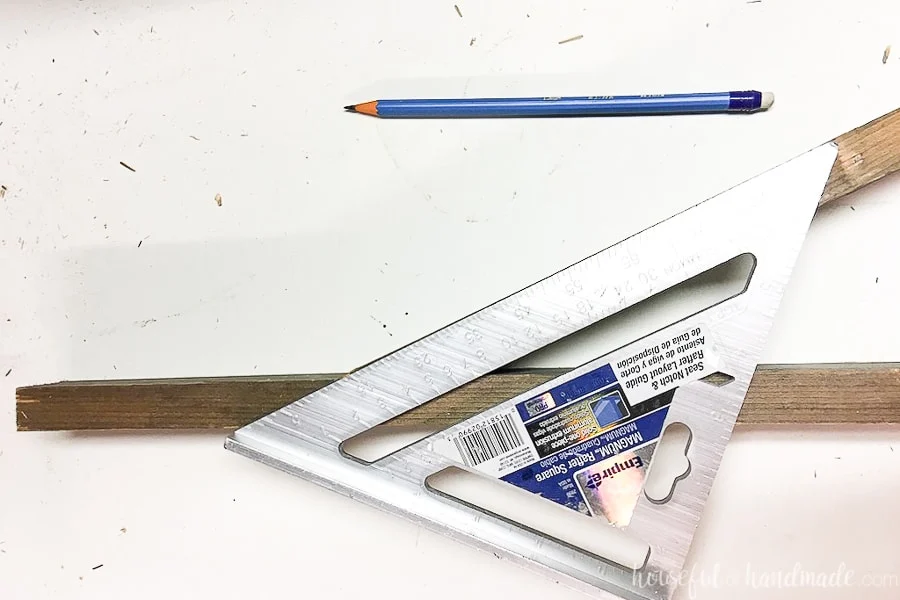 Cut along this line.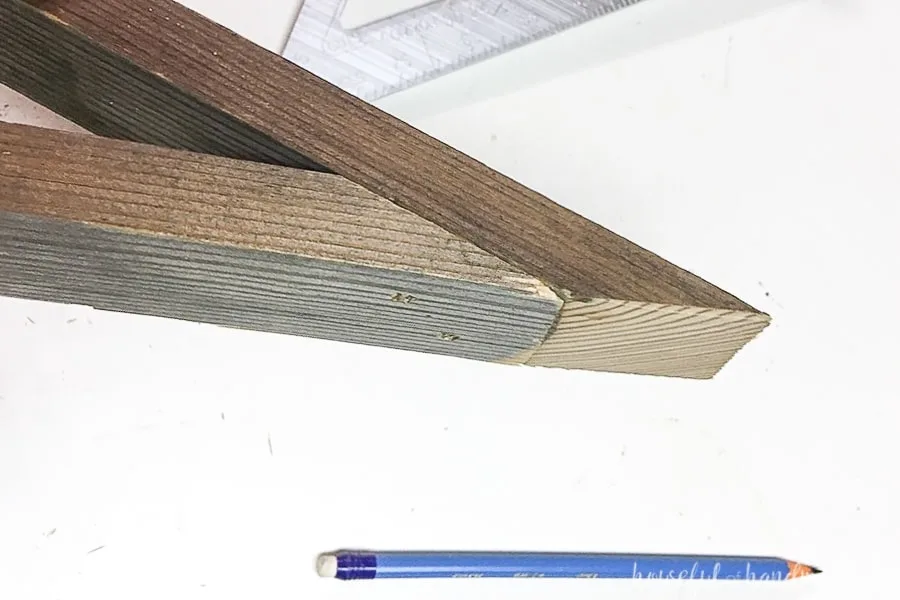 Now your trees are ready for display or ready for stain/paint. It really was that easy!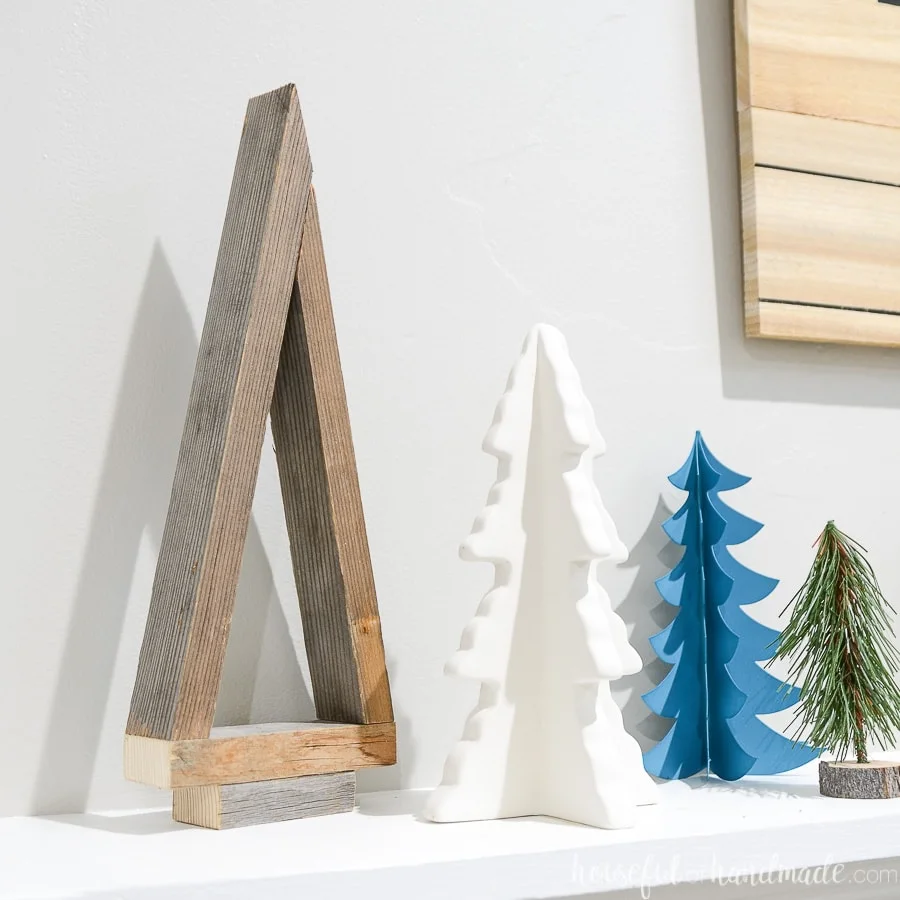 Make a whole forest of Christmas trees for a fun mantel with these other Christmas tree DIYs:
And see how I made our Christmas tree farm sign from inexpensive cedar fence pickets here.