I feel like it has been way too long since I have shared some building plans with you. That is the downside of Utah winters, it is too cold to spend any amount of time outside without big snow gloves on. And I can't really build or use tools with snow gloves on. Someday I will be lucky enough to have a heated garage or workspace, but until then I will probably not build anything bigger than this Reclaimed Wood and Steel Sign. Lucky of you, I built my coffee console in June (finished it about August), but waited until now to share the free coffee station console plans.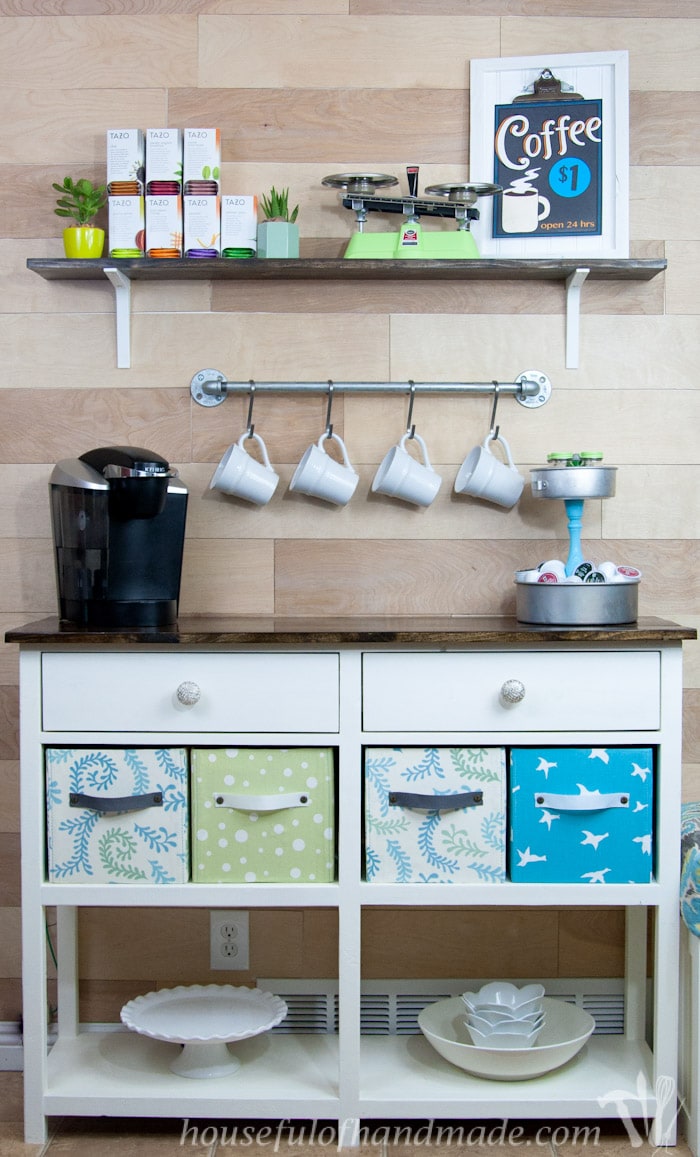 I took my inspiration for this console from these plans by Ana White. I needed to make some changes to work better for my space and my needs. It turned out perfectly! We just love this console and all the storage it offers in our dining room.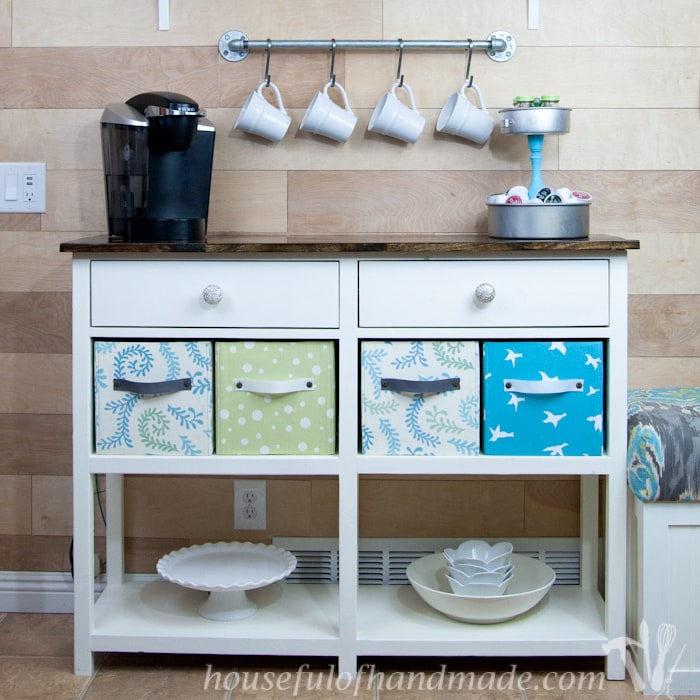 I'm going to share with you how to build the console, minus the drawers. I will be doing a full post on the drawers to share what I learned. This was my very first time making and installing drawers because I was terrified, but it wasn't that bad and I will show you how I did it later this week.
Supply List:
5- 8′ 2×2 boards
1- 8′ 1×2 boards
2- 8′ 1×6 boards
2- 1×12 boards
2- 1×4 boards
2'x4′ 1/4″ plywood
1 1/4 inch pocket hole screws
2 1/2 inch pocket hole screws
2″ finishing nails
wood filler
I learned a few things with this build. You cannot buy 2×2 boards in the nicer whitewood boards, only the cheaper furring strips. I bought the furring strips and I ended up fighting them the entire time. They did work out (as you can see) but next time I need 2x2s I will buy 2x4s and rip them down to size with my table saw. Then I can guarantee straight boards with nice corners instead of the rounded corners of the furring strips.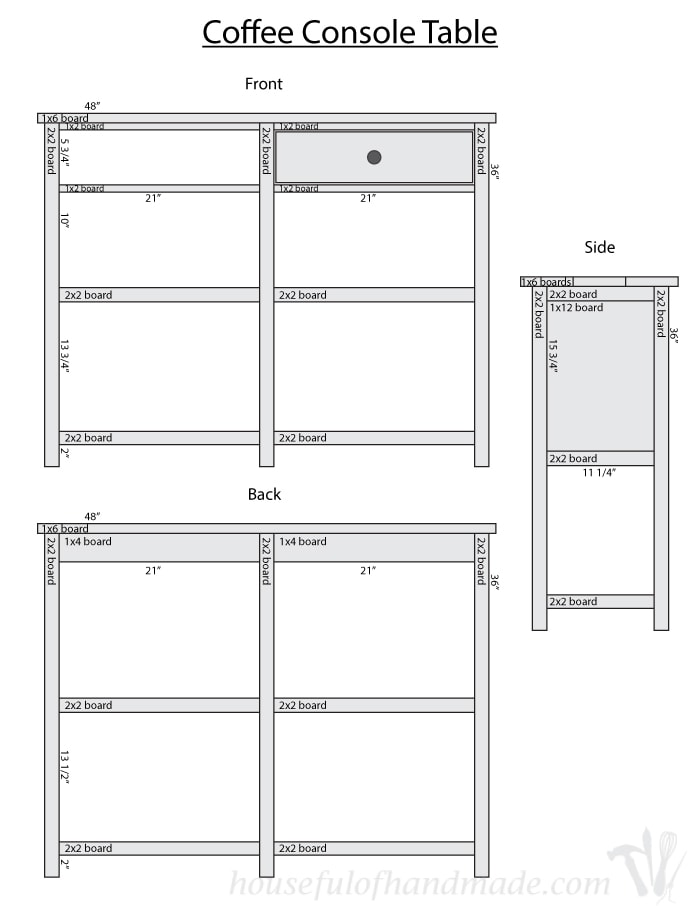 Cut List:
2×2 boards-
6 @ 36″ long (legs)
8 @ 21″ long (shelf edging on front and back)
6 @ 11 1/4″ long (shelf edging on sides)
1×2 boards-
4 @ 21″ long (front supports around the drawers)
1×4 boards
2 @ 21″ long (back supports)
the rest is for the drawers that we will talk about later
1×6 boards
3 @ 48″ long (console top)
2 @ 20 3/4″ (drawer fronts)
1×12 boards
2 @ 43 1/2″ long (shelves)
2 @ 15 3/4″ long (sides)
I would not recommend cutting all pieces at the beginning. It is better to cut as you go and double check your measurements before cutting. All boards are said to have a standard size, but they are not always perfect. The measurements are based on the standard size of the boards.
Time to get started!
First, you will build the sides of the console. Using wood glue and 2″ finishing nails, secure an 11 1/4″ 2×2 board between 2 36″ 2×2 boards. Fit the 15 3/4″ 1×12 board into the side and secure with wood glue and nails. I made the outside of the console flat by pressing the 1×12 board flat to the outside, I would not recommend this because I had to put additional boards inside the console to secure the drawer glides I bought, and the outside will look nice without it being flat too.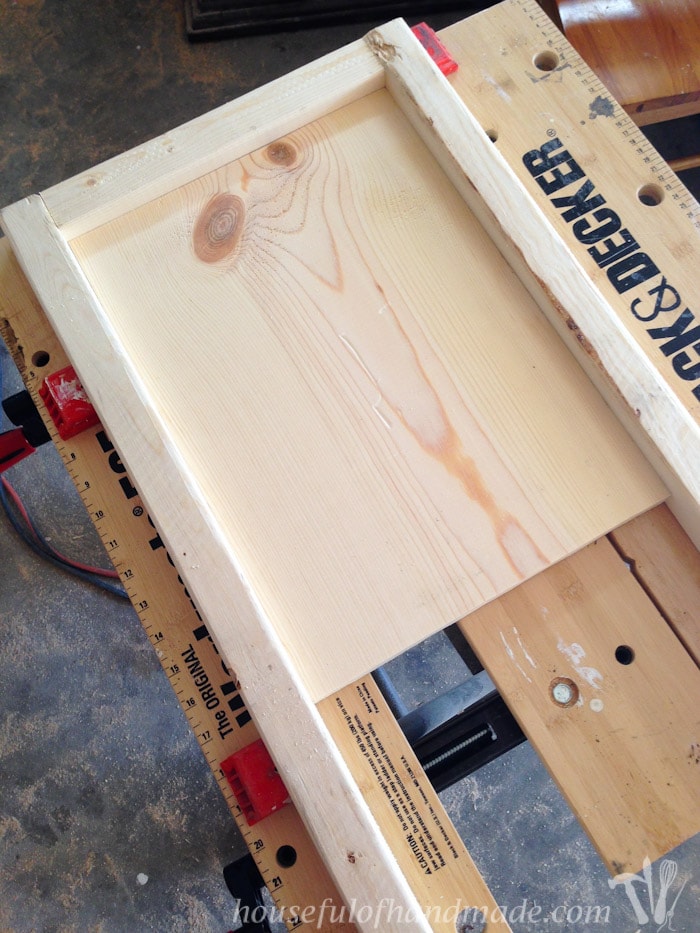 Add another 2×2 board flush with the 1×12 board and secure with glue and nails. Then measure 2″ from the bottom and secure another 2×2 board so the bottom is at the 2″ mark.
Then repeat so you have two matching sides.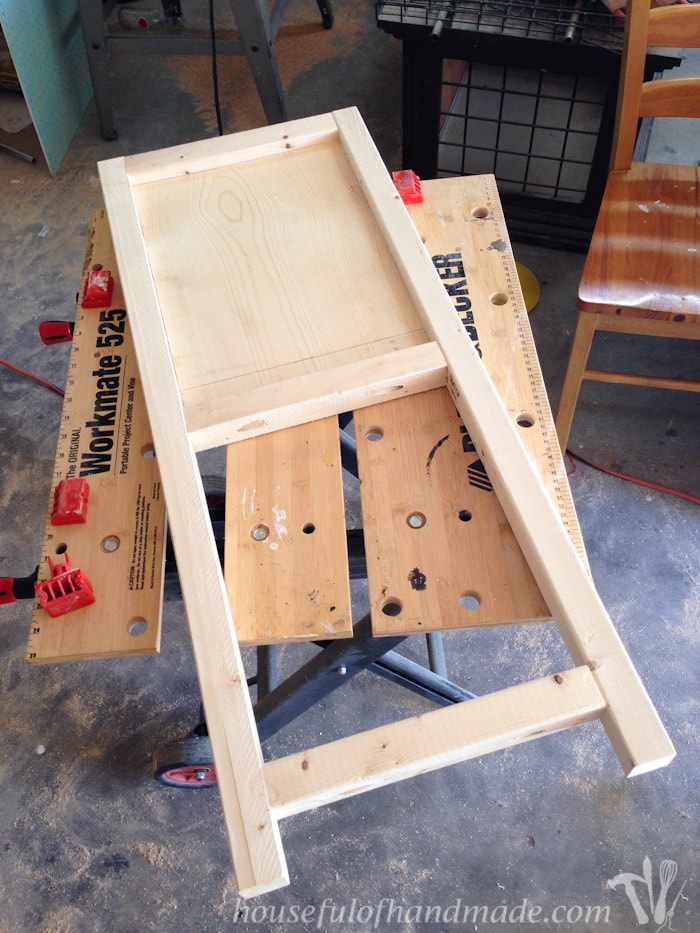 At this point you may want a second pair of hands. I did not and ended up like this! I also would not recommend building furniture in flip flops.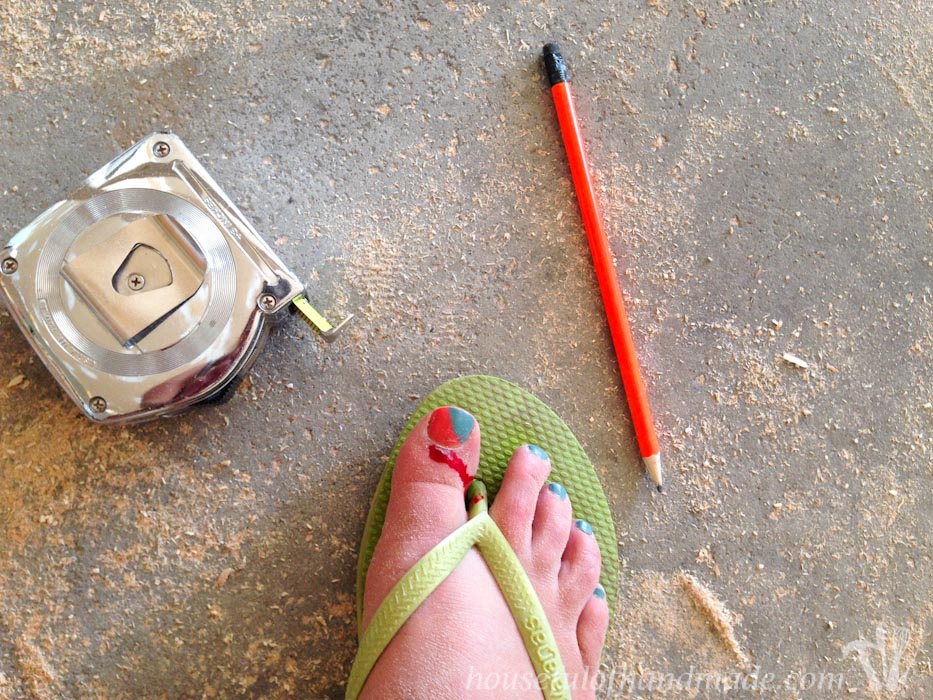 Secure a 36″ 2×2 board to one of the sides with a 21″ 1×2 board flush on the top and a 21″ 1×2 board 5 3/4 inches below that with pocket holes on the under side of the 1×2 boards . Then repeat on the other side so the unit looks like this.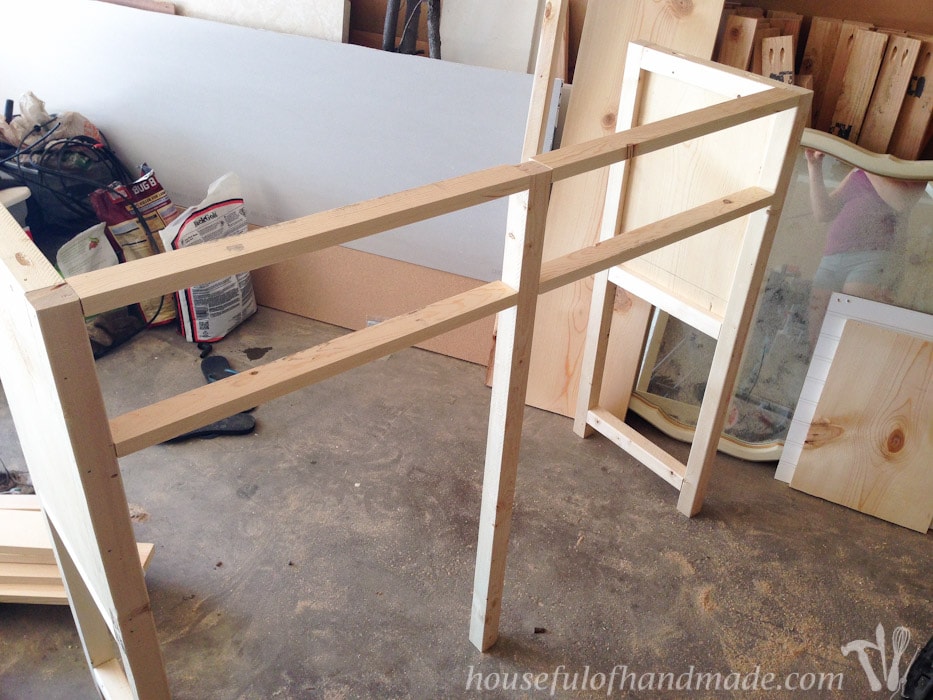 Then attach 4 21″ 2×2 boards so they line up with the 2×2 boards on the sides. Use pocket hole screws on the underside of the 2×2 boards again.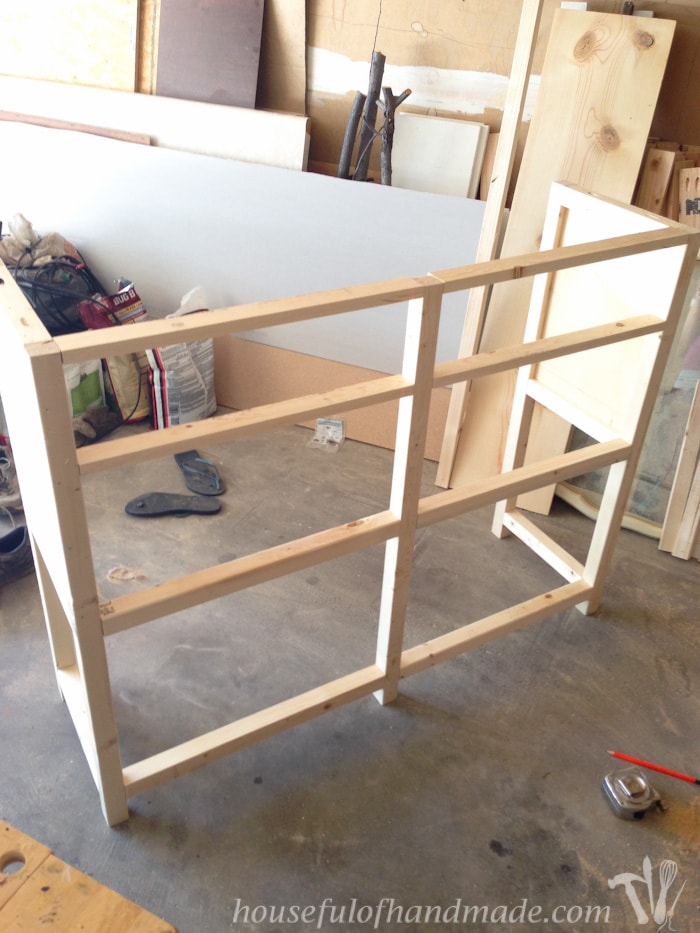 Now it's time to attach the shelves. I used my circular saw to cut the 1×12 boards to 43 1/2″ long. Getting straight lines with a circular saw can be a huge headache. This is how I like to get perfectly straight lines:
Start by marking your measurement.
Then line up your blade on the line that you need to cut on. I always line the blade up to the outside of the measurement mark so I don't end up slightly shorter because the saw cuts out the width of the blade.
Once the blade is lined up, draw a line on the side of the saw guide.
Draw a perfectly straight line on the new line you marked. I use a carpenters square to help with this.
Then clamp a straight board to the line.
Cut the board by using the clamped wood as a guide for your saw. Now you have a perfectly straight line!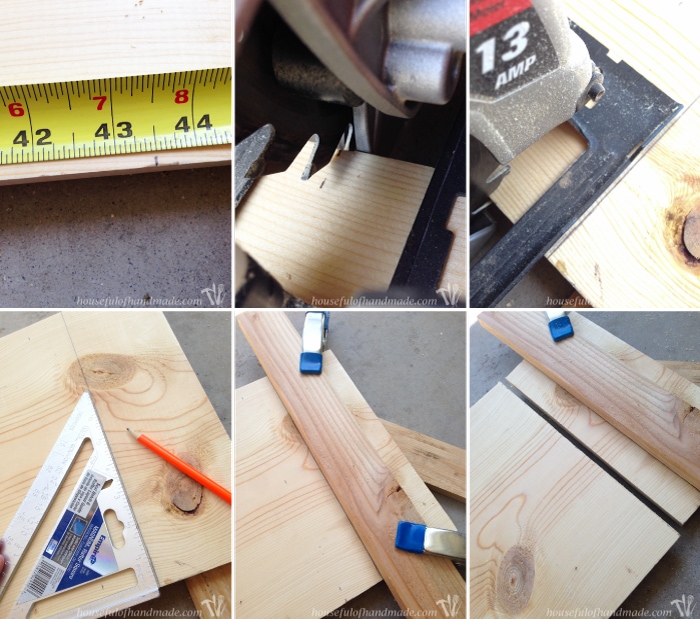 Secure the shelves so they are flush with the top of the 2×2 boards with pocket hole screws from underneath the shelves.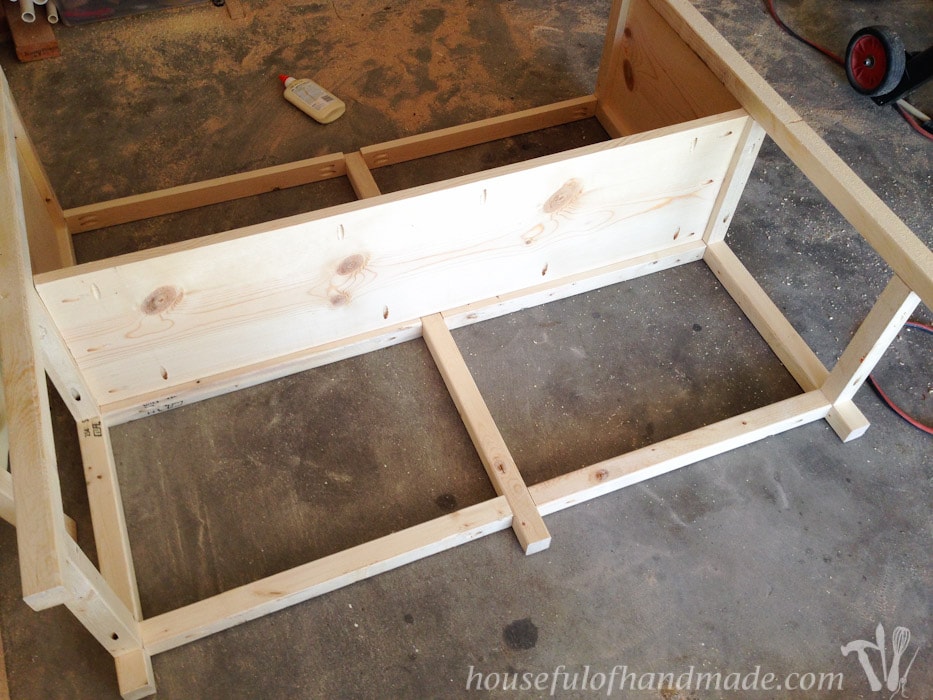 Once you've got both shelves secured, you can stand the console up again and add the back. Use the 21″ 1×4 boards to secure the last 36″ 2×2 board the back. Then add the 2×2 boards at the back of the shelves making sure they are flush to the top of the shelves like they are on the front. At this point you also will want to put a 11 1/4″ 2×2 board between the two center legs in the center of the drawer opening so you can attach the drawer glides. I did not do this (because I really had no clue what I needed to do to attach drawers) and had to secure it later.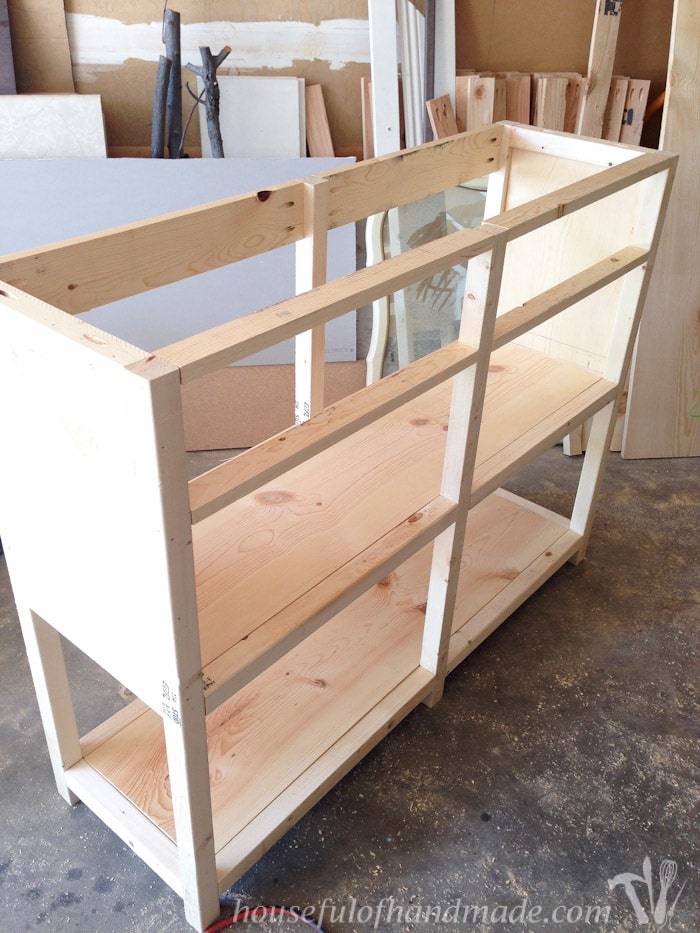 Now it is time to fill all the nail holes with wood filler. I also had to fill the grooves that were left on my shelves and the sides of the console because my 2x2s had curved corners. You can save yourself a lot of hassle by using better 2×2 boards!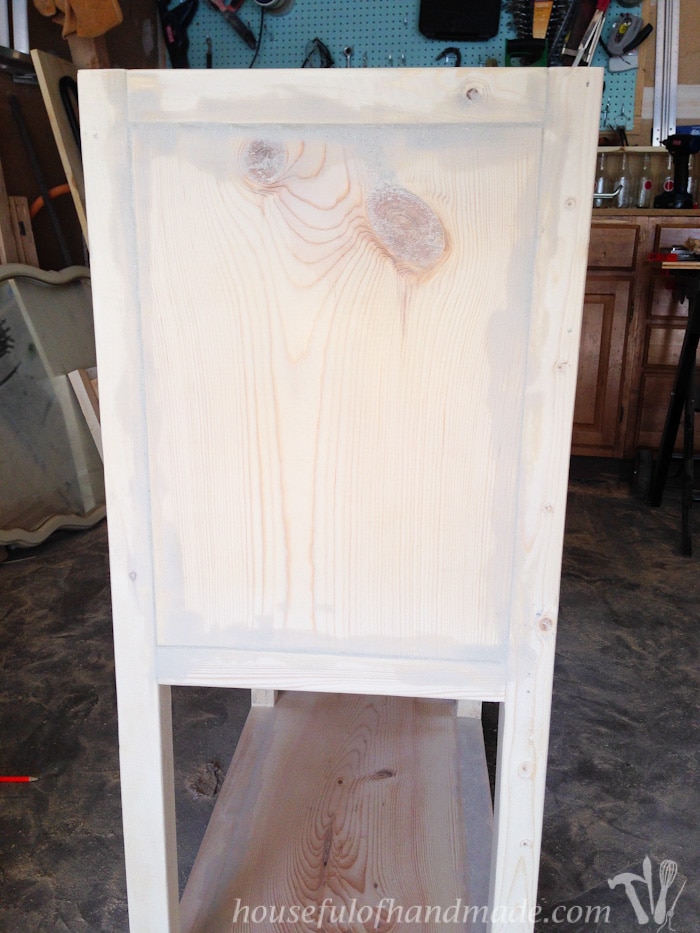 Once all the wood filler is dry, give it all a really good sanding (my least favorite part). Then paint. I did 3 coats of a soft white paint color, the same color I painted our built in bench.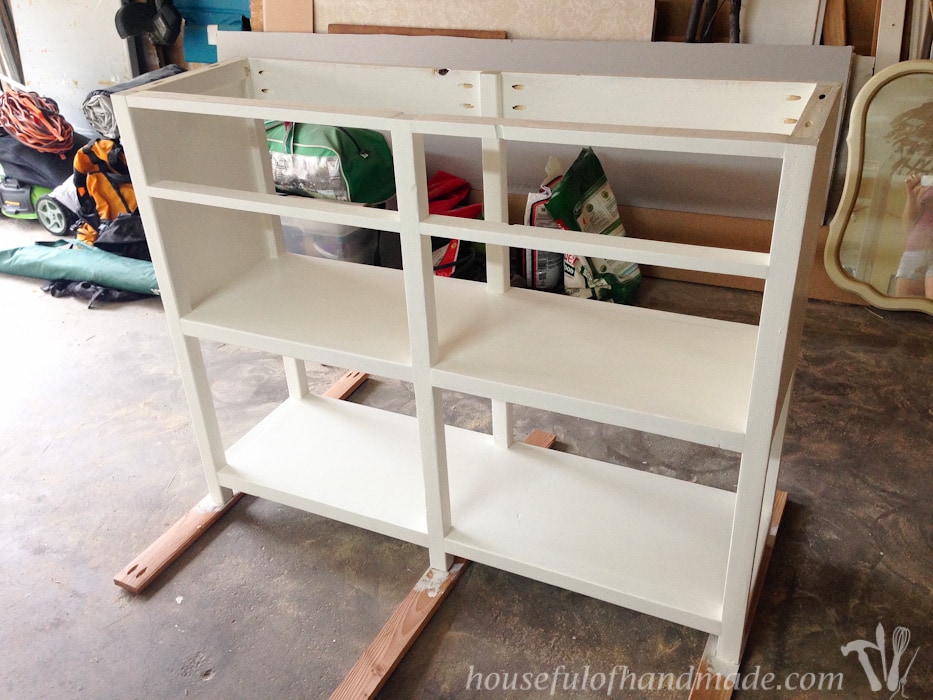 While the paint was drying, it was time to build the top. I chose to built the top, and stain it before attaching it to the console. That way I didn't need any taping.
To build the top, use pocket holes on both sides of the center board. Clamp the boards flat when securing them so the top comes out smooth.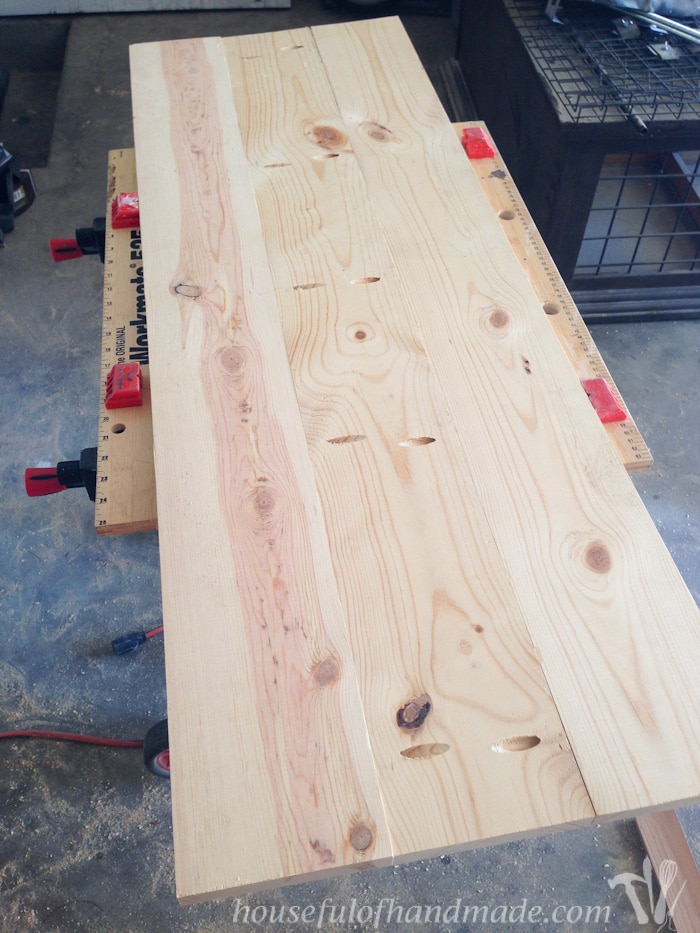 Then sand it really well and stain.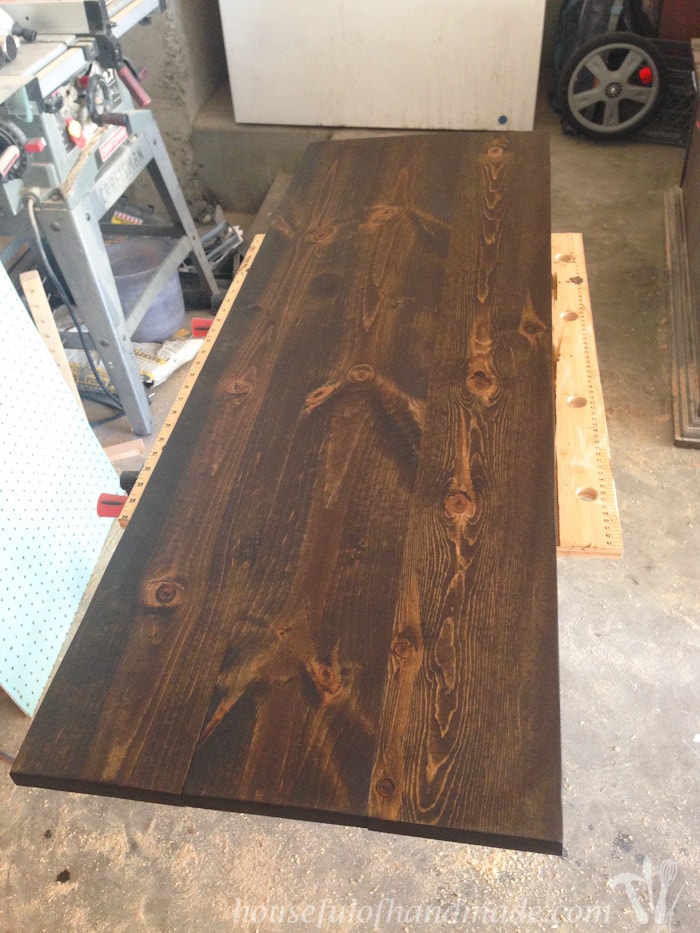 Once it was dry, I applied 1 coat of polyurethane all over. Let that dry then it's time to secure it to the console. I used pocket holes on the 1×4 boards and 1×2 boards. I forgot to add the pocket holes before I built and painted it, but I found out I could still make it work, I just needed to get creative.

I added 2 more coats of polyurethane on the top and sides of the top. I wouldn't recommend less than 3 coats for something that is used in the kitchen (I am using mine for my coffee station and that means lots of water on and around it).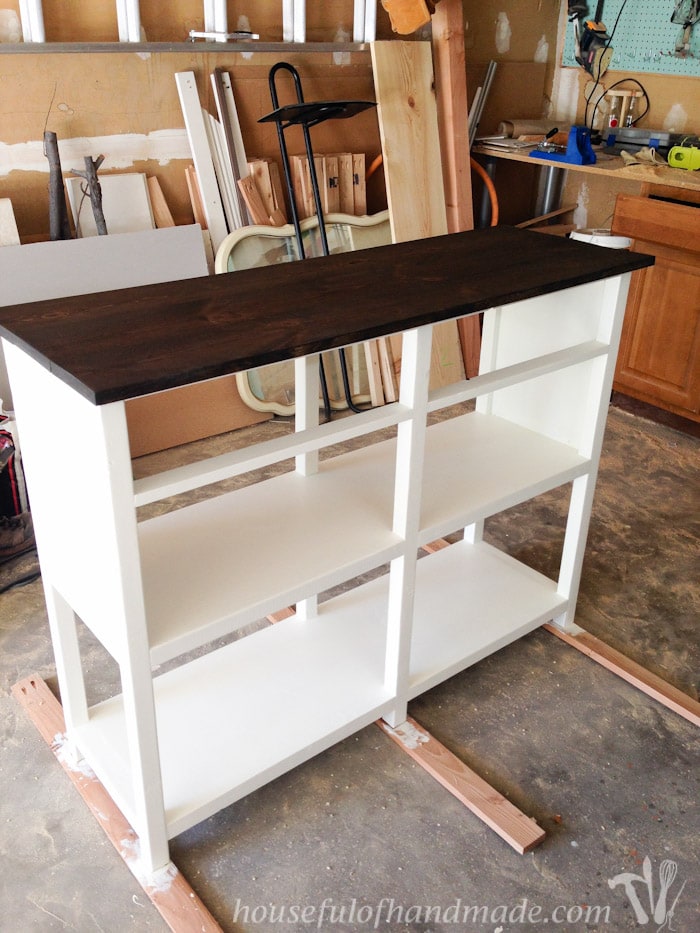 Whoo hoo! The console was all done and beautiful. This is the stage I left it at for way too long. I set up my Kuerig and called it good. But luckily for you, I will make sure to share the drawers this week.
If you haven't seen the final coffee station, with all the coffee accessories and storage options, you need to check it out here! It is one of my most favorite places in our house.
Now I just have to wait for the snow to melt, and the temperature to get above 40 degrees, so I can stand to spend some more time outside in my garage. Writing this up makes me miss my saws and drills!