Build cabinet doors to update your old cabinets on the cheap!
Using a few simple woodworking techniques, you can update your old cabinet doors without spending a fortune. These DIY shaker cabinet doors are easy to build and look amazing.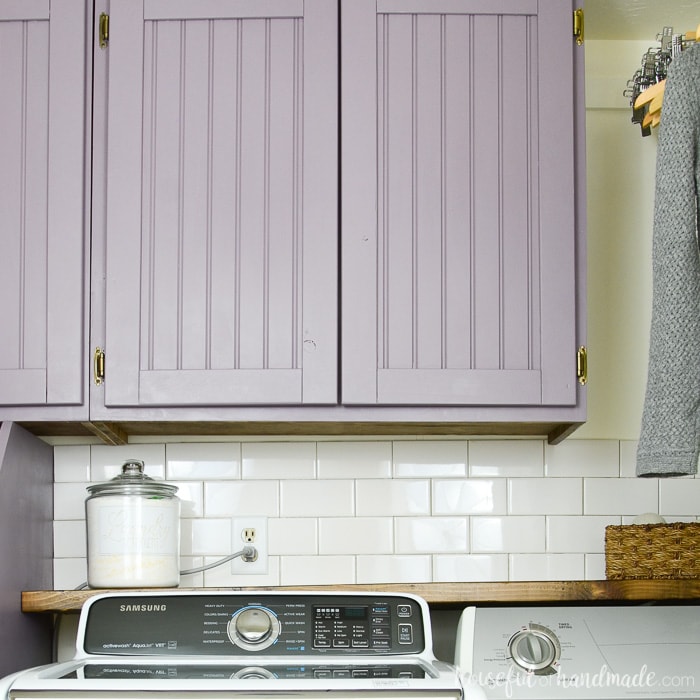 Have you wanted to update your old cabinets, but don't have lots of money? With just a few tools and some know how, you can build cabinet doors very easily and inexpensively.
These 4 shaker style cabinet doors were built for the laundry room for only $8 and some left over beadboard. Follow along as I share all the details to help you update those old cabinets too.
If you've been following along, you know last month I updated our awful basement laundry room for only $100 as part of the $100 Room Challenge hosted by Lemons, Lavendar and Laundry. This challenge always tests my creativity. You can see the colorful farmhouse laundry room reveal here.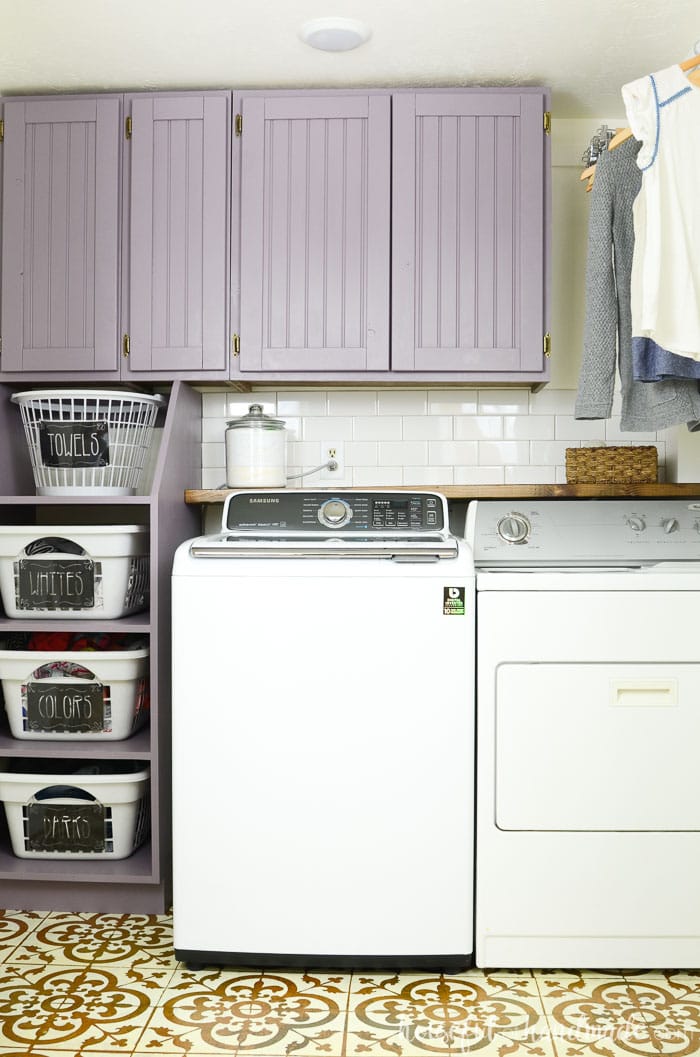 A budget of only $100 means you do not have a lot of money for each project. I wanted to accomplish a lot in this room (new flooring, new paint, stackable laundry basket storage, new cabinet doors, shelving, tile and more) so I had to get creative.
I found a way to build cabinet doors for only $2 a piece by using inexpensive wood and beadboard I had leftover from our closet sliding barn doors. And would you believe it was easily done with just a few tools?
To build our DIY shaker cabinet doors, I used some of my favorite beginner woodworking tools:
This may seem like a lot, but if you want to get into woodworking, these would be the tools I would recommend starting with. And I share all my tips for how to build a woodshop on a budget so you can get started without breaking the bank.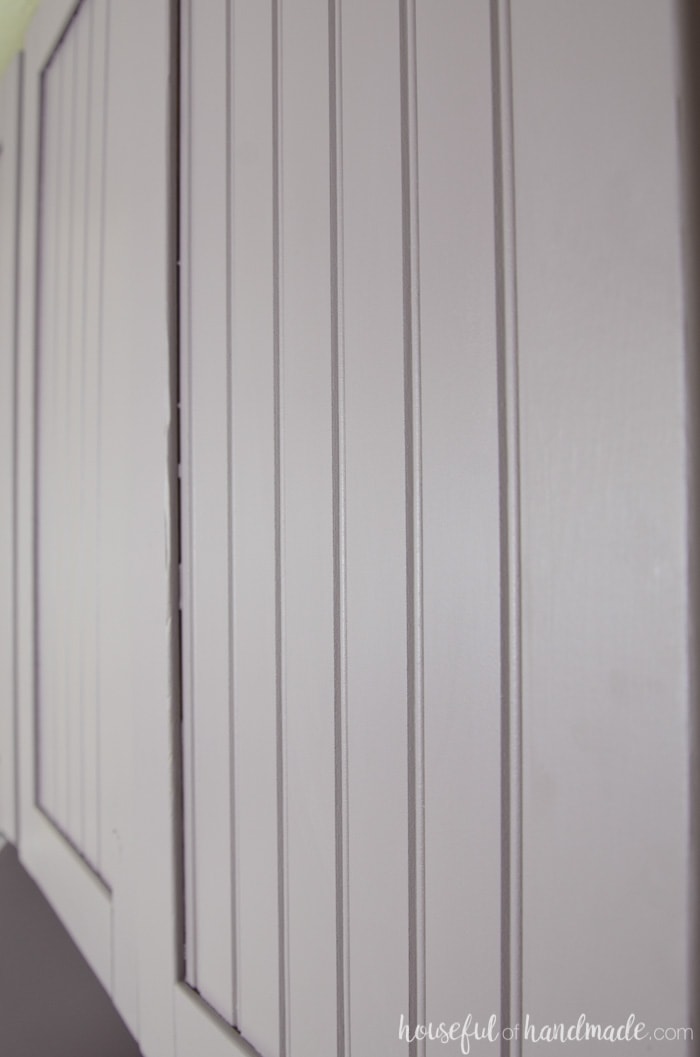 Because I was on a budget, I used 1×3 furring strips to make my cabinet doors. They would not be my first choice for a room that was being used more often (like a kitchen). However, it's perfect for my laundry room.
The most important thing, is to make sure the wood you used is straight! Furring strips are known for lots of twisting, curving and warping. But how do you know if a board is straight? Check out the beginners guide to buying lumber for all the tips and tricks to buying the best wood for your project.
How to Easily Build Cabinet Doors
Tools:
Supplies:
1×3 boards

I used furring strips for our laundry room cabinets. They are very inexpensive but you need to look hard to find straight boards. If you want to replace cabinets in a kitchen or bathroom, I would recommend a hardwood. Knotty alder is a budget friendly hardwood (and what I used for our mission style open shelf bathroom vanity).

1/4″ MDF, plywood, or beadboard for the inside panel

I used beadboard because we had some left over from another project. If you want to stain the cabinets use plywood, if you want to paint, MDF panels work great.

Wood glue
The most important part of building your own cabinet doors is to make sure you are working with straight lumber. Even with expensive hardwood boards, you need to look through the stock and check each board for straightness.
If you do not know how to pick out straight boards, check out the beginners guide to buying lumber for all the details.
Determine the size of the cabinet doors you need. If you are replacing current cabinets with new doors, and using the same hinges, you can just measure the old doors. Cut the 1×3 boards according to the sizes you need with the following formula:
For each door:

Cut 2 stiles the height of the cabinet doors
Cut 2 rails the width of the cabinet doors minus 2x the width of the boards (1×3 boards are typically 2 1/2″ but it is always a good idea to double check).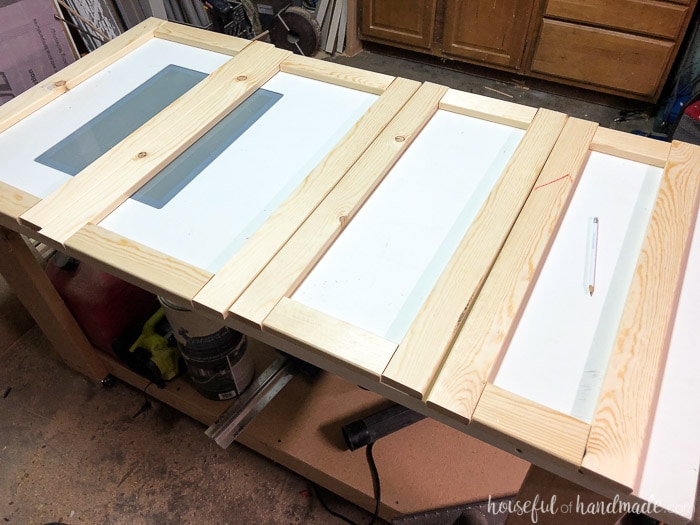 Next you will use the router to create a groove around the perimeter of the inside of the cabinet doors for the panel to sit inside. Use a router with a 1/4″ straight bit set at 1/4″ depth.
I made my own router table with a scrap piece of 1/2″ plywood cut with an opening for my router bit to come through. Then mounted it on a portable workstation with clamps. And I use a scrap of 1/3 cut with a notch for my router guide.
This is not the most high-end router table, but with some strong clamps holding everything in place, it has served me well for the last year (hopefully this year a router table will be in my budget).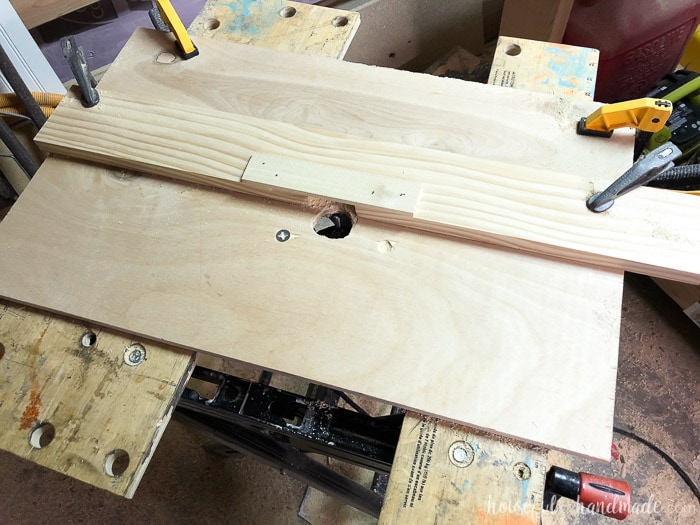 Measure 2″ in from the top and bottom of the stiles. You will need to start and stop your router groove at these marks so that the Kreg jig will still be able to get a good solid joint. Also, it will prevent the groove from being seen when the door is assembled.
For the rails, you will add the groove the entire length of the board. I made my grooves slightly toward the back of the board (not exactly centered). To make sure the groove was at the correct spacing on each board, I double checked the front before routering.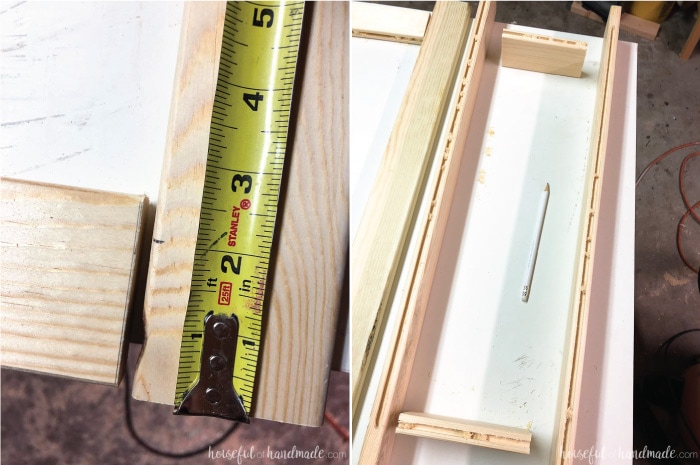 Cut your panel pieces (from 1/4″ beadboard, MDF or plywood).
To cut sheet goods, I place a 2″ piece of rigid foam on top of my worktable, then place the sheet on top of it. Then use a circular saw with a guide track (I cannot say enough good things about the Kreg AccuCut, my table saw is getting a lot less use these days).
You can also use a straight piece of wood and clamps, but it takes a bit more measuring. Each panel should be cut to the following formula:
For each door:

Cut 1 panel so the height is equal to the height of the stiles minus 2x the board width plus 3/8″ and the width is equal to the length of the rails plus 3/8″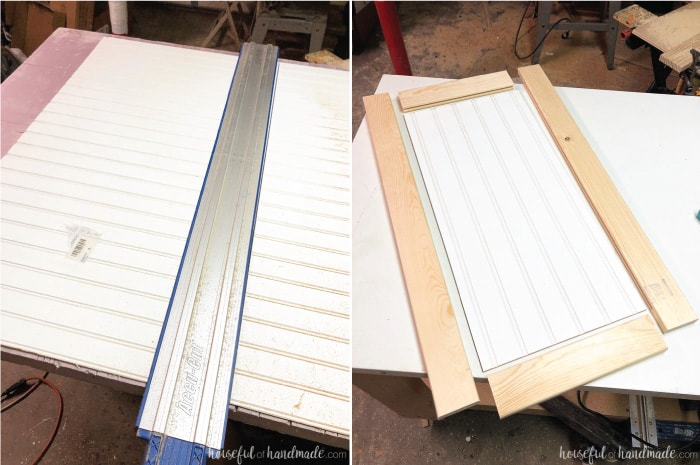 You may be tempted to add 1/2″ to the panel to accommodate (2) 1/4″ deep grooves, but I find giving myself 1/8″ give on the measurement makes everything fit together much better.
Now it is finally time to build cabinet doors! Add 2 pocket holes with the Kreg jig to each side of the rails on the back of the boards. Add a bit of wood glue to the edge of the rail, then secure it to the edge of the stiles. Makes sure your panel grooves line up and the rails are flush to the edge of the stiles. Secure with 2 pocket hole screws.
Repeat on the other side so you have two rails secured to the top and bottom of one of the stiles. Fill the groove with a bit of wood glue.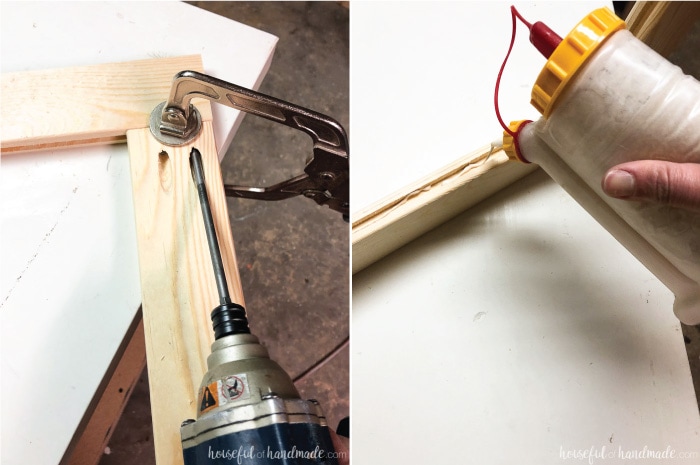 Now slide your panel into the grooves. Make sure to pay attention to the front of the door and panel so they are inserted correctly.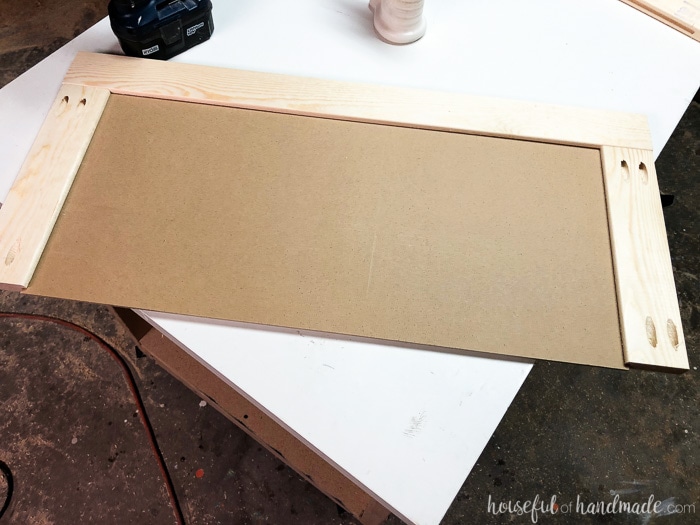 To attach the other side of the cabinet door, add wood glue to the groove and a little on the ends where you will connect it to the rails. Clamp and secure with 2 pocket holes screws. Make sure the grooves line up and the top and bottom are flush.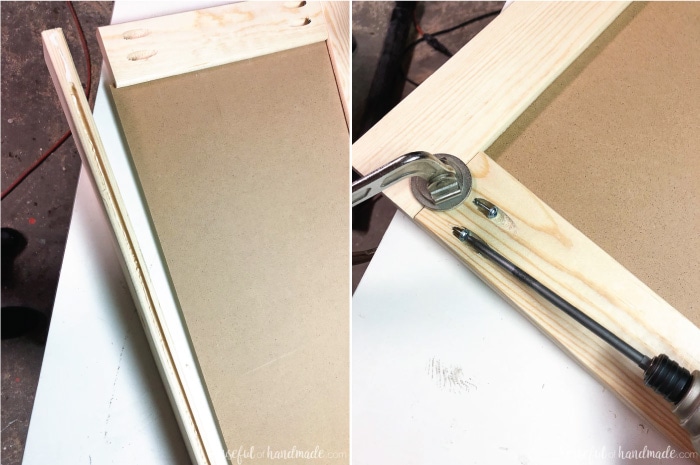 Also check for square by measuring from corner to corner. If you get the same measurement then you are square, if not, you can adjust to square with a large clamp and then let the glue dry before releasing.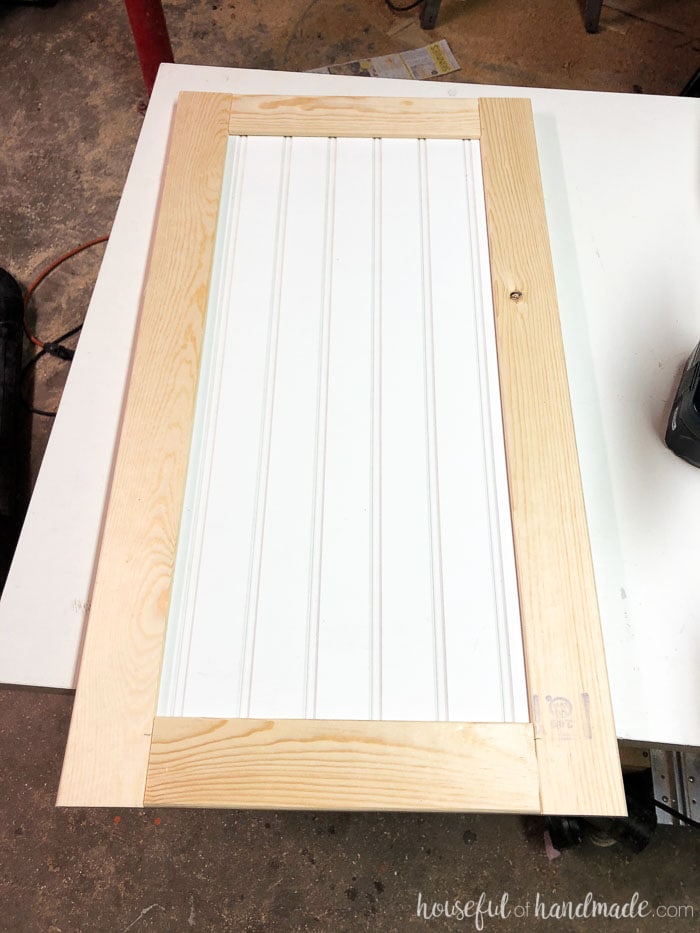 If you want to finish off the inside of the cabinet doors, fill the pocket holes with plugs.
Now you just need to repeat to build cabinet doors for the rest of your cabinets. It took me less than 2 hours to build these 4 cabinet doors and sand them so they were ready to paint.
If you are making multiple cabinet doors, create an assembly line:
Cut all the stiles & rails,
Add the routered grooves,
Cut panels,
Drill pocket holes,
Assemble.
It goes by quickly this way and you will have all your doors built in no time.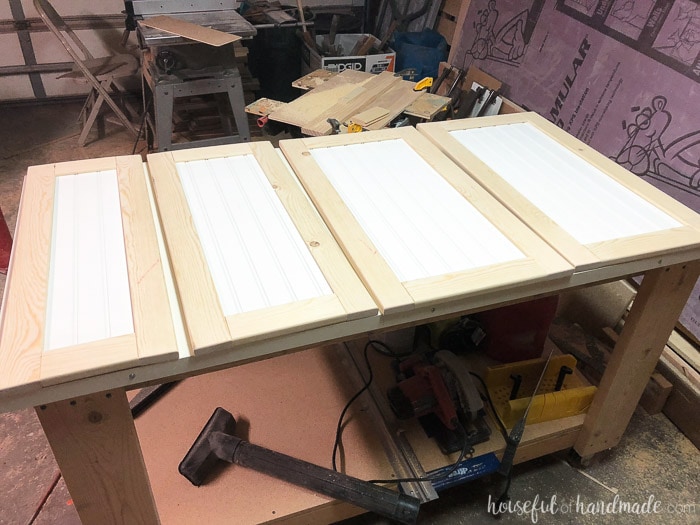 To finish off my cabinet doors, I painted them Classy Plum by Behr to match the stackable laundry basket storage. I used a paint brush to get in all the grooves of the doors and beadboard and then a foam roller to get a smooth surface.
Then I gave them a coat of Minwax Paste Finishing Wax to give the cabinets and doors some extra protection. So far they have held up well to installation and all the other banging around I did to get the rest of the laundry room ready in only 1 month.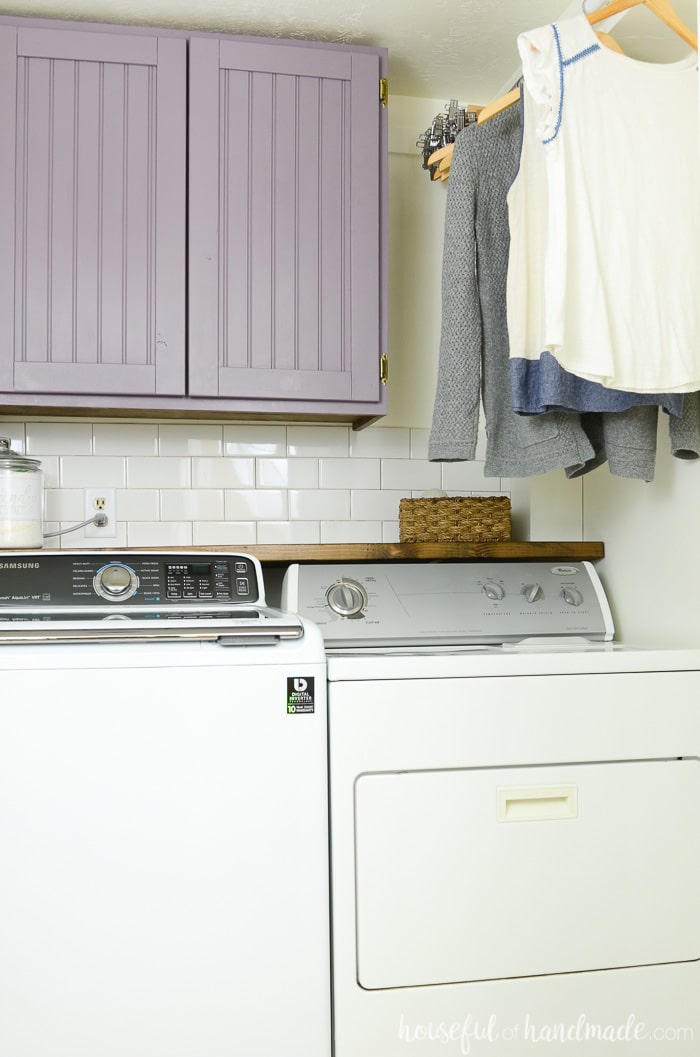 And because I know I will get asked, how did I hang the cabinet doors? Because I was working with face frame cabinets and didn't have budget for fancy hidden hinges, I used these basic self closing hinges.
I actually like the decorative antique brass exposed hinges. They add a little style to the laundry room. Now I just need to find the perfect antique brass cabinet pulls to match.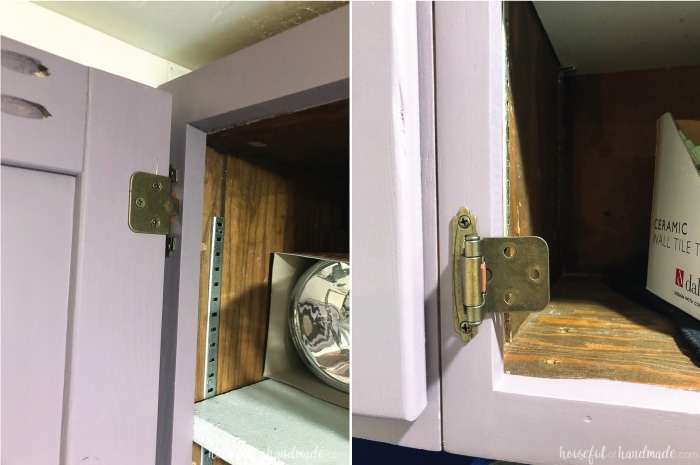 I truly love our new laundry room and am still amazed we were able to build cabinet doors so cheap! Now I am ready to tackle cabinet doors in all the rooms…