Build a new DIY bathroom vanity with this tutorial.
Say goodbye to your basic bathroom vanity! A new vanity that looks like a piece of furniture is the perfect way to update your bathroom.
A new vanity is a fun DIY project. These easy to follow plans are a great weekend project.
I partnered with Kreg Tools to share the build plans for our 8′ vanity for free. Or you can get build plans for this open shelf vanity in other sizes here.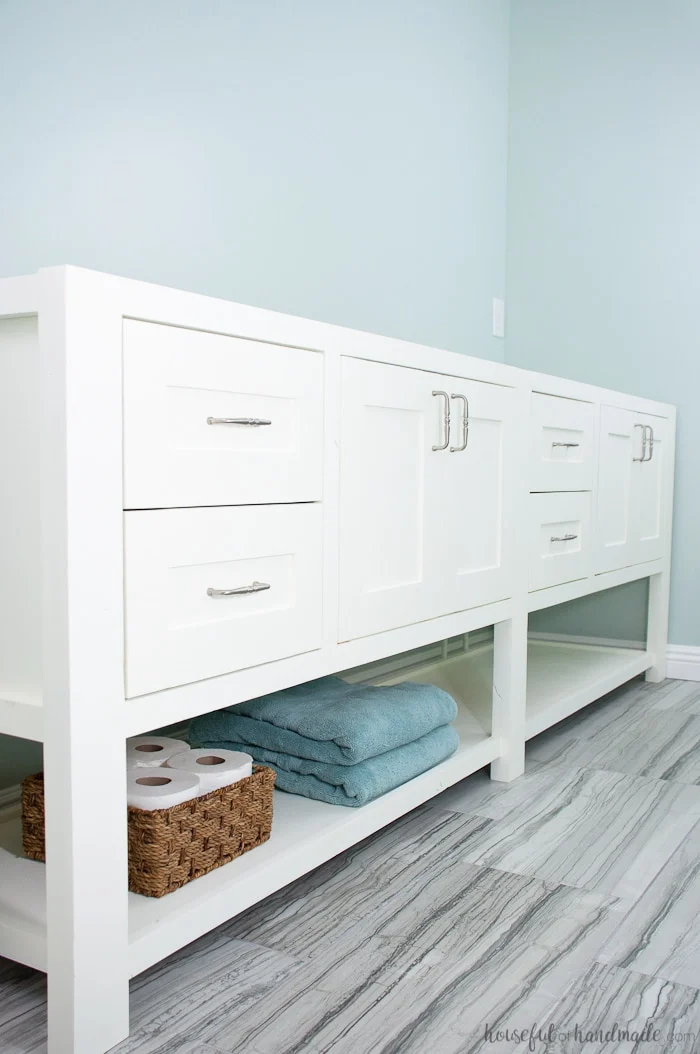 Open Shelf Bathroom Vanity
You may think you want a closed cabinet to hide away all your bathroom stuff. But an open shelf on the bottom helps to make a smaller bathroom feel less closed in.
This DIY vanity also has plenty of storage!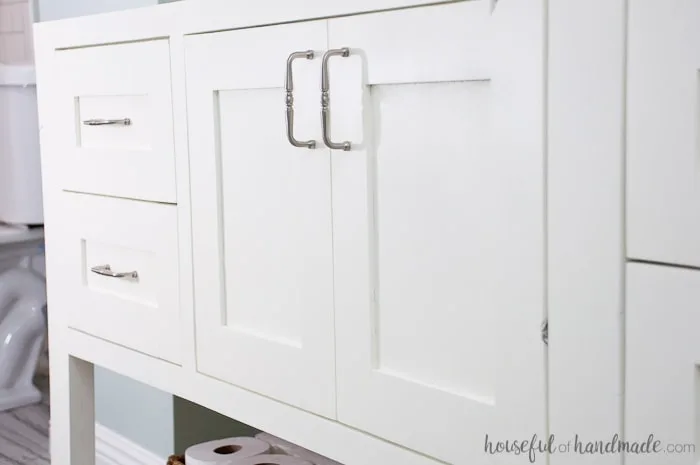 Under each sink is a large cabinet with room for plumbing as well as storage.
There are also 2 deep drawers by the cabinet. I prefer deep drawers in the bathroom because you can stand containers upright making more room for storage.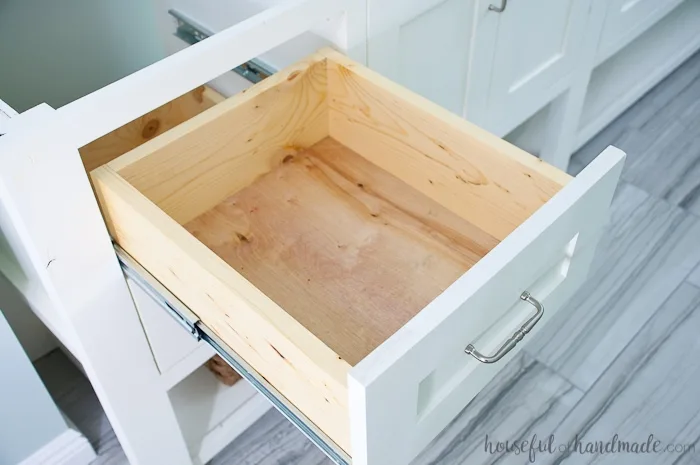 Below the closed storage is the large open shelf. The shelf is the full length and width of the bathroom vanity.
You can use this open shelf for tons of storage too!
The open shelf turns the storage into decor. I like to use it to display:
Towels
Extra toilet paper
Hair styling tools in bins
Canisters for bath accessories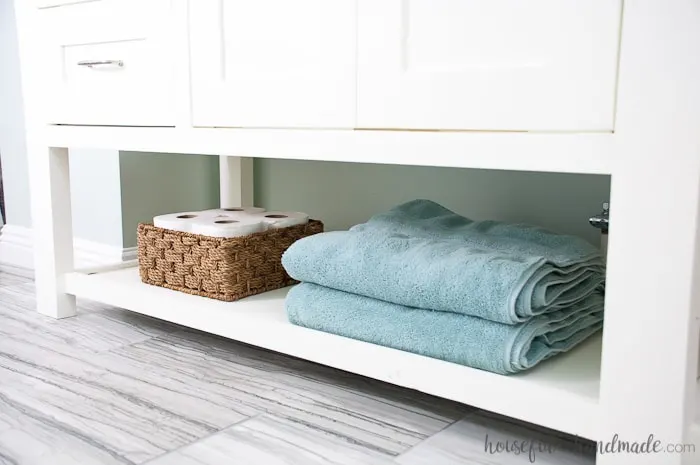 Our vanity is 8′ long, so it is two 48″ cabinets combined. The 48″ cabinet has large drawers, more than I can even fill up!
But even if you do not have room for an 8′ vanity, you can still build your own beautiful open shelf one. I have created plans for each standard size from 36″ to 60″.
All of these plans have room for a single sink and two drawers with the open shelf below.
But best of all, each one is designed to fit a standard bathroom vanity top. You can buy a solid surface vanity top at the home improvement store to update your bathroom fast and on budget!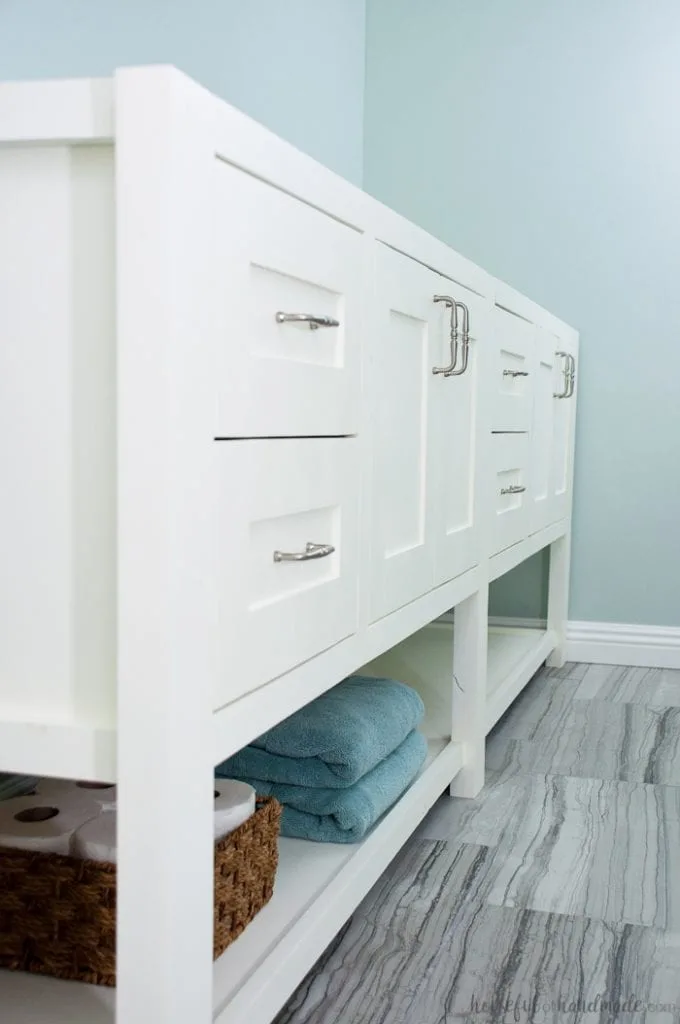 Classic Vanity Design with Shaker Doors
This DIY vanity is a simple classic design, perfect for updating any home.
The vanity is built like a piece of furniture for your bathroom, instead of basic cabinets. This gives a bathroom a high-end design without a high-end price tag.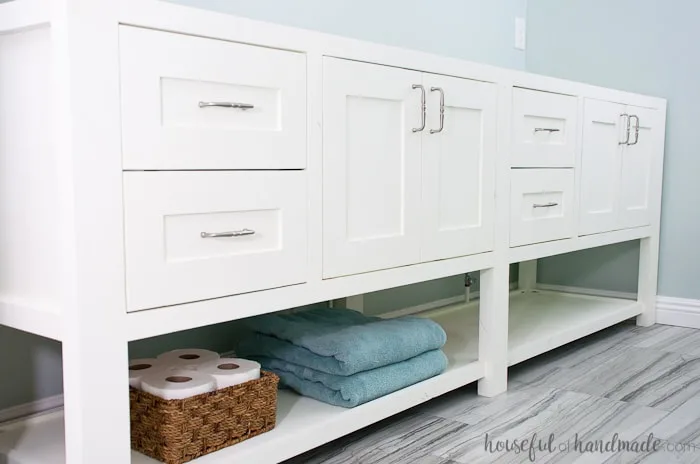 The shaker style doors are built without a router. This makes it an accessible build for a newer woodworker.
The cabinet is built with a classic face frame and inset doors. It makes a nice clean design for the bathroom.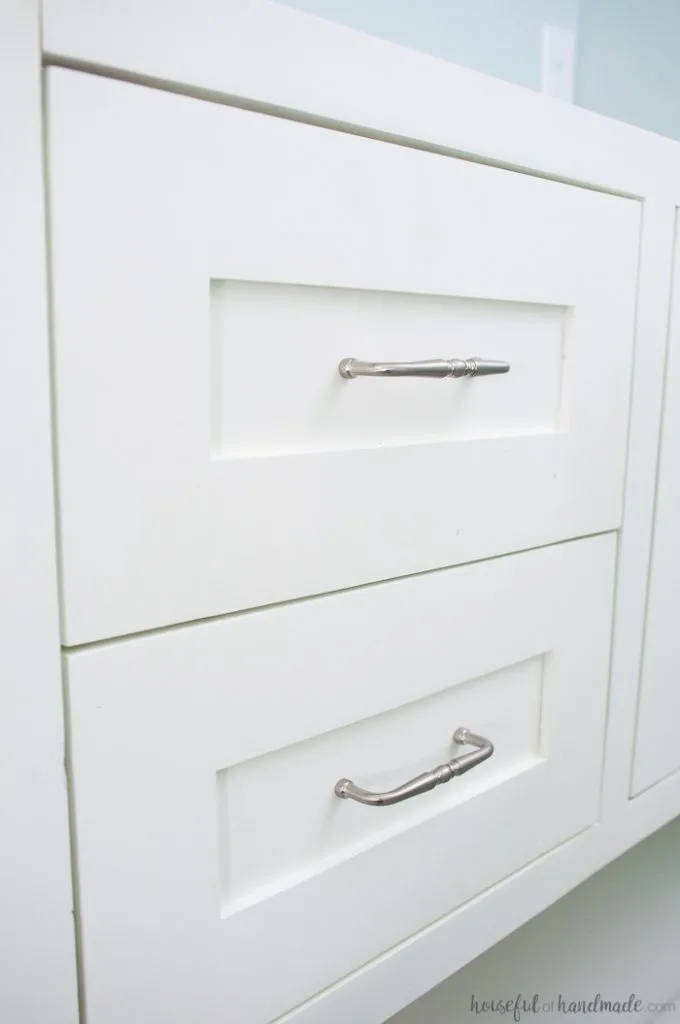 Budget Bathroom Vanity
The very best part of our new DIY bathroom vanity might be that is was so much cheaper to build than buy!
The entire vanity cost less than $300 to build! And I didn't use the cheapest wood to build it.
I used my favorite budget friendly hardwood: knotty alder. It is an easy hardwood for beginners to use and is beautiful. If you stain it, it looks like cherry. You can see the natural color on this DIY dining room hutch.
Find a lumber that fits your budget to make your own vanity. Then learn how to get a professional paint finish on it here.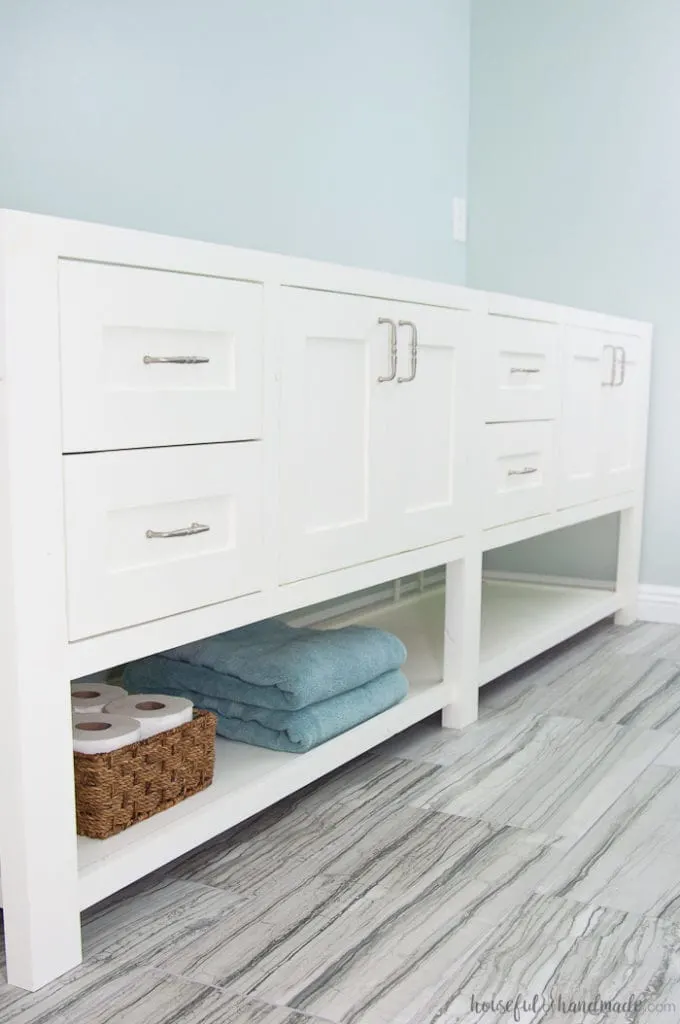 DIY Bathroom Vanity Build Plans
If you are ready to build your own bathroom vanity, I am sharing the build plans for the 8′ double vanity on the Kreg Tool website.
Get the 8′ vanity build plans here.
Or get the printable PDF plans for this vanity in other standard sizes here.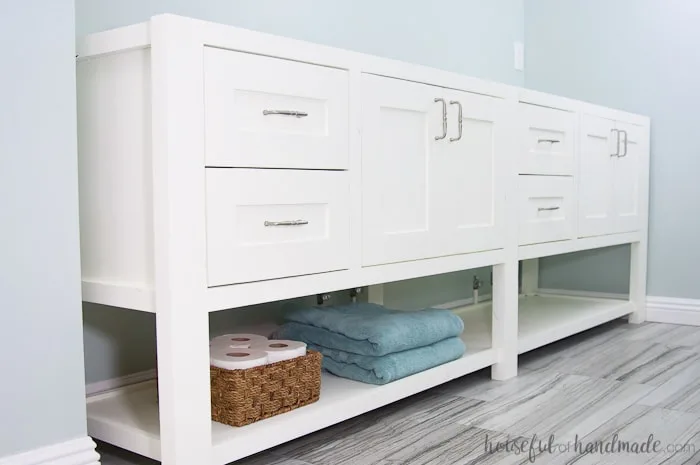 Off to finish another project!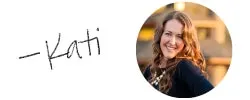 This post was sponsored by Kreg Tools. All opinions are 100% my own. Click here to read my full disclosure policy.