Oh my goodness, the master bathroom vanity is done!!! I couldn't be happier. If someone would have asked me 5 years ago to build my own 8 foot long double vanity for my master bathroom I probably would have laughed at them. But then I got addicted to woodworking and building furniture. Now I have finished my very first big build all by myself and I couldn't be more excited to share with you my brand new mission style open shelf bathroom vanity!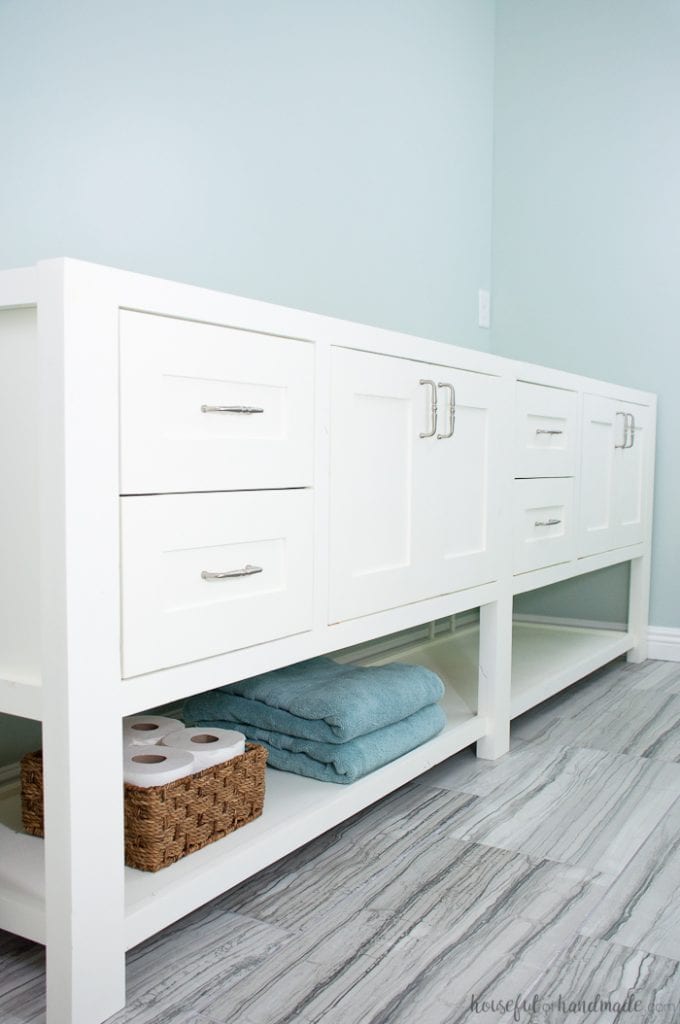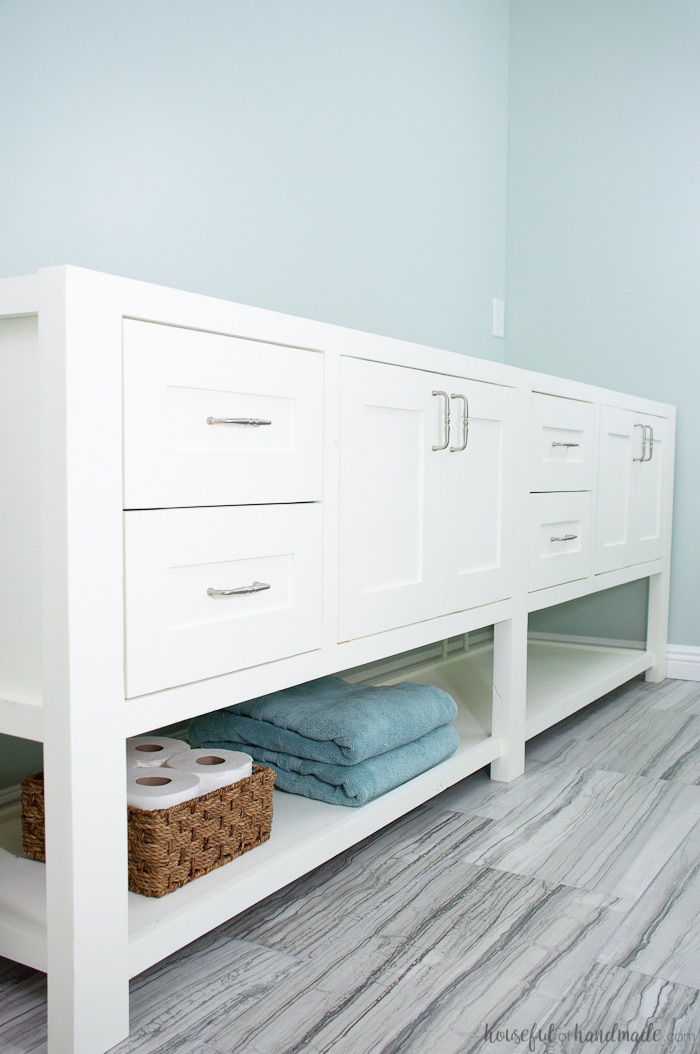 This master bathroom remodel has taken way too long. It's almost a joke around our house because it has been so long since we ripped out our tiny, useless master bathroom. So when it was finally time to make a decision on the vanity design, I was afraid. After waiting 7 years for this, I didn't want to screw it up. I decided to go classic with the look, then it would be timeless. I can add all kinds of personality through the accessories. And I have a more unique top planned for it so I needed to keep the vanity simple.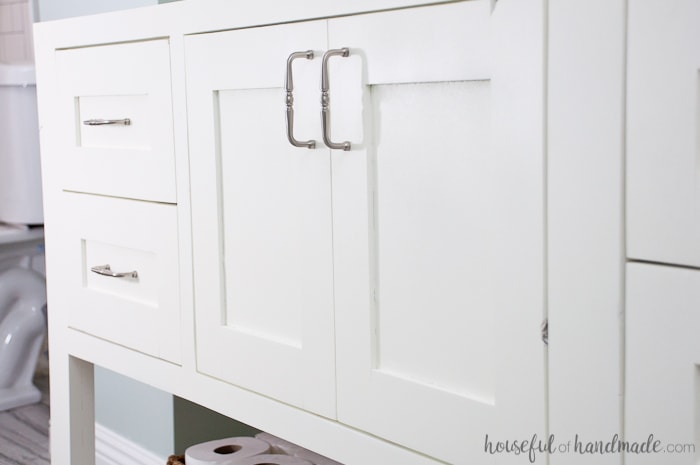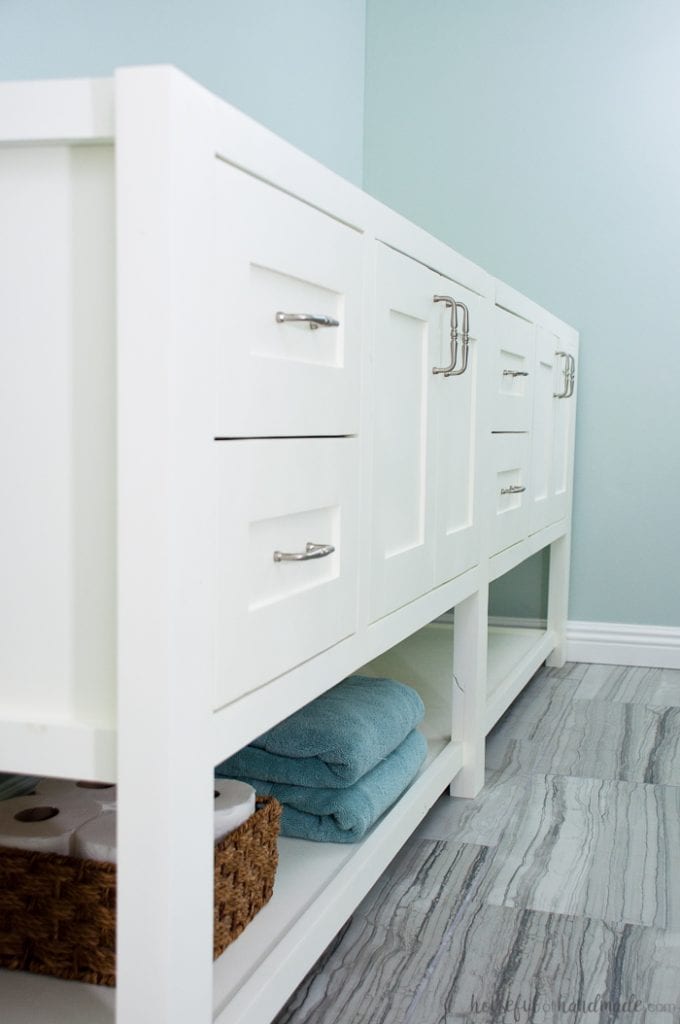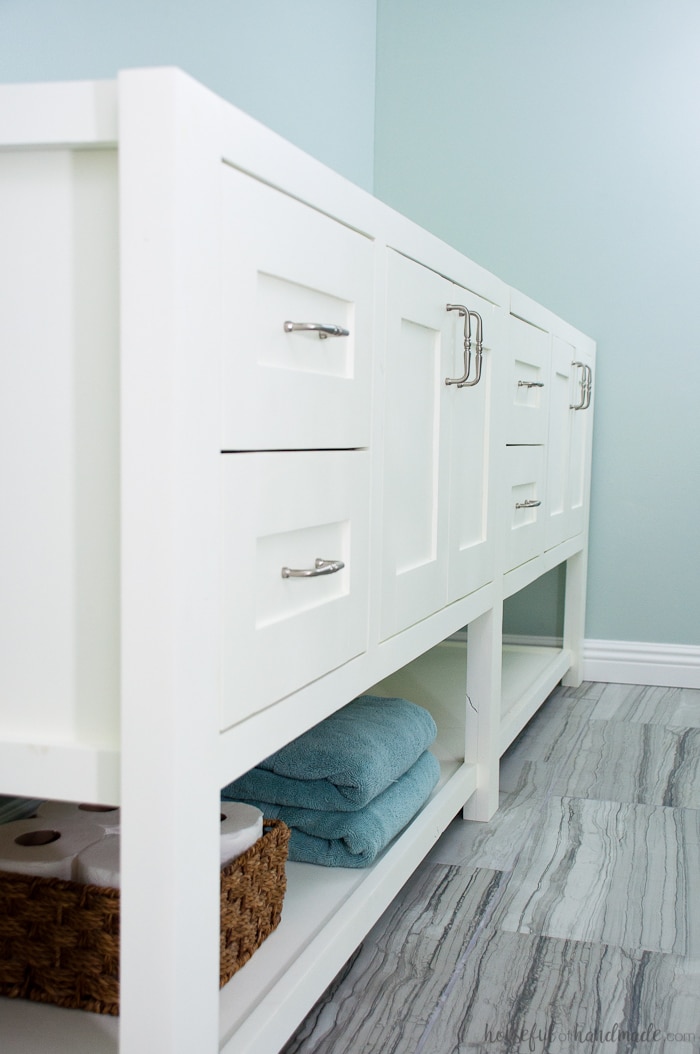 I decided the mission style would be the best for a classic vanity and bonus, the mission style doors and drawer fronts are easy to build for a DIYer. Then I painted it white for some brightness and a little farmhouse style. Our master bathroom does not have a window, so we are completely dependent on artificial light. The large white vanity was a must to keep things bright and fresh.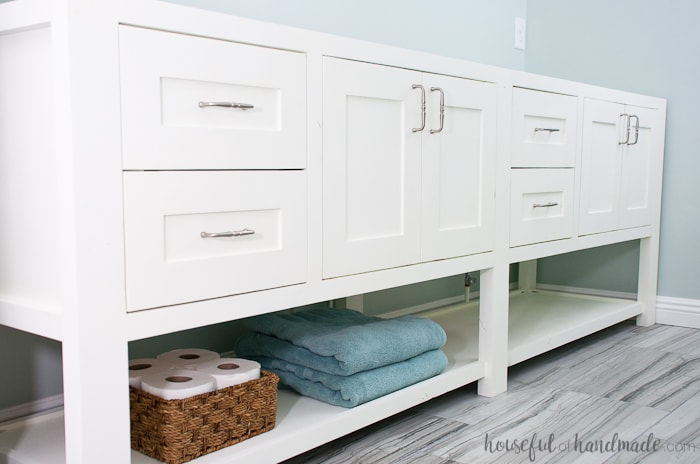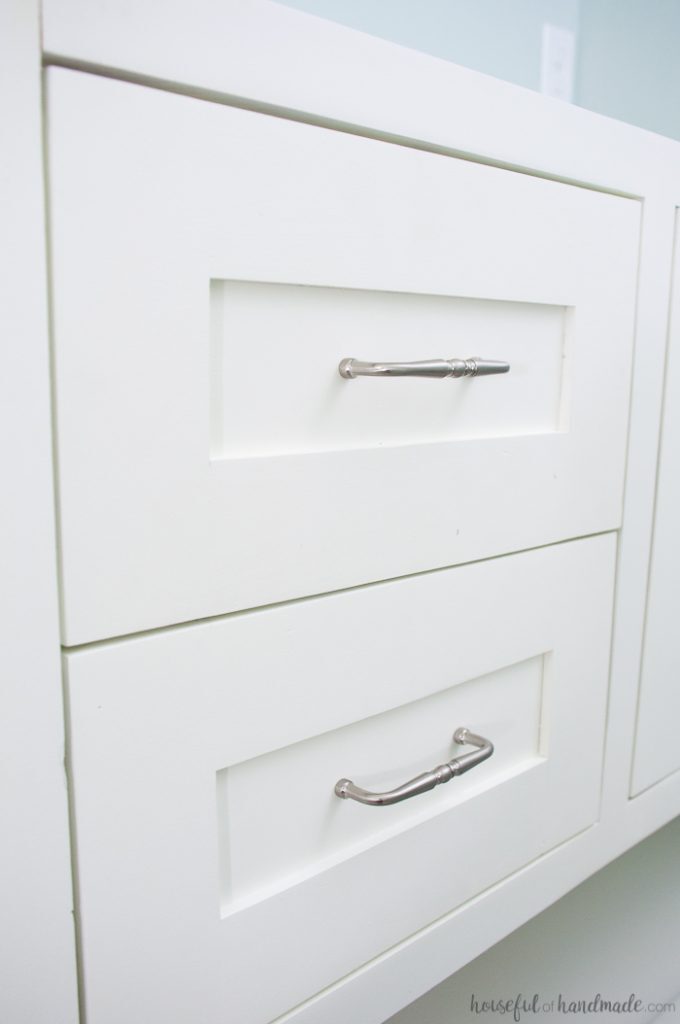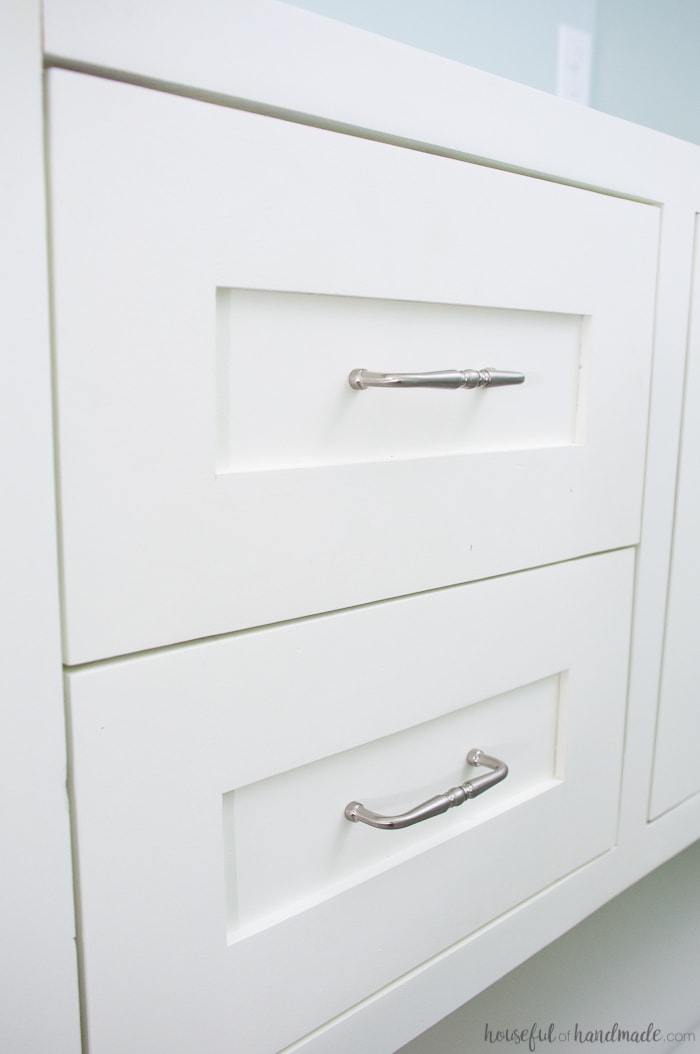 To add a little more openness to make the room feel big, and to add a place to style and store fun accessories for the personality I want, I built the vanity with an open bottom shelf. I absolutely love the big shelf for storing towels, toilet paper, and anything else I decide. I am looking forward to going and buying (or DIYing) some fun baskets to help store all the bathroom stuff that comes with being a girly girl. And bonus for the hubby, I can always see when the clean towels are gone so maybe (and that's a big maybe) I will get the laundry done on time too.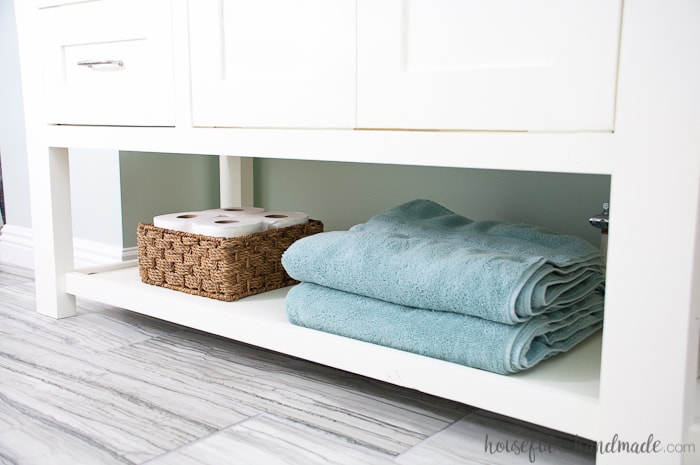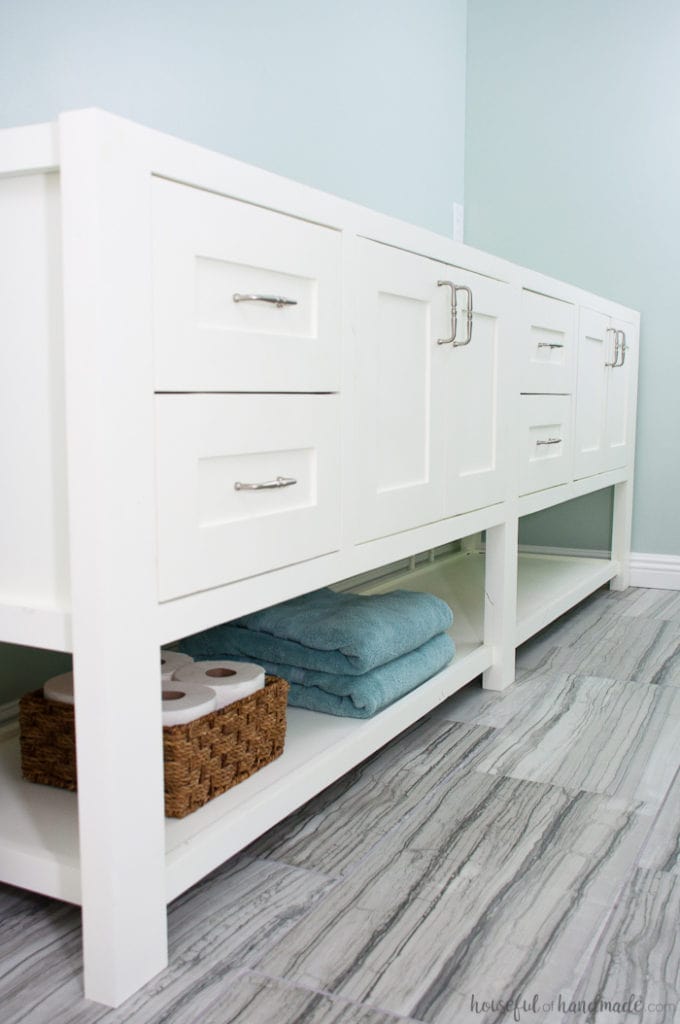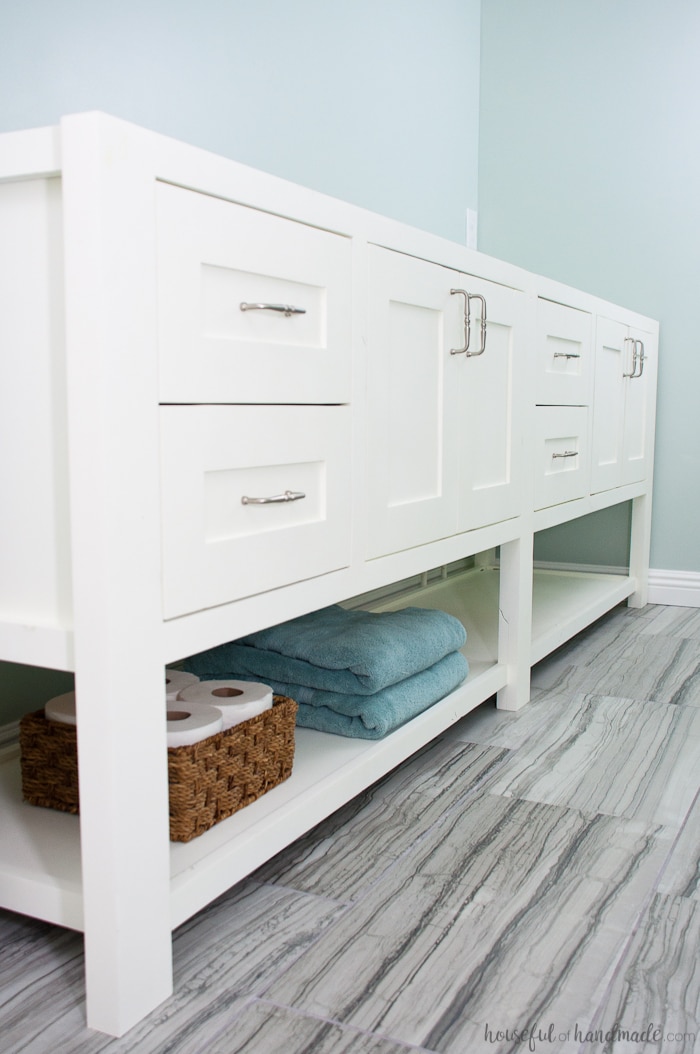 Because we have been living with our small guest bathroom for the past 7 years that only has 2 very small drawers (seriously they are tiny, about 5″ wide by 4″ tall) and one of the drawers broke about 2 years ago so technically we have been sharing 1 tiny drawer with our family of 4, I knew I wanted large, full extension drawers in my new master bathroom. And that is what I got (a big perk of DIYing it yourself). These drawers are 5 1/2″ tall, 12 1/2″ wide and 16″ deep and they pull out completely so I will be able to access the very back corners of these giant drawers.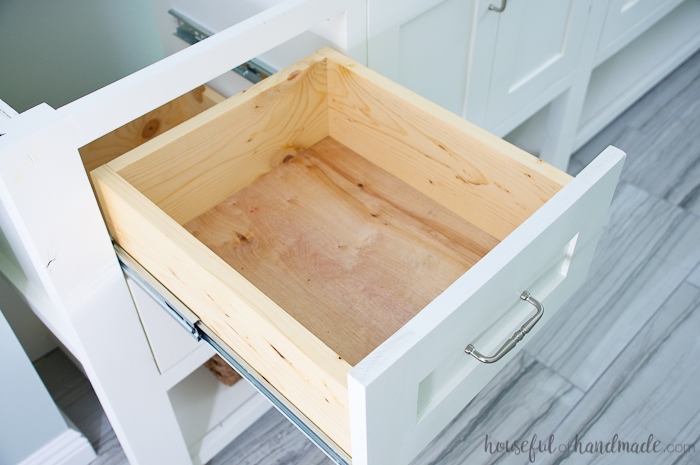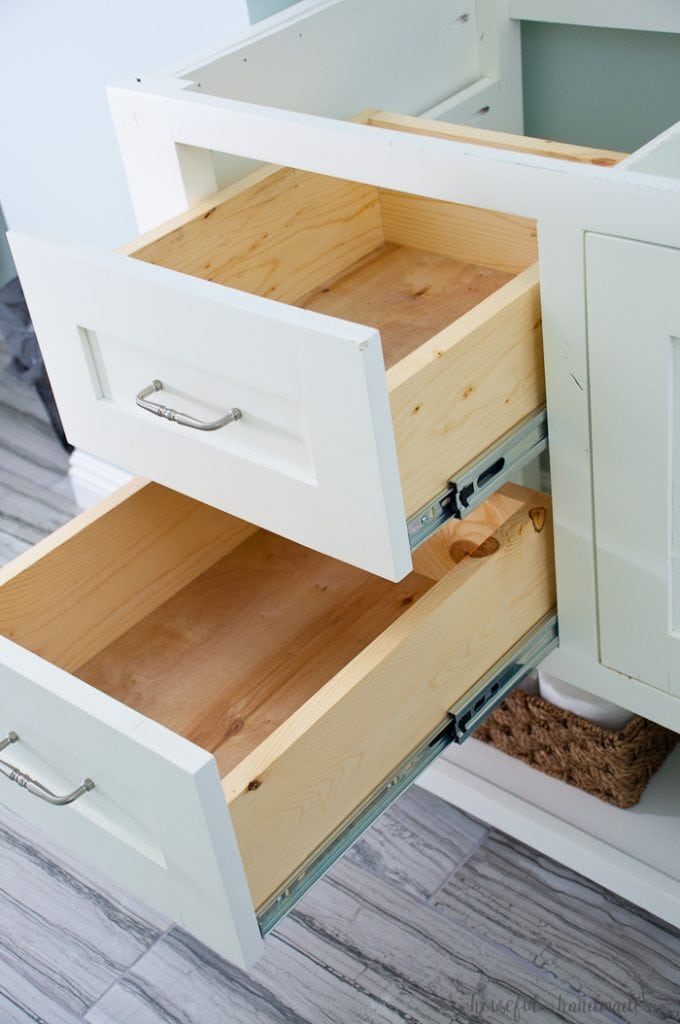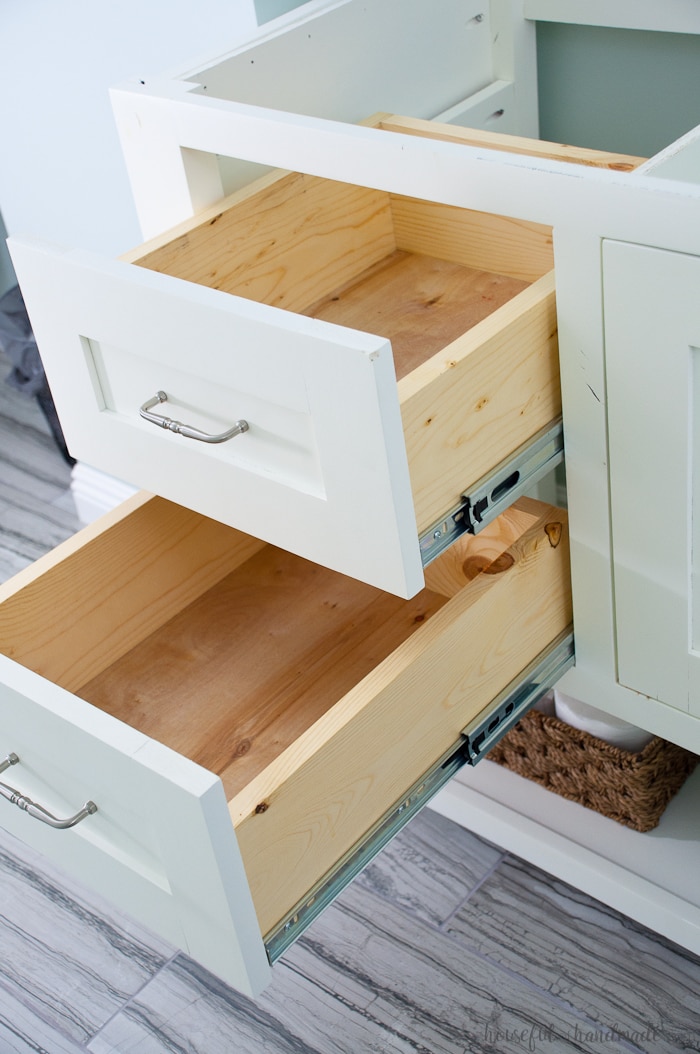 Now instead of sharing 1 teeny, tiny drawer with 4 people, I have 4 gigantic drawers that I only have to fight my husband for. And since I built the vanity, he is graciously giving up 3 of them for me! Isn't he the best? Finally I will have a place to hold all the things I need to pretty myself up in the morning. Maybe I'll actually do it more often since I will be able to find things again… maybe 😉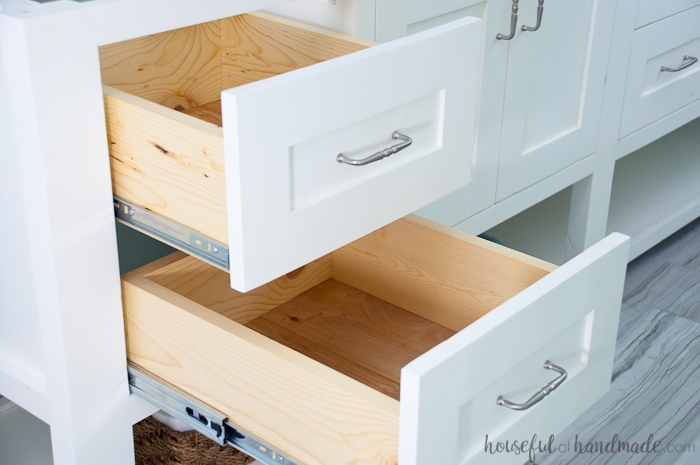 Lastly in our giant master bathroom vanity, we will have 2 large under sink cabinets to hold the rest of the stuff. Organizing is one of the things that makes me happy so having a place to store the not-used-everyday-but-still-important things makes me giddy. Since we will be finishing off our vanity with above counter sinks, we will only have to share these large cabinets with a little bit of plumbing so I can get all crazy happy about the things I will be organizing under there!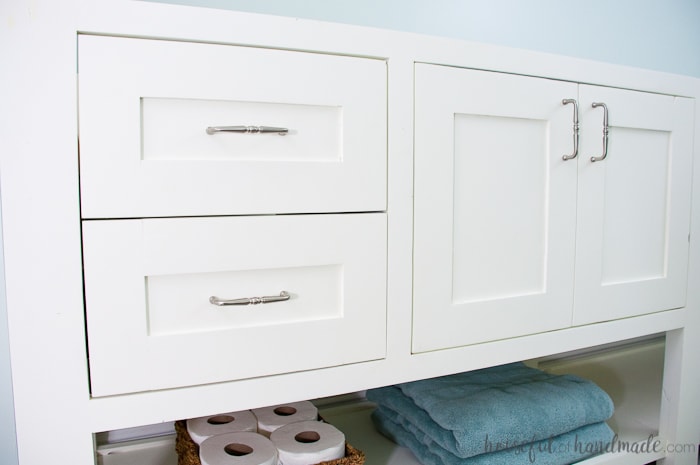 The very best part of our new master bathroom vanity though, I built the entire thing for less than $300! And I didn't use the cheapest wood option to build it. I used my favorite budget friendly hardwood, knotty alder, to build it. So now we have an 8′ solid hardwood custom built vanity in our master bathroom for under $300. Can you believe it? That is why DIYing is so awesome!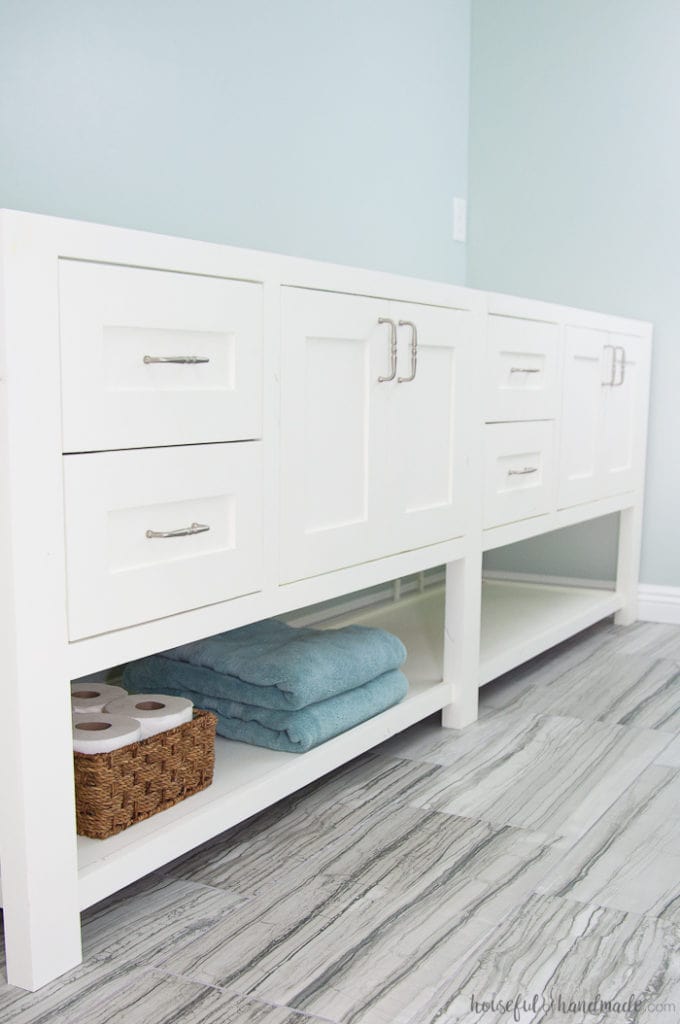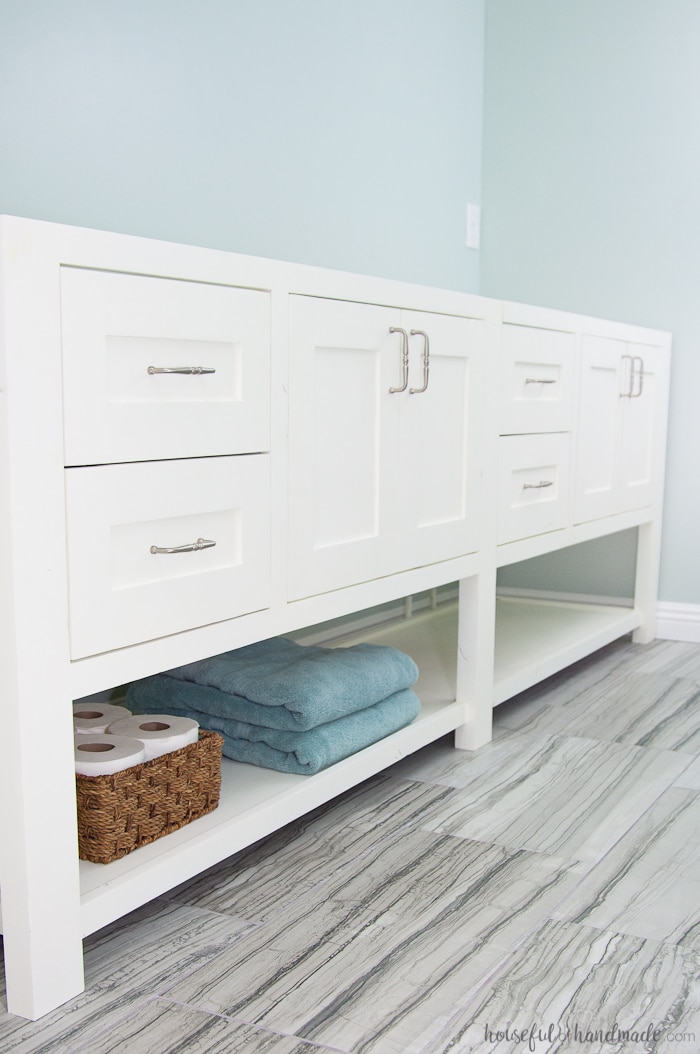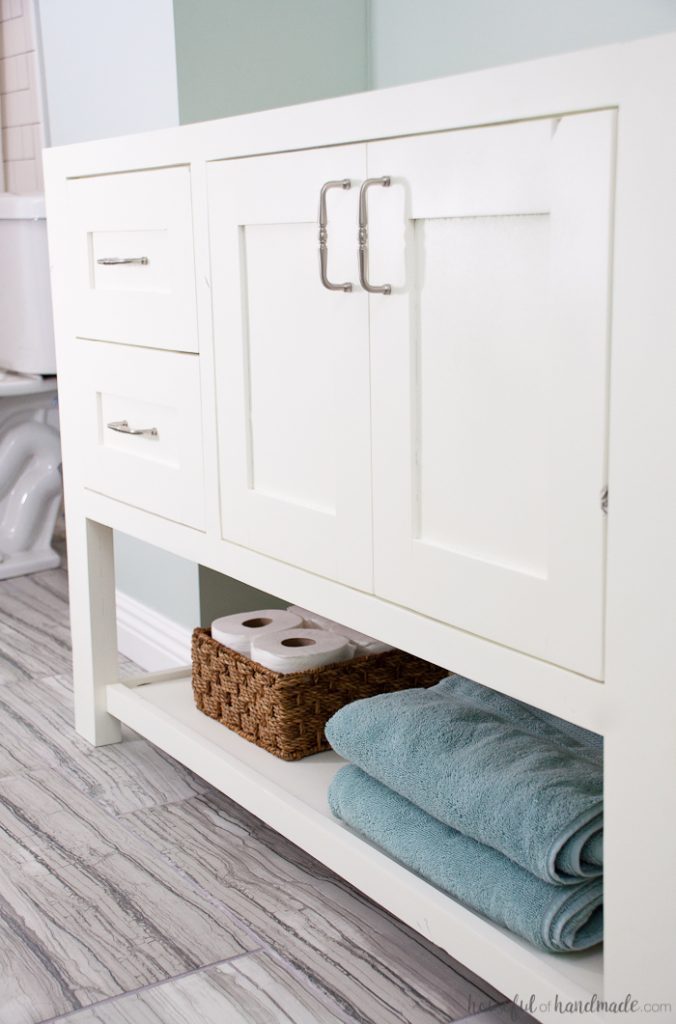 So are you ready to build your own? I am partnering with Kreg Tools and their new DIY project plan site BuildSomething to share the build plans for our mission style open shelf bathroom vanity for free. And even if you do not have room for a 92 1/2″ bathroom vanity, I made these plans so they will also work for a 48″ single vanity (which will still give you tons of storage and 2 gigantic drawers).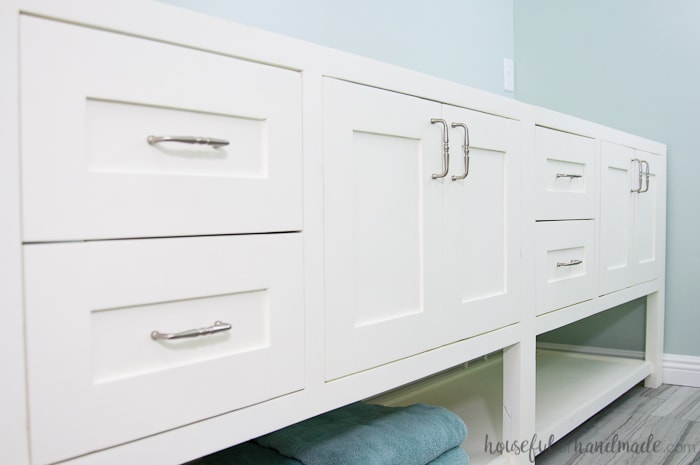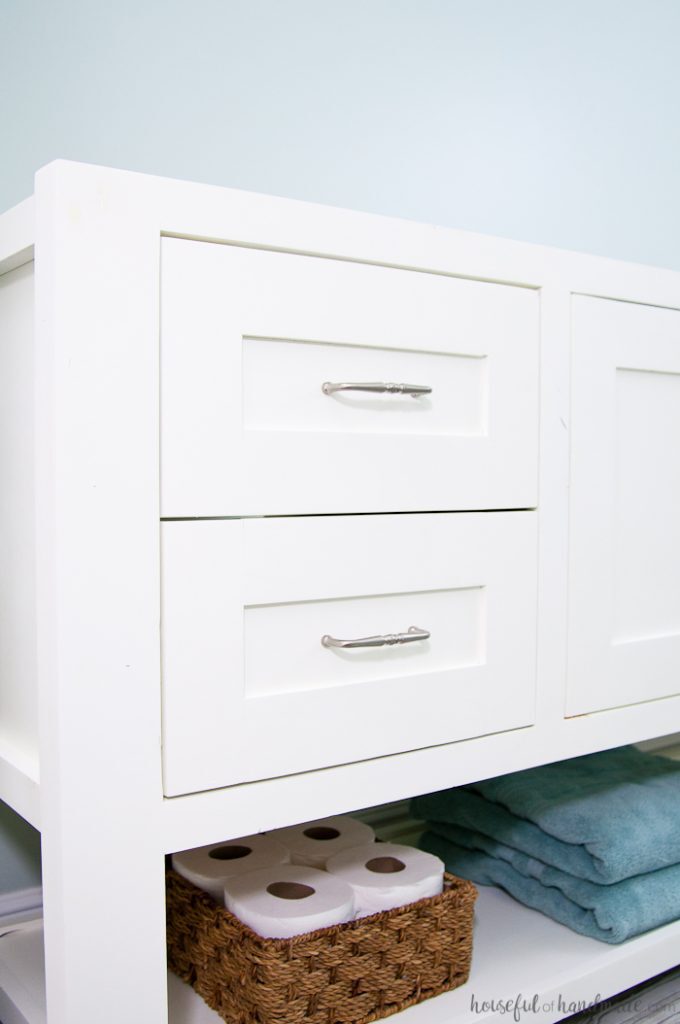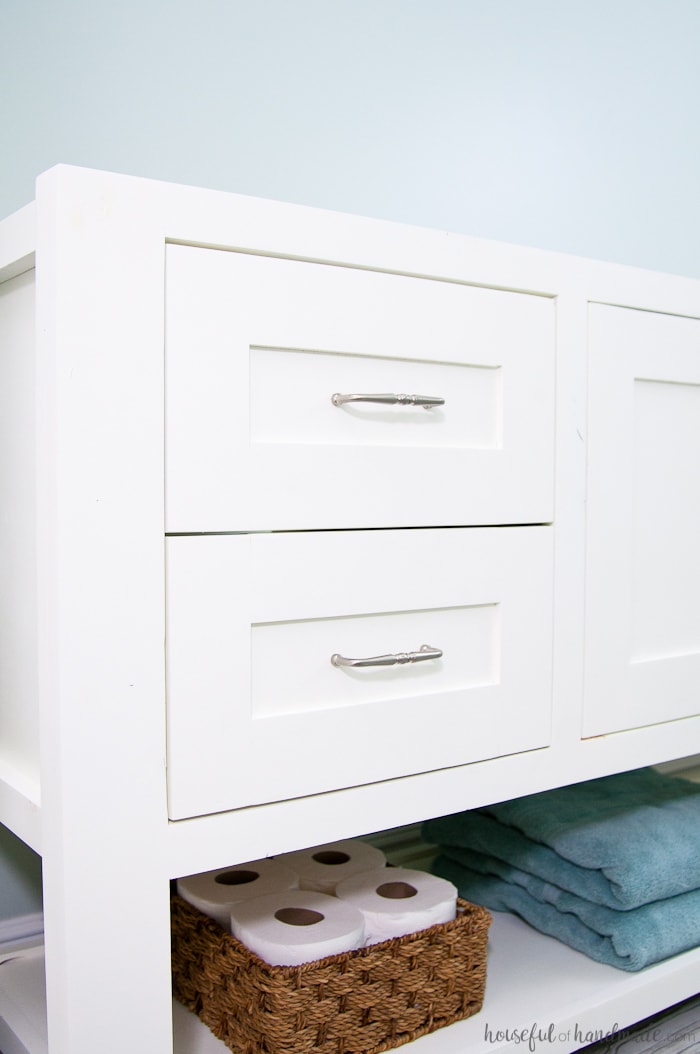 Now that the vanity is all done, I don't get to take a break just yet. I still need to get the vanity top done, install sinks, tile the backsplash, add mirrors, frame the mirrors, build shelves, and accessorize. Whoa, that is a long list, but someday soon I will finally be able to cross the master bathroom remodel off my to-do list, just in time to start the guest bathroom remodel!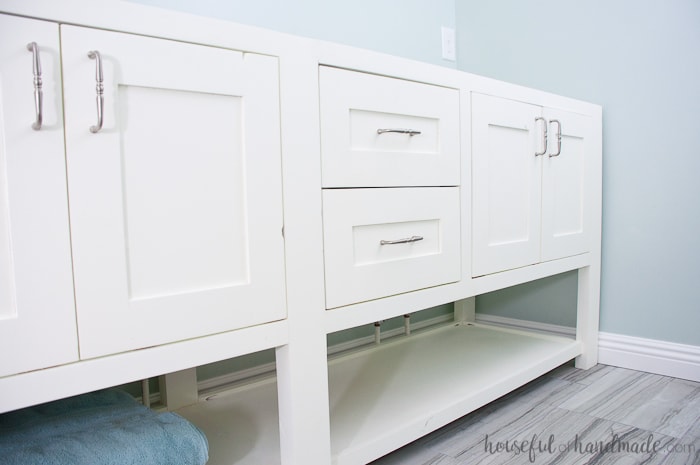 This post was sponsored by Kreg Tools and their DIY project plan site BuildSomething. All opinions are 100% my own. Click here to read my full disclosure policy.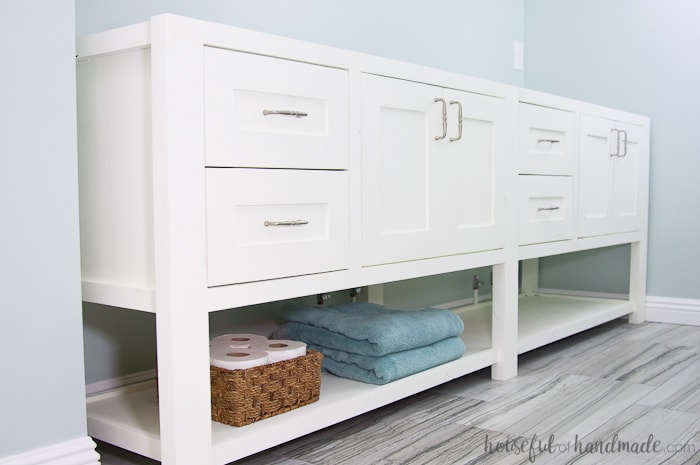 Off to finish another project!