With temperatures in the upper 90s this week, I have been slower working on the playhouse. Instead of working on Tuesday, we went to the pool with a friend. Instead of working over the weekend, we took a camping trip to cool off in the mountains. But luckily we did get a bit of work done. This week we are sharing how we built the DIY playhouse railing, even thought I haven't finished painting it.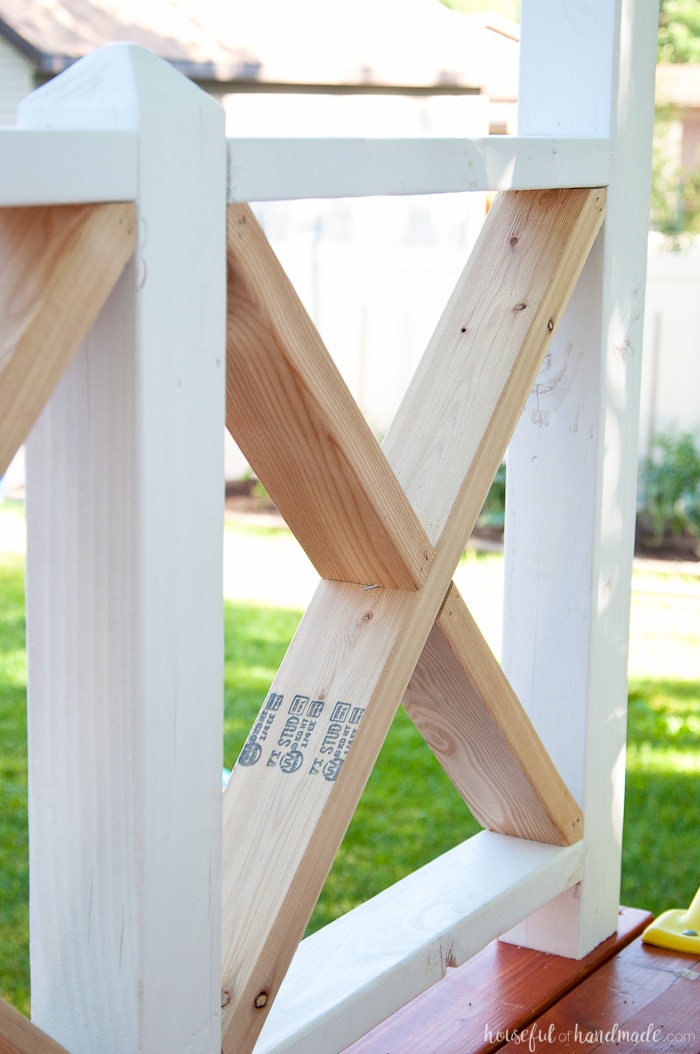 Even with the extreme temperatures this week, the kids have been having so much fun playing in their new playhouse. It really makes all the sweat and tears worth it. Okay, there really haven't been many tears. Surprisingly, I haven't hurt myself on this project (I promise that is really impressive, just ask my husband). But now I have probably jinxed myself, hopefully I will still have all my fingers by this time next week.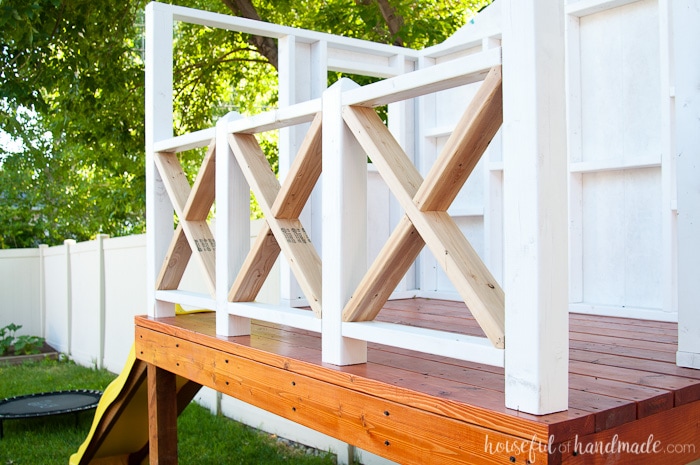 So far we are about 25 hours of work into the playhouse build (minus the many, many trips to the Home Depot). This does include the new railing. Over just the last week of having the walls up and while working on the playhouse railing, I have earned myself at least that many free hours from the kids because of it. Yep, they are spending most of their time in the backyard which makes this momma happy!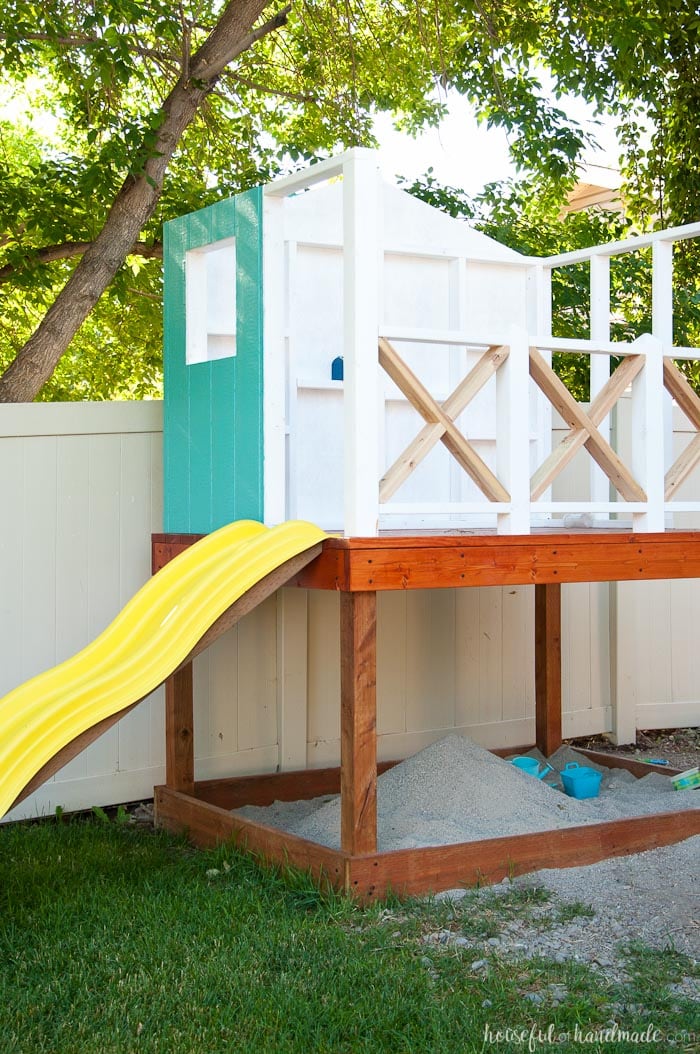 The playhouse has become a clubhouse, a fort, a jail, an obstacle course, and a tree house because the playhouse sits among the branches of the neighbors tree. Placing our DIY playhouse up in the branches of the trees turned out to be a great idea. It is keeping the playhouse cool in this crazy heat. And the shade it provides makes for hours and hours of play.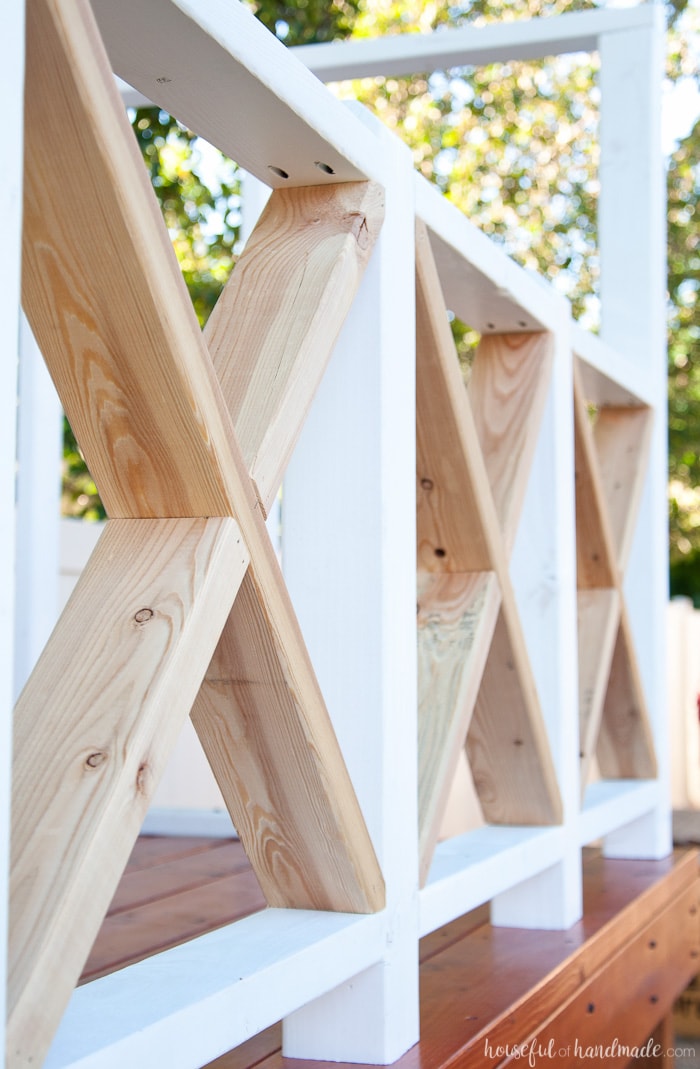 This week I am hoping for some lower temperatures (why is it already in the 100s???) so that I can get the climbing wall cut, painted and attached. Then the kids will have even more reason to stay outside and give me some peace. Maybe my house will even stay clean for longer than 20 minutes (okay, that is probably too much to ask).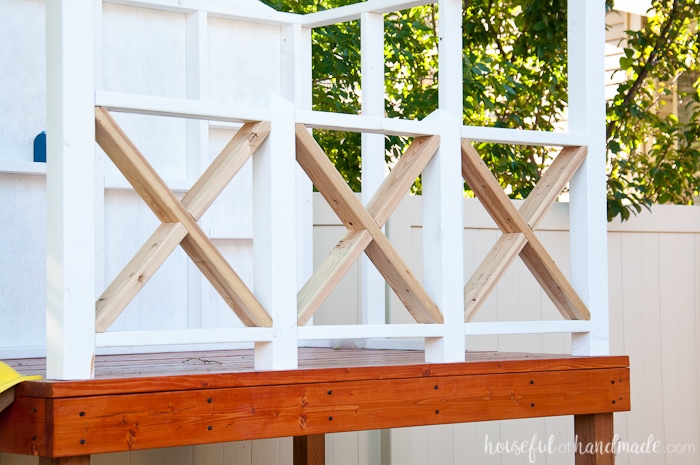 So without further ado, I'm ready to share how we built the playhouse railing. Click the arrow below for the full tutorial.

And don't miss the rest of the posts in the series. Click the links below for the rest of the playhouse build (we will update the links as we finish the playhouse).
THE DECK || THE WALLS || THE SLIDE & CLIMBING WALL || THE ROOF