Build a small DIY playhouse for your kids. This week we cover how we built the deck with sandbox.
I've wanted to give my kids a DIY playhouse for way too long. They love playing outside and I know they would love it even more with a place just for them.
But I kept putting it off because our yard is small. We only have a tenth of an acre (ouch) with a 23oo sq ft house on it. I try really hard to fit half an acre of fun into our small yard but a playhouse just seemed like it would take over the space.
Well, I decided I just needed to build a playhouse and I am so excited we are finally doing it!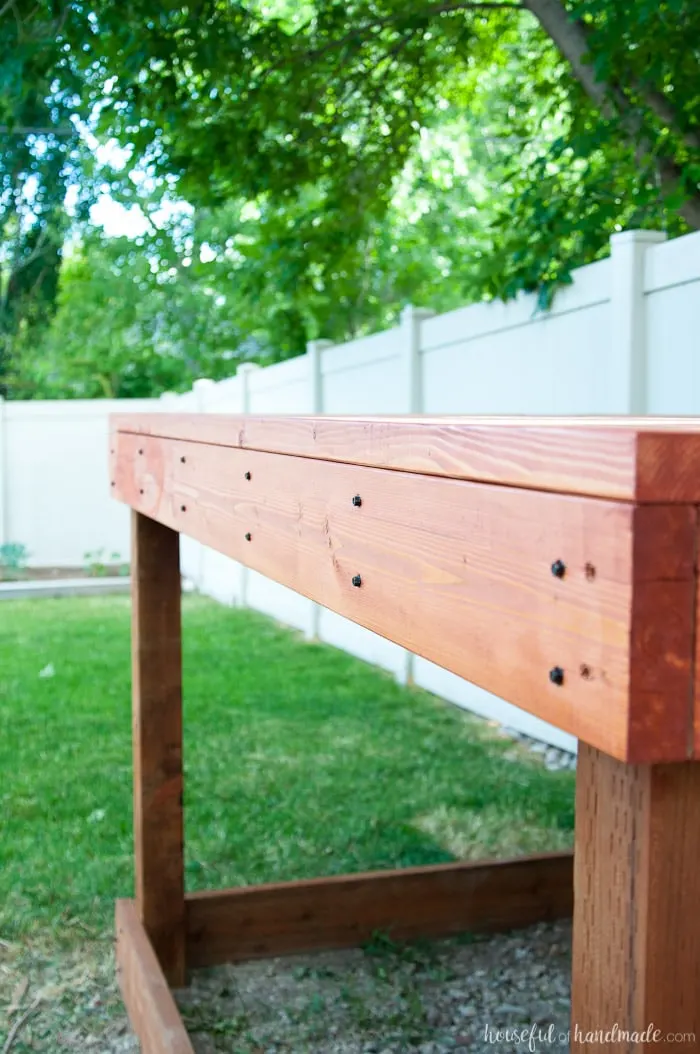 I have been drooling over the Handmade Hideaway from The Handmade Home for a few years now. How wonderful is that fort!?! It's everything that kids dream about. I can only imagine how much imaginative play goes on in that hideaway.
I have wanted to give my kids one for the so long, but… tiny yard! So I keep trying to not want to build a DIY playhouse for our kids.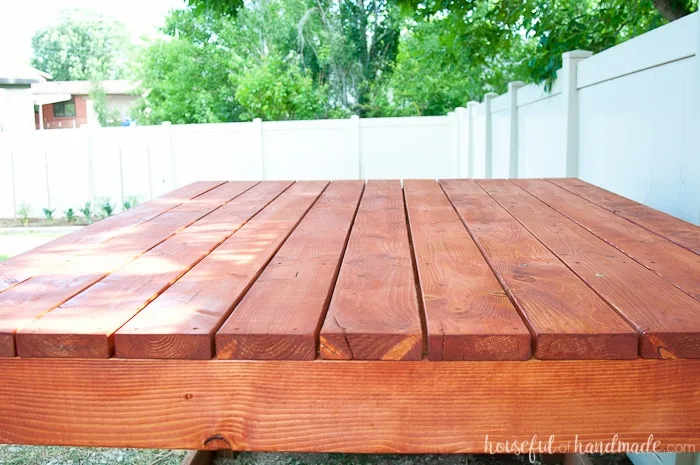 Even though I thought our yard was too small, I spent a year dreaming and measuring and planning… and measuring some more. I sketched out ideas, and even the beginnings of a plan.
But then I thought it would be too big. Or take over the entire yard. So I measured and planned and measured some more. Then I put the idea to rest (or so I thought).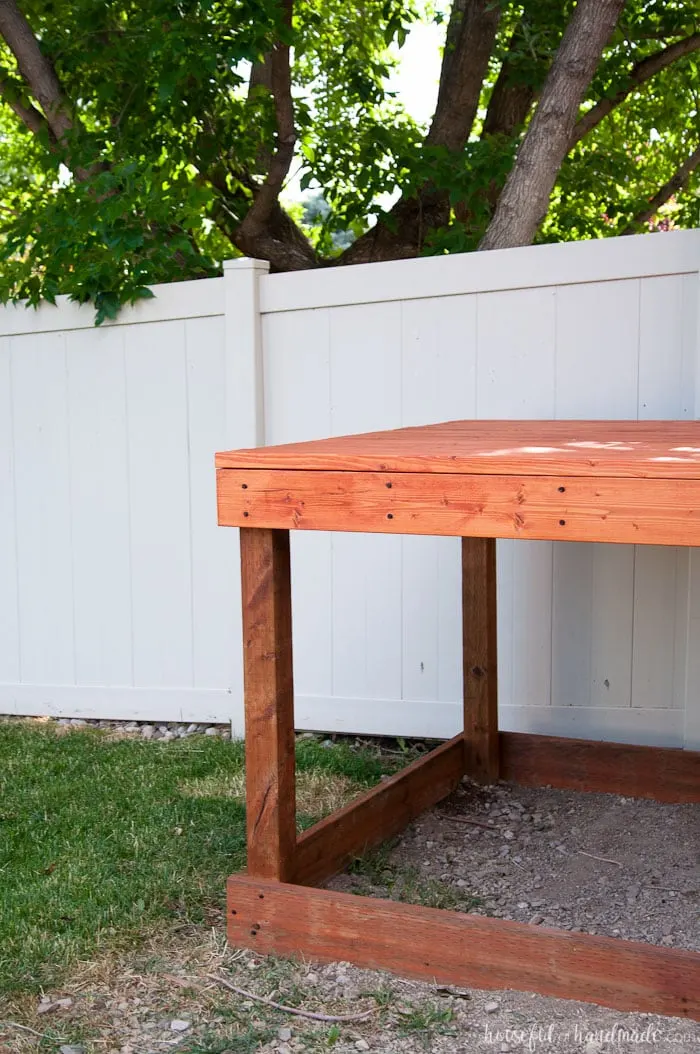 As the snow started melting, the kids were playing out in the yard more and more.
They would spend hours in our tiny yard together. They would drag all kinds of toys outside, create forts or spaceships or castles. They even dug holes in my not so fabulous patio area (which is just road base right now).
Even though our yard is small, they loved it. So finally this spring I decided it was time to stop planning. Our kids needed a place to play, we have a yard so the kids can play! So I designed the perfect small playhouse…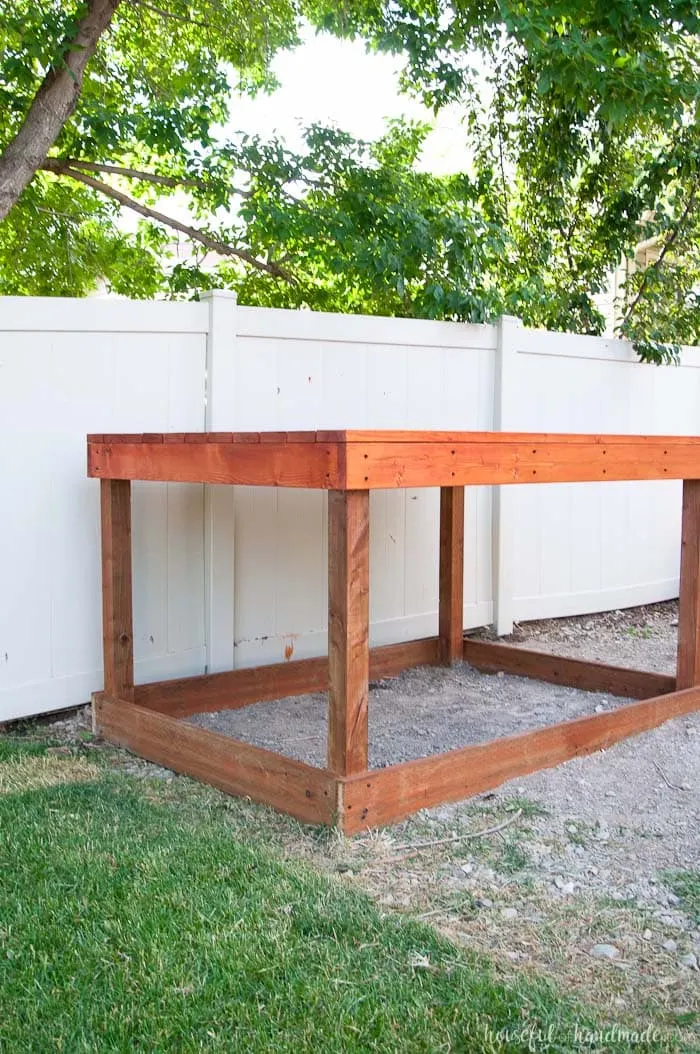 Now that it is finally happening, I couldn't be more excited. Maybe even more excited then the kids (and they are really excited).
I am so excited to finally give our kids a special place that is all theirs. Somewhere they can play for hours and hours, with no TV or tablets or computers. Someplace to let their imagination fly. Someplace for them to be kids!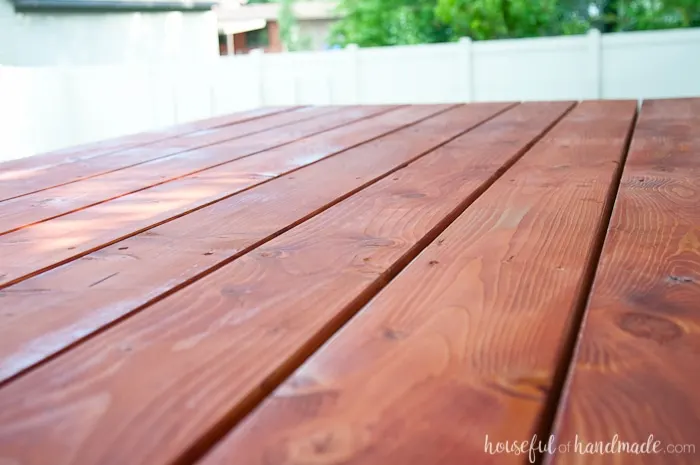 And I am also super excited to share the entire process with you. Even though this is not a little build, it is relatively easy.
No fancy tools are needed, so far we have used a saw (could be circular or miter saw) and an impact driver. Except when I pulled out the drill to fix a little mistake I made. And the rest of the plans should only use these tools as well.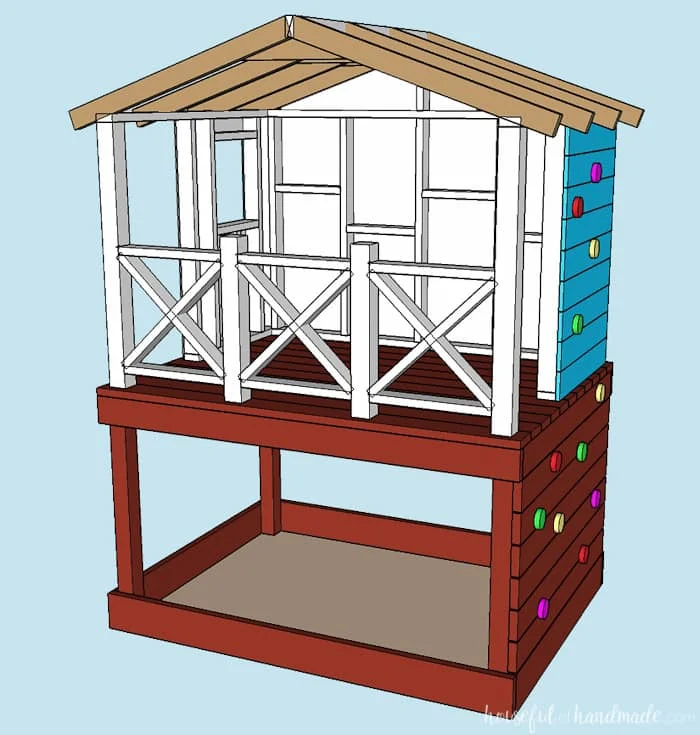 I will also be sharing our supplies total with you so you can see the total investment as we go. I know we will be saving so much money over store bought playhouses and swing sets, but this is not a cheap build.
And most importantly, I hope to maybe inspire you to someday take on a DIY playhouse too! So let's get started!
And don't miss the rest of the posts in the series. Click the links below for the rest of the playhouse build.
THE WALLS || THE RAILING || THE SLIDE & CLIMBING WALL || THE ROOF
Printable PDF Plans
Prefer to print the instructions?
Grab the complete build plans (from all 5 posts) in one easy to follow printable PDF here. The plans include:
List of required tools
Detailed supply list
Easy to read cut list
Step-by-step instructions
Easy to follow 3D drawings of each step
Material and cut lists include the totals for the entire build, as well as a break down for each step. Makes it easy to buy all at once or purchase as you go.
Click the link below for everything you need to build your own playhouse and so you can get the kids outside playing for hours on end!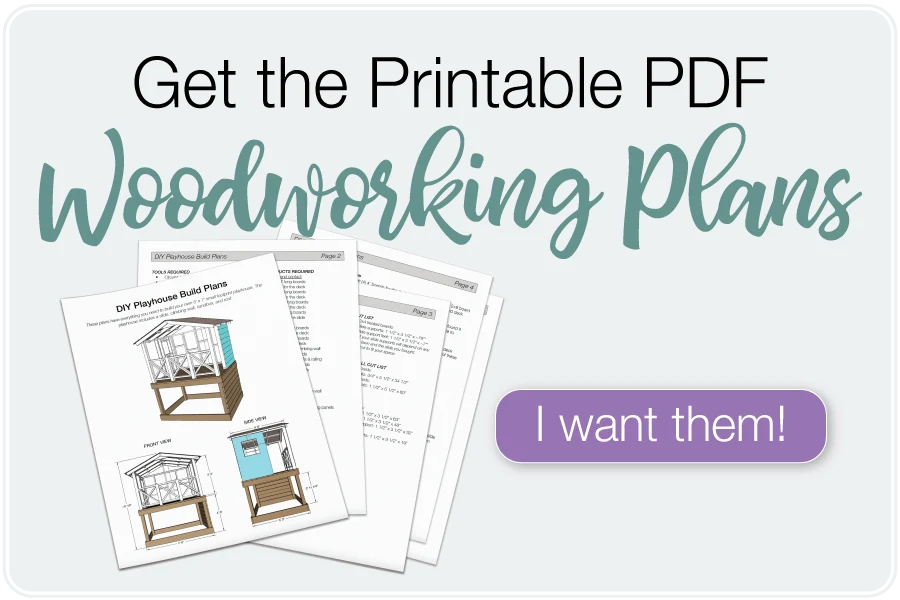 How to Build a DIY Playhouse Deck
Tools:
Saw

I used a circular saw to cut down the 10′ boards (because I didn't have room on my miter saw table) and my miter saw for the rest. But you can use either a miter saw or circular saw.

Measuring tape
Shovel (if you need to move dirt around to level the deck)
Supplies:
Pressure treated wood for ground contact

(2) 4×4 8′ boards
(2) 2×8 8′ boards
(1) 2×8 10′ board

Regular wood (if you paint/seal it for the outdoors it will last for years)

(13) 2×6 8′ boards
(3) 2×6 10′ boards

(2) 1lb boxes 2 1/2″ decking screws
Wood stain
Outdoor wood sealer
Building the deck is easier with 2 people. My husband helped me get the base built and leveled, then I added the joists and deck boards by myself.
It took us 2 hours together to get the base built, in place and leveled and it took me 4 hours on my own to finish everything except adding the sealer (I still haven't done that because it was super windy).
To build the base, start by cutting the 4×4 boards in half so you have (4) 4′ boards. Then cut the 10′ 2×8 board and (1) 10′ 2×6 board in half so you have 2 5′ boards of each.
Attach one of the 2×8 boards on the bottom of 2 of the 4×4 boards and one 2×6 board on the top using (2) 4″ Trex screws on each edge. Repeat so you have 2 of these.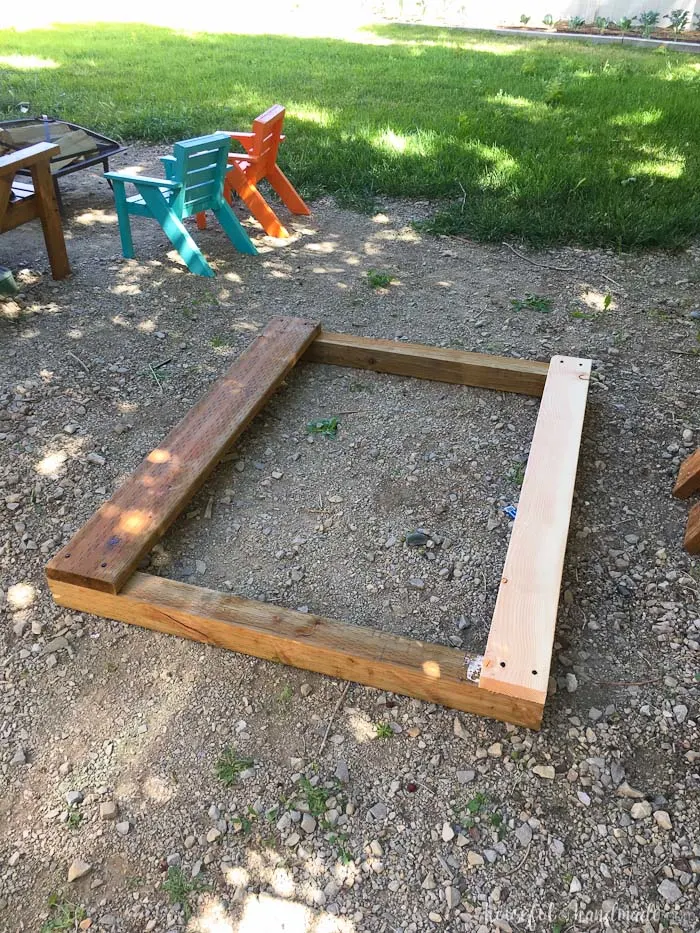 Next cut the 8′ 2×8 boards and (2) 8′ 2×6 boards to 7′. Join the two sides together with the 2×8 boards on flush to the bottom and the outside of the 5′ boards and the 2×6 boards at the top with the 4″ TimberLOK screws.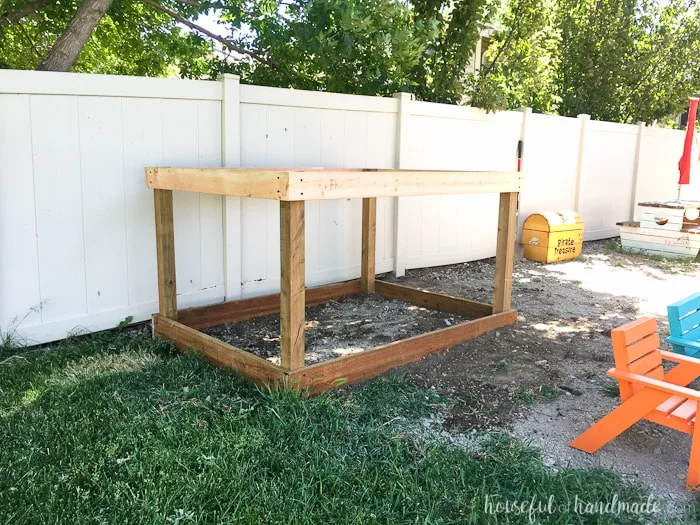 At this point we moved the deck in place and got it leveled, which was a mistake. You want to add the joists first in case you cannot access the back of the deck like me.
I was able to use my drill to pre-drill holes into the 2×6 boards. Then with a wrench managed to get in between the fence and the deck and manually drive in the 4″ screws. It wasn't too hard, but definitely not as easy as doing it before the deck was in place next to the fence.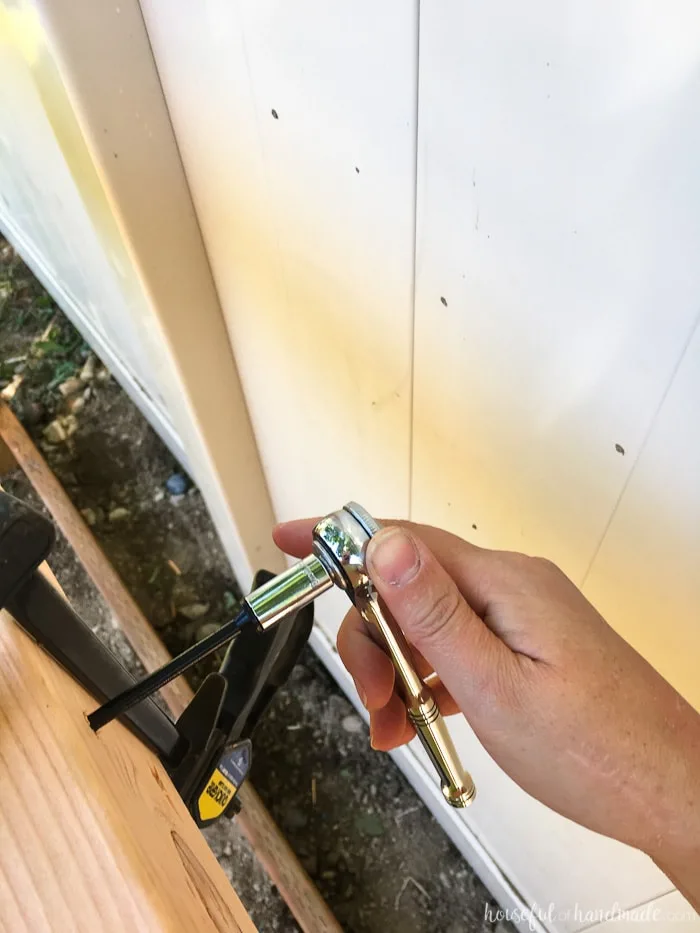 To add the joists, cut (2) 10′ 2×6 boards in half so you have (4) 5′ boards. Space the boards evenly between the outer boards. They will be about 16 1/4″ apart on center.
Secure so they are flush with the top with 4″ screws.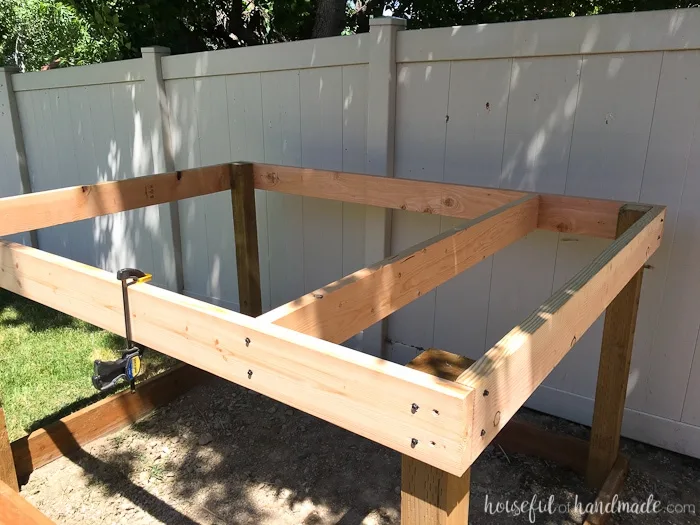 Now it's a good time to position and level the deck. Our yard is pretty sloped so we had to dig out about 4″ at the one end. Dig and level, dig and level until everything looks great.
Luckily I had my hubby for this part because the deck is HEAVY! Two people could move it easily, but to do that on my own it would have taken me forever.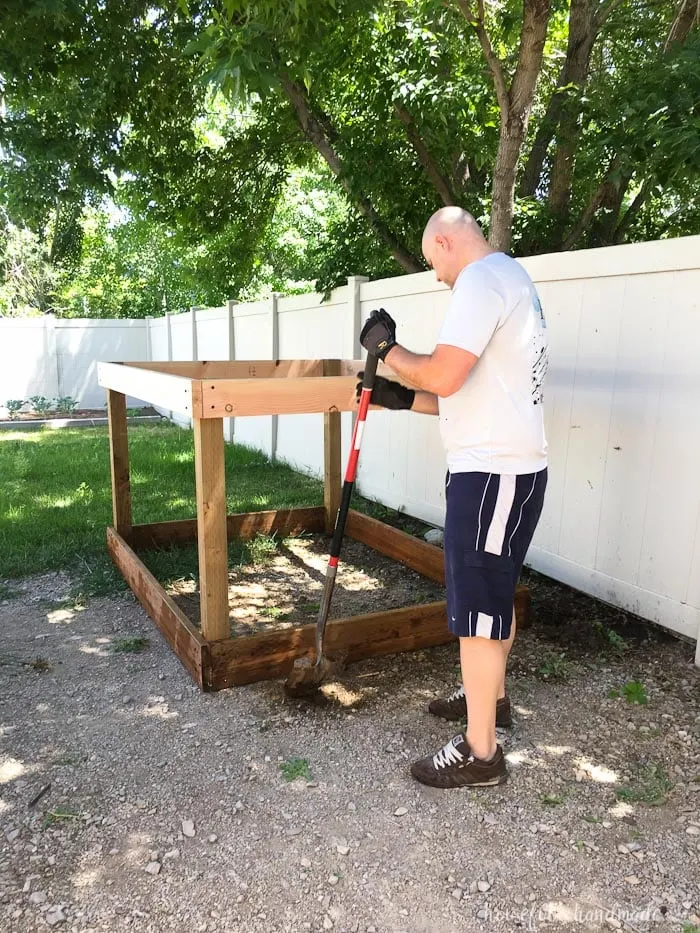 Once everything was level, I cut the rest of the 8′ 2×6 boards to 7′ for the deck. I decided to get them sanded and stained before putting them on the deck (I also quickly stained the deck and joists). It was easier then trying to make sure I got the stain in between all the boards.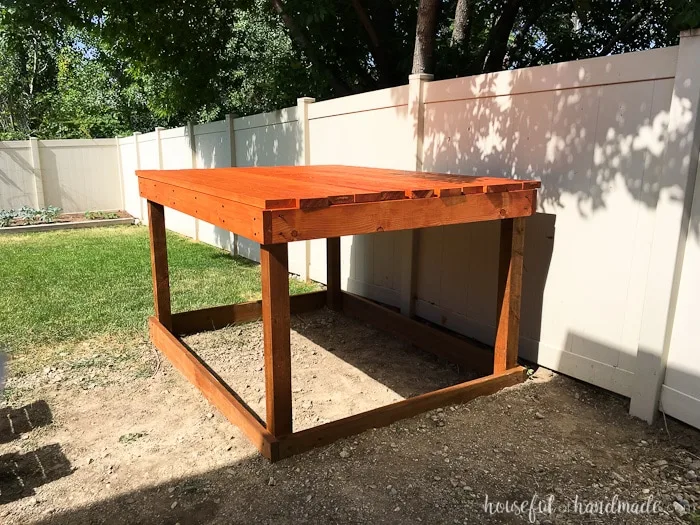 Then I laid out the deck boards, there was about 1/4″ between them.
I used 2 1/2″ decking screws to secure them. Use 2 screws in each joist. Some of the screws caused slivers of wood to poke up, so I gave the entire top a quick sanding and then a second coat of stain.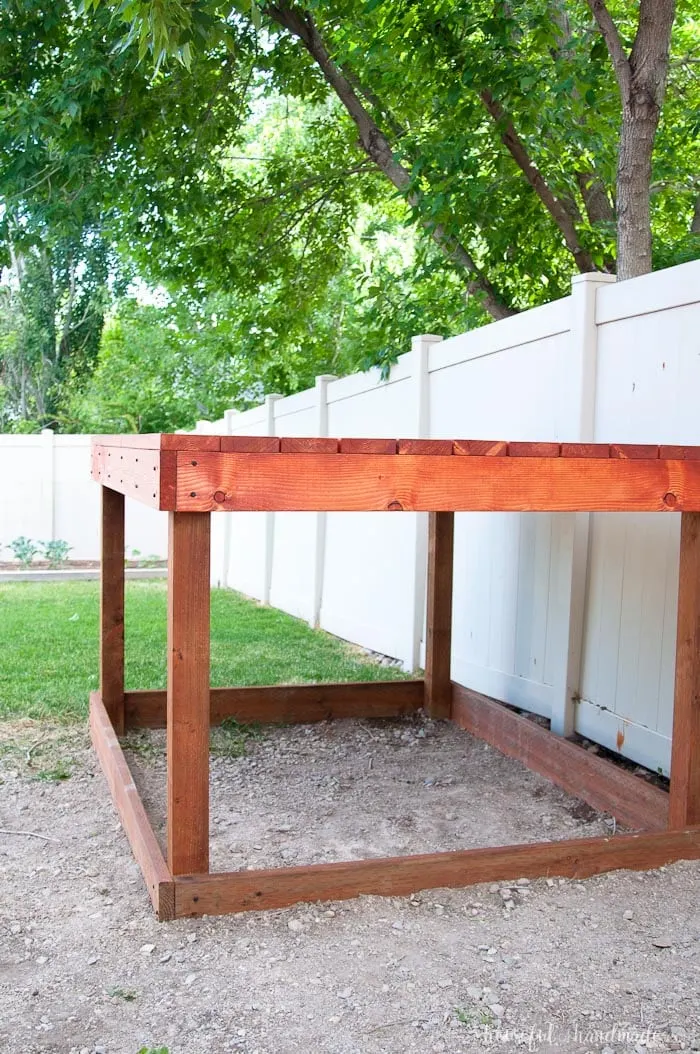 Finally, protect the deck with an outdoor wood sealer. I am planning on using spar urethane when the wind dies down. Most of the deck will actually be protected by the roof of the playhouse, but I want the playhouse to last for years and taking the extra steps to protect it will help that.
So now I am super excited for some good weather next week. I cannot wait to build the walls and install them. Then it will actually look like a DIY playhouse and not just the perfect stage for my daughter.
And now for the $$$. Here is what we have spent so far:
(2) 4×4 8′ boards = $19.94
(2) 2×8 8′ boards = $22.34
(1) 2×8 10′ board = $13.98
(13) 2×6 8′ boards = $78.65
(2) 2×6 10′ boards = $15.00
(2) 1lb boxes 2 1/2″ decking screws = $18.74
(52) 4″ TimberLOK hex screws = $28.31
Glue (already had)
Stain (already had a gallon from a clearance sale, only used about 1/5 of it).
Sealer (already had but it's about $18 for a quart)
Total: $196.96
I also ordered a slide ($100) and pulls for a climbing wall ($20). I estimate we about 1/2 way through the total budget. If I am estimating correctly, we will end up with a DIY playhouse for about $600. That is really amazing considering the swing sets start at about $600 and they have nothing on this!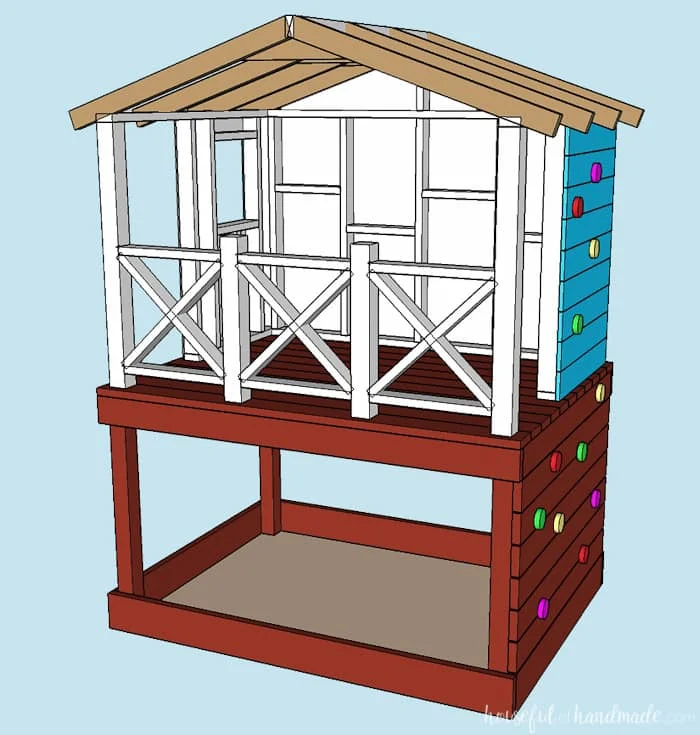 But now I need to get back to work! This playhouse is not going to build itself.