Learn how to build easy rustic picture frames in under 20 minutes!
Putting together my fall mantle has been way too much fun! I am so inspired, it's weird how that happens sometimes. One or two things come together and then things just keep rolling.
I am so excited to share the final reveal with you next week, but before then, here is the last component that I had to build to get it all together. I needed picture frames to put my printable in for display on the fall mantle so I built some 🙂

I wanted some simple, but rustic picture frames to match the rest of my fall decor. I didn't have any reclaimed wood lying around, but I did have some 1×3's that weren't very pretty.
The wood wasn't really smooth and there were lots of knots, perfect for a rustic look!
I ended up making 2 rustic picture frames for my mantle, one thicker frame to hold an 8 1/2 x 11 inch printable and another one that was bigger for a 12 x 16 inch picture, but was a narrower frame.
I can't decide which one I like the best, I love them both, and I love them even more together.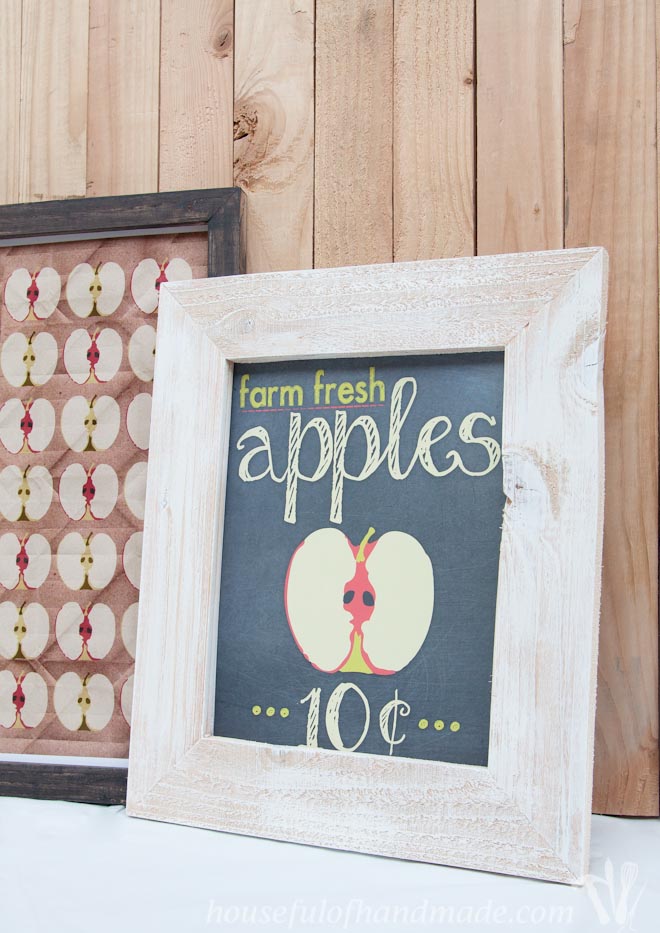 The best part about a rustic picture frame, it only takes 20 minutes to make, including paint. They are a quick build perfect for a beginner. And since you want the rustic look, you don't sand it before painting.
And lastly, painting is done with a dry brush to allow lots of different textures to show through and only takes a couple minutes per frame and only needs one coat. I love building but don't always love the finishing work, so these picture frames are my new favorite DIY 🙂
Materials Needed:
1x boards (width is up to you)*
Kreg jig screws or finishing nails
Wood glue
* I used just under 60 inches of a 1×3 board for the 8 1/2 x 11 inch wider frame and 65 inches of 1×1 for the 12 x 16 inch narrower frame. To get the 1×1 board, I used my table saw to rip down a 1×3 into 2 1×1 pieces (actual finished dimension was 3/4 in x 1 in).
Tools Needed:
Miter saw
Tape measure
Kreg jig or nail gun
Table saw
** I used a table saw to notch out a 1/4 groove on the back inside of the frame so the picture sits inside it with a backing, or you can put glass in it. It is not necessary to notch out the back so if you don't have a table saw you can skip this step. Or if you have a router, you can use it to notch out the wood, but I don't have a router… yet (Dear Santa, I hope you're reading this).
To make these super quick frames, start by notching out the wood (if you want to). I set my table saw so the height of the blade is 1/4 inch and the guide is 1/4 inch away from the blade. Then run the board through twice, once laying flat and up on the side so you make a beautiful little 1/4 inch notch.
After the wood is notched, you will build your frame. You want the window of the frame slightly smaller than the destined picture. I was using 8 1/2 x 11 inch for the first frame so I measured 8 3/4 inch inside the notch so the opening would be about 8 1/4 inch and I would have some wiggle room so the picture would fit inside with a little room around it for centering.
Then I used my rafter square to draw a 45 degree angle through my mark. This tool is super handy and I use it almost every time I pull out my miter saw (which is almost daily). Now you may notice that my angle was backwards in this picture, the side with the notch is suppose to be the inside of the frame window and therefore smaller than the outside.
But I cut it wrong the first time and then forgot to take a picture of the angle correctly so pretend it's right here and try not to cut it wrong like I did 🙂
After my 4 boards were cut, 2 at 8 3/4 inch measured on the inside of the notch and 2 at 11 1/4 measured on the inside of the notch, I used my Kreg jig to put 2 holes in one board of each corner. I only used my Kreg jig for the 1×3 wide frame. For the 1 inch wide frame, I used my nail gun and put a finishing nail in each side of the corner from the outside of the frame.

After the holes were done, I used a little wood glue in the joint and then clamped it down flat so it wouldn't move when I screwed in my screws.
Then continue to use glue and screws and secure each corner.
And you're all done building. Ready for paint.
I used a dry brush with just a little bit of a creamy white paint. Then I swirled it around on an old yogurt lid so there was just a little bit of dry paint on the end of the brush.
Quickly brush this paint over the rough, unsanded wood. If you get any spots too heavy, don't worry, just use an old rag to rub the it off before it dries.
I just love how the texture shows through and it looks so rustic. Perfect rustic picture frames for my fall mantle. The paint only took about an hour to dry because it's such a thin layer, and it's still pretty warm here.
For my 12 x 16 inch frame, I used black paint and the same dry brush technique. It looks like a charcoal stain. I really love how it turned out.
And now I have two rustic frames, and it took me less than 1 hour to make them both, including taking pictures of the process.
To hold the pictures into the frame, I chose not to use glass but I am using a backing behind the pictures to help keep them secure and flat. I am using a really fancy backing of cardboard and tape.
And yes I've been doing a lot of Fabric shopping for another project to come ;).
I think I may be getting addicted to making these rustic frames. What else can I build one for?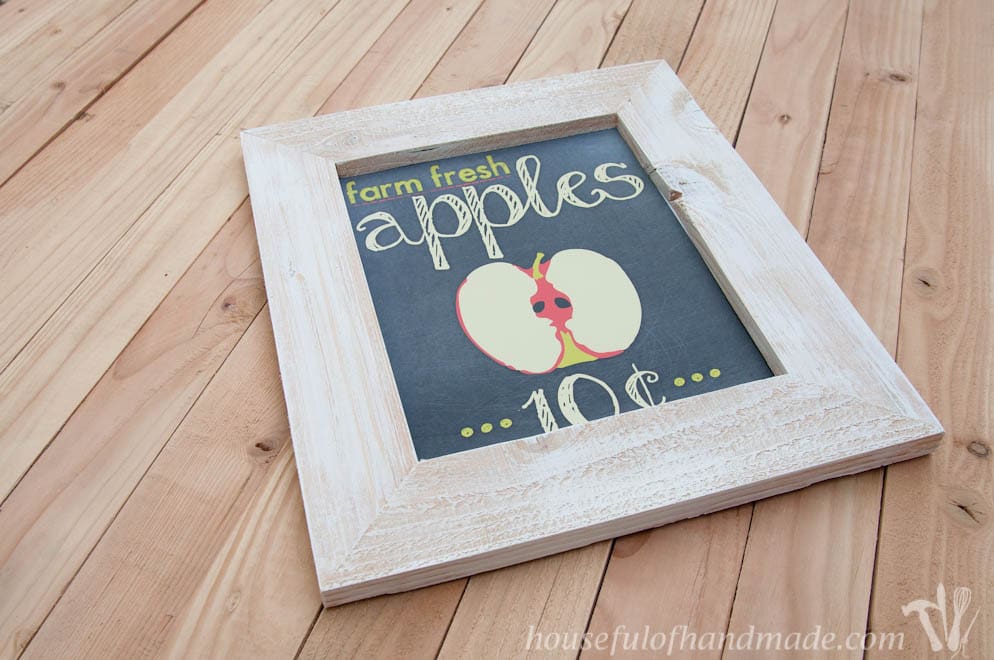 And if you like the fun apple printable, you can download it for free here.