Create an outdoor oasis with a new outdoor sofa build project!
Turn your backyard or patio into another living space with this DIY outdoor sofa. You will love the additional square footage it will add to your house. But even more you will love how much cheaper it is to build your own outdoor furniture.
I partnered with Kreg Tools to build this slatted outdoor sofa and share the build plans for free. Or if you prefer a deeper lounging sofa, get the build plans for it here.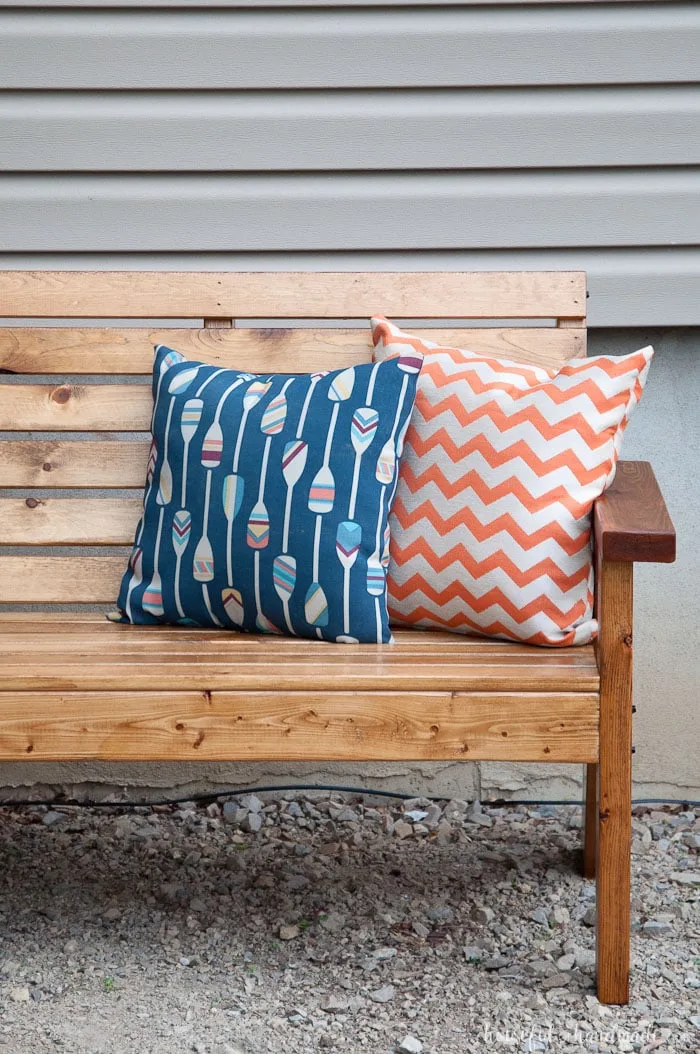 As much as we have been working to have grown up furniture in our home (I am knocking on 40s door so it's high time I have grown up furniture right?), our outdoor space was seriously lacking.
We do have 2 bouncy side chairs that I bought oh so long ago. A couple years ago I recovered the cushions with some (on-sale) high end outdoor fabric and it brought them back to life. But other than that, we had a couple old rusty folding chairs to use when company was over.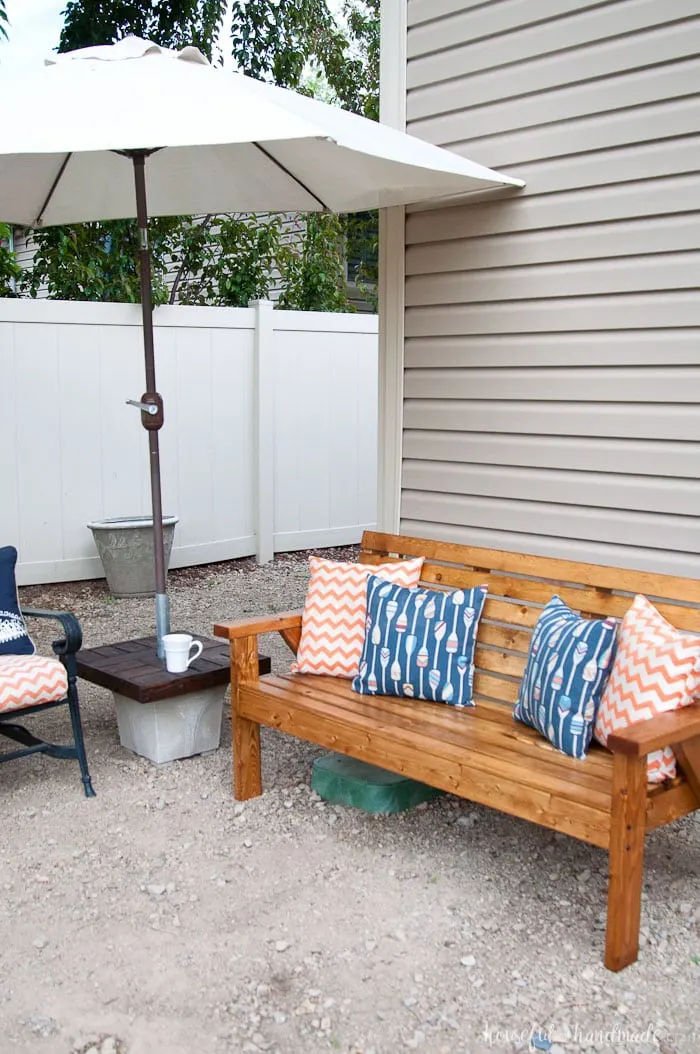 Because of our lack of outdoor seating, we didn't have company over in the summer as much as we want to.
Barbecues and parties in the cool evening air are my favorite! I cannot wait to start enjoying them this summer. So we needed an outdoor sofa to help seat all our guests.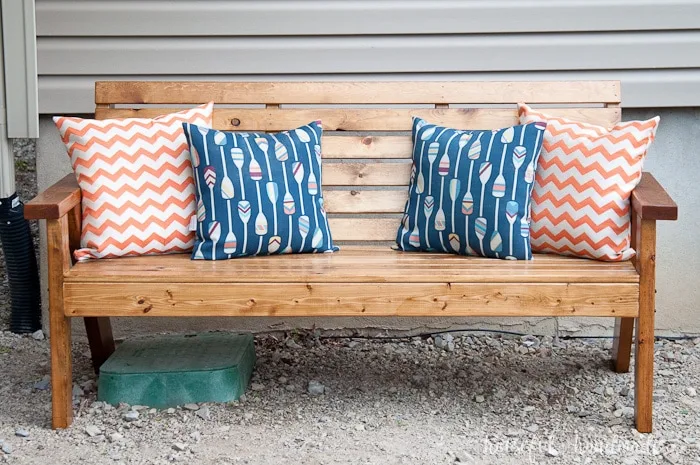 I loved the little Adirondack chairs I made my kids many, many years ago. Sadly this year they had to get tossed because they were not sealed properly and left outside in the rain and snow and sleet for too many years. They completely fell apart.
But they gave me inspiration to create a new line of outdoor furniture (with little kids sized chairs included) that were a fun modern take on the classic Adirondack chair.
That is how these slatted outdoor sofa build plans were born.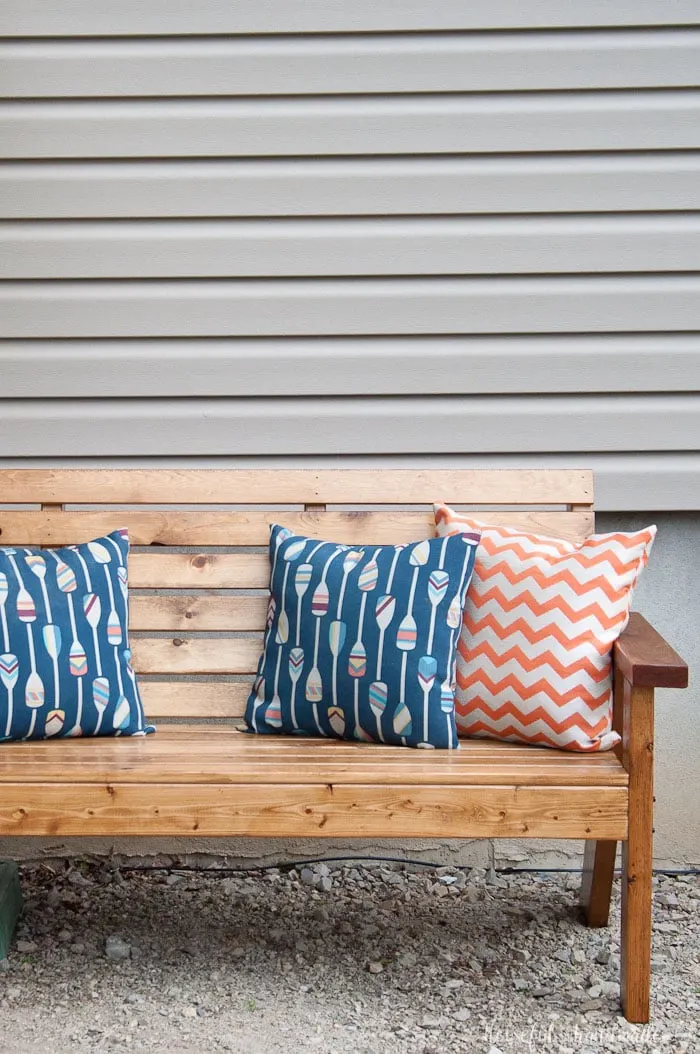 I took the angled back leg and made it big enough to support an entire sofa! Then added a bit of and angle to the sofa back so it was more comfortable to lounge in.
Our new outdoor sofa turned out more beautiful than I could have hoped.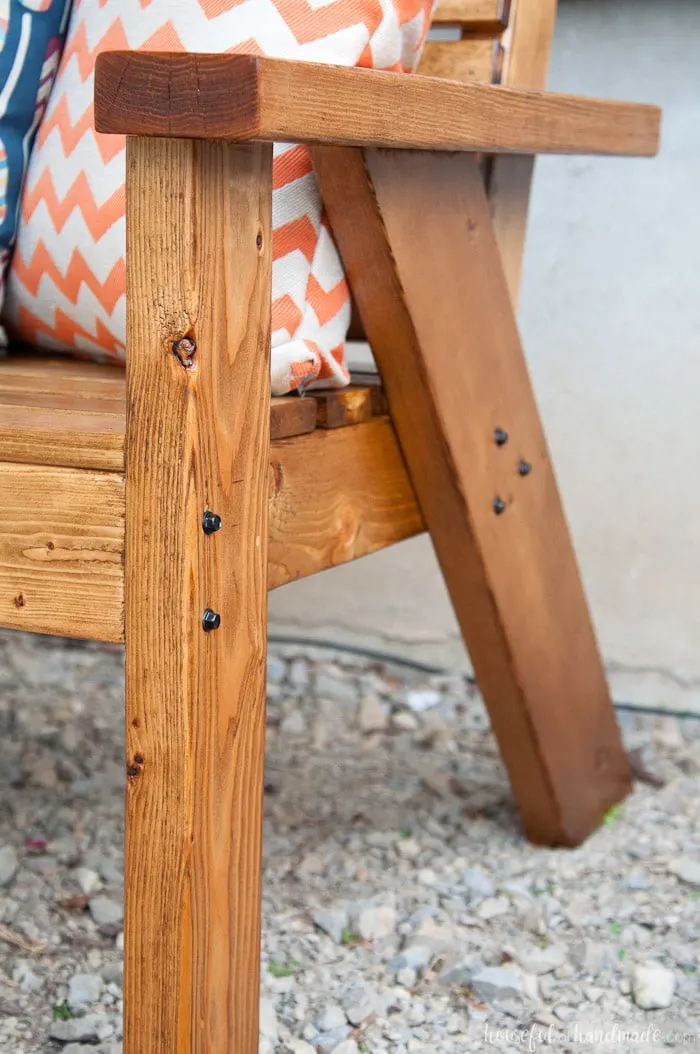 And I was originally planning on adding a cushion to the seat and back, but let's take a minute to look at those beautiful slats.
The stain on the wood really added a lot of beautiful texture and brought out the grain line in this inexpensive wood. But it looks like a much more expensive sofa than the $40 in wood it cost to make!
So now I am reconsidering covering up it's beauty with cushions. For now, we will cuddle with some pillows made from extra fabric I had from when I redid the chair cushions.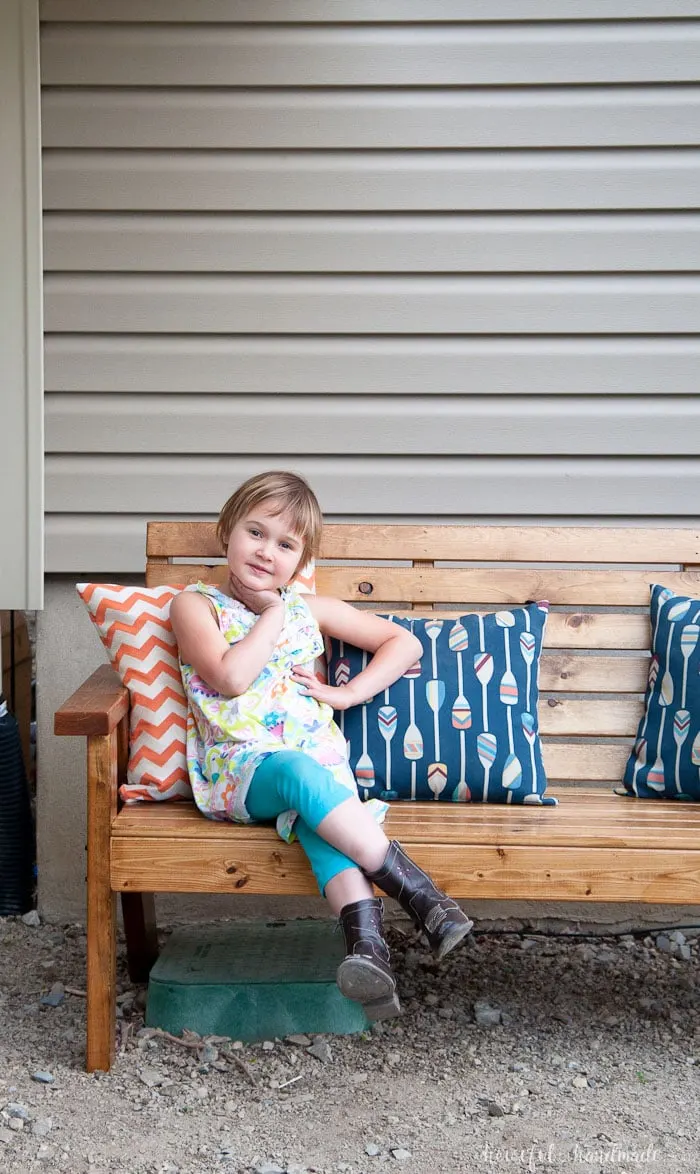 I also made sure to seal the entire sofa with 2 coats of an outdoor sparurethane. It is made to protect against UV and the weather.
This is the same outdoor sealer I used on the Pirate treasure chest I made 5 years ago and it still looks amazing.
I'm happy to know our slatted outdoor sofa will last many years without me having to bring it in the garage through the winter.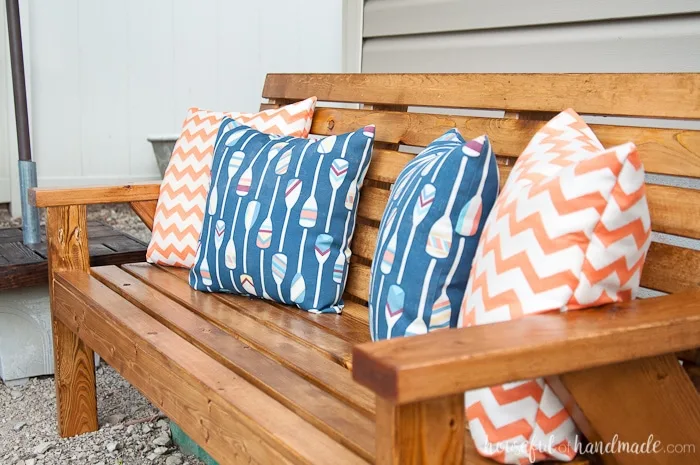 And lastly, this build was super easy! With a miter saw and a Kreg Jig, you can build this outdoor sofa in an afternoon.
Then finish it with a good sanding, some stain and sealer, and you can be relaxing in your back yard by the weekend. Doesn't that sound like the perfect project for spring.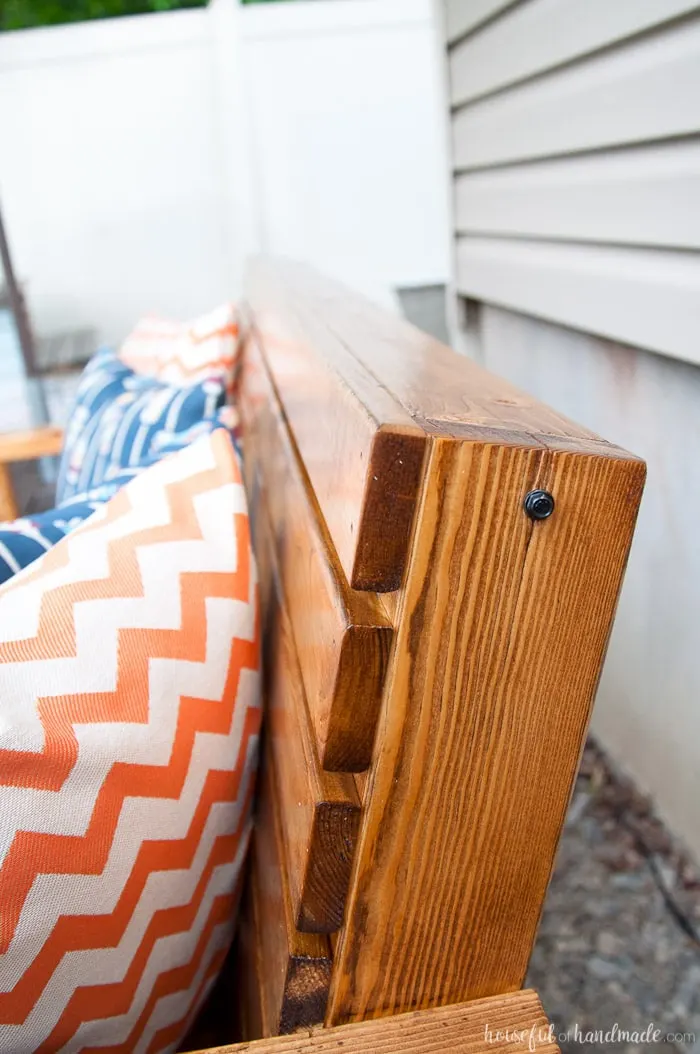 Matching Outdoor Furniture Set
If you want a complete set for you patio, I also made plans for a matching outdoor lounge chair and matching chaise lounge chair with an adjustable back.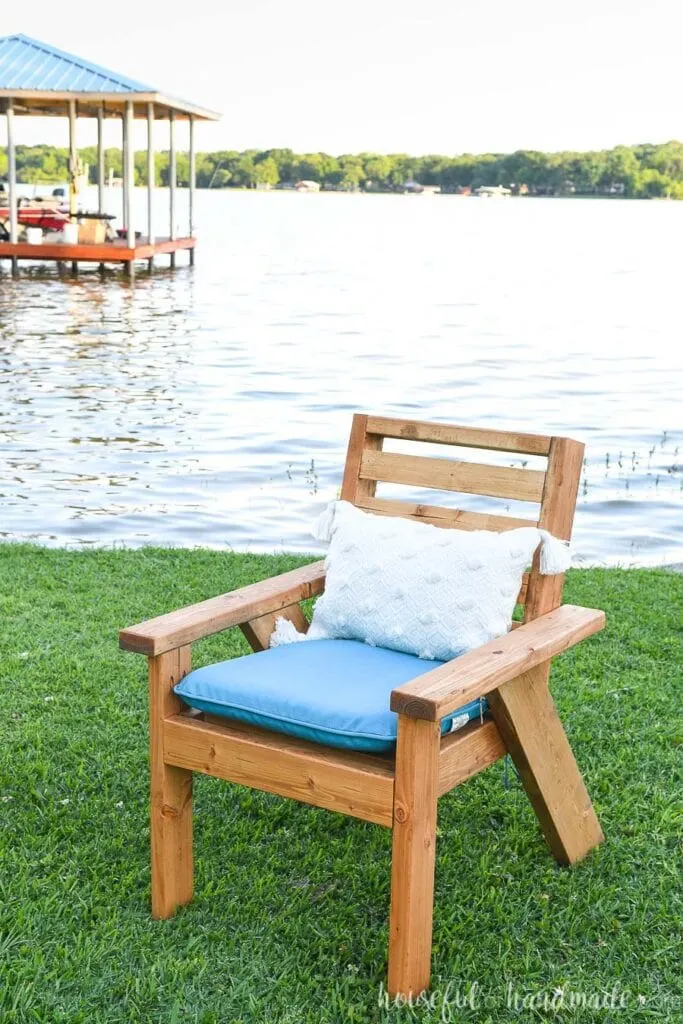 Outdoor Sofa Build Plans
I partnered with Kreg Tools to bring you these Slatted Outdoor Sofa Build Plans for free.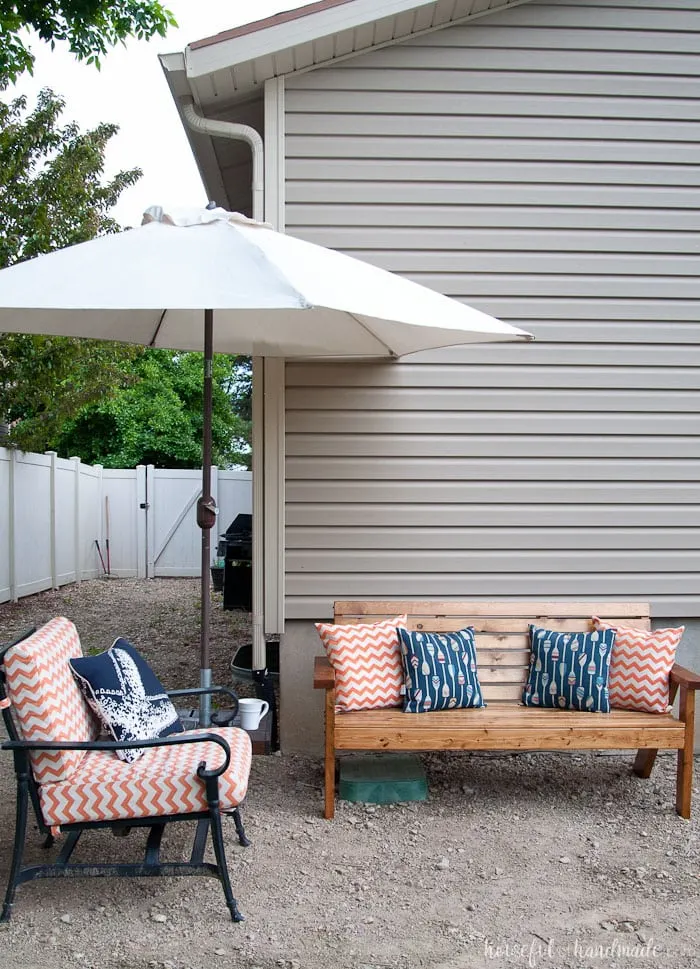 Happy building!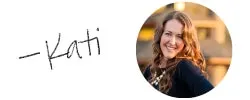 This post is sponsored by Kreg Tools and their DIY project plan site BuildSomething. I only recommend products that I use and love and all opinions are 100% my own. Click here to read my full disclosure policy.
And for more outdoor build plans, check out these posts to get your ready for all kinds of summer fun!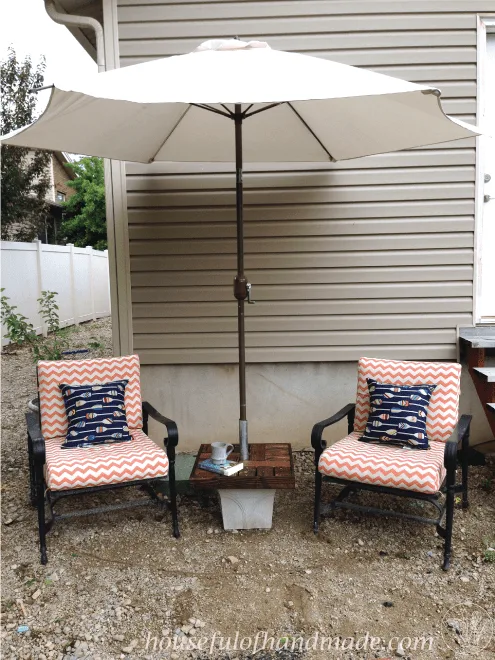 Umbrella Stand with Side Table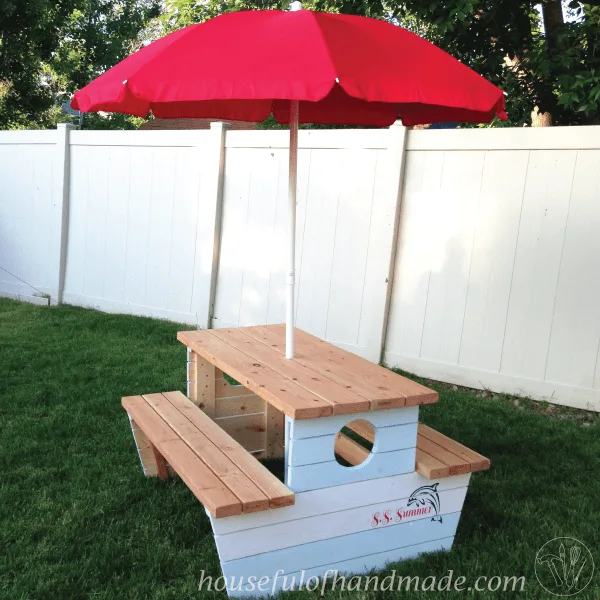 Nautical Picnic Table for Bigger Kids