Build the perfect place to relax in your yard with this outdoor lounge chair.
As the weather is warming up, it is the perfect time to add more seating to your outdoor spaces. And these fun outdoor lounge chairs are made mostly from 2x4s!
With our new home in Texas, we definitely needed some outdoor furniture. Especially somewhere to sit and enjoy the lake.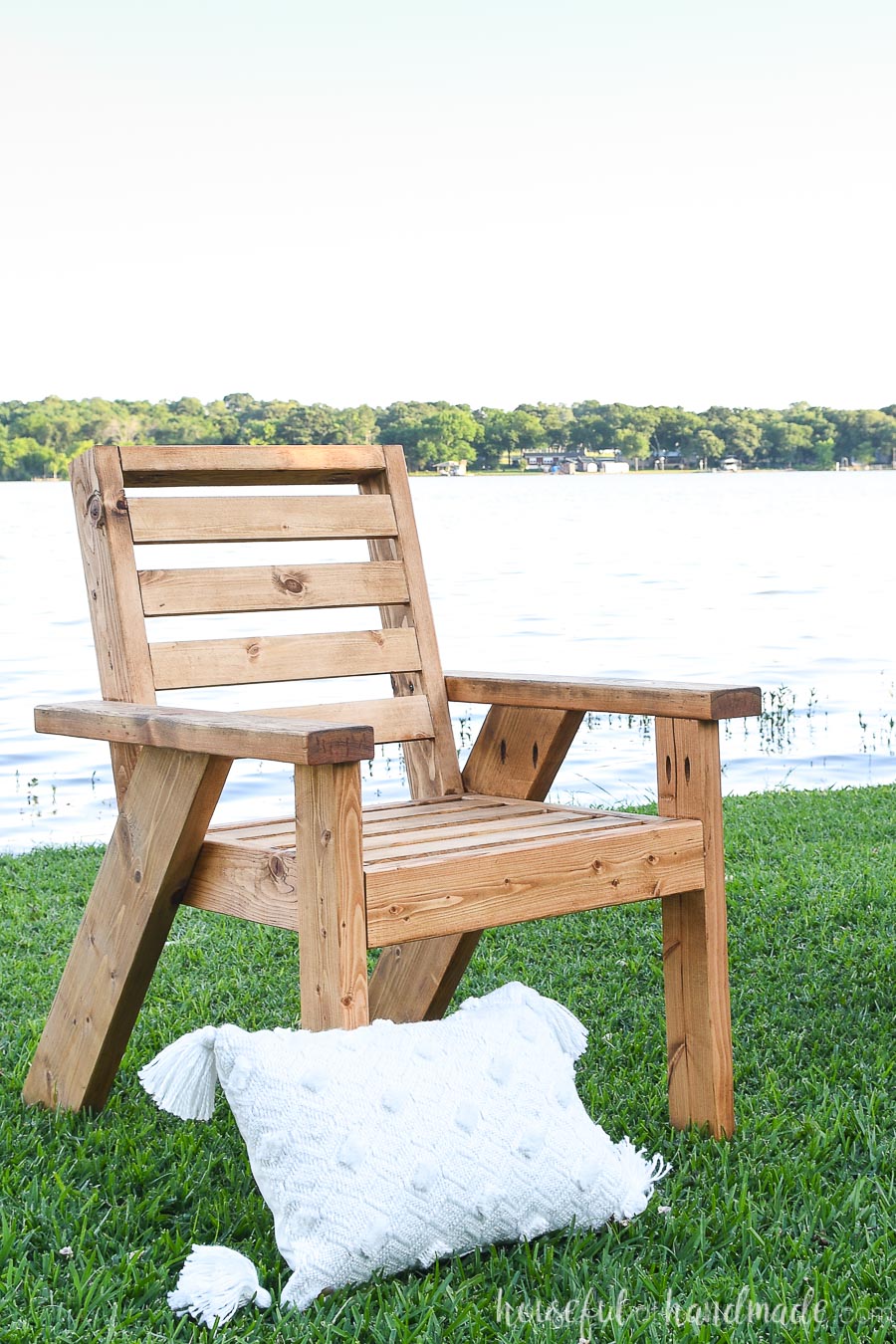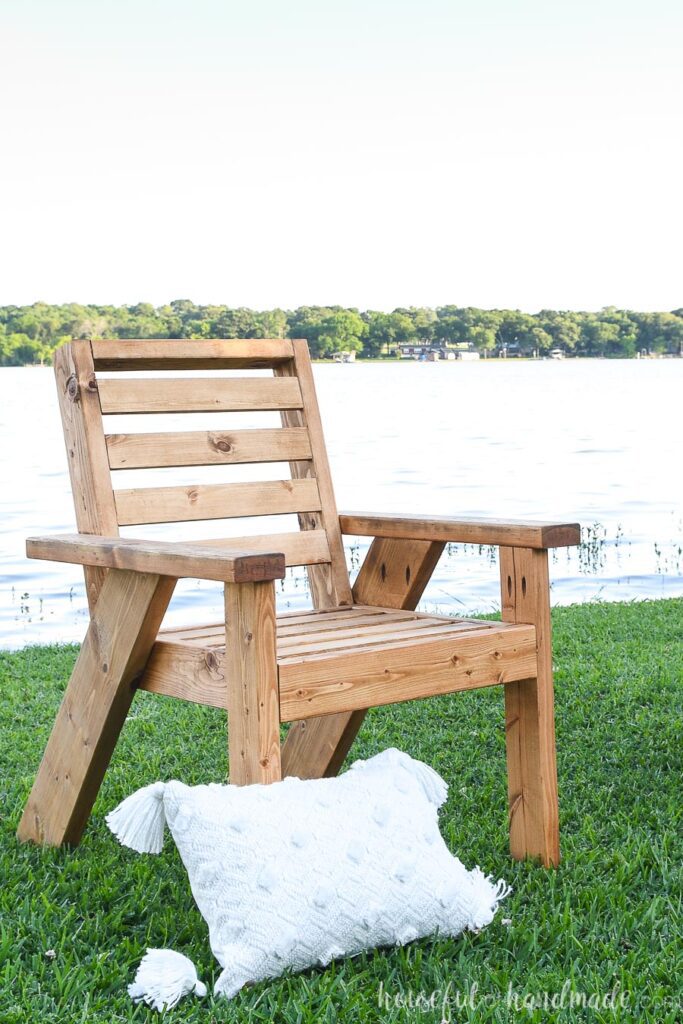 Lounge Chair Design
We wanted large comfy outdoor lounge chairs that you can spend hours sitting around a campfire, or chatting with friends, or watching the sunset. And something that could hold a large cushion for some extra comfy lounging.
But more importantly, I wanted it to match with the other outdoor chairs I already made, like these outdoor kids chairs.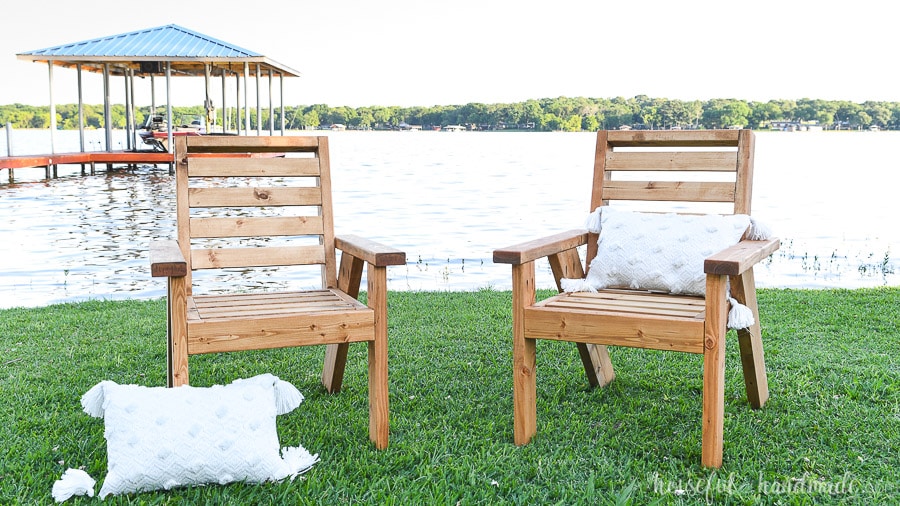 Using the same modern Adirondack-esque design, I made an adult sized outdoor chair big enough to lounge in. It is even big enough for me to pull my legs up and sit on them because that is my favorite way to sit!
I love the 2×6 angled back leg on the chairs. It makes them super sturdy and impossible to tip over. Perfect if you have kids that are prone to pushing back on their chairs.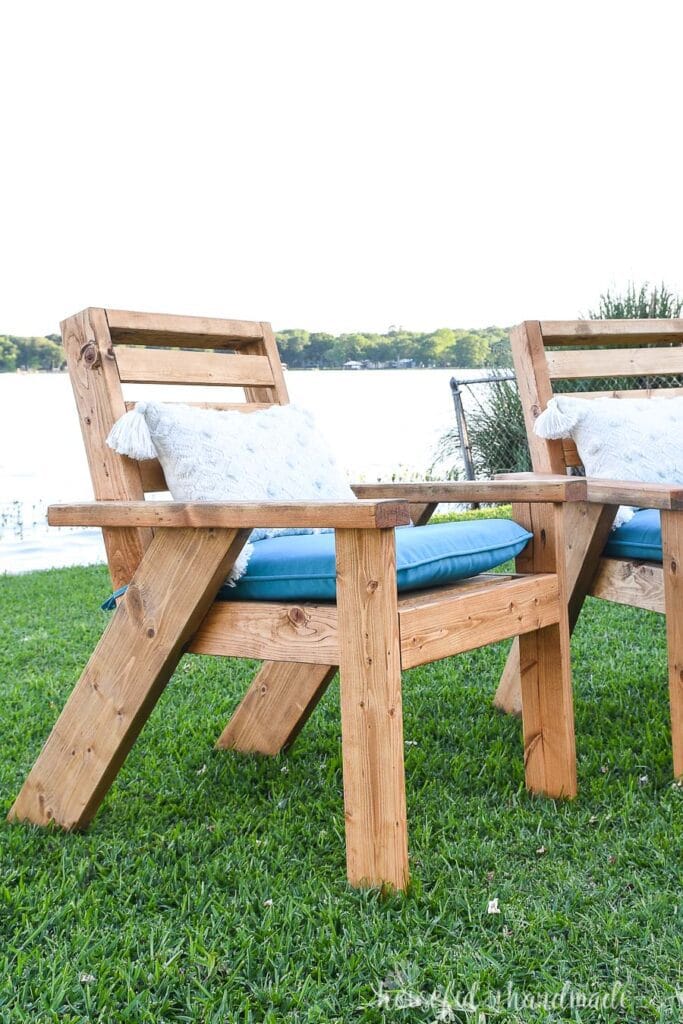 The seat has an angled back to make it easy to relax and lounge, but not too far back that you have to pull yourself out of it. And the back of the chair is comfy with or without a cushion. Perfect for easy outdoor living!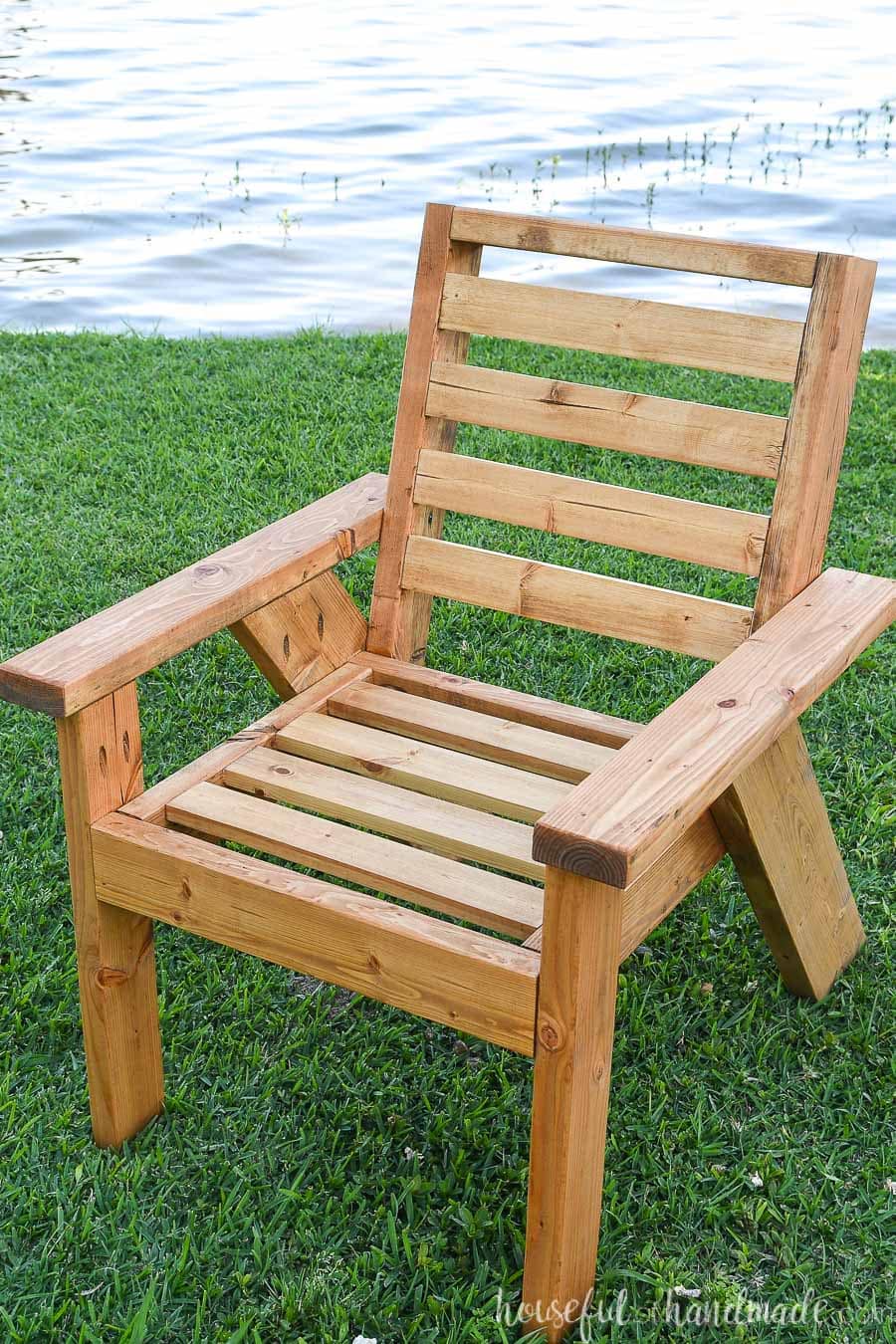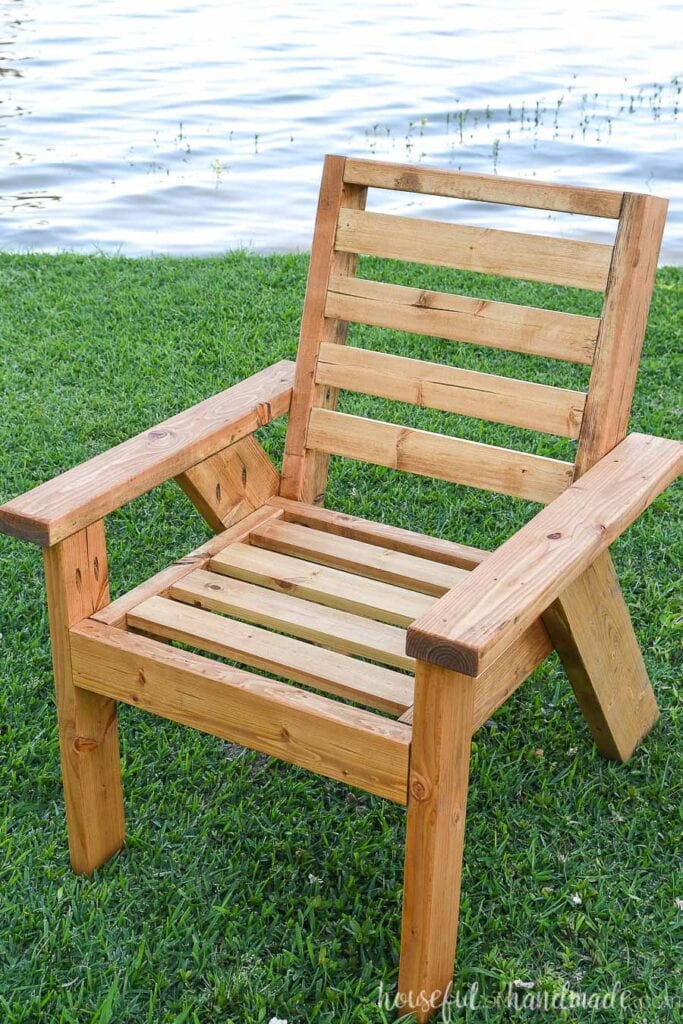 Three Amazing Outdoor Build Plans
But don't stop at just building these awesome outdoor chairs, I partnered with some of my amazing friends to offer these build plans in an outdoor woodworking bundle.
Your yard will be ready for lots of outdoor living in no time with these 3 outdoor build plans.
Outdoor Lounge Chairs by Houseful of Handmade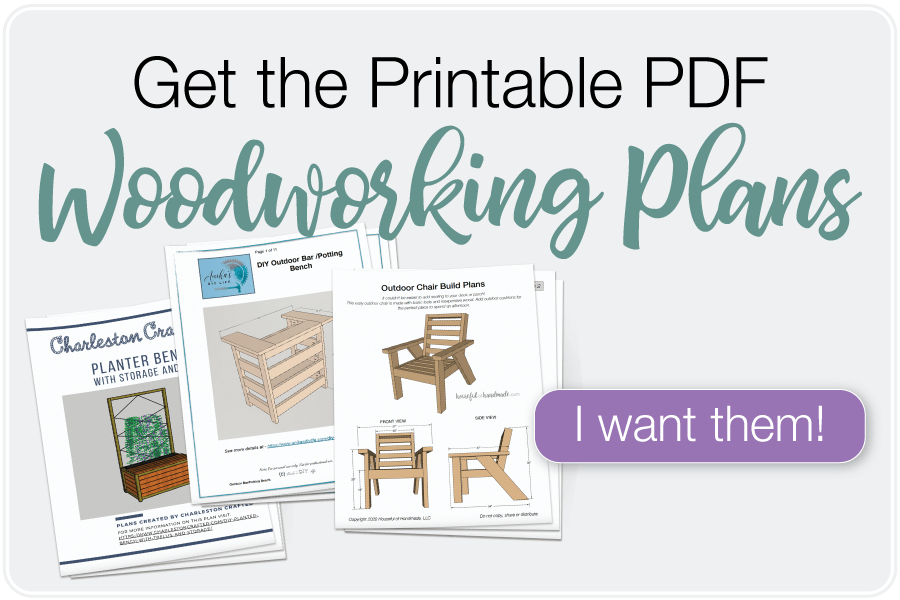 All of these plans are available for purchase in a bundle! Each premium plan is valued at $9.99 each, but you get all THREE printable plans for only $14.99! That is a 50% savings!
How to Build an Outdoor Lounge Chair
Tools Needed:
Miter saw
Pocket hole jig
Drill and impact driver
Measuring tape
Speed square
Clamps
Supplies:
Wood products:

(3) 2x4s per chair
(1) 2×6 per chair
(2) 1x3s per chair

Pocket hole screws
Wood glue
Outdoor paint/stain/sealer
Outdoor cushions and pillows (optional)
Cut out the pieces according to the build plans. For the back leg, the total length is the board before the angles are cut off each end.
My miter saw was not big enough to cut the 2×6 boards at an angle so I had to do it in 2 cuts. You could also cut them with a circular saw.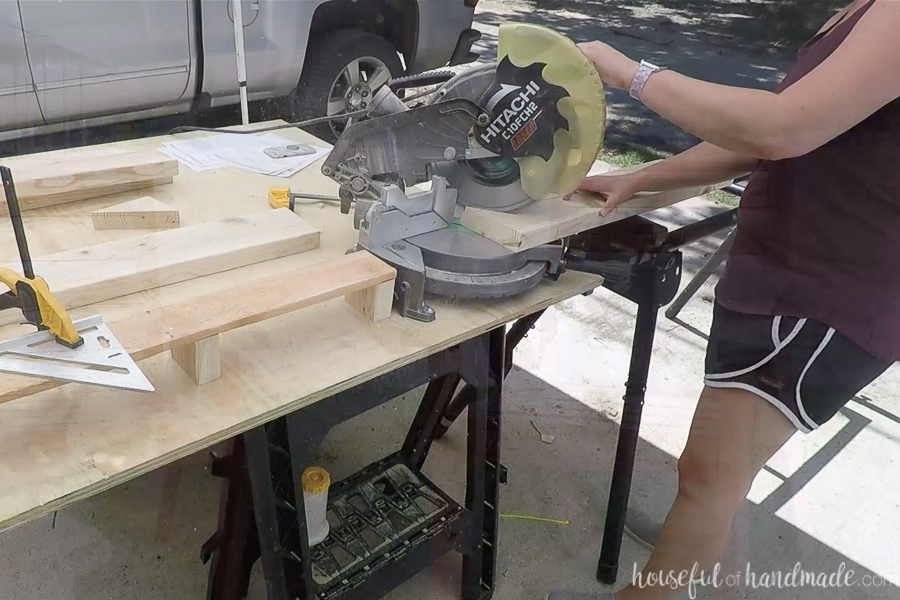 With the pocket hole jig set for 1 1/2″ thick lumber, drill pocket holes in the ends of the leg pieces. Attach them to the bottom of the arm rest with wood glue and pocket hole screws.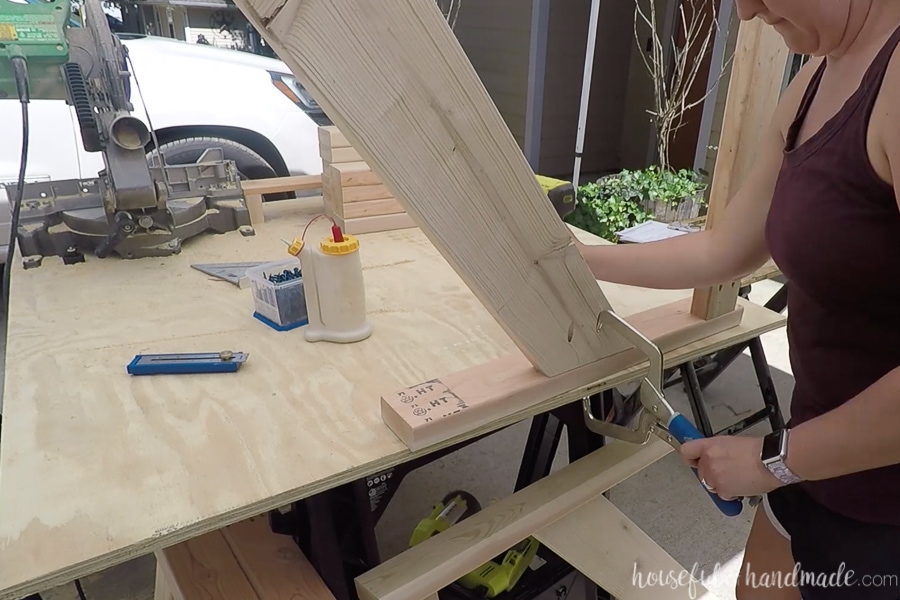 Drill pocket holes in all 4 of the seat frame pieces.
Make sure to offset them so that the ones on the side will not line up with the ones on the front/back. The front/back pocket holes will be used to attach the seat frame between the legs later.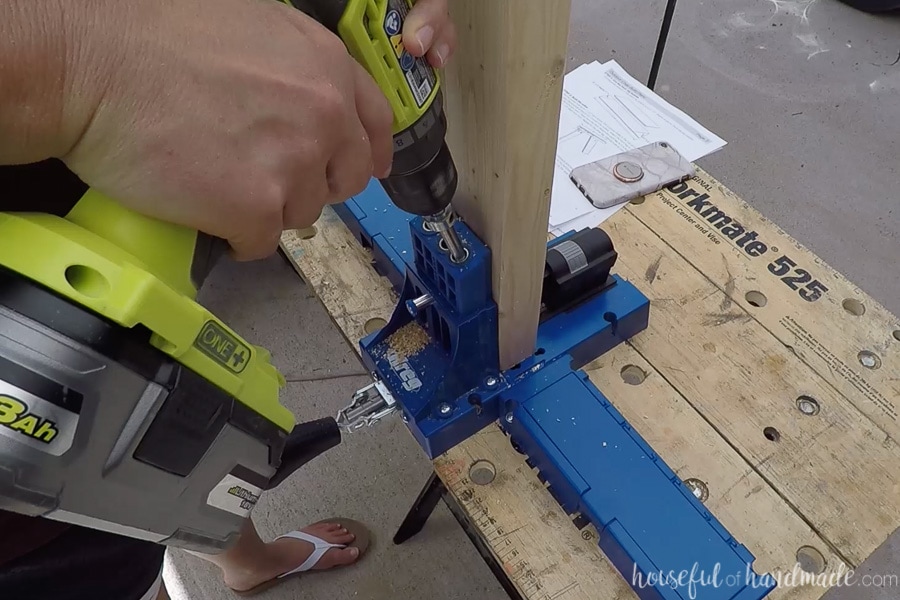 Build a box with the seat pieces so the sides are between the front/back and secure with wood glue and pocket hole screws.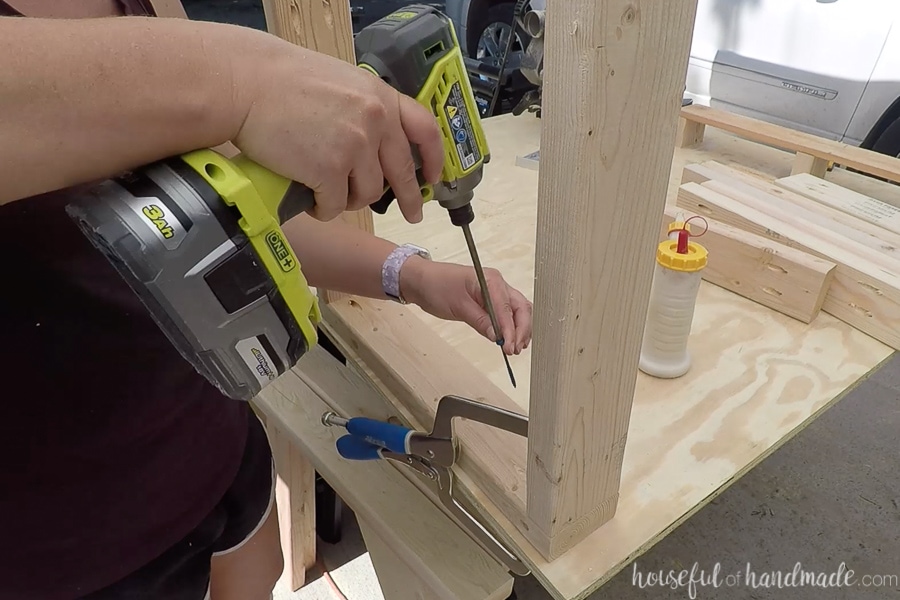 Attach the legs to each side of the seat frame according to the plans. Secure it with wood glue and pocket hole screws into the leg pieces.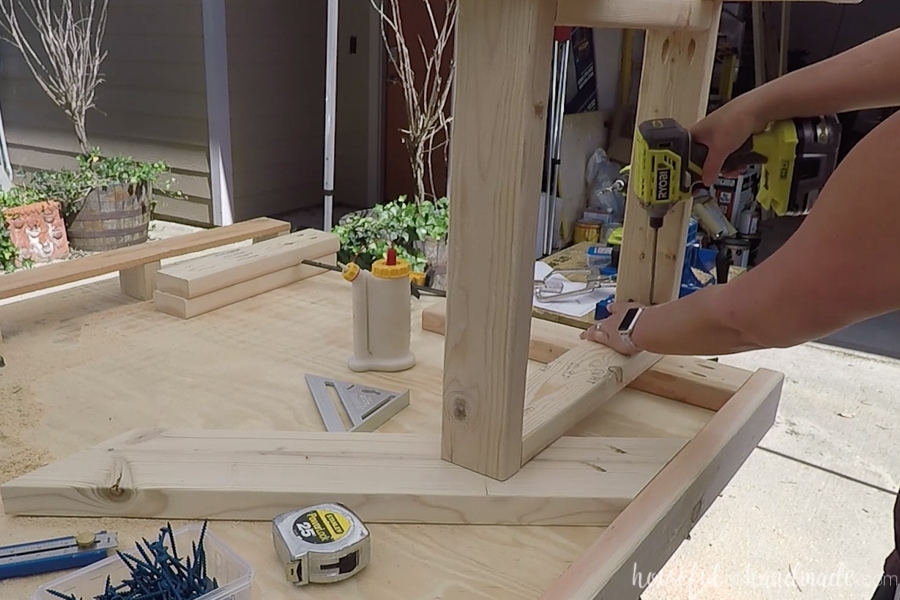 Cut the 15 degree angle off the front of the seat back boards using the exact measurements in the build plans. I used my miter saw to cut the angle, but you could also do it with a circular saw.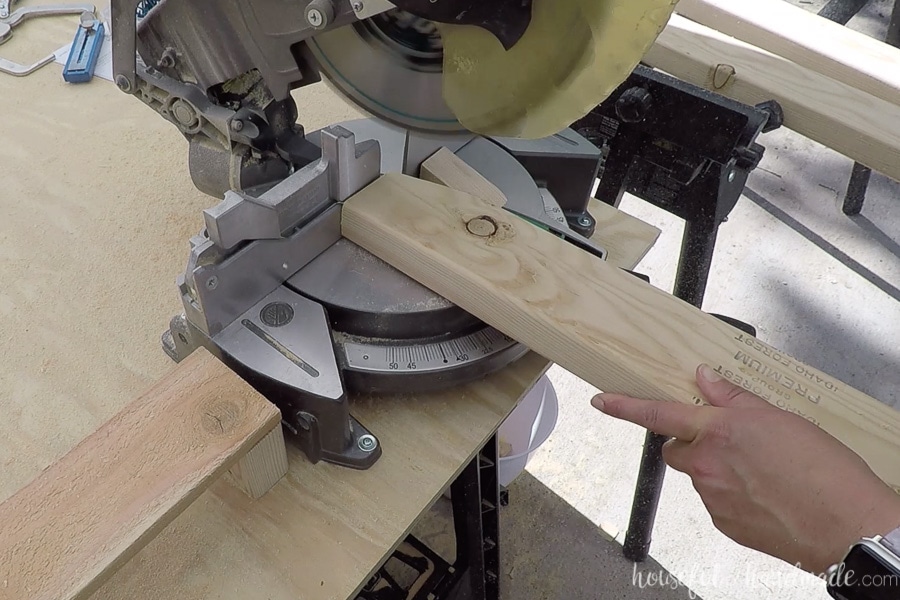 Drill 2 pocket holes in this angled part and 2 pocket holes in each end of the seat back top piece. Attach the top piece between the side pieces. Make sure the angled part is facing forward on both pieces with the pocket holes on the inside.
Clamp the seat back to the back legs so the angled part is flush with the 2×4 seat frame. Secure with wood glue and pocket hole screws into the seat frame. Then secure the sides of the seat back to the arm rest with 1 screw on each side.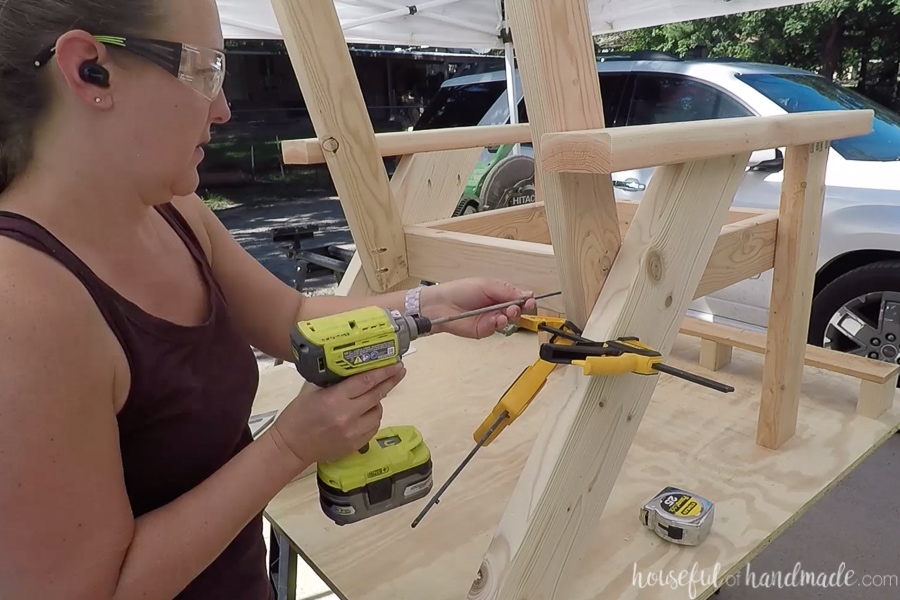 Cut the seat and back slat boards from the 1x3s. Drill 2 pocket holes set for 3/4″ thick material on each side of these boards.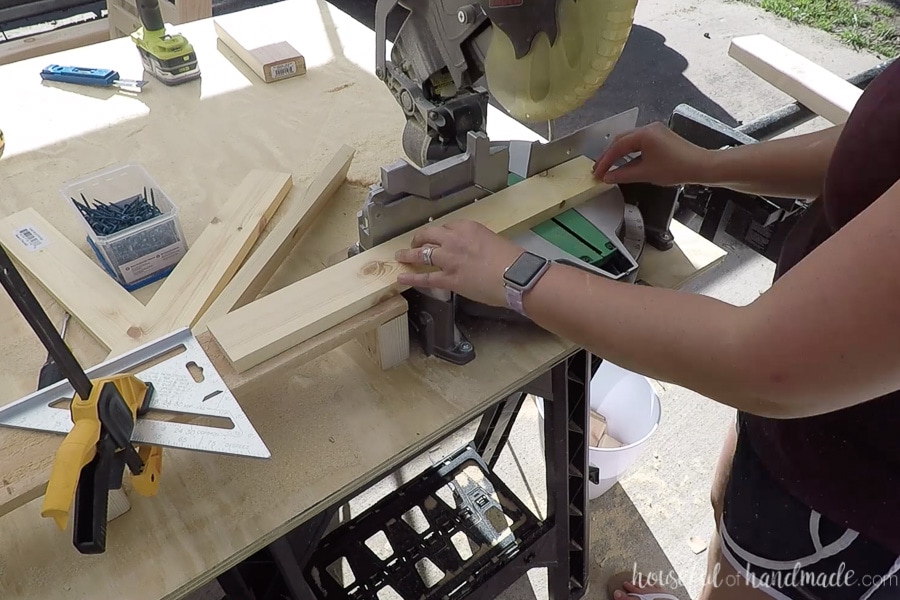 Secure them between the seat frame and back, evenly spaced, with pocket hole screws and wood glue. You may need to slightly tap the boards into place with a hammer or mallet if your boards fit too tight.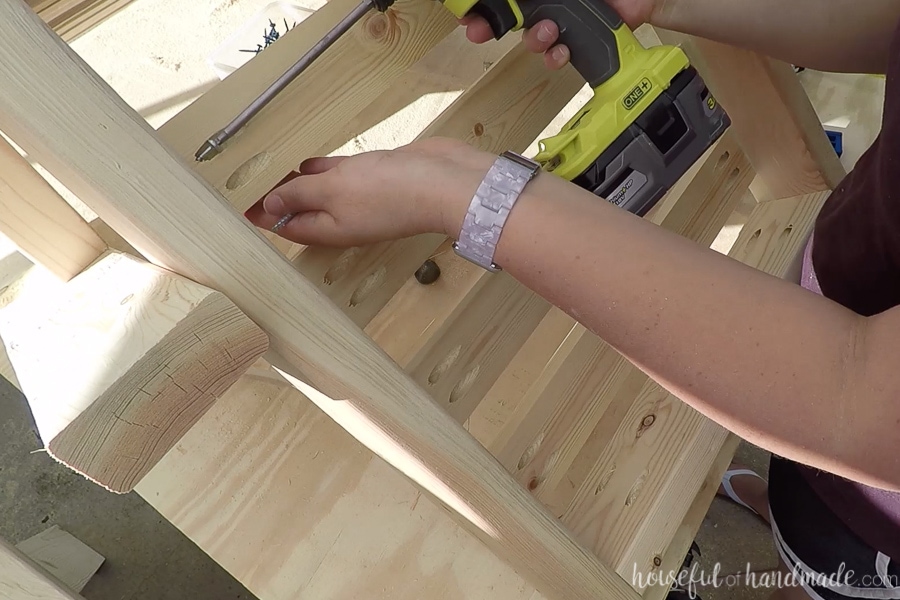 And now you are done!
Sand and stain your new chairs. I used a deck/outdoor furniture water sealer to protect my chairs.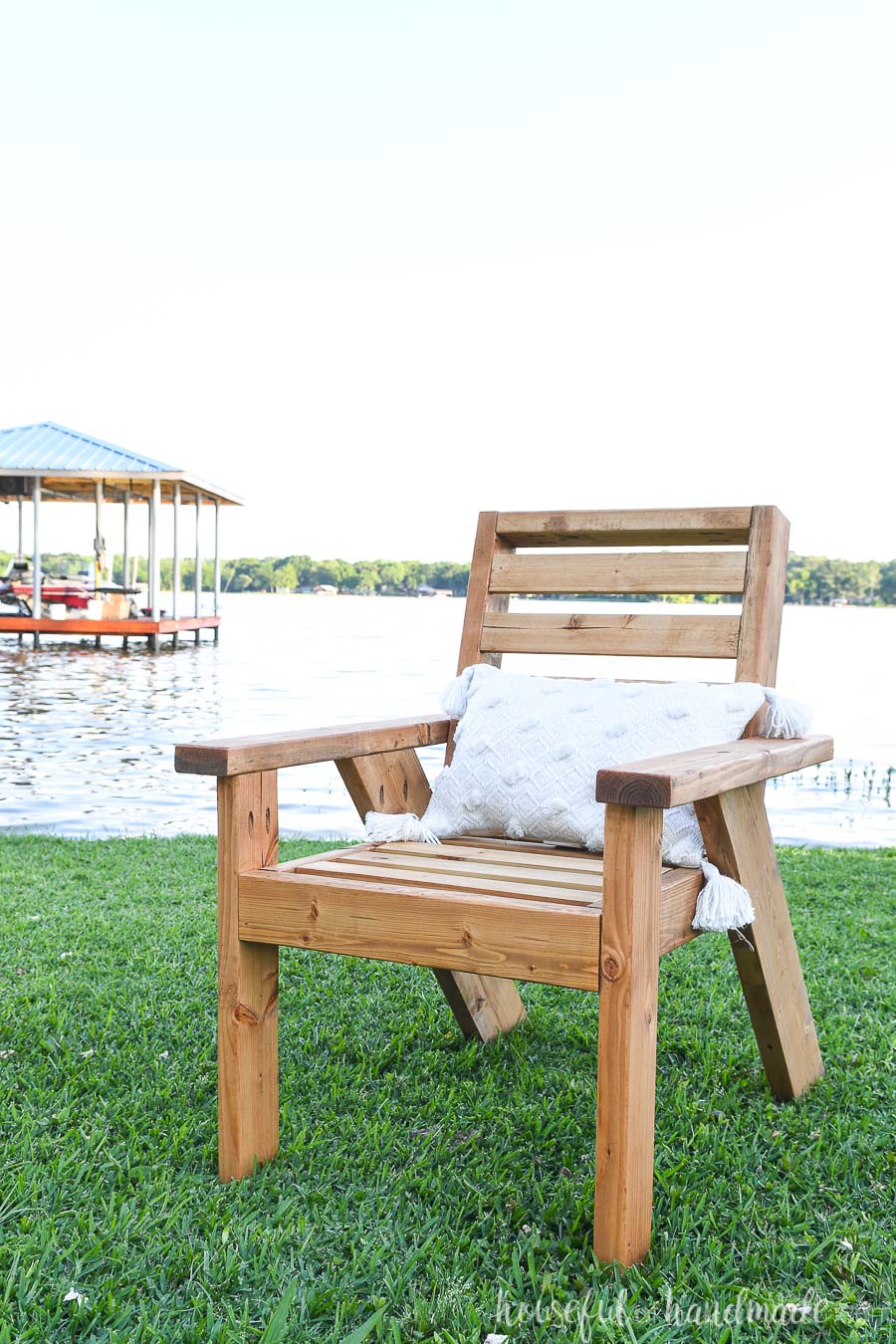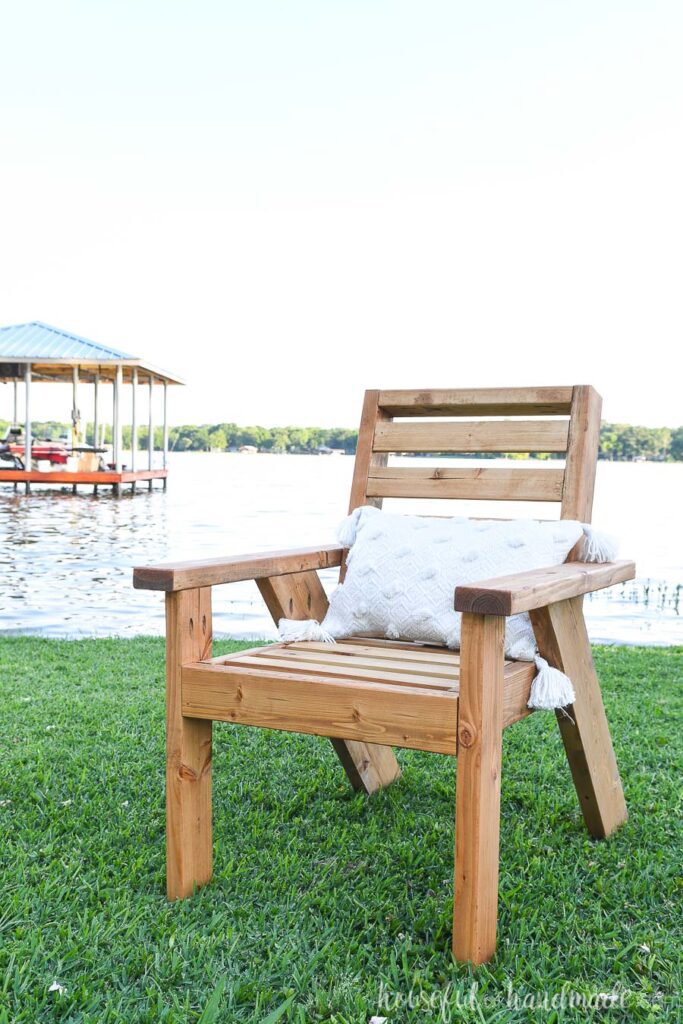 They will need a new coat of sealer 1-2 times a year, but the color is amazing and looks like raw, unglossy wood, which is what I was going for. Easy, breezy, outdoor lounge chairs!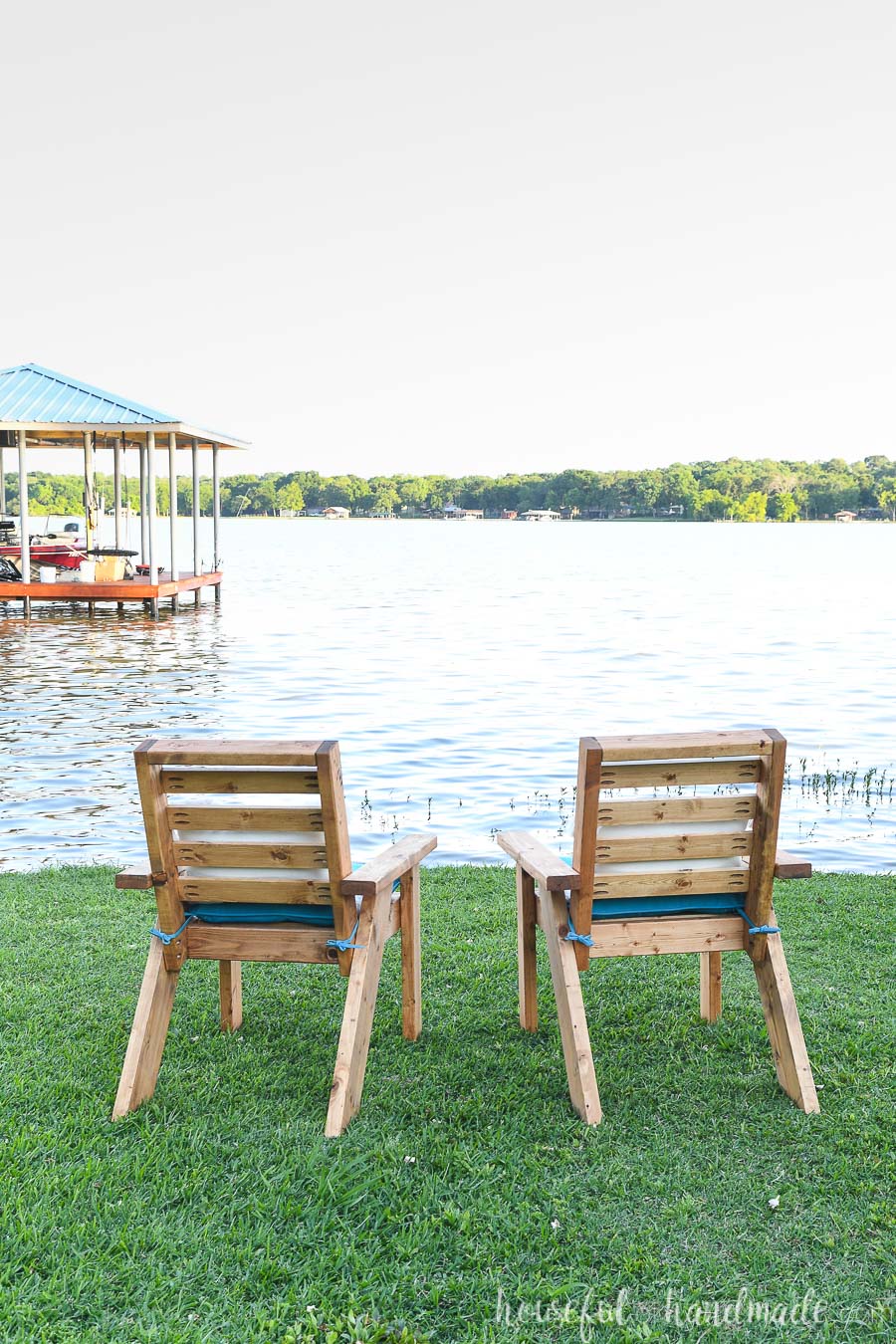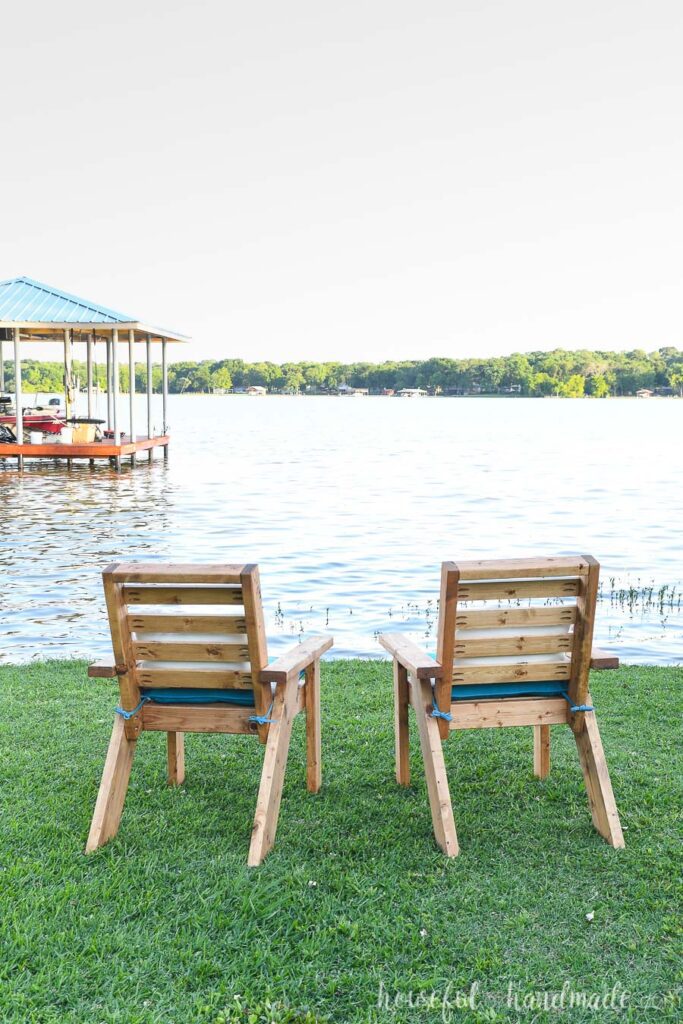 So don't forget to grab the outdoor furniture bundle. It is a great deal with 3 build plans for less than the price of 2!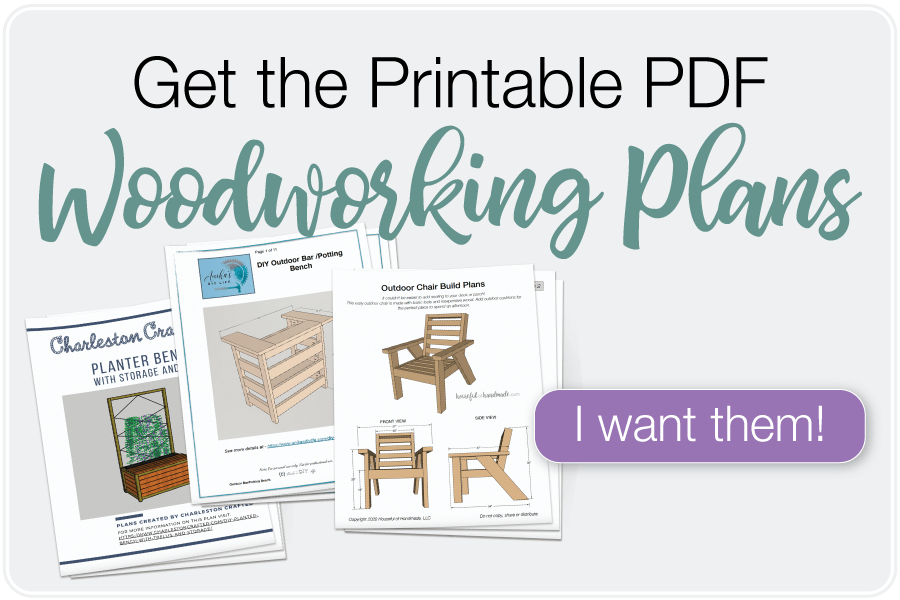 Happy building!