We are officially 50% done with this month's $100 Room Challenge. Do I feel like I accomplished 50% of the list. Absolutely not! I've been trying to wrap up the playhouse build and had a relaxing weekend with family instead of working. Well, I guess I need to stop that if I plan on completing this master bedroom closet makeover in only 1 month.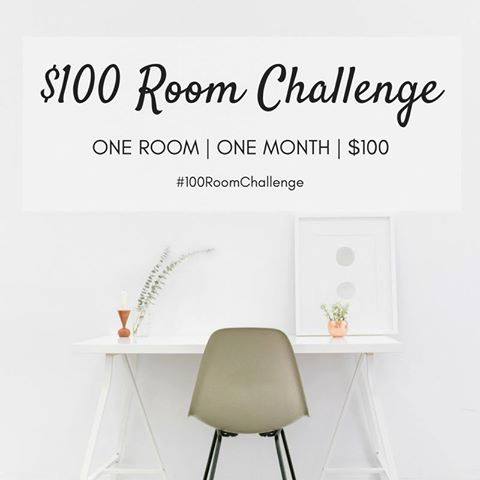 There was some progress made this week though. I managed to completely demo the old closet! I had originally planned to not demo out the old non-functional closet until the new ones were built, but I realized I wanted a clean slate to properly measure while building to ensure a proper fit. And I love a good demo day.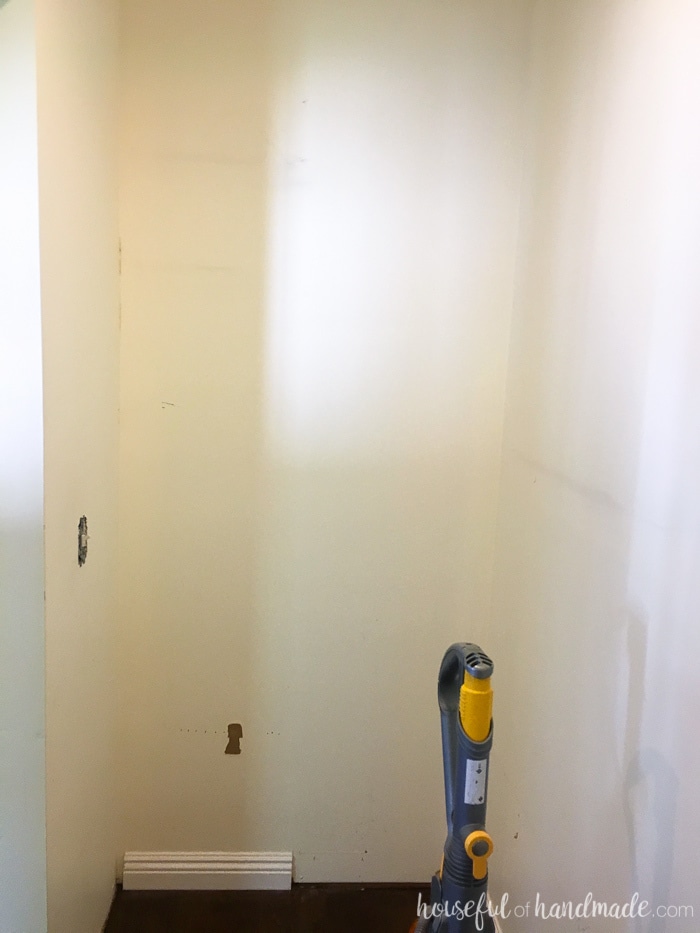 However, after I started unloading the first row of clothing, I realized I needed to come up with a solution to store all our clothes for the month. Piling them on the bed would only work until we tried to go to bed. Since we do not have an empty closet in the house (I gave up our guest bedroom for the perfect craft room and office space), I ended up running to the garage for a solution.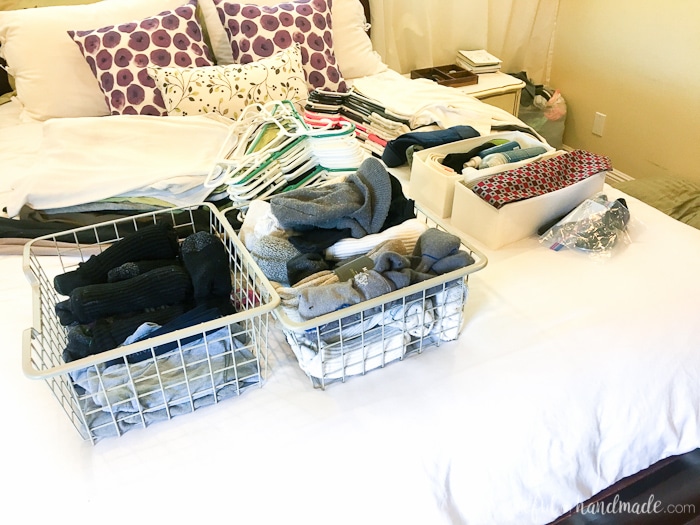 After about 2 hours, I was bringing my new (soon to be rolling) clothing rack into our bathroom. With a few scraps from my wood pile, I was able to build a 48″ clothing rack. I'll be sharing the tutorial soon. The rolling rack technically isn't part of the new room makeover, we will not have room for it in the closet when all the rest of the closet organization is added.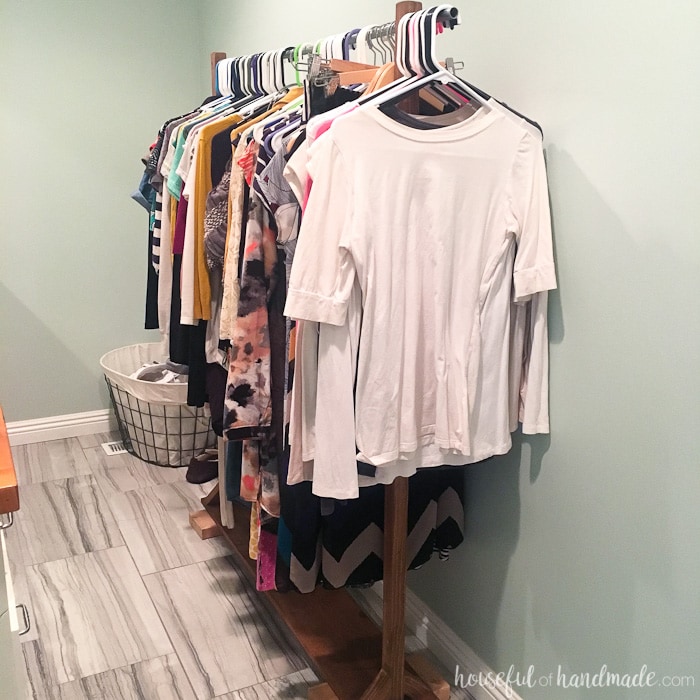 I transfered all my hanging clothes (at least all that was left after the big purge) to the new rack in our bathroom. It's a little tight, but I keep reminding myself it is temporary. Then my husbands hanging clothes got moved to the closet rod we have in our laundry room. We did stuff a few winter items in the back of our kids closets.
The shoes were relocated to super fancy laundry baskets.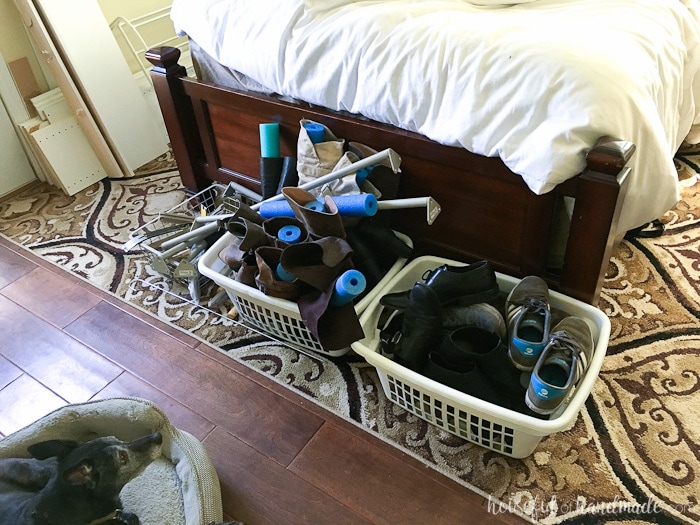 And I pulled the over the door hanger that was mounted inside the closet off and put it back over the door.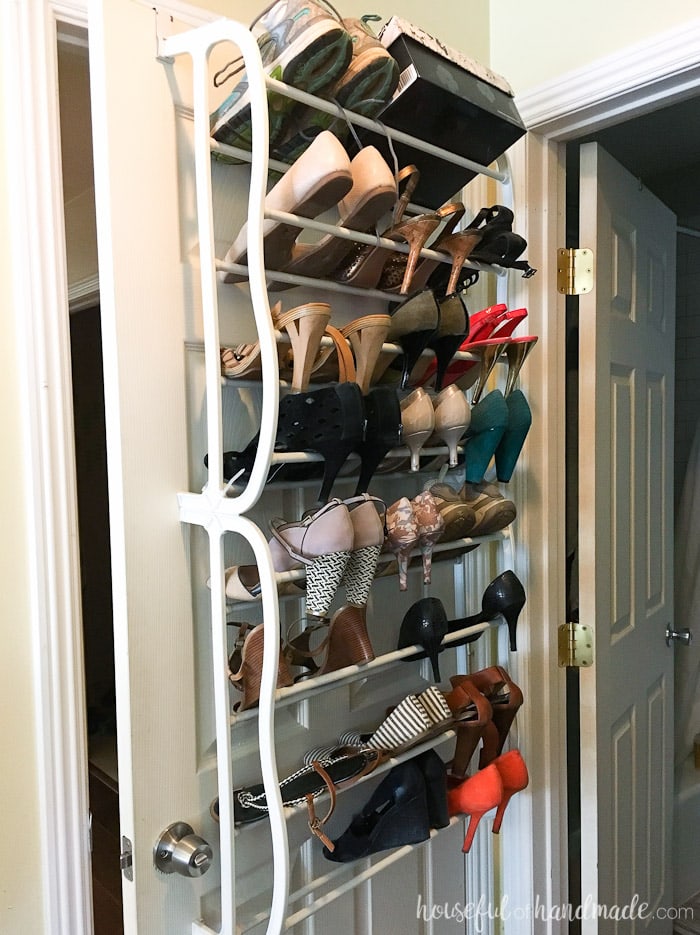 Then I started pulling out everything. I was careful to remove all the wood with a screw driver so there was minimal breaking. In order to stay within $100 for this makeover, I need to reuse what I can. I am planning on reusing this white melamine board to create the new show organization system.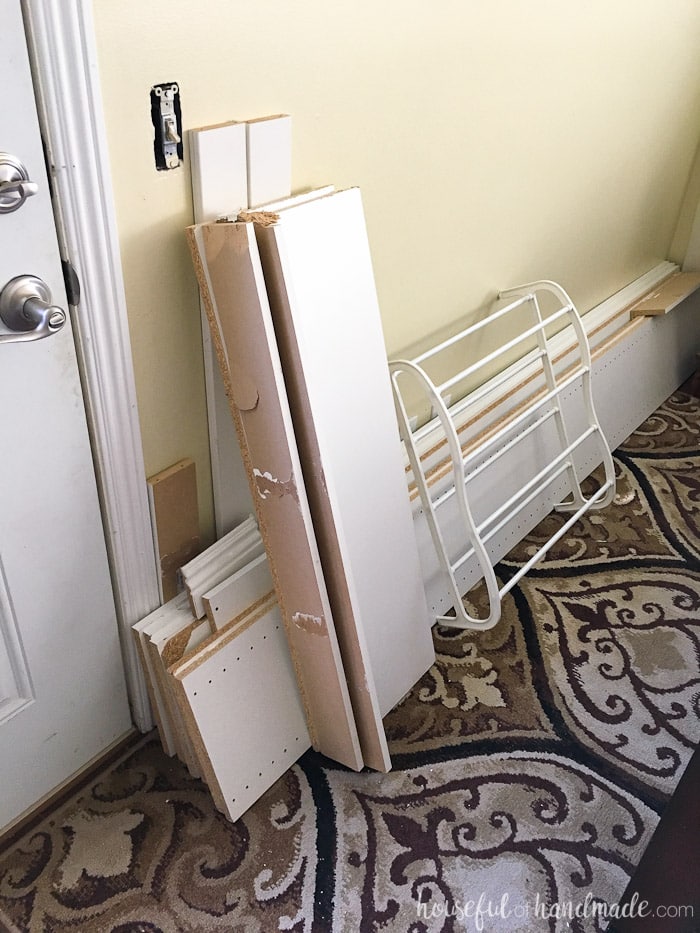 And there you have it. A cleaned out closet! Today I plan to patch the walls and get it ready for paint. My plan is to have the room completely painted and the cabinets built by the end of the weekend. Then a little finishing work and they can be installed before the week 3 master bedroom closet makeover update! That seems like a lot, but now I am motivated to get all the clothes back in the closet so I can have my sanctuary back.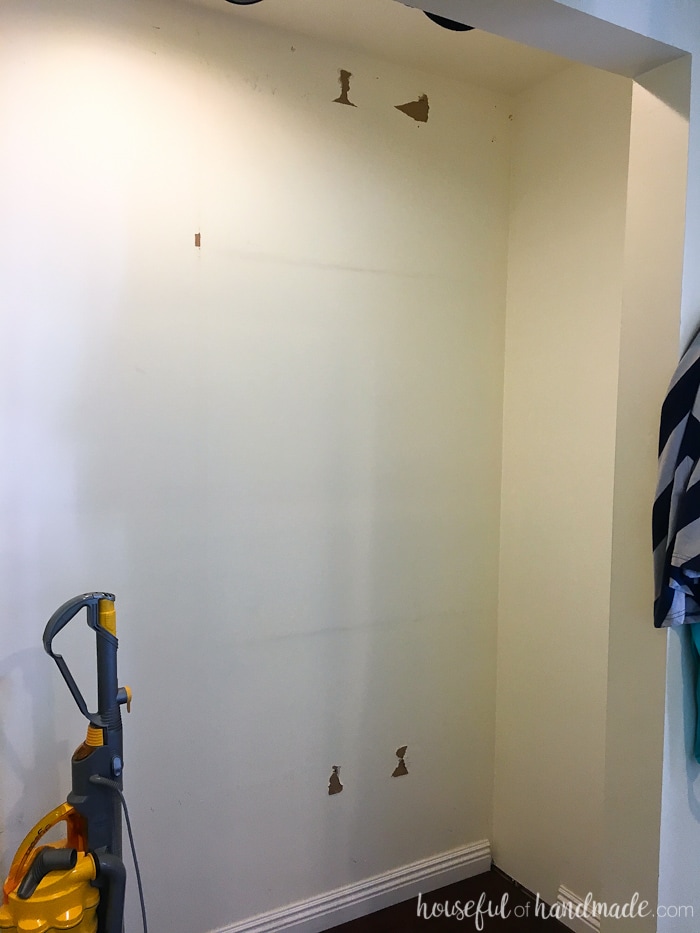 If you missed week 1, check it out here. There you can see all the awful before pictures and the big plan for this small room.
And don't forget to follow along with all the $100 room makeovers this month. There is no shortage of creativity and ingenuity.
So wish me luck because there is still a lot to do!