Well, after last week's update with lots of projects crossed off my to-do list, this week might seem a lot less awesome. Only a couple projects were tackled in the second week of the $100 Room Challenge. I'm going to need to really get after things this weekend if I am going to finish on time. So let's see how we are doing with the office & craft room makeover this week.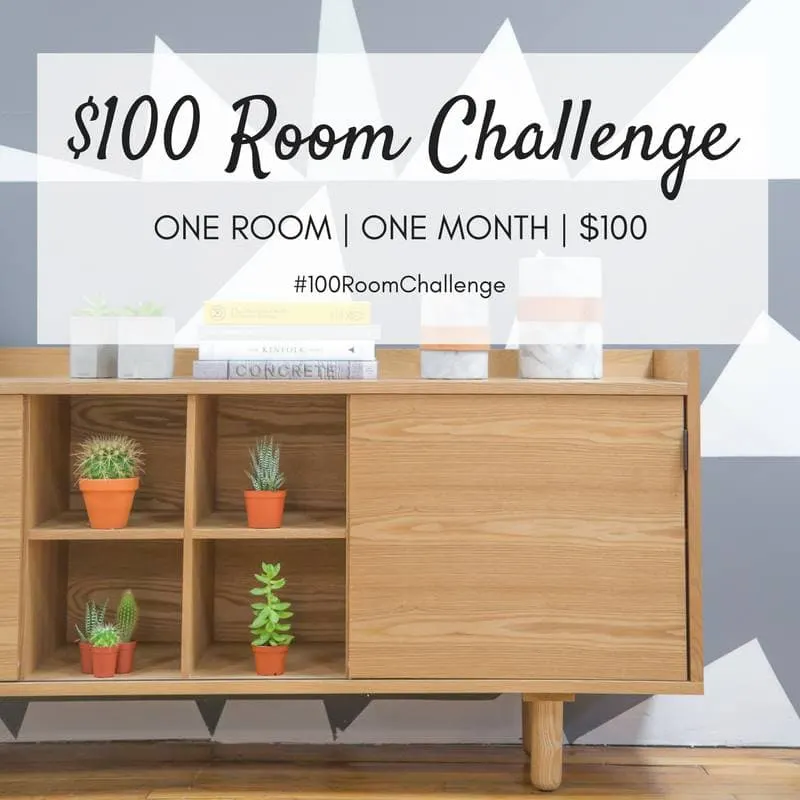 I blame daylight savings for putting me off my game this week. I am just too tired to tackle big remodel projects! But luckily last weekend I did manage to cross one more thing off my to-do list: the closet desk area is done. After struggling with how to make this area really something special (since I will be spending a lot of there), I decided to stencil the area to look like hand-painted patterned tiles. The best part, it cost me nothing!
Wall stencils can actually cost a lot of money. I did not have the budget to buy one. Instead, I figured out how to make my own! Oh yeah, you heard that right. You can totally make your own wall stencil. Using my Silhouette Cameo, I cut the design from a thin plastic material. I did the same thing for my son's room (and shared lots of tips for using them). I've also used this same idea for painting on tea towels, but instead of a sheet of thin plastic (which is actually really inexpensive) you can make it free if you have old plastic binder dividers laying around.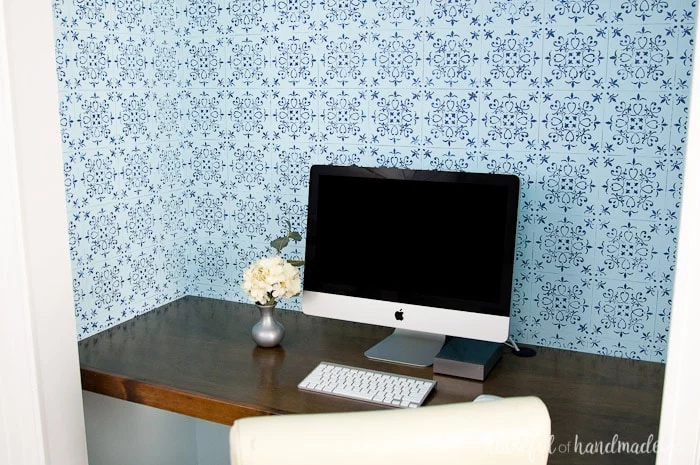 So after cutting the wall stencil with left over plastic from stenciling my son's room, I grabbed some left over navy paint. Luckily, you don't use a ton of paint to stencil because I had half a 3 oz paint sample left over from another project. And guess what? I still have 1/3 of the container after completing my project!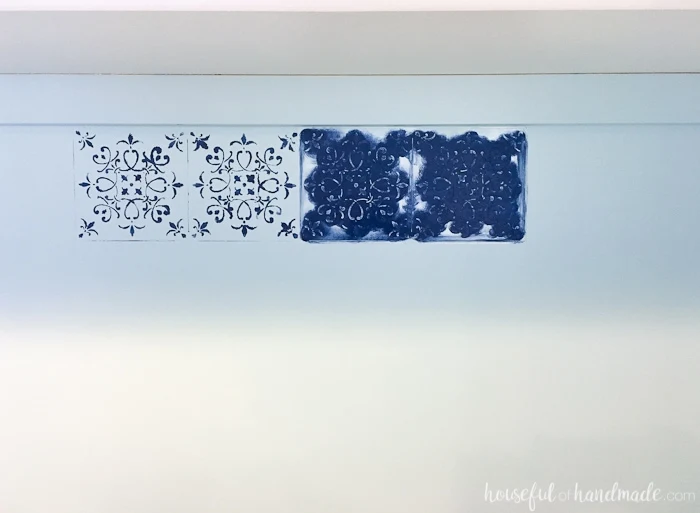 It did take me a couple days to paint it because I was kinda busy. I would stencil a row, run kids, stencil a row, make dinner, stencil a row, bedtime. But after 2 days of stenciling whenever I had an hour, it was done and it was perfect! The stencil was exactly what I needed to add a little style to my desk area. Now it is my new favorite part of the house 🙂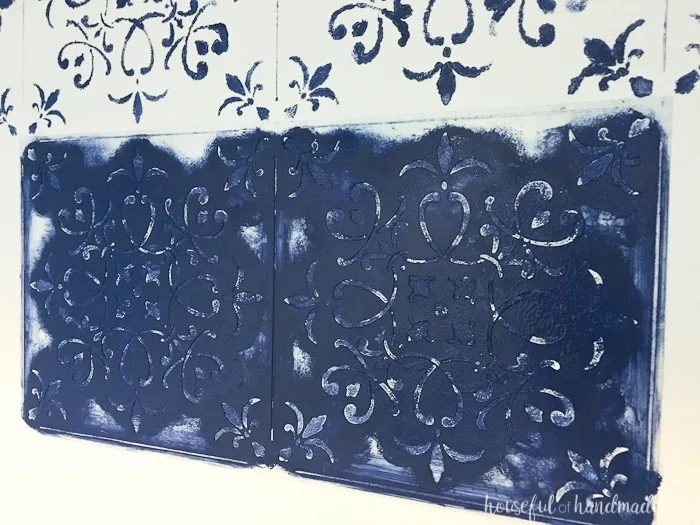 I had another mini-makeover to work on last weekend too. I did a complete refresh in my master bedroom. But it worked out for my office & craft room makeover. I removed the old curtains from the master bedroom because they were too short for the space. However, they are the perfect size to cover my super messy craft storage closet! I took the white curtain rod from the window and hung the repurposed curtains. It took me about 10 minutes and now no one can see my dirty little hoarding stash.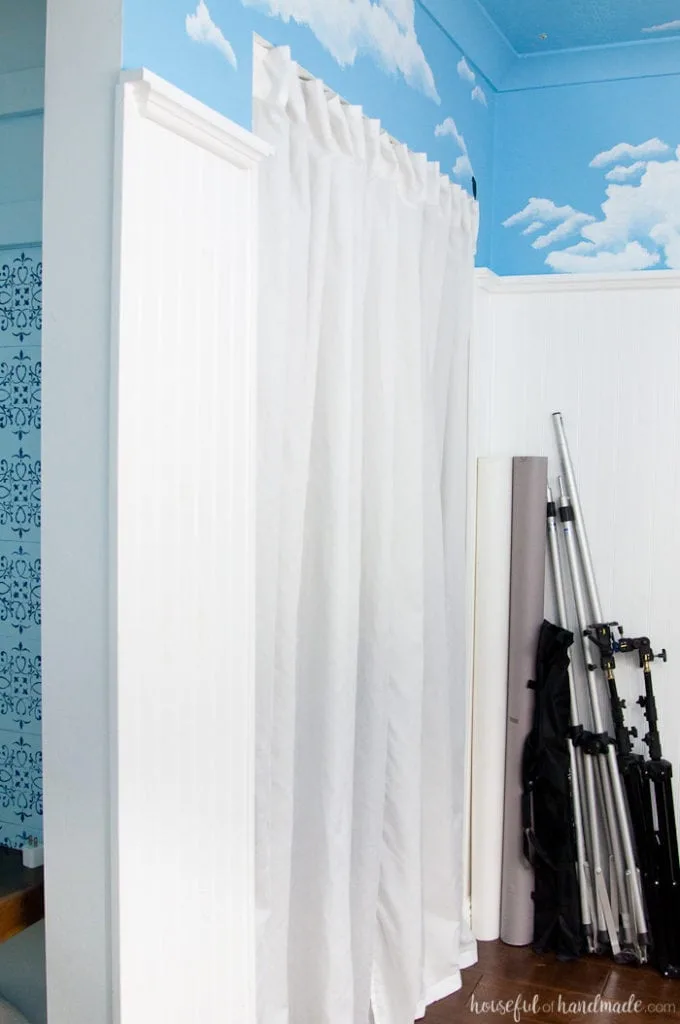 Also, as I was cleaning up our snorkel gear from our Hawaii trip, I found some bamboo blinds that I use to have hanging in our basement. They were removed because they made the already dark basement even darker. Luckily for me, I didn't throw them away (yeah for hoarding). So after removing the old curtains, I hung the bamboo blinds up and instantly loved them. They tie in the darker tones that I have in my desk, pegboard, and ideas board frame.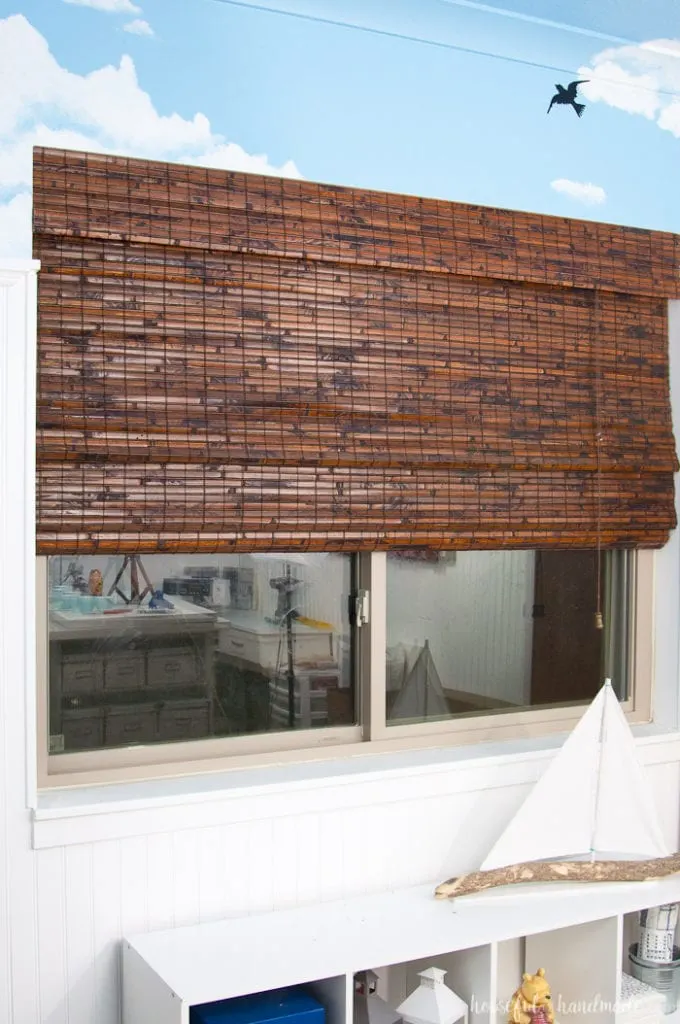 Even though I didn't get anything real big accomplished this week (minus the stenciling), I feel like the room is really coming along. It's starting to look like a chic office space that I am happy to spend hours in instead of my kids old bedroom. And now that the weather is warming up, I can get out in the garage and get a few building projects done. I am hoping to have all the big projects done by the end of next week so I can have some fun decorating the space.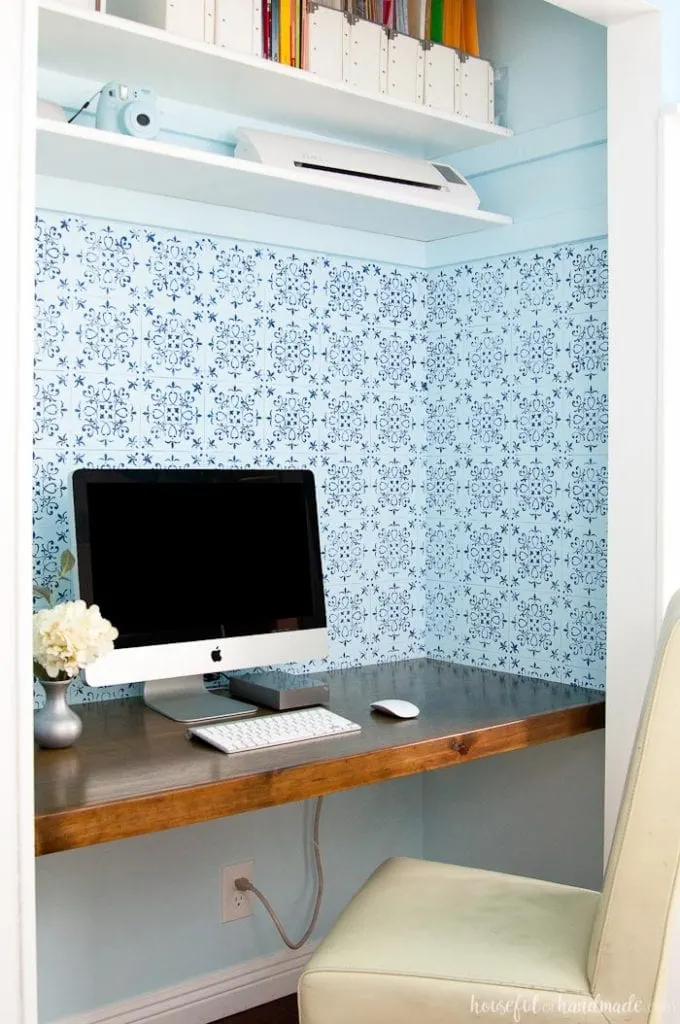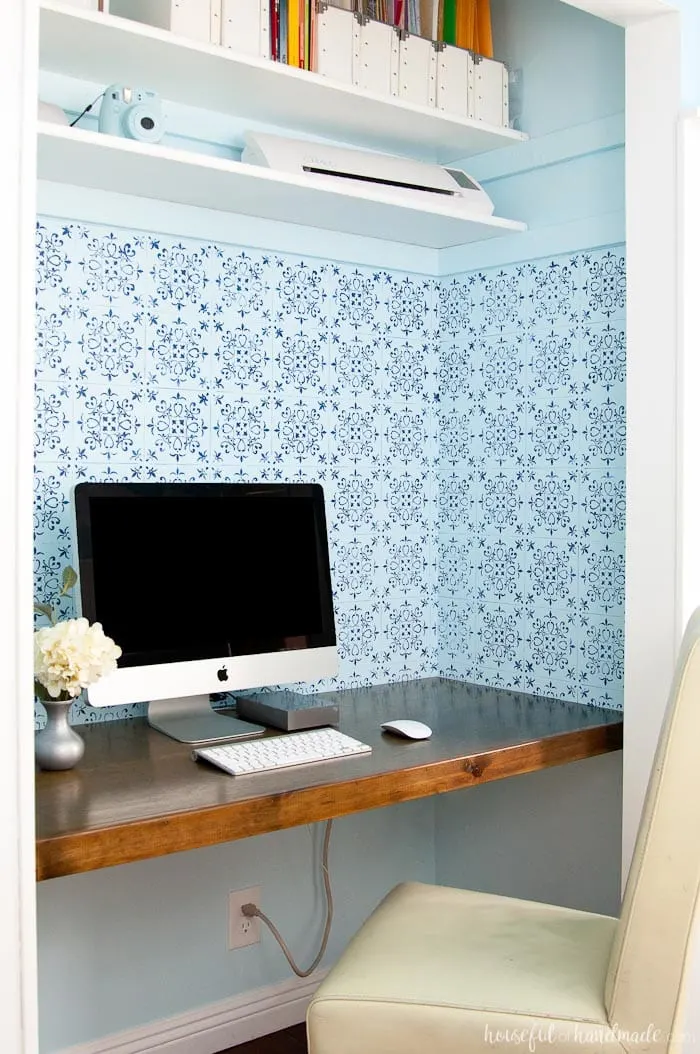 But the real question is… how are we doing on budget? Well I actually didn't spend anything this week! Maybe that is because I didn't do as many projects as I would have liked. But the budget is still on track so that is good.
TOTAL SPENT $57
And what is still on my to-do list? I only crossed 3 things off last week so I will need to work double time to finish all my projects!
Pretty up coffee boxes in work table
Paint walls/ceiling
Pretty up cubby bookcase
Pretty up sewing table
Paint glass front cabinet
Find a way to organize photography/lighting equipment
Iron/ironing board storage
Cover desk chair
Decor
Because there are 5 Wednesday's in March we still have 2 weeks left to pull this together. Please send lots of good vibes my way, I may need it 😉
And don't forget to check out these other bloggers taking on the $100 Room Challenge this week. There are so many amazing and creative ideas!