Add extra storage to your entryway or mudroom with these beautiful mudroom storage lockers.
Today's project is making me oh so happy!!! I never realized how much I loved having a coat closet until I was without one.
So I partnered with Kreg Tools to use their new pocket hole jig and Straight edge guide to build the ultimate mudroom storage lockers. And now I have more storage than I need. That is a good feeling!
Currently we have a wonderful modular entryway organizer for all the little things, but now we have the perfect place for everything we need to store.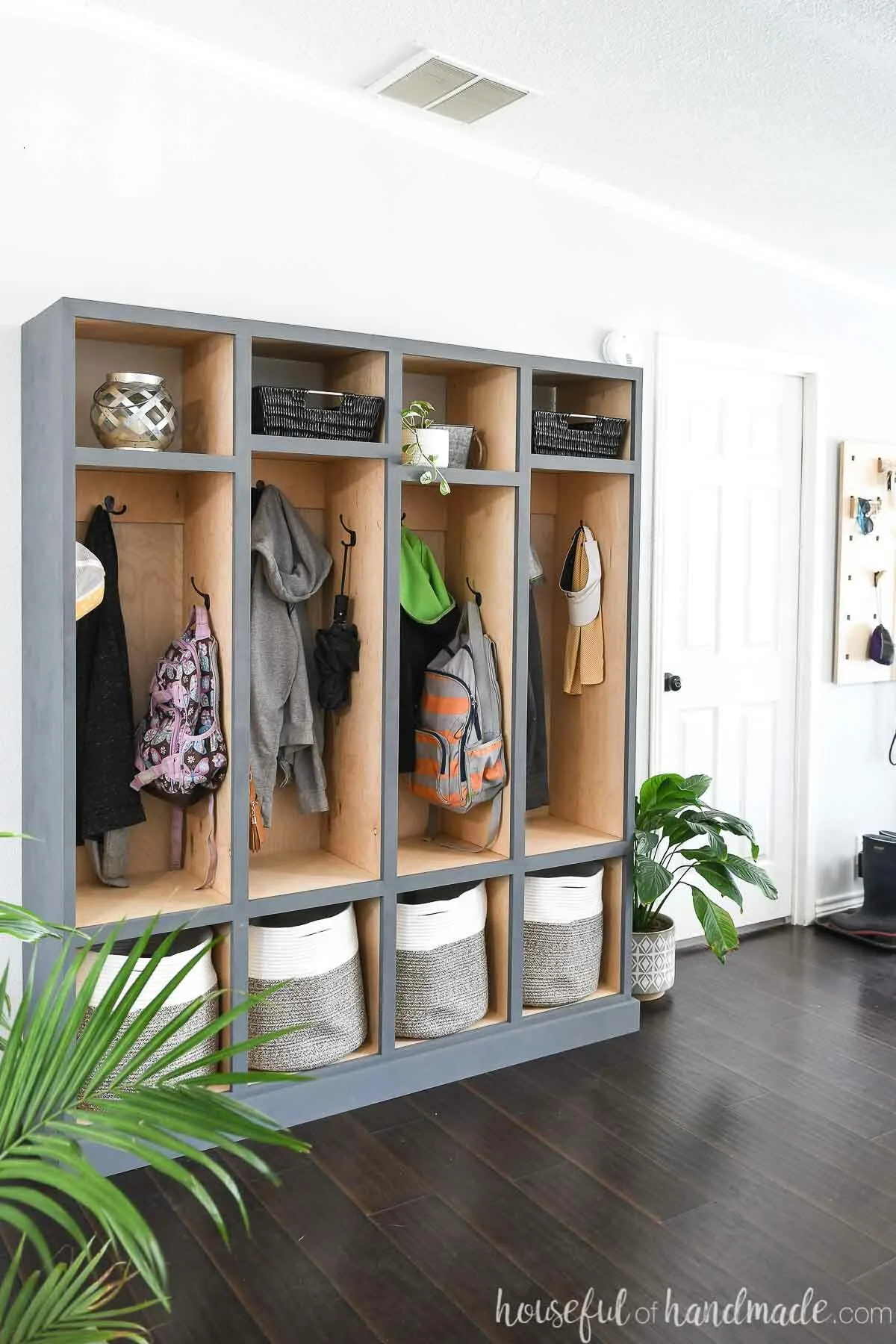 By using the DIY bookcase build plans, I was able to create a custom mudroom storage system with plenty of room for our family of 4. And you can do the same!
Storage Locker Design
Since we do not have a mudroom, our mudroom lockers need to be extra pretty! They sit right inside the front door for everyone to see.
I designed the mudroom storage lockers to be a beautiful cabinet, not just utilitarian lockers. The design of the cabinet mimics the design of the dining room hutch I built a few years ago.
The layout of our home is a large open L shape with the entryway, living room, kitchen and dining all one open space. The mudroom lockers and hutch reflect each other on different sides of the room.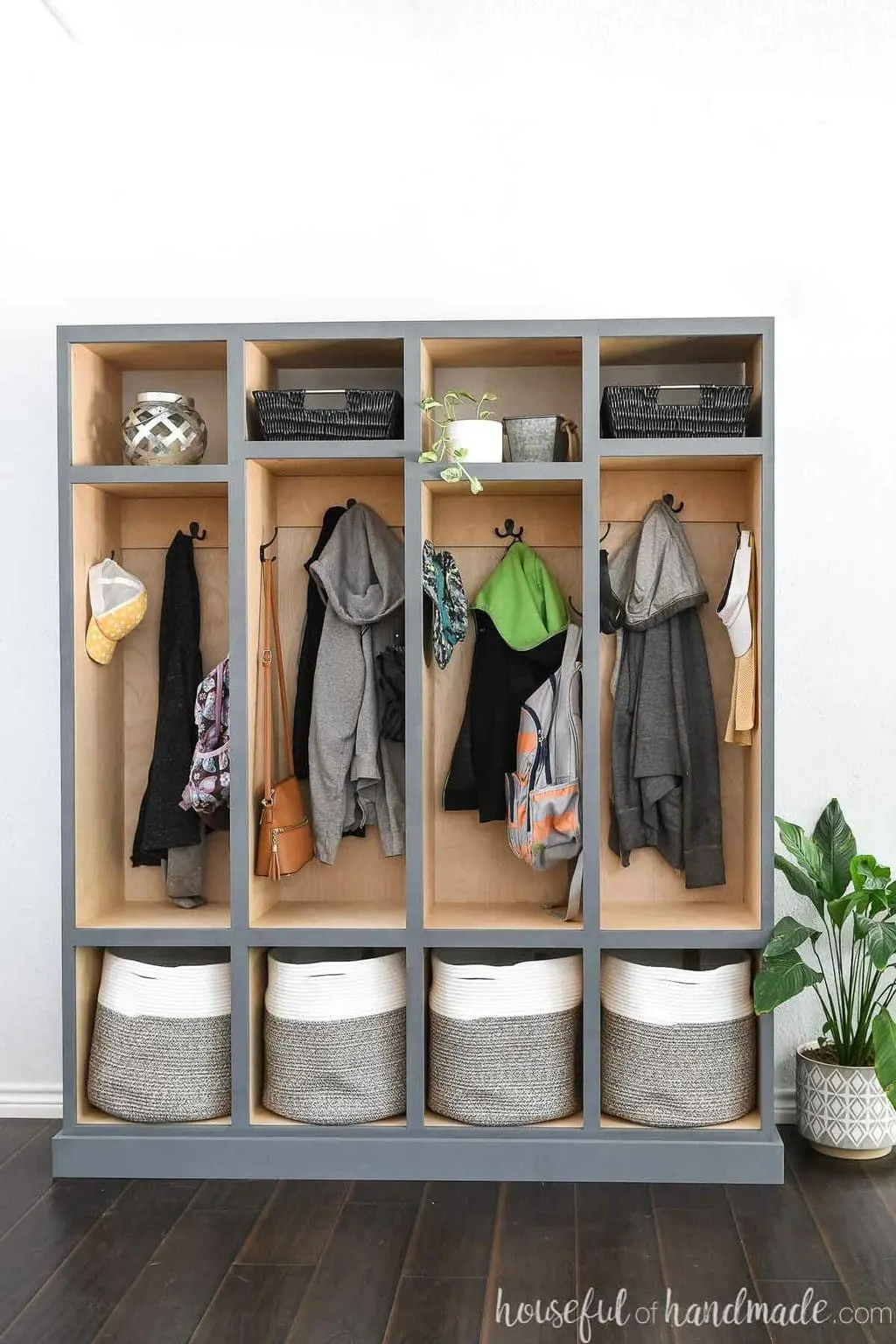 But that does not mean the hutch and mudroom storage lockers are matchy, matchy. The hutch is built with alder wood and the outside is painted a greenish-gray color.
The mudroom lockers are made with birch plywood. And the outside is painted a blueish-charcoal color to better match the living room furniture it is closer too. But together they create a cohesive, modern feel to our home!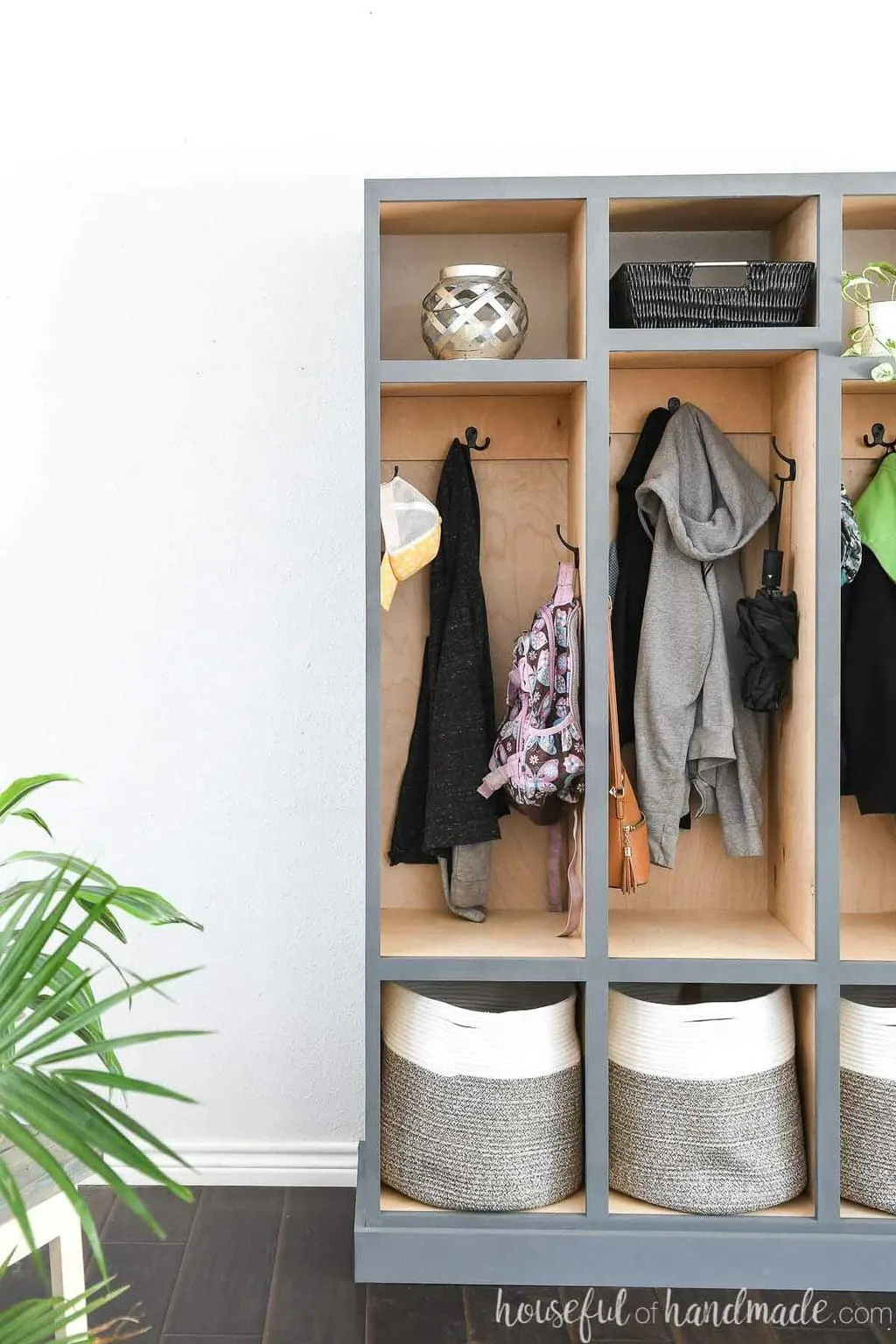 Storage for Coats, Backpacks, Shoes and More!
There is a lot of gear that comes along with a family of 4. Just the large pile of shoes that cluttered up the entryway was driving me crazy, not to mention the jackets, backpacks, hats, gloves, etc., etc.
Without a coat closet, we were using the folding mudroom shelves that I made to add more seasonal storage when we needed it in Utah (mainly for the kids snow gear each winter). The folding shelves were great for additional storage, but not so great for the only storage for our family.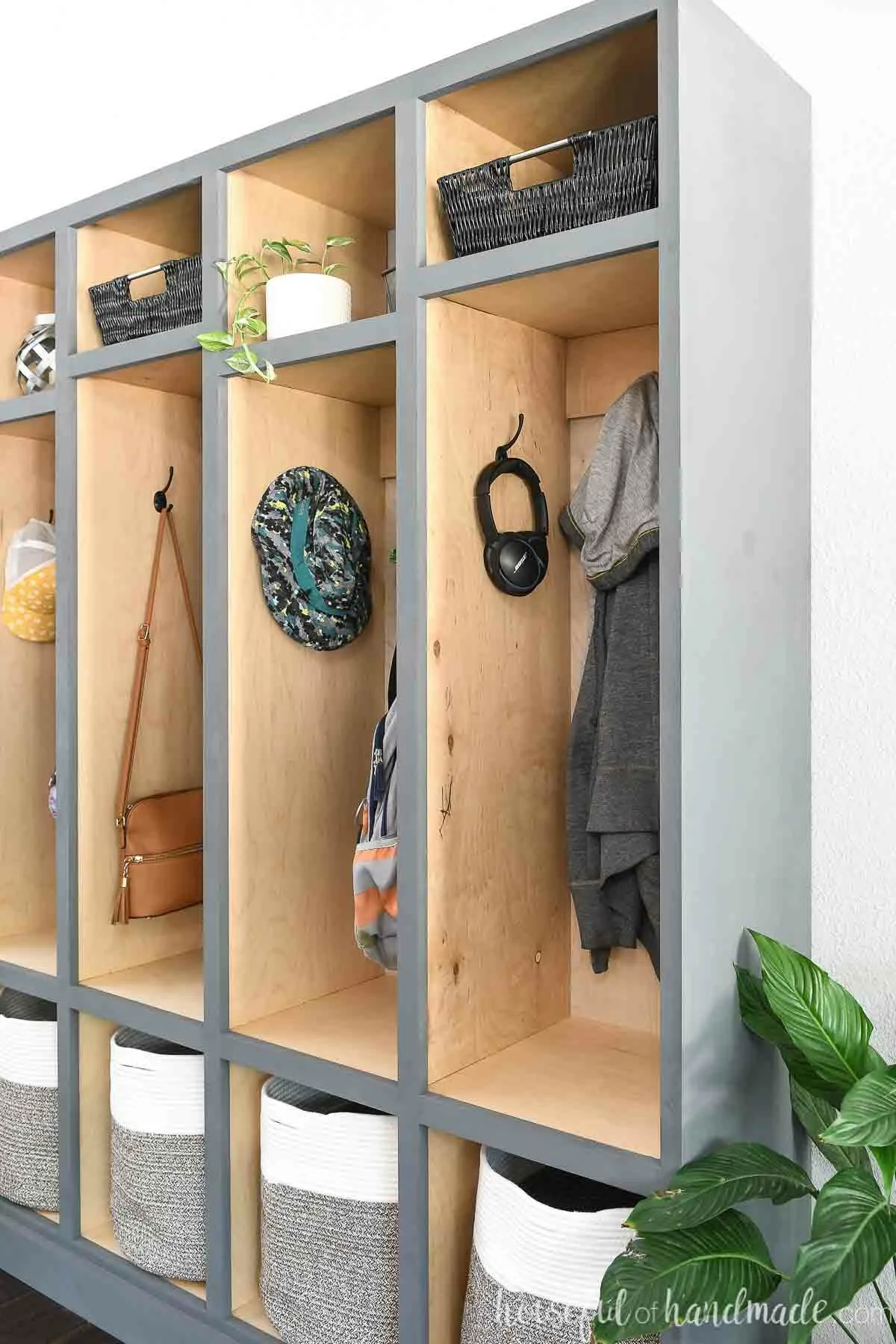 The new mudroom storage lockers have so much more space!
The lower compartment on each locker holds a large basket for shoes. I purchased these woven baskets and was shocked at how much they can hold!
Or you can build some easy DIY drawers to add even more storage to this locker system.
Now each family member has their own basket for shoes instead of all the shoes in one large basket. I am hopeful this will help solve the "Where are my shoes" problems we have been having.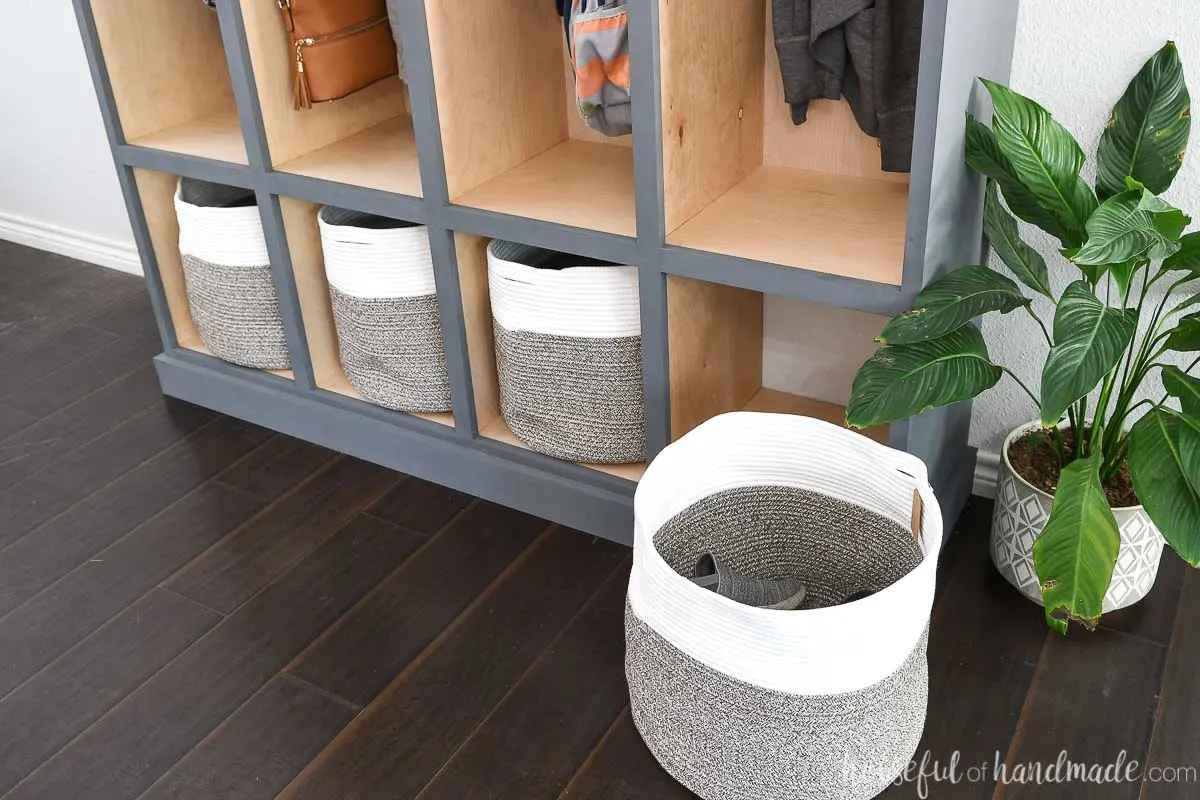 The center compartment of each locker has 3 coats hooks! And each hook actually has 2 hooks on it. Do you have any idea how much can be hung on 3 hooks?
Luckily we have not found out what maximum capacity is yet because we were so use to having only 1 hook per person. Now the kids have a dedicated space for their backpack and jacket. Plus room for hanging more!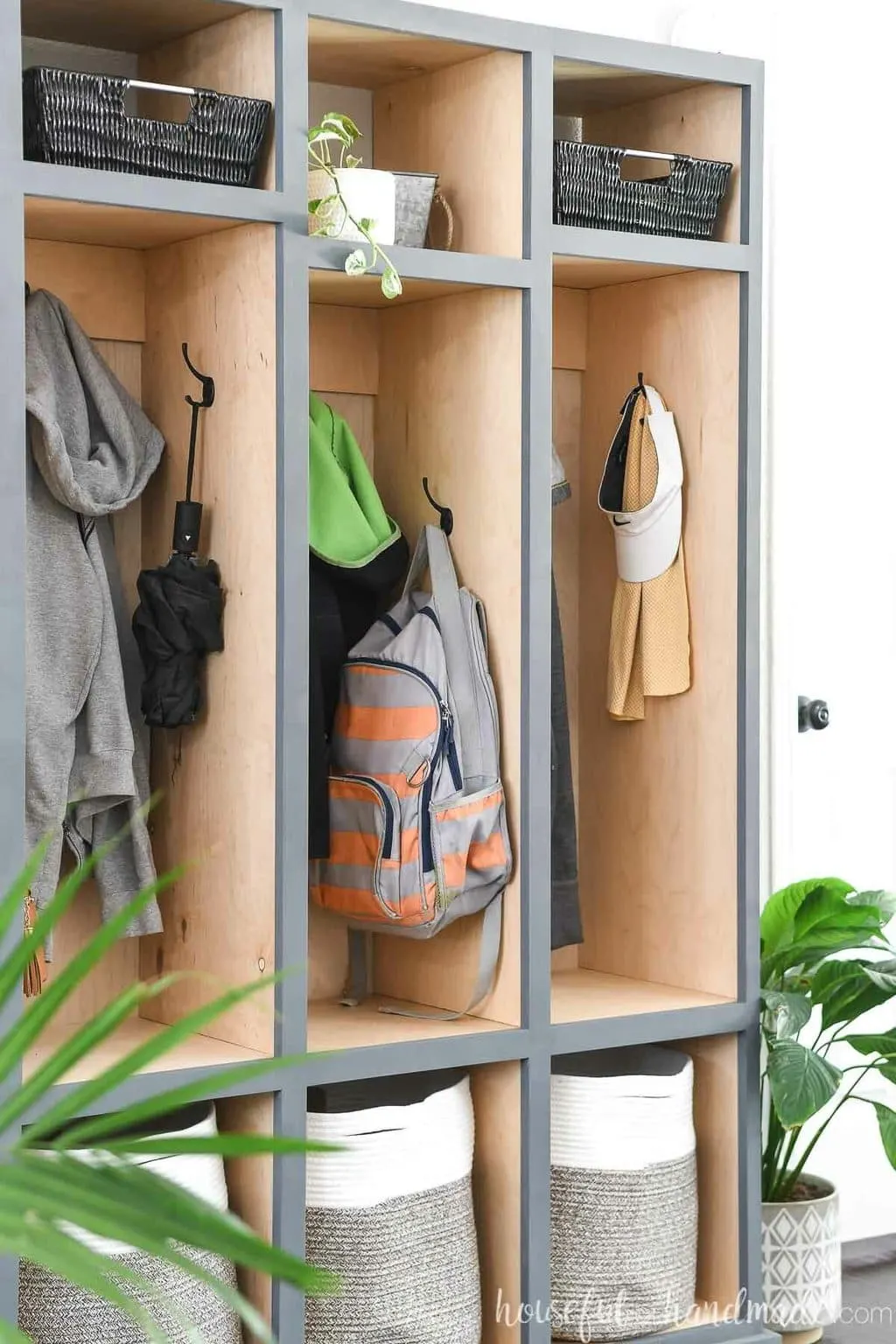 Lastly the upper compartment is available for even more storage. The kids cannot easily reach above their hanging storage so I am using it for pretty stuff. But as we need more storage, we have room to grow.
And above my husband and my hanging storage, I put bins to hold gloves and dog supplies. I love having them out of sight, but organized and ready when we need them!
You will also notice the top of the lockers is not even. I staggered the upper shelves for 2 reasons, it gave the cabinet some visual interest as well as made 2 of the hanging compartments larger.
The larger compartments are used for the adult sized jackets. And the smaller hanging compartments still make it easy for smaller kids to hang their own items.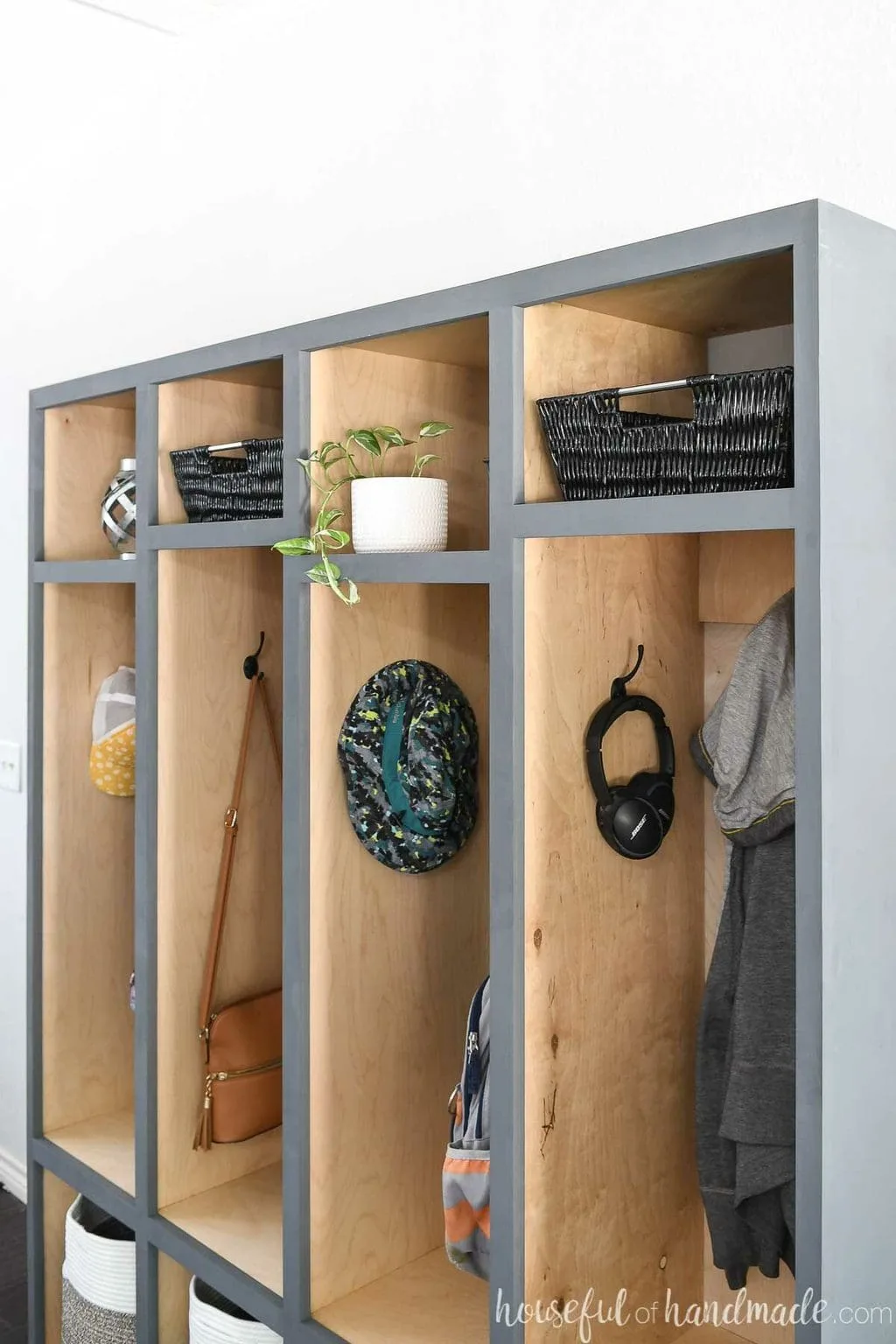 Four Mudroom Lockers
The plans for the DIY mudroom storage lockers makes 1 cabinet with 4 locker sections in it. This worked perfectly for our family of 4, but if you need more space don't worry!
The plans could easily be modified to add additional locker sections.
Just make sure you have room for a larger cabinet. Each locker section is 15″ wide x 15″ deep. The completed cabinet with 4 lockers is just over 5′ (63 3/4″ to be exact).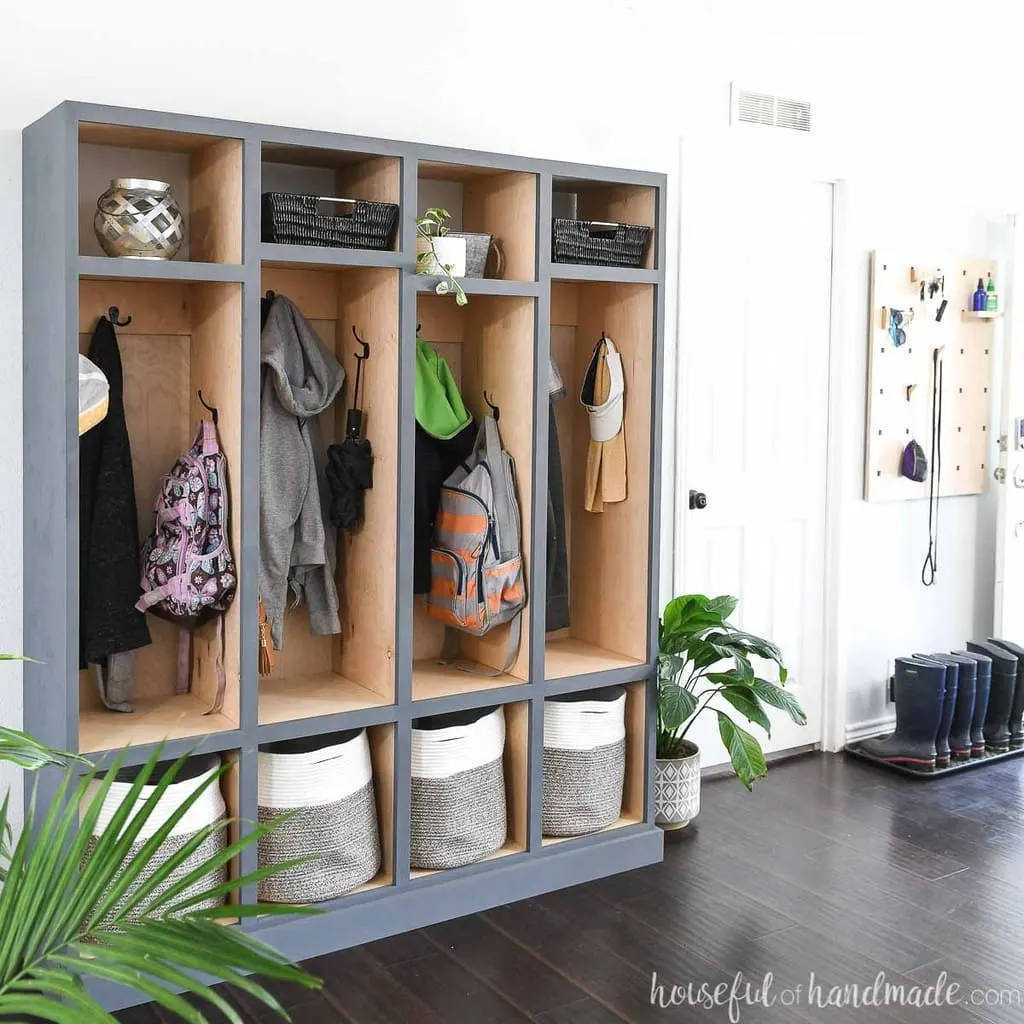 Mudroom Storage Lockers Build Plans
I am sharing the complete build plans for the DIY mudroom lockers for free at Kregtool.com.
Click here for the mudroom locker build plans.
If you want to customize your own mudroom lockers, make sure to read how to build a bookcase for information on creating a custom cabinet.
And watch the full YouTube video for more tips as you get ready to build!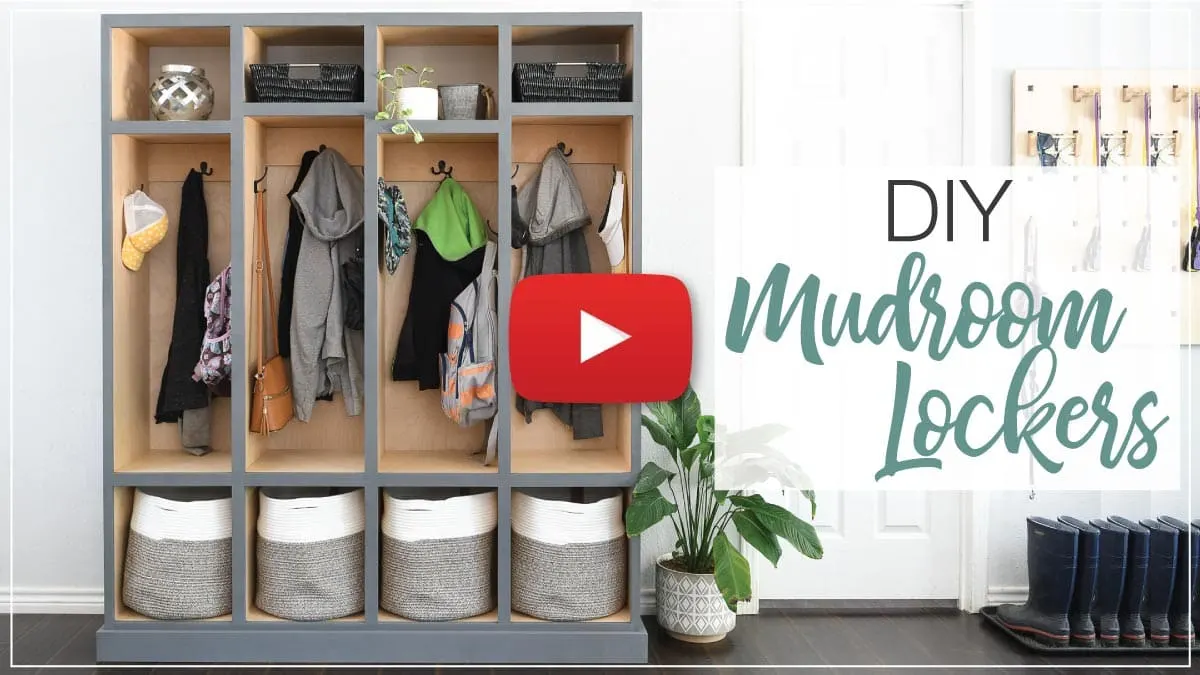 Happy Building!