Keep your home clean with a new robot vacuum and these beautiful robot friendly furniture pieces you can DIY.
With the start of summer, the last thing you want to do is spend your free time cleaning. Let a robot vacuum do the cleaning for you instead!
To get your free time back this summer I partnered with Yeedi, our new quiet and easily programmable robot vacuum, to share a list of robot vacuum friendly furniture you can DIY!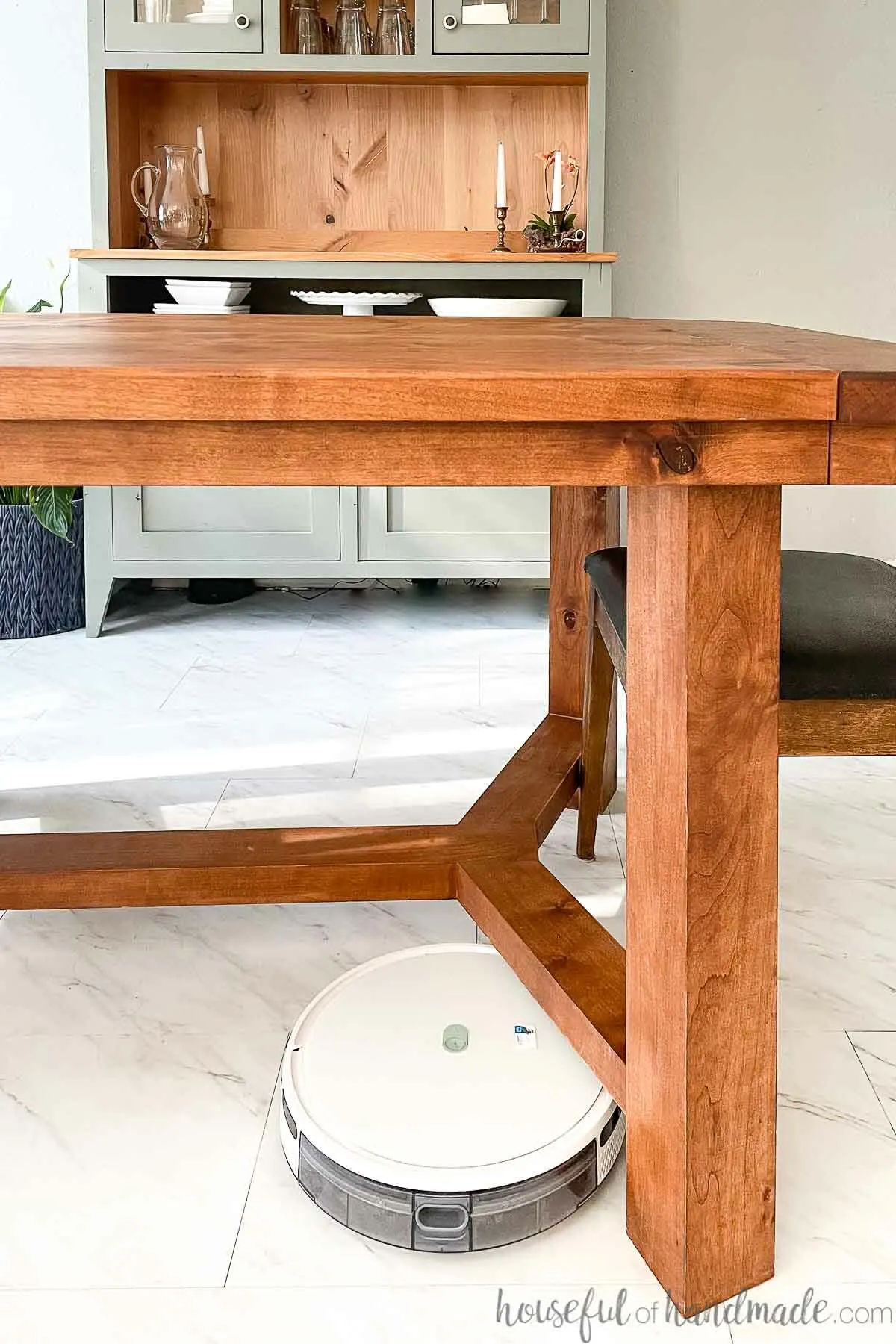 Nothing is more frustrating than your robot vacuum getting stuck or not being able to clean under your furniture. Say good-bye to moving furniture to clean under it by making sure all the furniture in your home is robot vacuum friendly.
Robot vacuum friendly furniture is furniture that your Yeedi robot vacuum can easily clean under or around. It means a cleaner home without you having to do any work!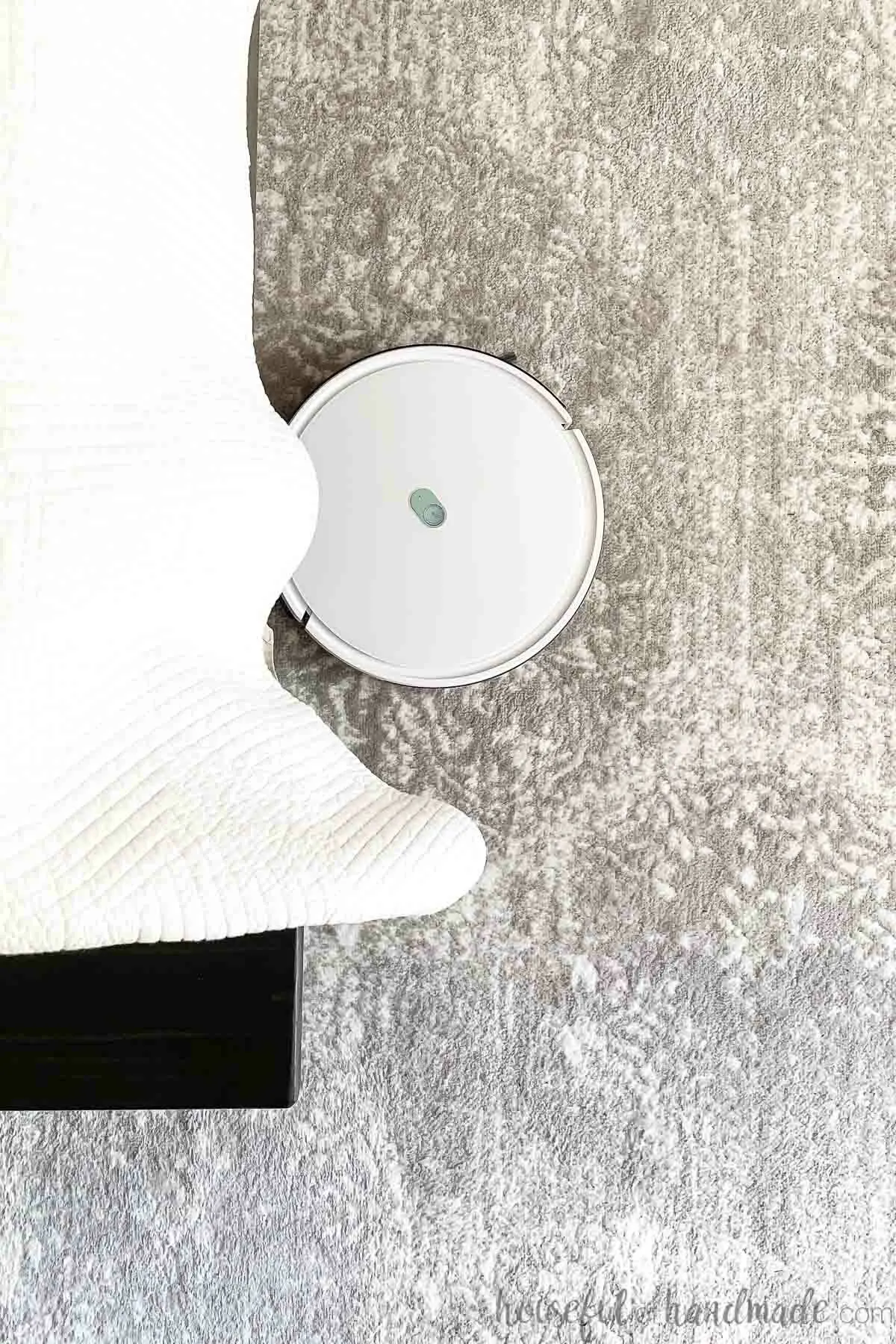 Yeedi Robot Vacuum Features
We have been using our Yeedi k650 robot vacuum for almost 2 months now and I am in love! The vacuum was easy to set up right out of the box and keeps our floors dirt free (with 2 kids and a dog in the country, that is a big job).
Low Price
The Yeedi is a great, low priced, robot vacuum but it is loaded with features. You will love how easy it is to use and how well it cleans from solid floors to rugs to carpet.
And right now you can get your own Yeedi k650 for $50 off the already low price. Click here to take advantage of this deal and start spending less time cleaning.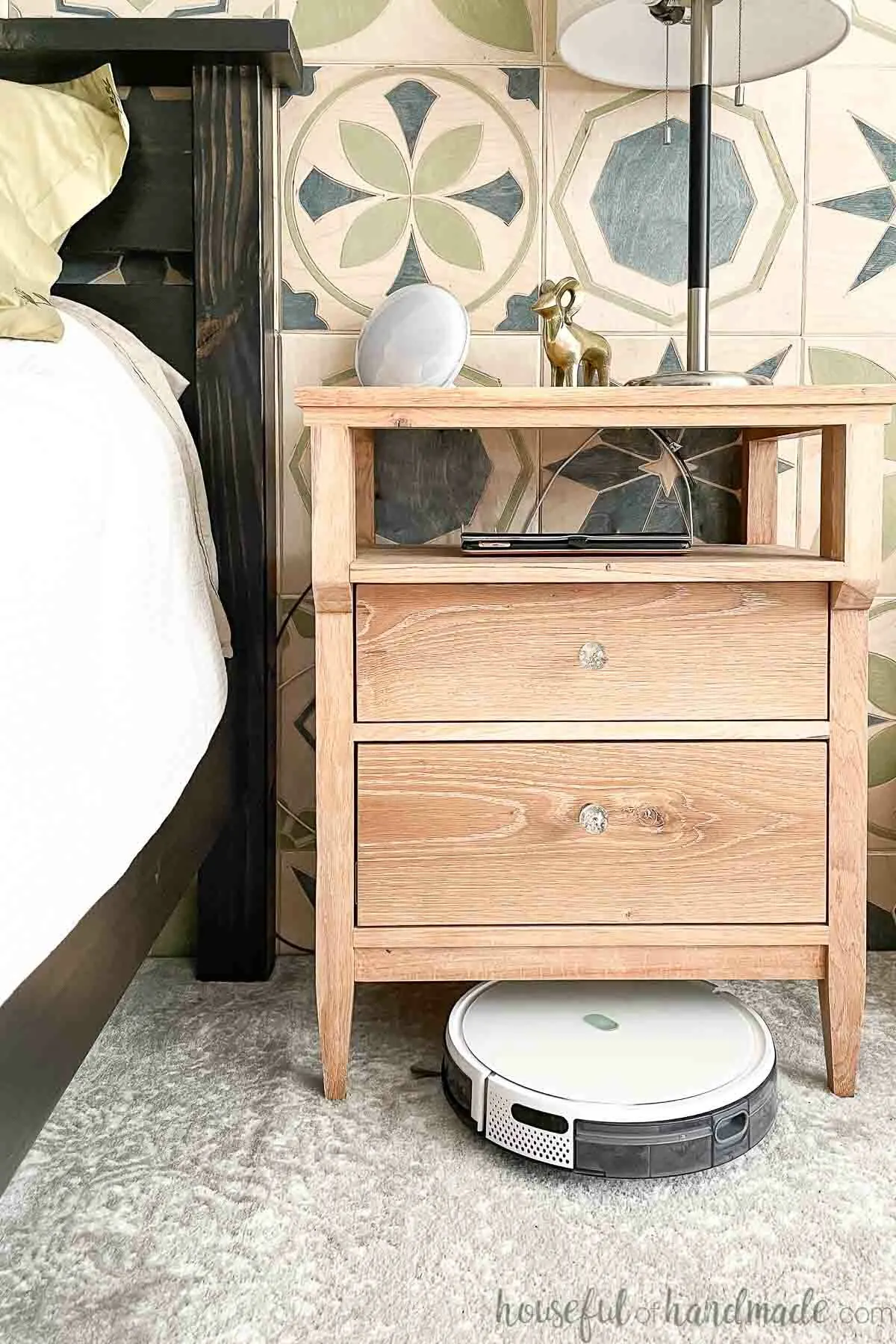 Easy to Use App
The Yeedi k650 vacuum is easy to control with an app on your smartphone. Connect your Yeedi vacuum to the app take advantage of the following features:
Start, stop and dock the vacuum
Set cleaning mode (random, spot or edge)
Turn on/off magnetic boundary
Change vacuum power or set quiet mode
Set cleaning schedule
See cleaning log
Track accessory usage (filter and brushes) so you know when it's time to replace them
Rename your robot
Set up voice controls
Find your robot vacuum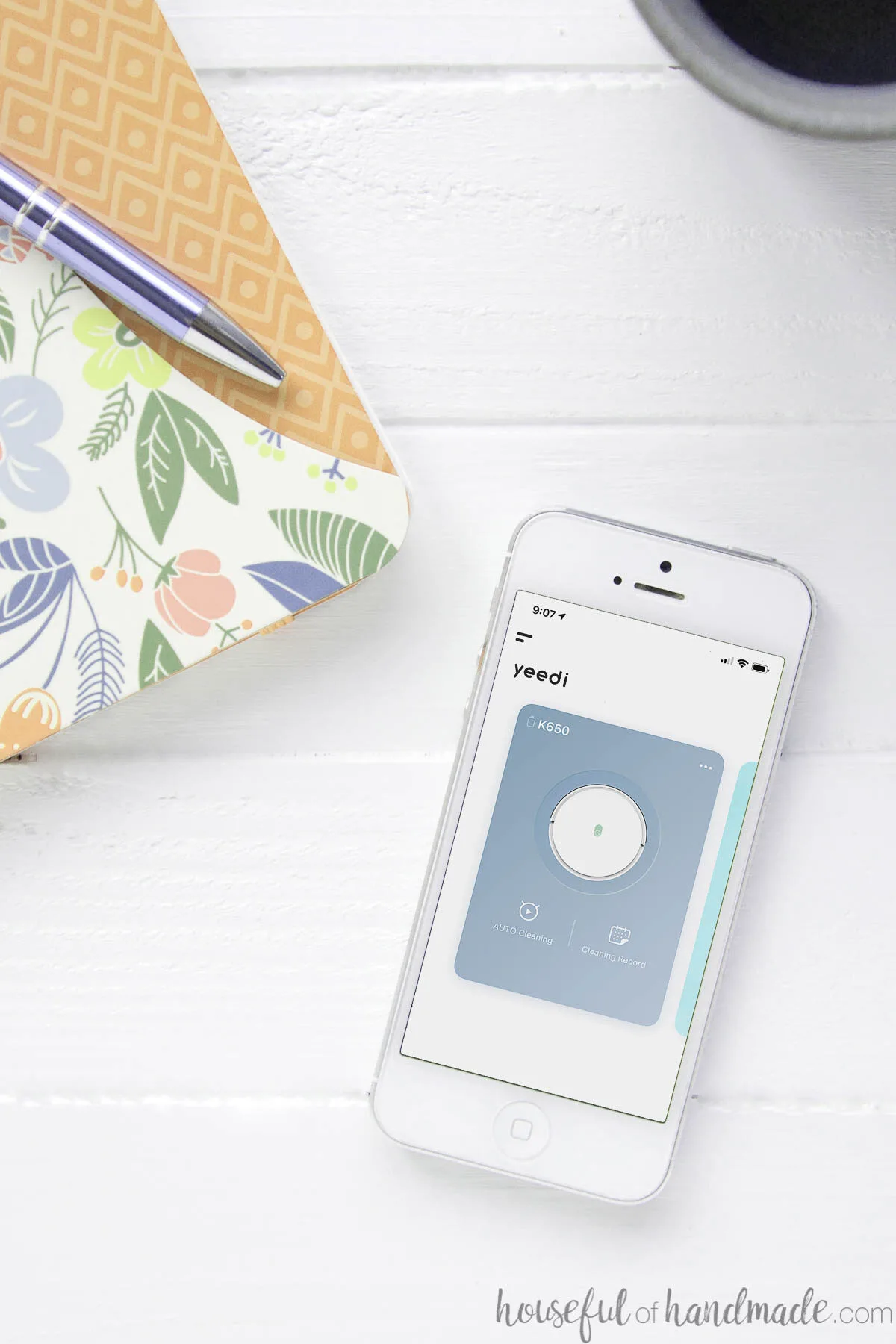 XXL Dust Bin
My favorite feature of Yeedi k650 is the very large dust bin. Even with the vacuum cleaning our 1800 square foot entry, kitchen, dining, and living area daily, I only have to empty the dust bin 2-3 times a week.
It gathers and holds onto all the dust (we get lots of it living in the country) and pet hair. And it does a great job of cleaning larger items my kids are great at dirtying the floors with.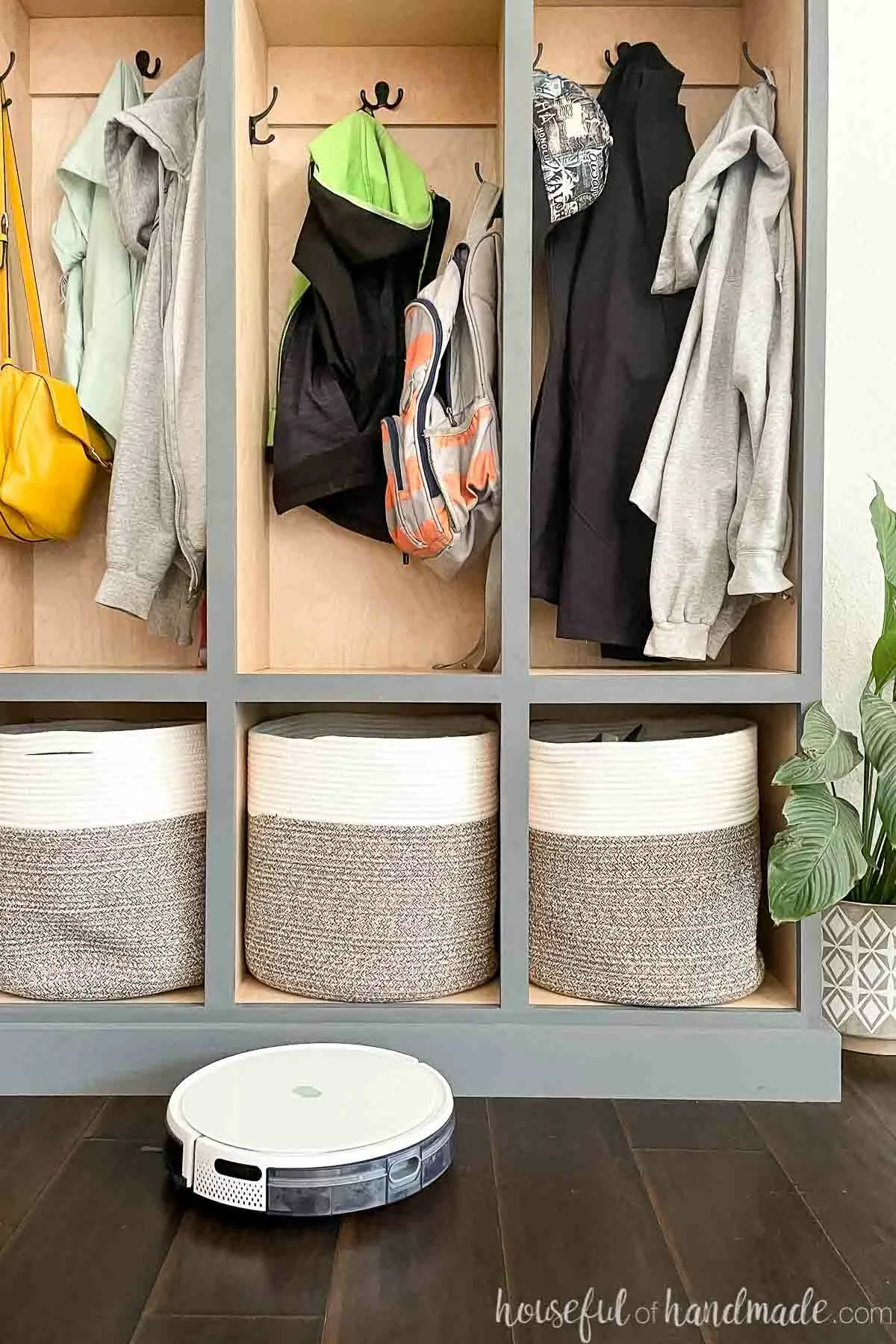 Slim Robot Vacuum
The Yeedi vacuum can easily clean under anything that is 3 1/2″ off the ground. That includes getting under cabinet toe-kicks and furniture that has at least a 3 1/2″ clearance. See below for lots of amazing robot friendly furniture options.
Adjustable Vacuum Power and Quiet Mode
The Yeedi k650 has multiple power modes to clean the messiest of messes. I have been very happy with the cleaning on the standard mode for daily vacuuming. But it is nice to know you can pump up the power in case the kids or dog get extra messy.
And even though the regular vacuuming mode is nice and quiet, you can even set it to quiet mode in case you need to be on a call or have a sleeping baby, but still want to get the house cleaned.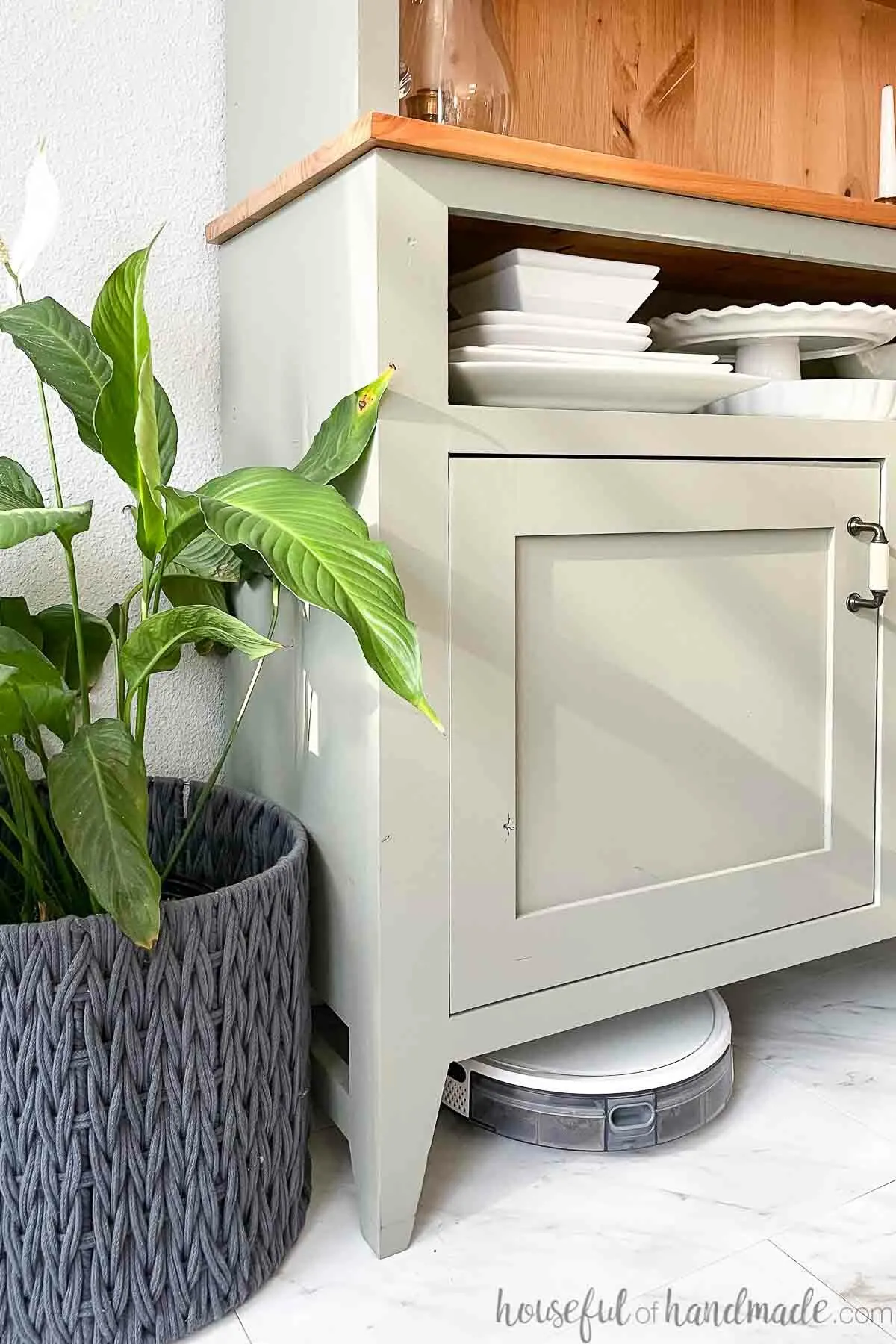 11 Robot Vacuum Friendly Furniture Pieces to Build
It's easier to keep your house clean by letting a robot vacuum do all the work. Make sure you have furniture that can easily be cleaned under or around by building these amazing robot vacuum friendly projects for your home.
This hutch was designed not only to be robot vacuum friendly, but it also it tall enough to house the robot vacuum charger. No one will ever see your robot vacuum base and the vacuum hides under it while not in use.
And having your Yeedi robot vacuum handy in the dining room makes for quick cleaning after dinner.
The floor under the dining room can be the dirtiest, especially with children. Make sure your robot vacuum can clean under the entire table with this design that has plenty of room below the leg supports for the Yeddi vacuum to glide right underneath.
Expert Tip:
Quickly flip over your dining room chairs and place them on top of the table when your robot vacuum cleans. Not only will this knock off any dust or food dropped on the chairs, but it also helps your vacuum get a more thorough cleaning below the table.
Keeping under the bed clean can be a hassle with a regular vacuum, but not with a robot vacuum. This easy to build queen bed frame has plenty of clearance for your robot vacuum to keep the floor under your bed dust free.
And whether you have hardwood, carpet or a rug in your bedroom, the Yeedi k650 will easily clean the floor to keep your bedroom clean.
These gorgeous nightstands are beautiful and robot vacuum friendly. The tall legs leave plenty of room for cleaning keeping your bedroom dust free without extra work.
Open vanities are modern and beautiful, but leave lots of corners for dust and hair to collect. Since you cannot move your vanity to clean under it, and even hoses cannot easily get under them, make this vanity that your robot vacuum can clean under instead!
This modern coffee table design makes it super easy for your robot vacuum to clean under it. The open legs are perfect for creating an open feel to your space and to let your vacuum get the floor clean.
Keep your office space clean with a Yeedi robot vacuum. This printer stand will not only organize all your paper, but also is high enough for your robot vacuum to keep the floors under it nice and clean.
A desk in a closet is perfect for a robot vacuum. You can easily clean under the desk since there are no legs to hide dirt and dust bunnies.
And for even an even cleaner look, you can close the closet door when you are done working to hide away those piles of unfinished tasks. They can wait for tomorrow.
Expert Tip-
Add hooks to the underneath of your desk to hang cords. Tie up extra cord length with twist-ties and loop over the hooks. This way they will not pool on the floor and get in the way of vacuuming.
A wall mounted desk is great for your Yeedi k650 to clean under. Again, no legs in the way of cleaning. And with the quiet mode enabled, you can work right through the day's vacuum session. Look at you double-tasking!
Instead of building furniture high enough off the ground for your robot vacuum to clean under, these mudroom lockers completely block of the space below them to prevent dust and dirt from get there in the first place. And then your robot vacuum can easily clean right up to the edge to keep your home sparkly clean.
This TV console also covers the entire ground preventing dust and dirt from getting under it. Then the robot vacuum can easily clean around it and the side brush will make sure to get all the dirt right up to the edge.
Enjoy your nice clean home!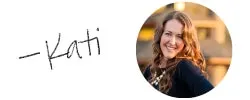 Thank you to Yeedi for sponsoring this post. I only recommend products that I use and love and all opinions are 100% my own. Click here to read my full disclosure policy.