Get your yard ready for spring with these DIY outdoor furniture projects.
Create the perfect backyard oasis with DIY patio furniture, DIY outdoor benches, patio table plans and so much more. These 28 DIY outdoor furniture projects will have you enjoying the sunshine soon.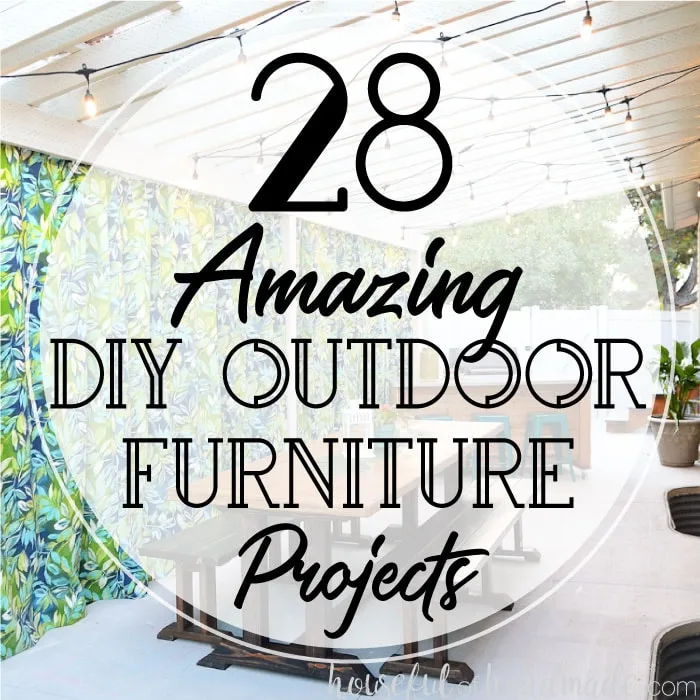 We came back from our tropical vacation to a big snow storm! It quickly brought me back to reality, but now I am itching for spring and summer. There is nothing better than relaxing in the outdoors.
Last year we spent the majority of our summer and fall working on finally finishing our backyard. We built an outdoor playhouse for the kids. And after 8 years with road base where we wanted the patio, we finally were able to afford a concrete patio.
Then of course we decked it out with a patio pergola with a clear roof. Now we are ready to enjoy the space (as soon as the snow melts).
My vacation also reminded me that not every one is covered in snow, some places it is already spring and some it is even down right hot (just ask my sisters in AZ). So if you are already enjoying spring, or just want to get a jump start, here are some amazing DIY outdoor furniture plans to get your backyard ready for fun.
DIY Outdoor Furniture Projects to Make this Spring
Summer is just around the corner! Get the most out of your yard when the weather is warm by creating the perfect furniture for your patio. From tables to charis, sofas to side tables, everyone can find something in this list to DIY the perfect place to enjoy summer.