Get your yard ready for spring with these DIY outdoor furniture projects. Create the perfect backyard oasis with DIY patio furniture, DIY outdoor benches, patio table plans and so much more. These 28 DIY outdoor furniture projects will have you enjoying the sunshine soon.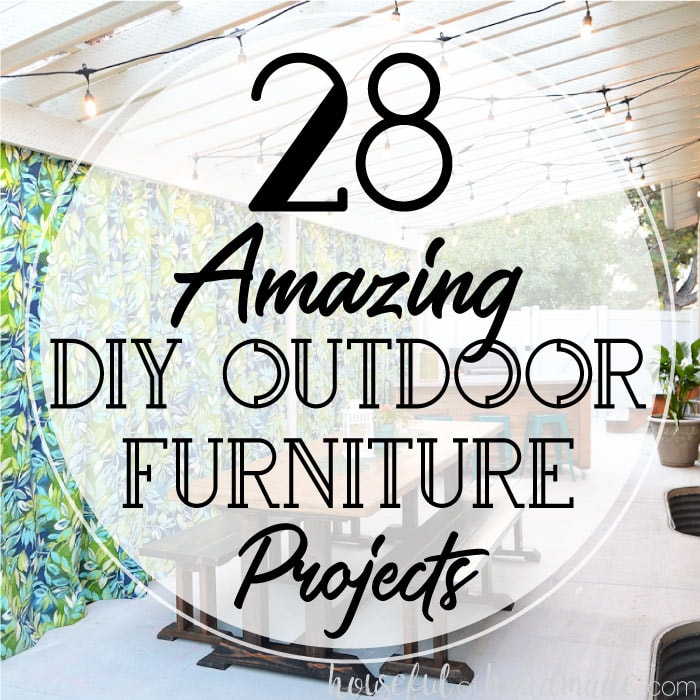 We came back from our tropical vacation to a big snow storm! It quickly brought me back to reality, but now I am itching for spring and summer. There is nothing better than relaxing in the outdoors. Last year we spent the majority of our summer and fall working on finally finishing our backyard. We built an outdoor playhouse for the kids. And after 8 years with road base where we wanted the patio, we finally were able to afford a concrete patio. Then of course we decked it out with a patio pergola with a clear roof. Now we are ready to enjoy the space (as soon as the snow melts).
My vacation also reminded me that not every one is covered in snow, some places it is already spring and some it is even down right hot (just ask my sisters in AZ). So if you are already enjoying spring, or just want to get a jump start, here are some amazing DIY outdoor furniture plans to get your backyard ready for fun.
28 DIY Outdoor Furniture Projects to Get Ready for Spring
DIY Patio Tables
If dining al fresco makes you happy (it is one of my families favorite things about spring), then you definitely need a patio table. These patio table plans will have you ready to dine in the fresh air as soon as spring hits. And depending on your space, there are DIY picnic tables, dining tables, and even smaller round patio tables.
Build a beautiful table top for the perfect Patio Table Transformation from Our House Now a Home. She has a full tutorial from painting to building (and even updating the chairs).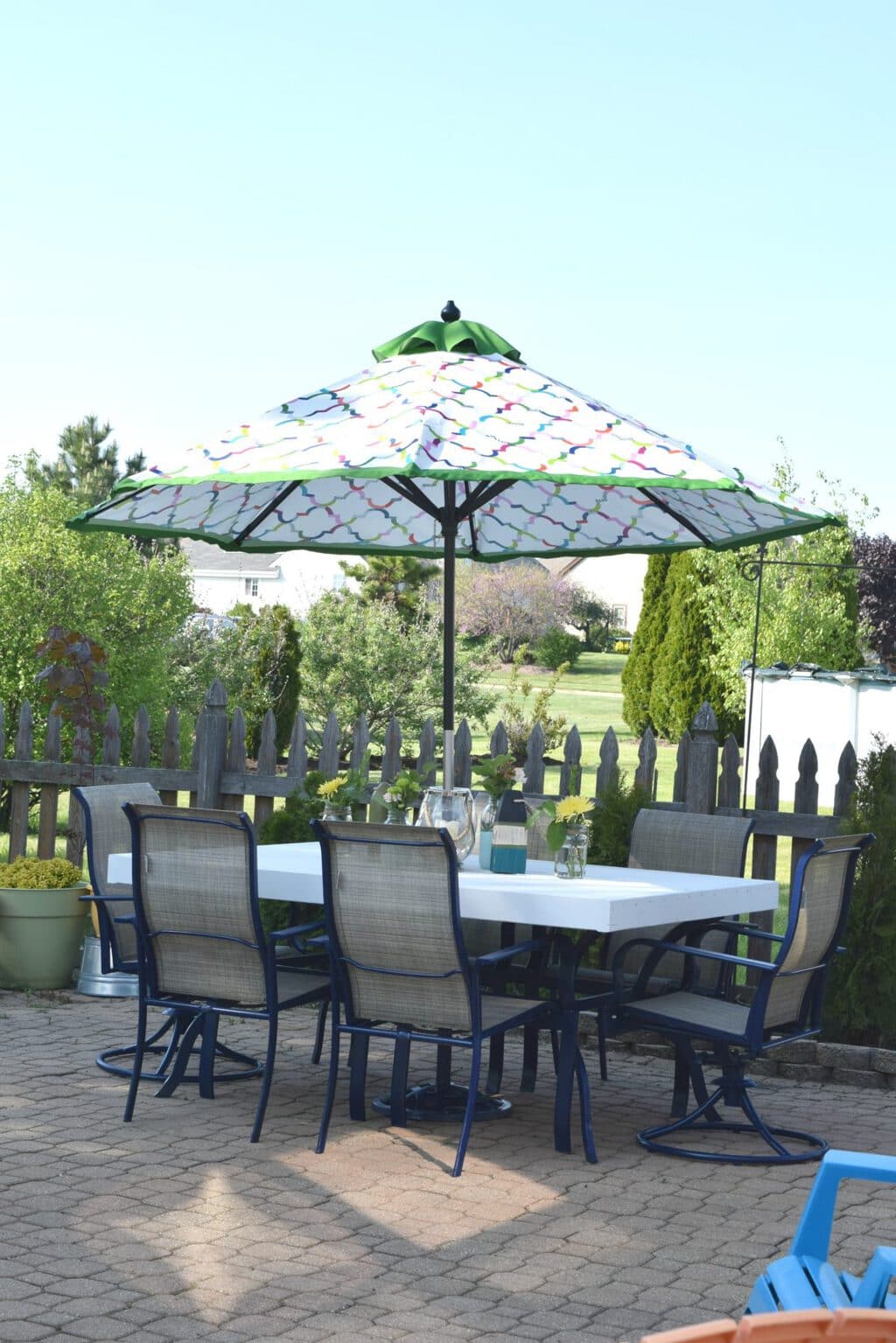 I always loved pnopin="nopin" laying with wire spools as a kid (my dad is an electrician). Why not make it useful instead of just a toy with this DIY Wire Spool Table from Savvy Apron.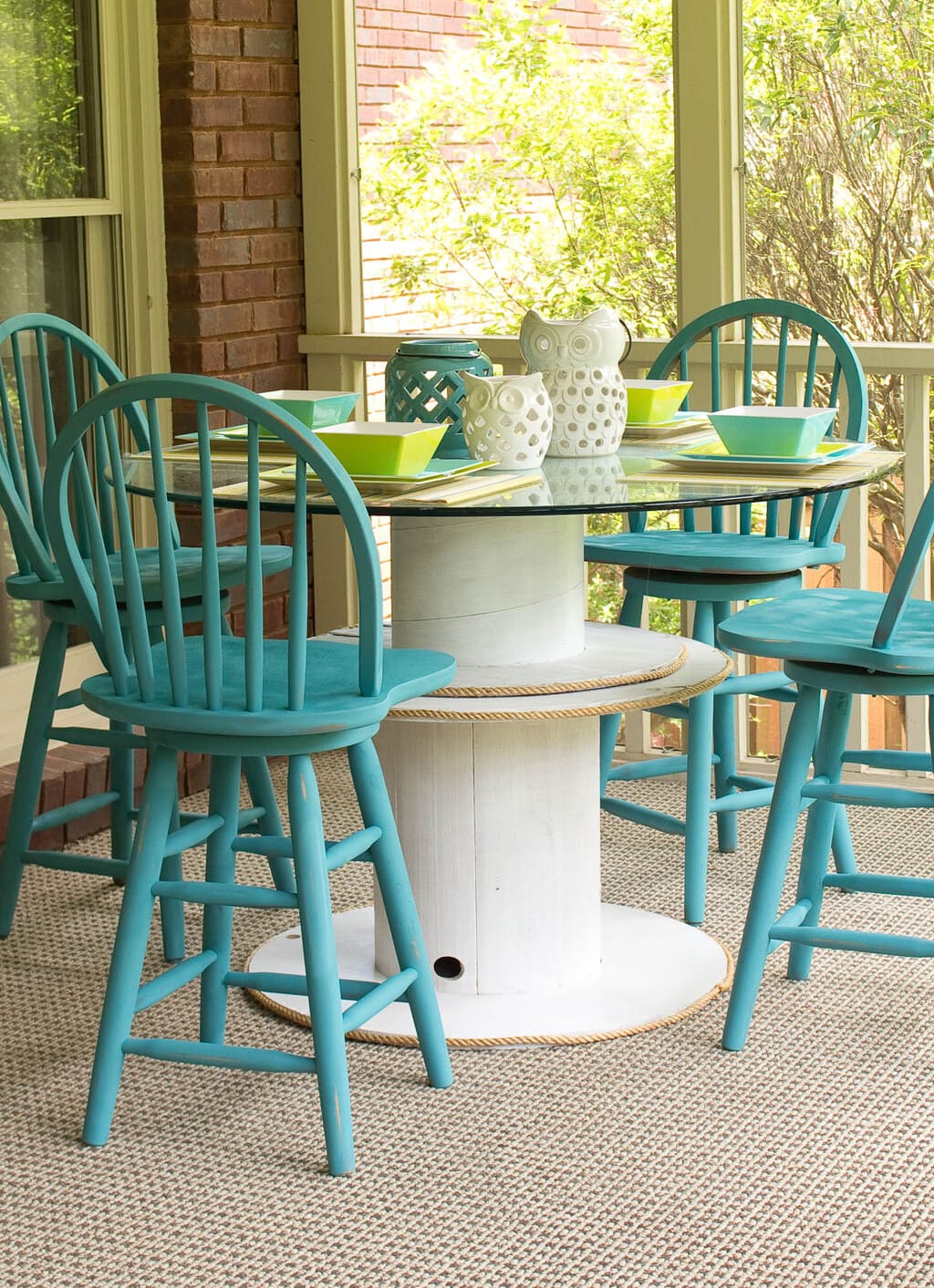 If you love entertaining, you need a big dining room table with lots of seating. We love our Outdoor Dining Table complete with benches so we can feed big crowds.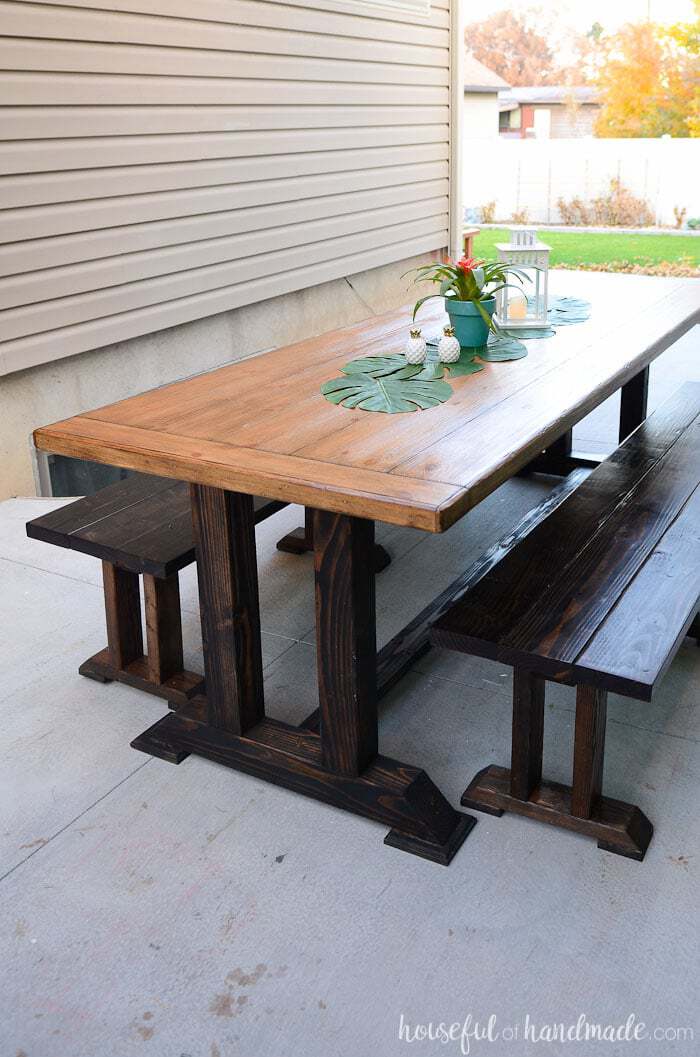 For smaller patios, round tables give plenty of eating space without taking up too much room. I love this DIY Round Outdoor Dining Table with Outdoor Accents from Jamie Costiglio.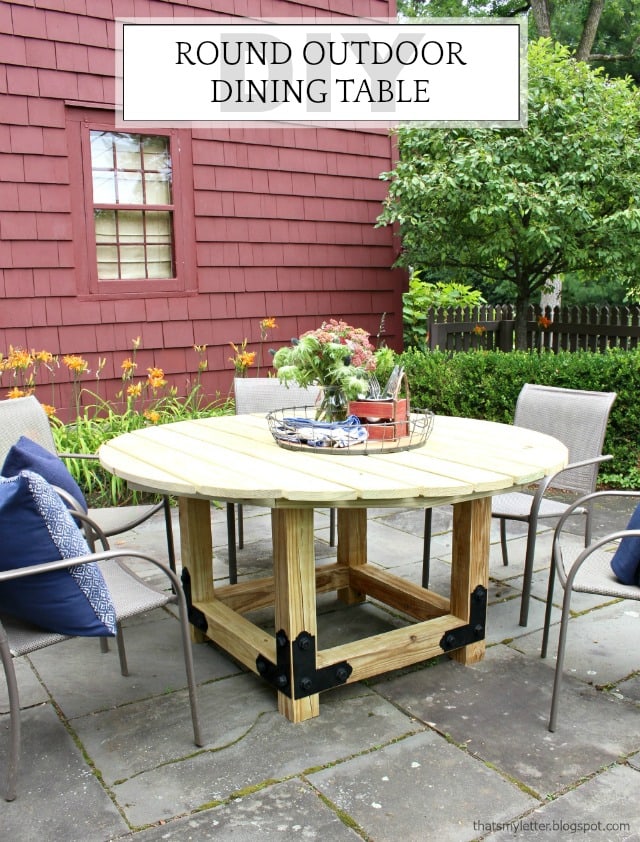 I love the beautiful design on the top of this DIY Picnic Table from A Turtle's Life for Me. And even better, it was made from old wood from their tree fort. Now they can make new memories on their new table!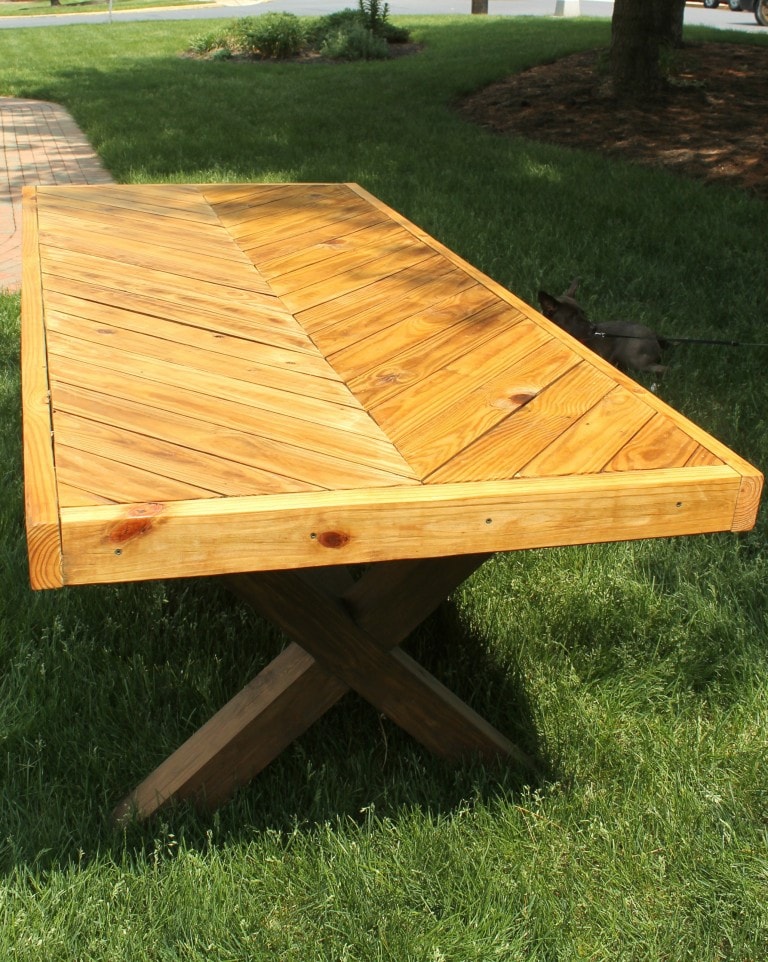 This DIY Outdoor Trestle Dining Table from Jamie Costiglio is such a statement piece. I love the beautiful lines and colors. And just look at how many big bumpy seat there are for throwing parties.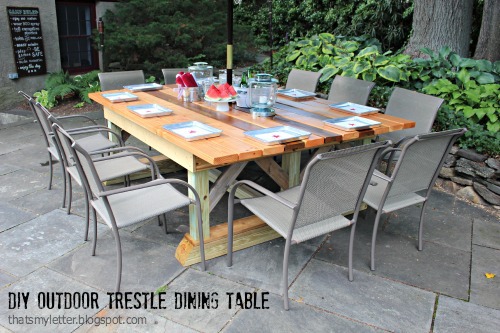 If you love to reuse and recycle, why not do the same for your patio table. Rain on a Tin Roof show you How to Build a Picnic Table out of a Barn Door that is perfect for the backyard.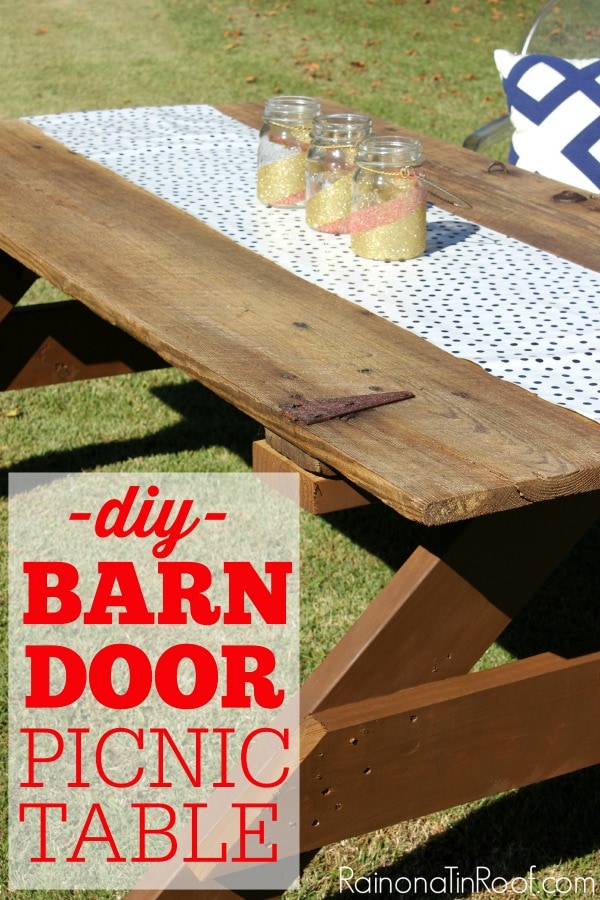 Don't forget to make a spot for the kids to enjoy the outdoors too. This Nautical Picnic Table for Bigger Kids is my kid's favorite place to enjoy picnic lunch and create messes outside.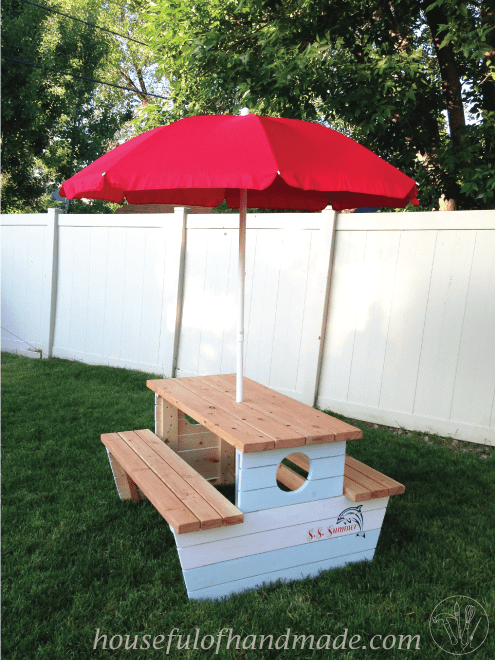 If you love to cook outside too, why not add an Outdoor Kitchen Island to your patio too. It offers a place to prepare and serve food as well as extra seating for entertaining.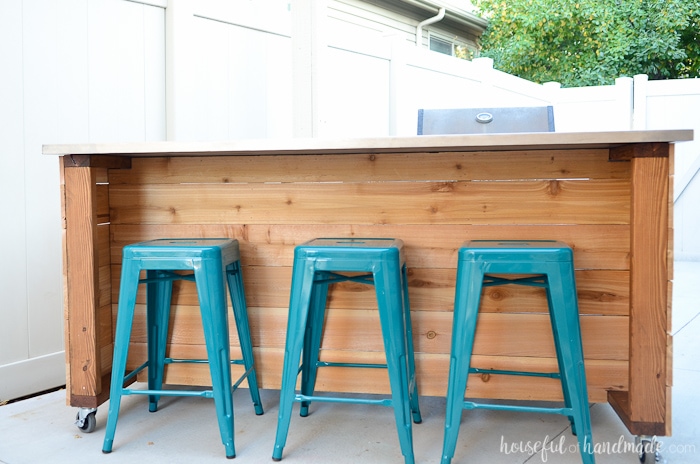 DIY Patio Furniture
If you love to lay around in the sun and just relax, you are going to need some patio furniture. So why not DIY it? DIY patio furniture is great because you can tailor it to your space, and it is so much cheaper than buying it. Here are some of the best patio furniture plans to get you started.
Create seating for you and a crowd with The Ultimate DIY Outdoor Sectional from Rain on a Tin Roof. Doesn't this outdoor sofa just beckon you to grab a drink and relax?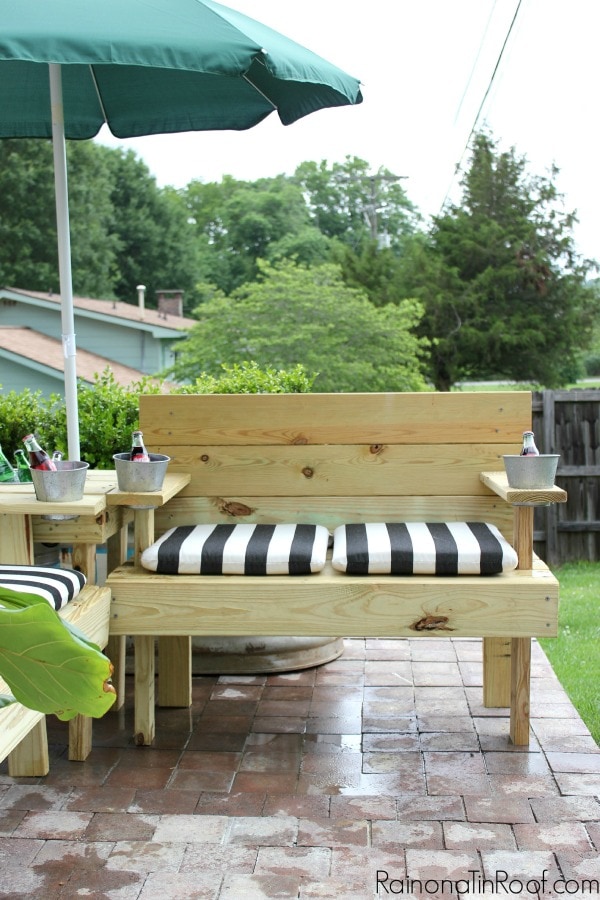 My favorite place to sit and watch the kids play, or to rest and enjoy a cool drink after a day of DIYing, is on our Slatted Outdoor Sofa. The angled back makes this DIY outdoor bench super comfortable and the outdoor pillows means I can kick my feet up and enjoy for hours.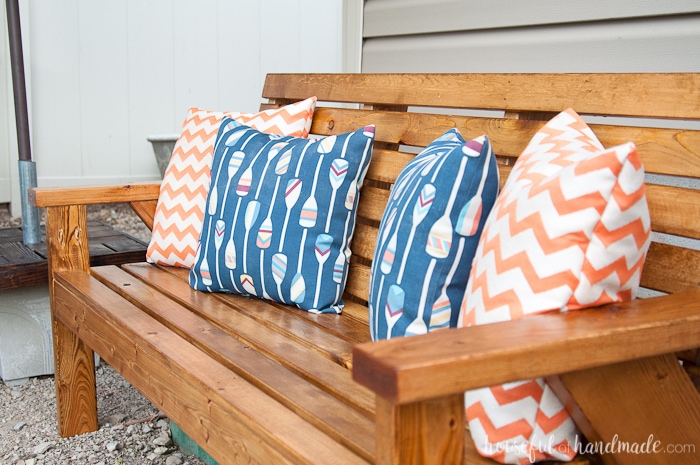 Turn and old headboard into the perfect DIY outdoor bench with this DIY Headboard Bench tutorial from Artsy Chics rule. You can never have too many benches to rest on a hot summer day.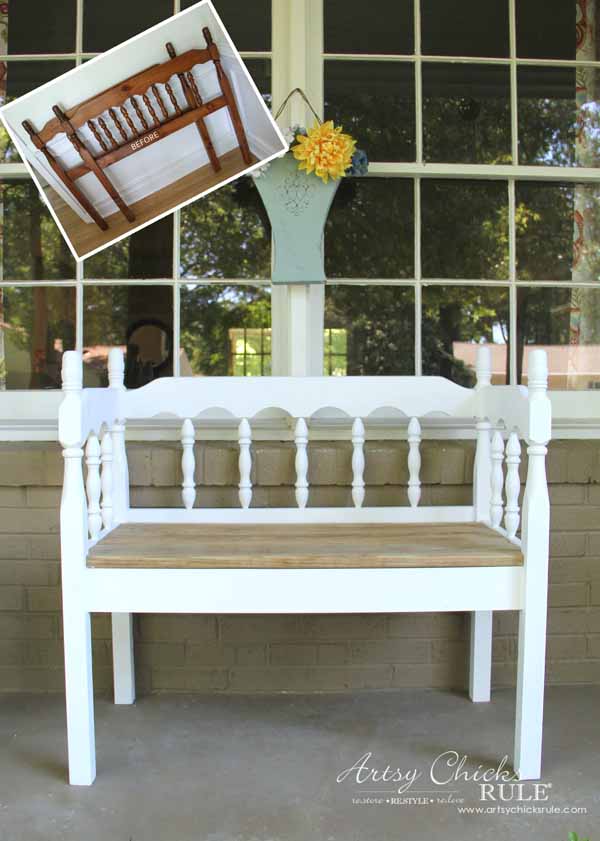 Don't have a lot of time to work on getting the patio ready for spring? The Boondocks Blog shows you how to Quickly Make a Super Easy Pallet Couch so you will be ready to relax in no time!
I love Adirondack chairs, they are just so classic for outdoor living. So I make these Easy DIY Kids Patio Chairs with a modern Adirondack feel to them. My kids love having their own seats and they carry them all over the backyard to play.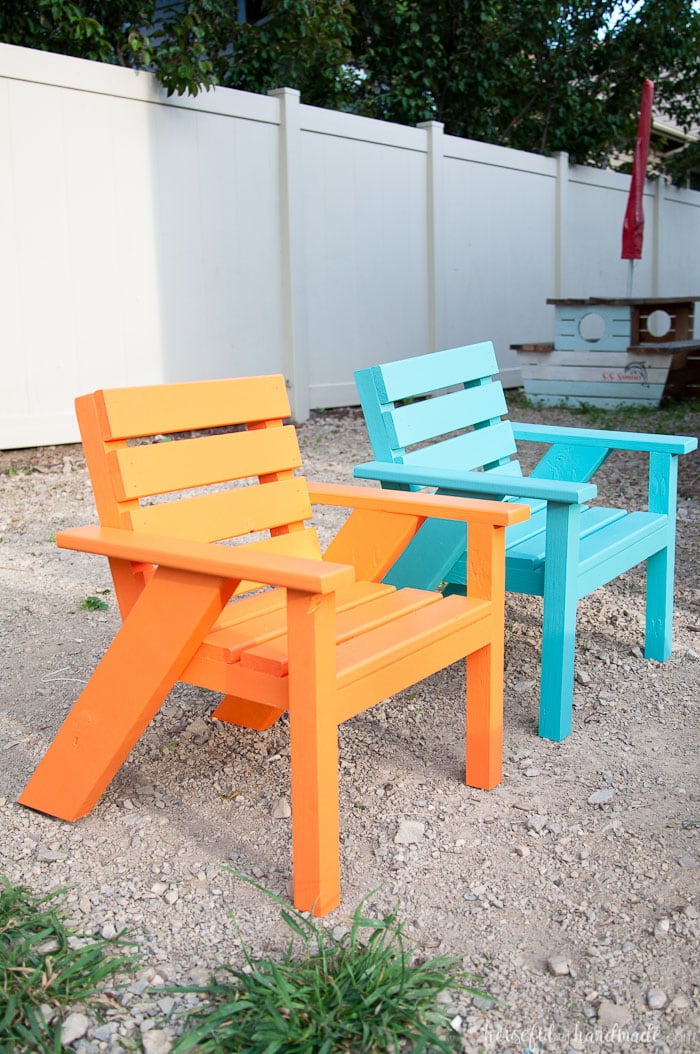 Who doesn't dream about long lazy days outside, maybe reading your favorite book? Well you can have that dream with Rain on a Tin Roof's DIY Outdoor Daybed.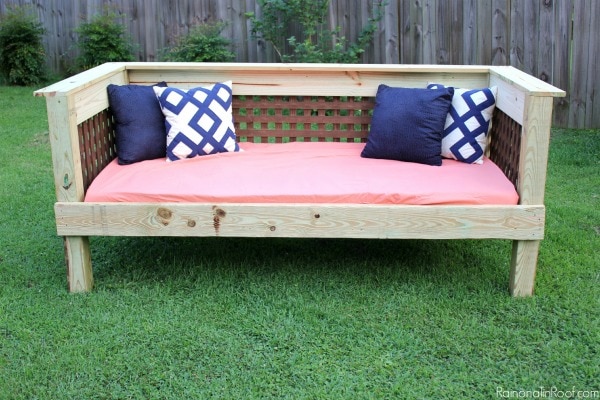 DIY Outdoor Side Tables & Coffee Tables
Nothing is worse than relaxing outside without a place to set your drink! I love to enjoy my morning coffee on the patio watching the sun come up, but without a table by my chair, it is way less enjoyable. Add more function to your outdoor space with these amazing DIY side tables and coffee tables.
This Distressed Wood Outdoor Side Table from Satori Designs for Living is the perfect little table for any patio space. You can sneak it between chairs, by a sofa, or even as a foot stool. Go ahead and make a few, you know you want to.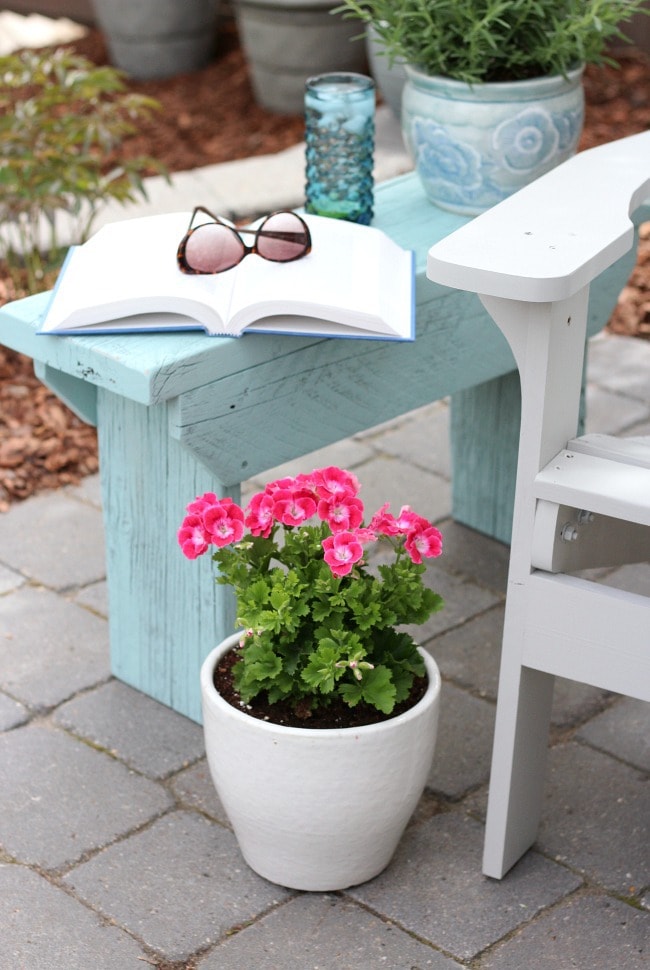 Why create a table that will just hold your drink when you can create a table that will keep it cold instead? I love this DIY End Table with Built-in planter or Ice Bucket by The Handyman's Daughter and I know my husband will too!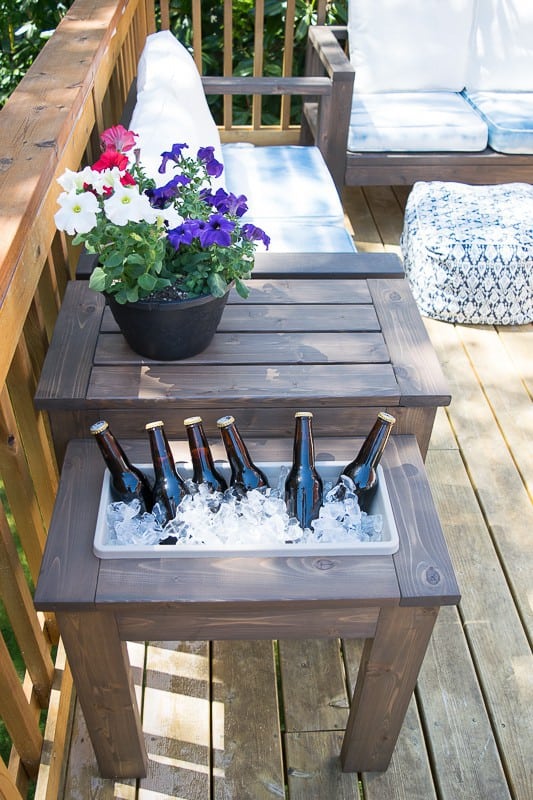 Make Your Own Umbrella Stand Side Table so you can enjoy the outdoors in style! Instead of spending tons of money on just an umbrella stand, I turned an old planter into a multi-functional piece for only $8.
If you have an umbrella stand, but no longer have an umbrella, turn it into a side table instead of tossing it. Dazzle while Frazzled shares her adorable DIY Umbrella Stand into and Easy Patio Side Table.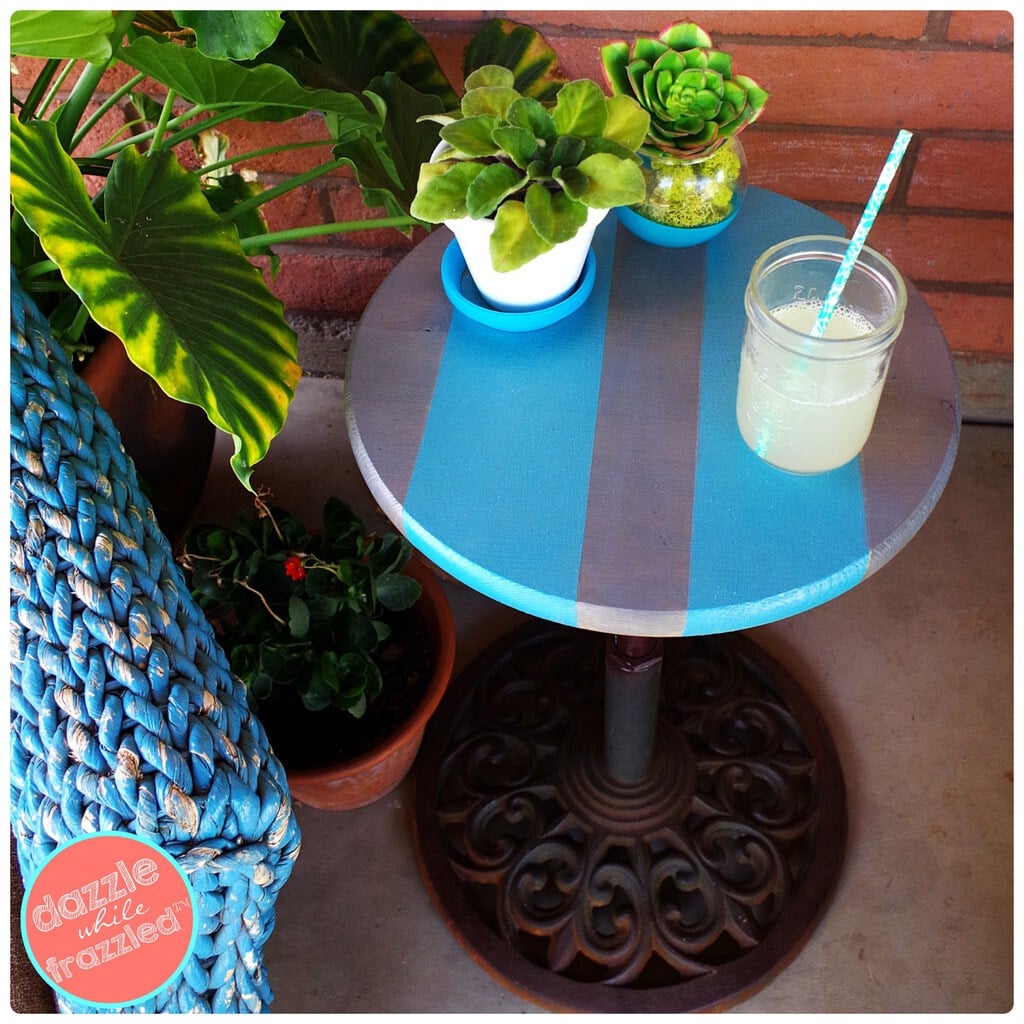 Coffee tables are a great way to pull an outdoor space together and they offer tons of function. I love this DIY Truss Beam Coffee Table Free Plans from Jaime Costiglio.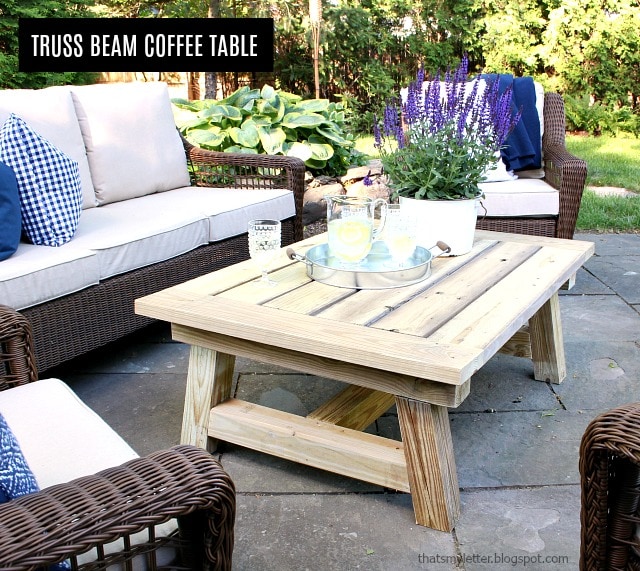 Building beautiful patio furniture doesn't have to be hard. This Easy $15 DIY Outdoor Coffee Table from Anika's DIY Life is perfect for a beginner, but looks so amazing.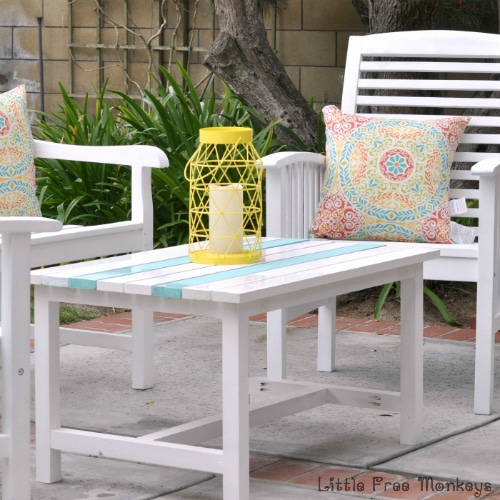 How to Update Existing Patio Furniture
If you have some patio furniture that is just looking a little worse for wear, it doesn't mean you have to toss it. It is amazing what a little TLC and a fresh coat of paint can do. Check out these amazing tutorials to get your old furniture ready for entertaining again.
Transform a sad little patio table into a beautiful new piece. Little Red Window shares How to make a Patterned Stained Tabletop to turn an old table into a work of art.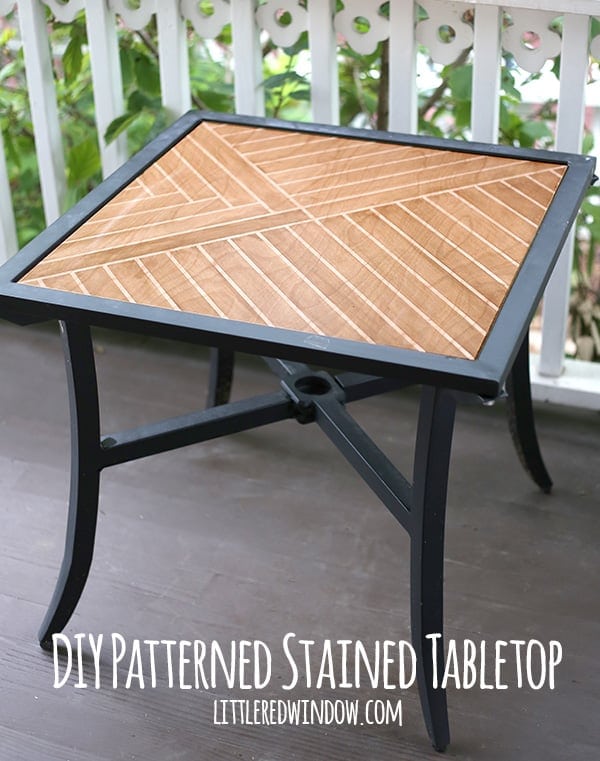 If you love color in your DIY patio furniture, then this Colorful Wood Slat Table from Sweet Things is perfect for you! She transformed an old damaged table ready for the trash into a beautiful new table.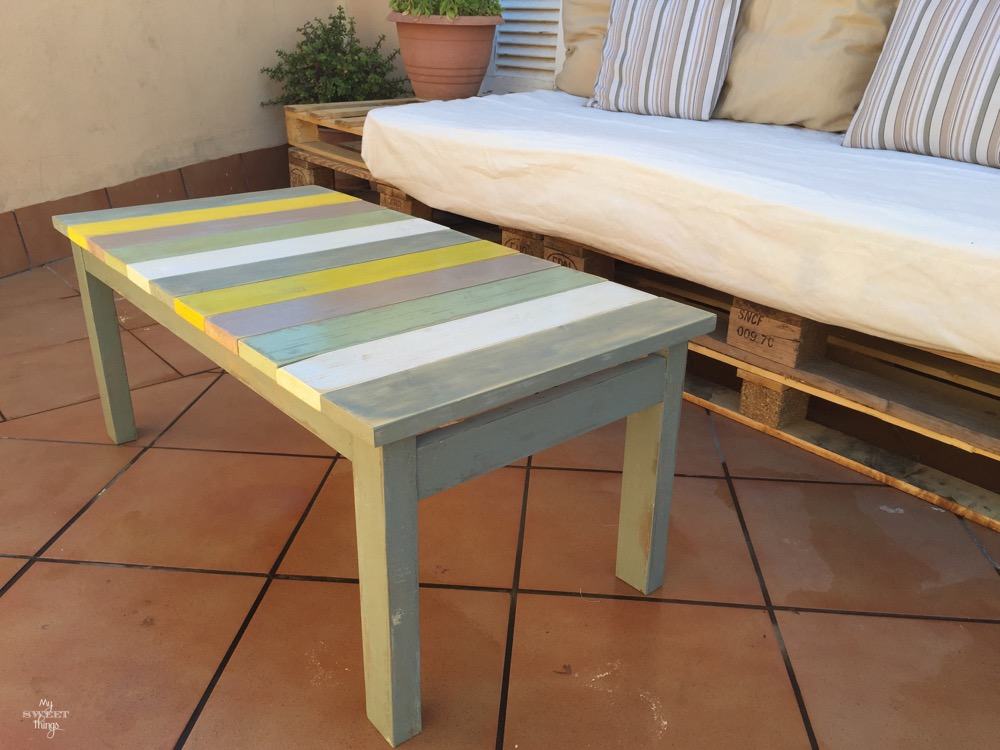 If you have sentimental pieces that are just not looking so great anymore, you can give them new life. That is what The Magic Brush Inc did when she Painted Grandma's Rocking Chairs with new All in One Paint.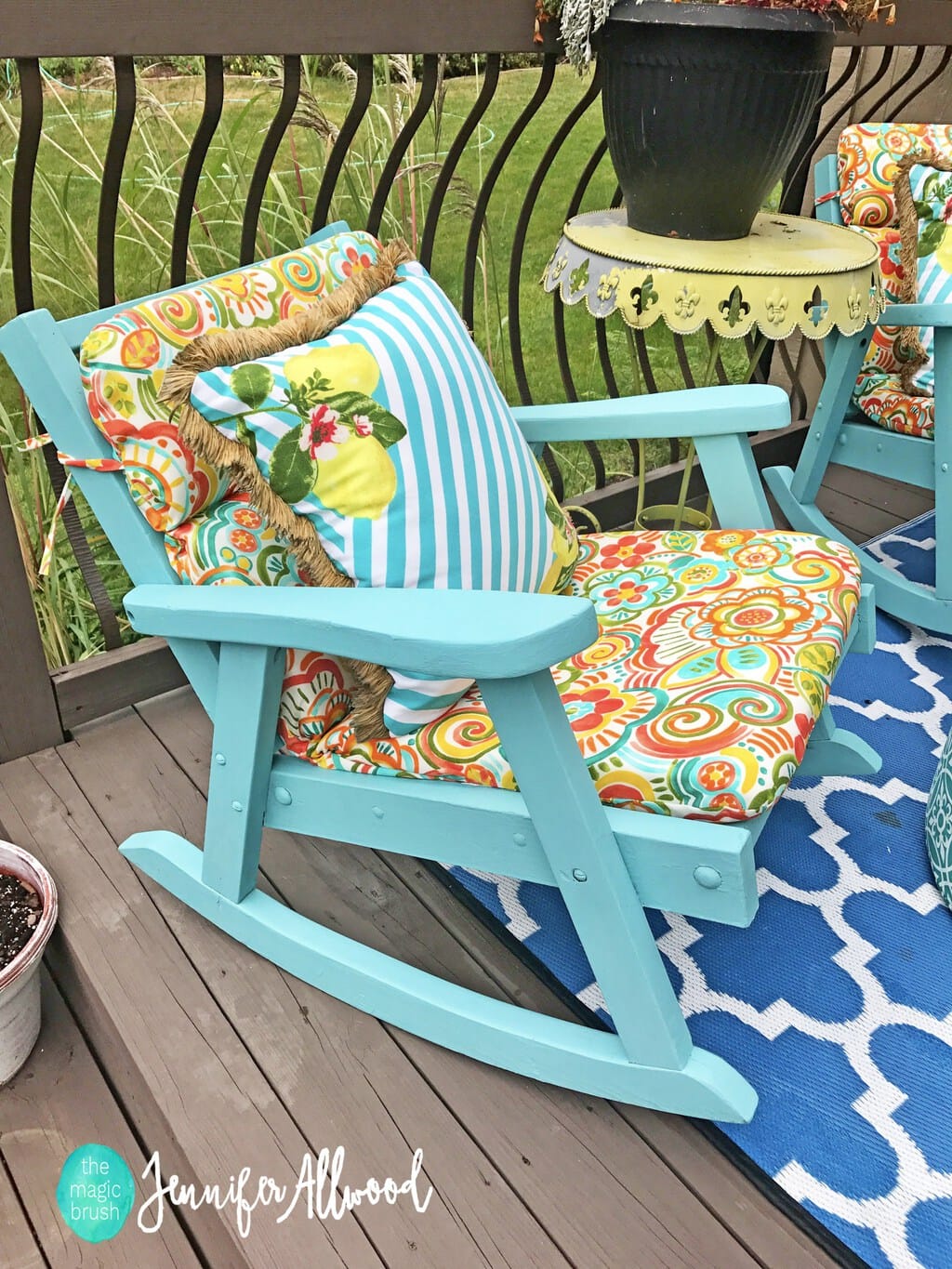 And here are those classic Adirondack chairs again! I just love how Just the Woods brought them back to life by Painting Outdoor Adirondack Chairs with a sprayer (PS Sprayers make painting all those slats a breeze).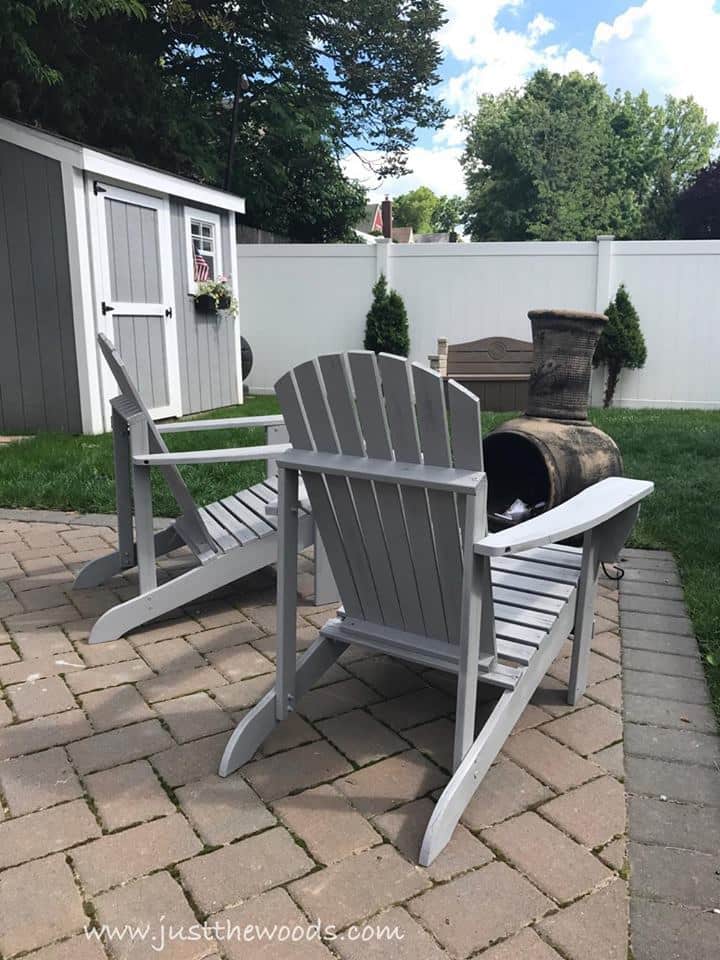 I don't know if I would have picked up this old park bench, but luckily Simple Practical Beautiful did! She say the beauty in it and brought it back to life. And she shares How to Reinforce an Old Park Bench so you can too.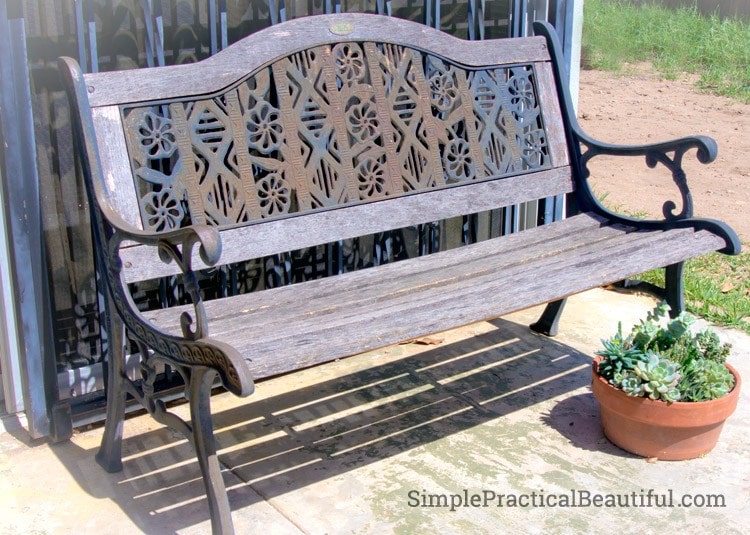 DIY AC Cover
I love having AC, but I have having to look at it! This year I plan to build an AC Cover to solve this problem. If you do to, check out how Making Manzanita made a DIY Pallet AC Cover in Just 45 minutes.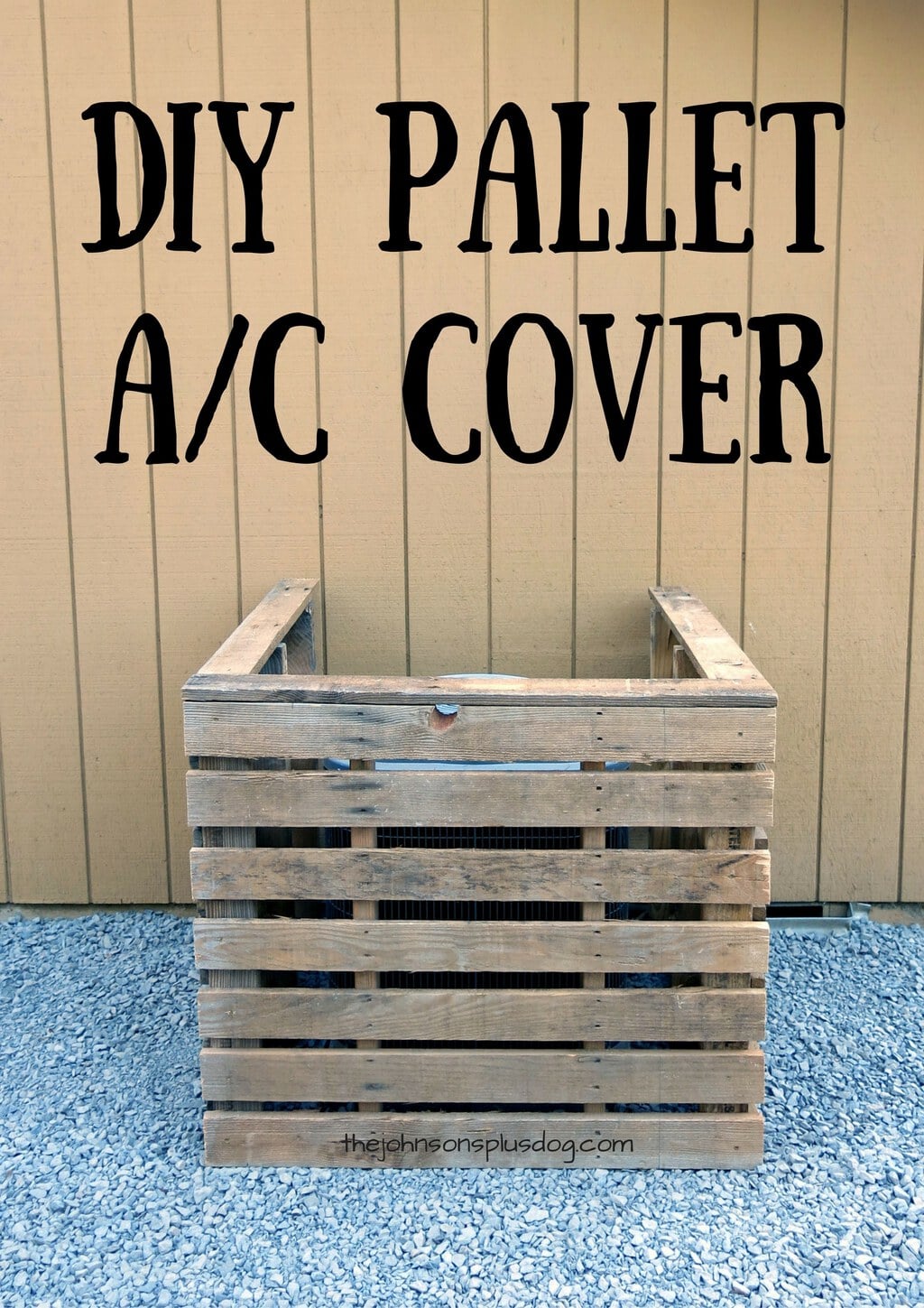 DIY Outdoor Toy Box
Don't let the kids toys clutter up your backyard. I love having an outdoor toy box so they can clean up when they are done playing. And even better our is a DIY Treasure Chest Toy Box so they can search for buried treasure while enjoying the outdoors.