Take a look at the most popular DIY projects from the past year!
2020 was a crazy year! For us even a bit more as we picked up our family and moved half-way across the country.
The beginning of the year was finishing off the last of the DIY projects in our home to get it ready to sell. And the last half of the year was getting settled in our new home and starting the DIY projects from the beginning!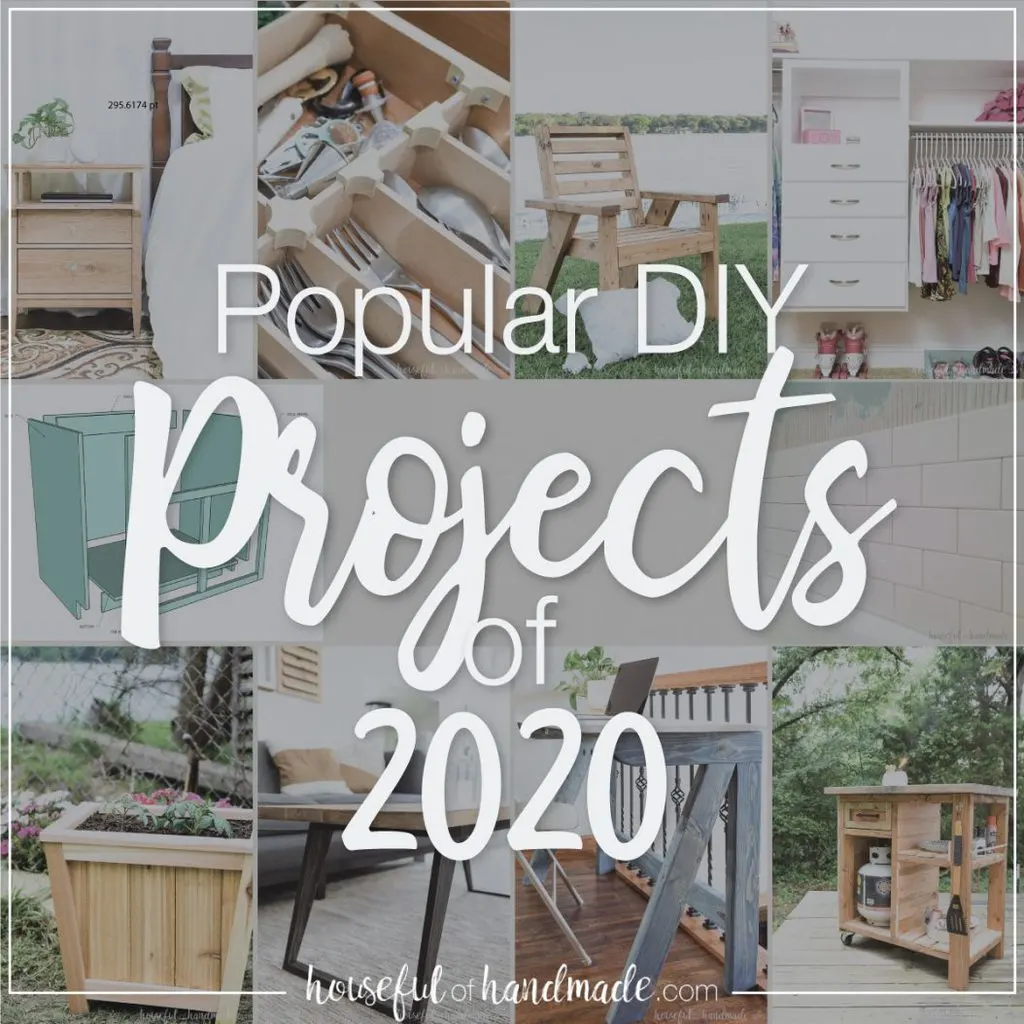 It's been so fun to see what can be accomplished in just 1 year. And this is not everything we did.
I looked back at the analytics to see what your favorite DIY projects of 2020 were. These were the most visited posts by your, the readers! And I would have to agree with you because so many of these were my favorites too.
#10-Easy DIY Tapered Planter Build Plans
This project was the first one I made after we moved to Texas. We were temporarily living with my in-laws; all the tools were in a trailer and had to be moved in and out for every project; and the Texas sun was shining.
But even with all that, it was so fun to be building again after the move!
And this cute little tapered planter was instantly popular. Made from 1x2s and cedar fence pickets, these planters are cheap and easy to make.
I need to make some more as we get ready to start a garden at our new home!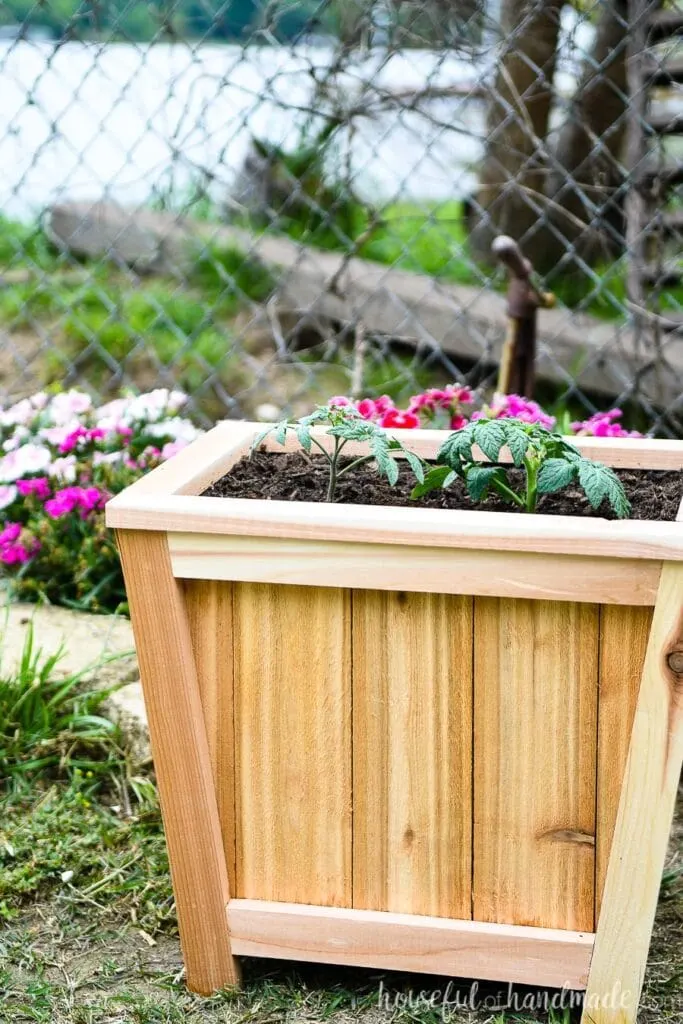 #9- Rolling Grill Side Cart with Storage
This project was super helpful for us this summer because we ripped out the old, falling-apart kitchen in our new house before we even moved in! Dinners on the grill were a must without a working kitchen.
And this grill side cart was super helpful for adding extra space next to the BBQ. It has a drawer for utensils, a spice rack, and shelves. Plus there is a compartment to hold the extra propane tank!
Now cooking outside is so much easier!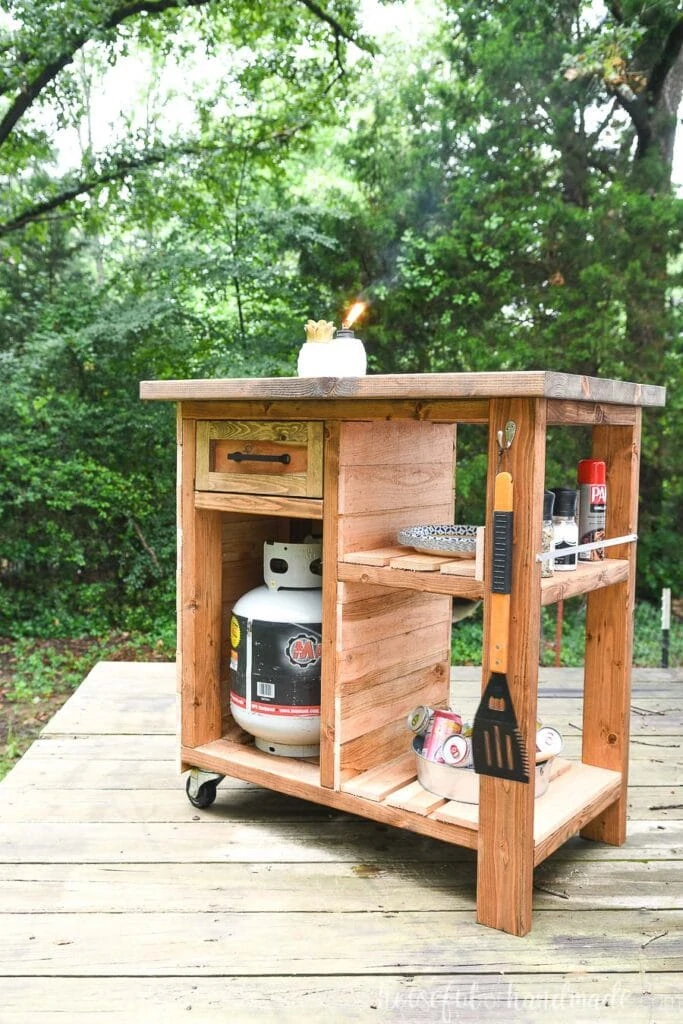 #8- Subway Tile: Sheets vs. Individual Tiles
I really love subway tile. It is timeless, clean, and inexpensive! So when it was time to tile the guest bathroom tub/shower I decided to do a test for you.
Our master bathroom was tiled with individual white subway tiles, so I tiled the guest bathroom with the subway tile sheets to see the difference. Then I detailed out all the differences in this subway tile comparison post.
I talk about cost, installation differences and the difference in appearance between the two so you can make an informed decision on your next subway tile project!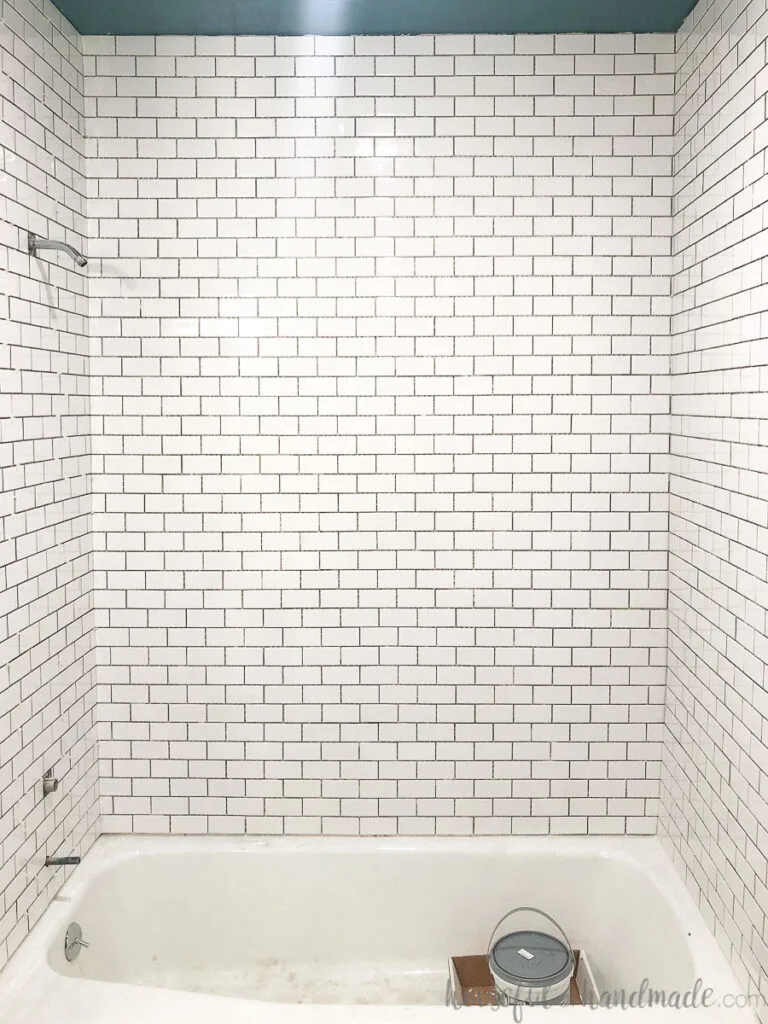 #7- Simple Modern Coffee Table Build
This was the last build plans I made in our old home. And I really wanted it to come with us in the move. Sadly, I had to leave more than I hoped because of lack of space.
If you are looking for a simple, but beautiful coffee table, this one is for you. I love the way the tapered legs turned out. And it is super easy to vacuum underneath!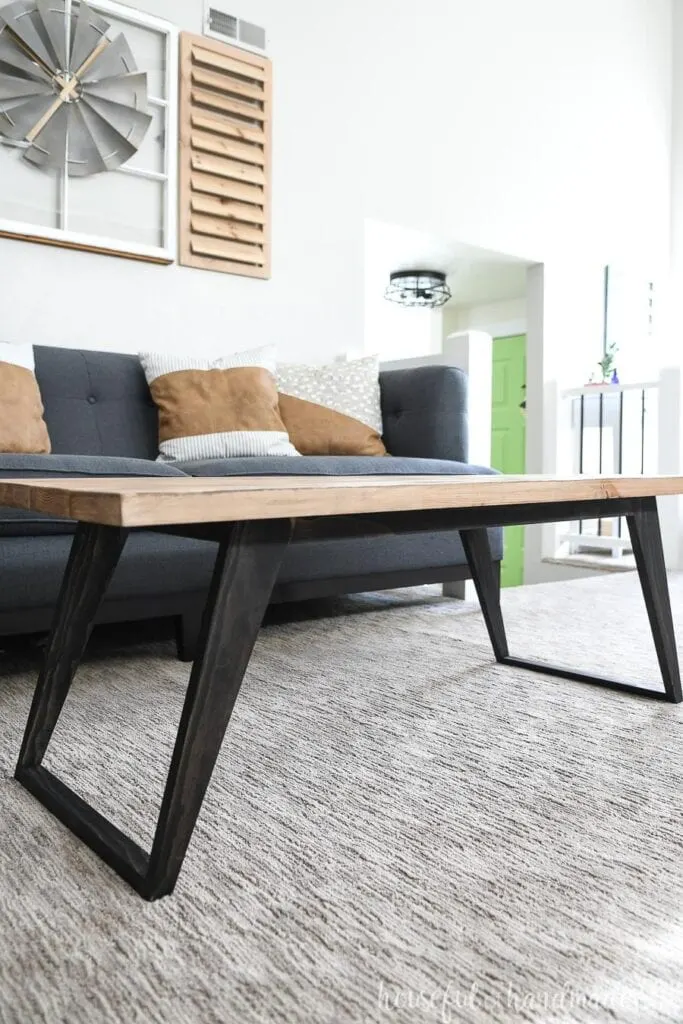 #6- DIY Drawer Dividers for Perfectly Organized Drawers
One of my favorite things about our old kitchen was the organized drawers! The little drawer divider clips I made were perfect for creating easy drawer dividers that didn't move around!
Nothing makes me happier than being able to quickly find the utensils I am looking for when cooking. And now that our new kitchen finally has drawers, I need to get drawer dividers in them again too!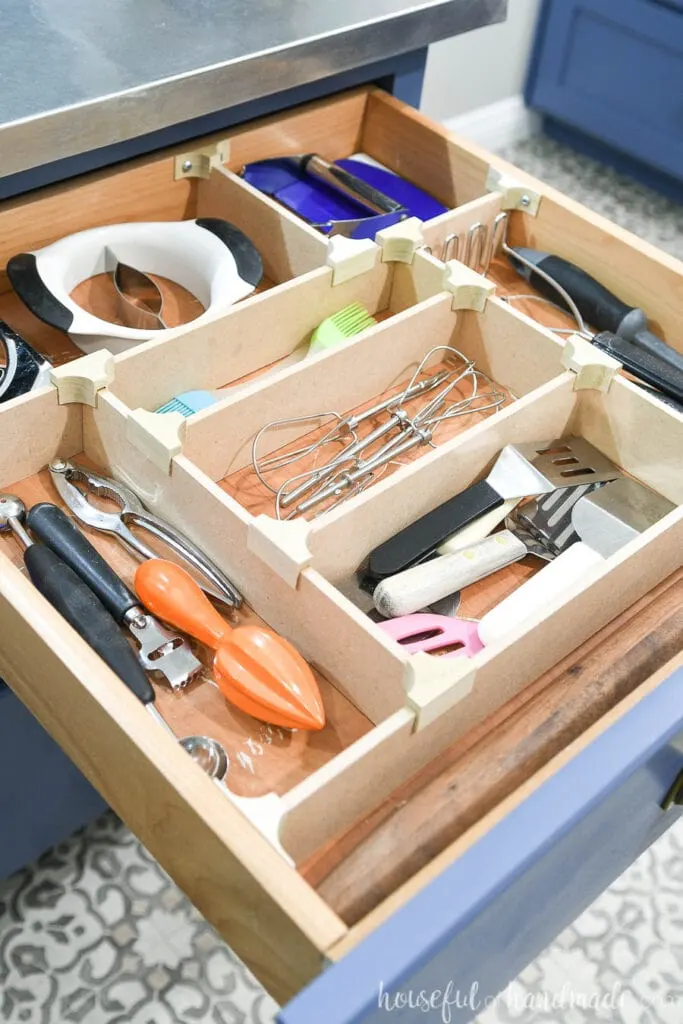 #5- How to Build a DIY Closet Organizer
The only thing better than organized drawers… an organized closet!
This DIY closet organizer can be added to any closet to instantly improve the functionality of it. I used it in my daughter's closet as part of the $100 kids closet makeover we did.
And this wasn't our first closet makeover that was a top post. So if you are looking for more closet organizing make sure to check out this DIY plywood closet organizer build plan that I did for our master bedroom $100 walk in closet makeover too.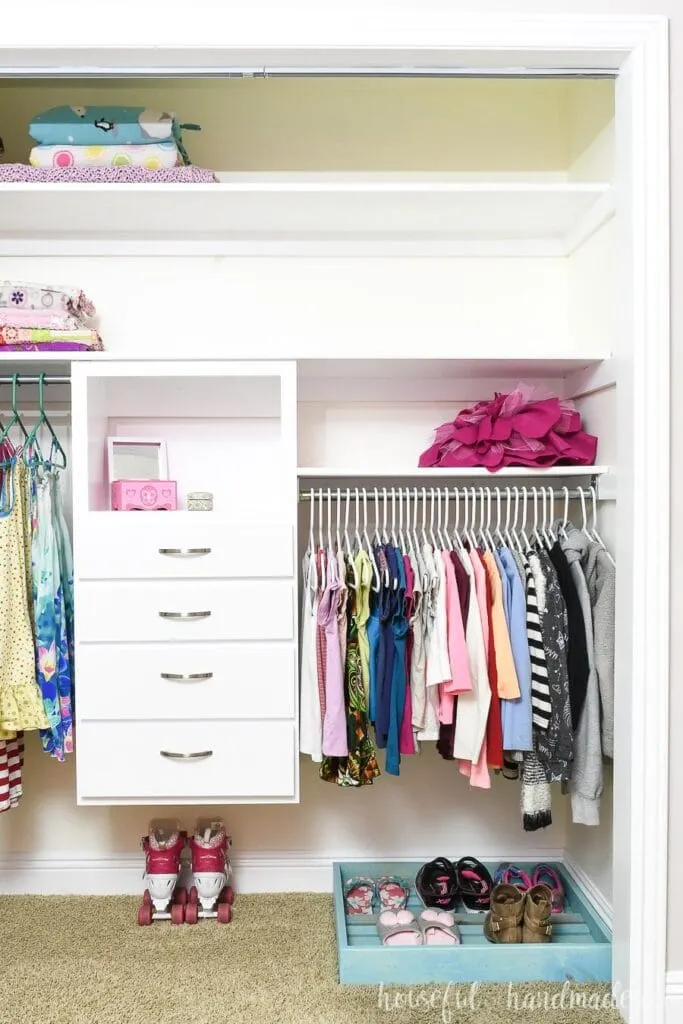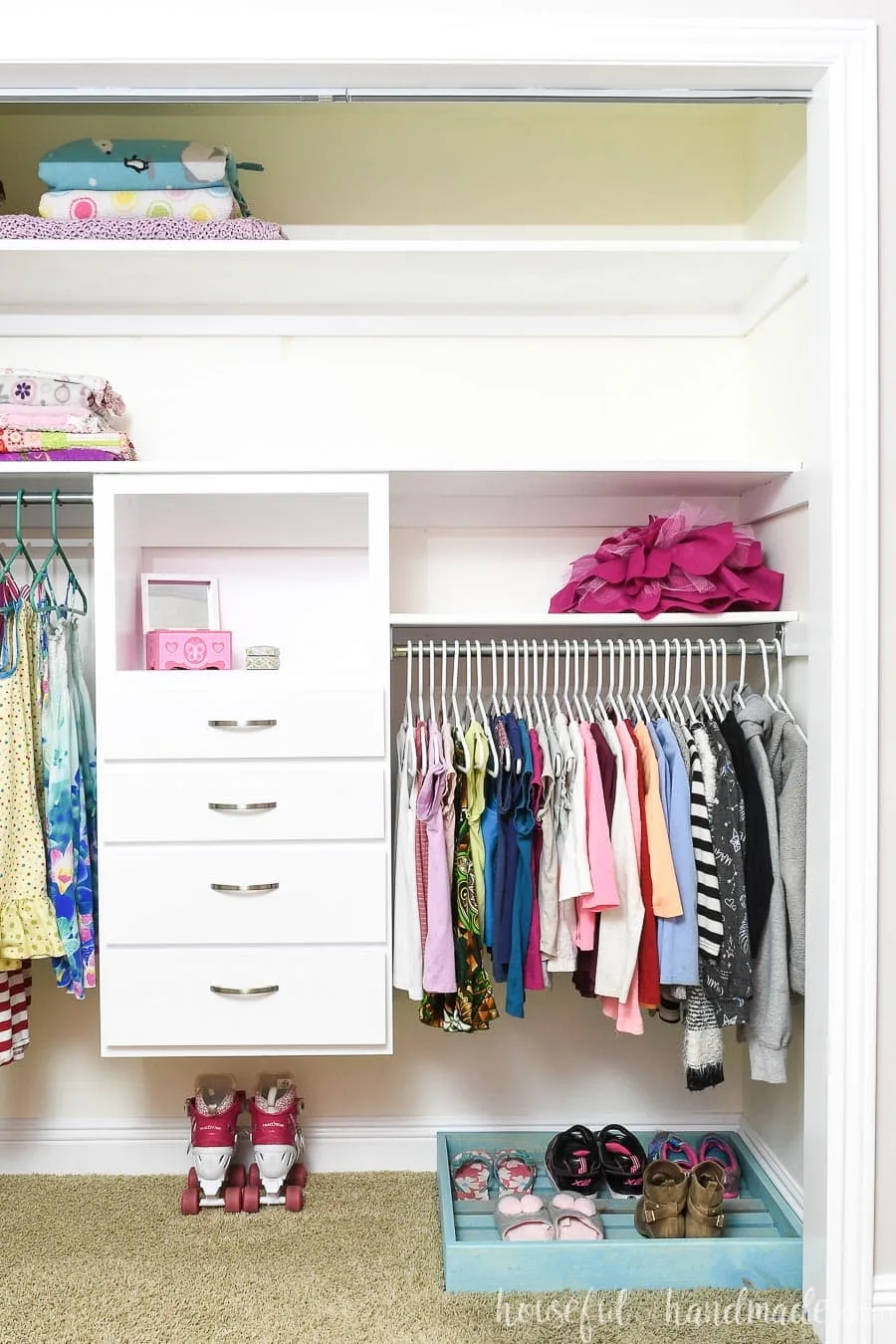 #4- How to Build a Farmhouse Sink Base Cabinet
The How to Build Cabinets series is always a popular one! And no wonder, kitchen cabinets are expensive to buy, but not that complicated to build.
And this year I finally put together the post that everyone was asking for: everything you need to know to build your own farmhouse sink base cabinet.
The farmhouse sink was one of my favorite parts of our old kitchen. After living with a normal small sink at my in-laws for a couple months I was super excited to install another one in our new kitchen.
If you are thinking about adding a farmhouse (apron front) sink to your kitchen, you'll also want to read what to know before buying a farmhouse sink.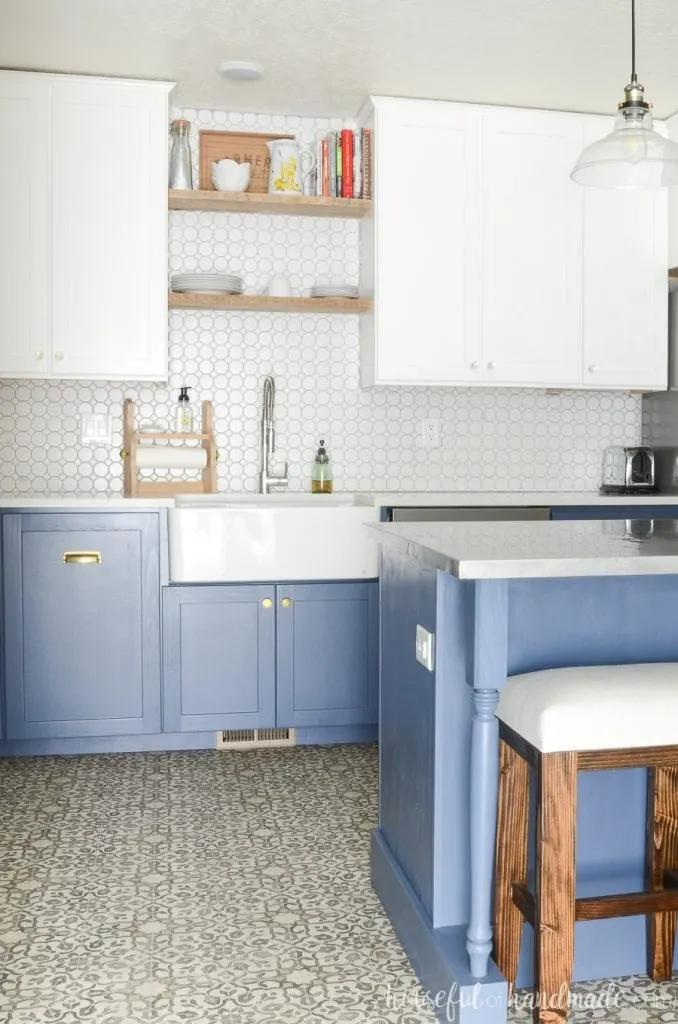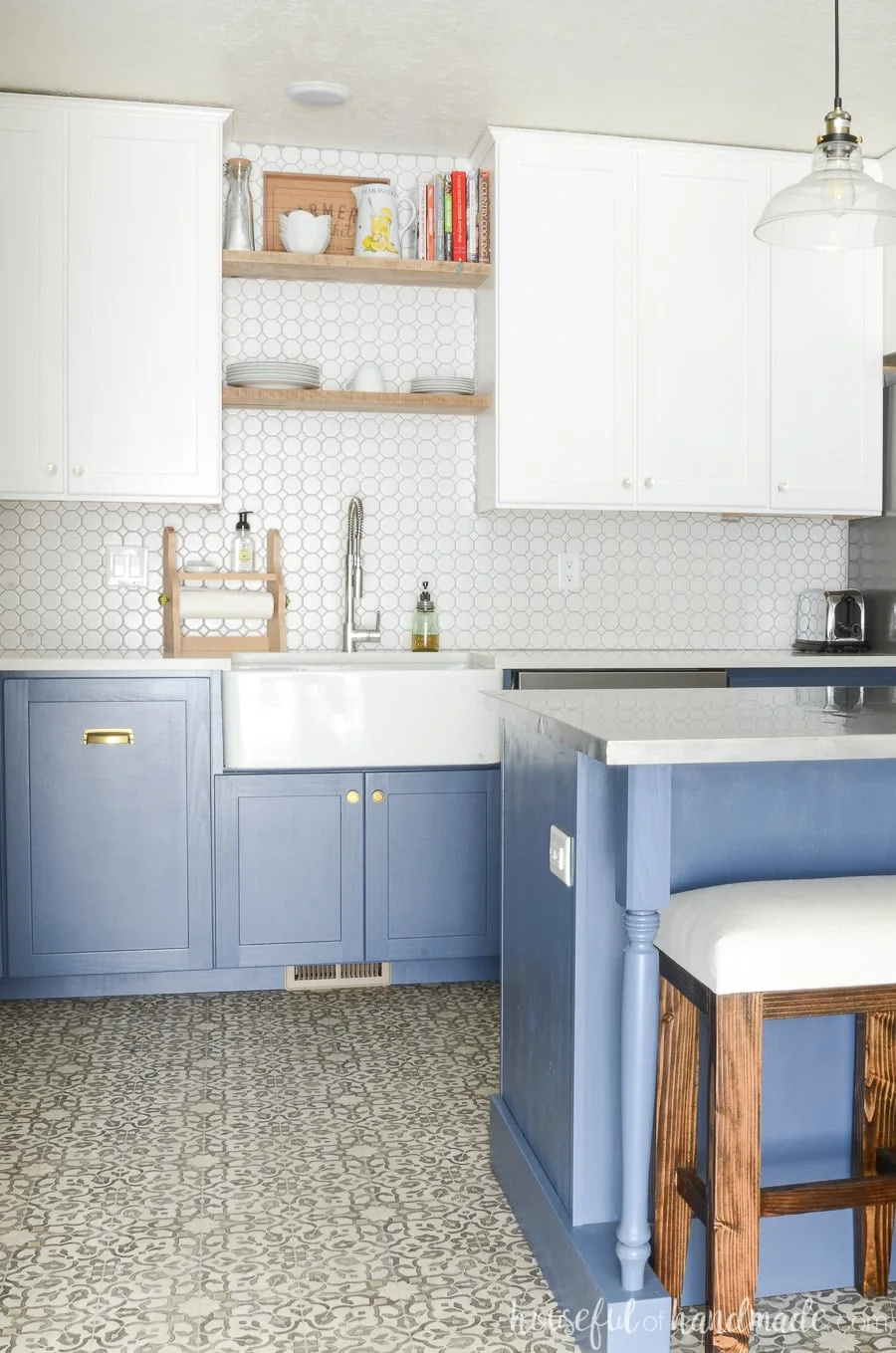 #3- Outdoor Lounge Chair Build Plans
Spending time outside it why we moved from Utah to Texas! We wanted more space and more months of the year with good weather. So of course we needed more outdoor furniture!
These outdoor lounge chairs are perfect for spending time outside. They are large, comfortable, and easy to make. Plus they are sized to fit some standard store bought cushions.
I love sitting in our chairs watching the birds on the lake.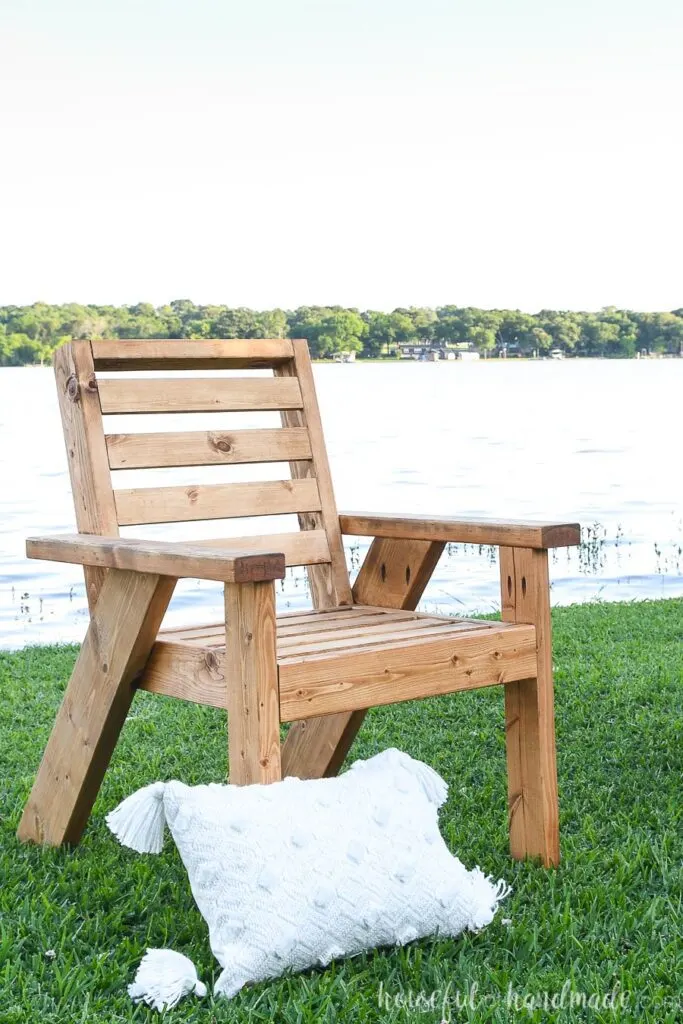 #2- DIY Tall Nightstand Build Plans
I am so thrilled that this post is in the top 10 because I absolutely adore these gorgeous tall nightstands!
We lived without nightstands (or with hand-me-down, non-matching, non-functional tables) for way too long. Partially because I couldn't decide on a design for our nightstands.
I seriously worked on the design for about 2 years. Then it finally came together… the perfect nightstand. There is an open shelf for charging electronics and storing stuff off the top, 2 large drawers, and lots of style.
These nightstands were on the definitely-coming-to-Texas list along with my dining room hutch and sewing machine table.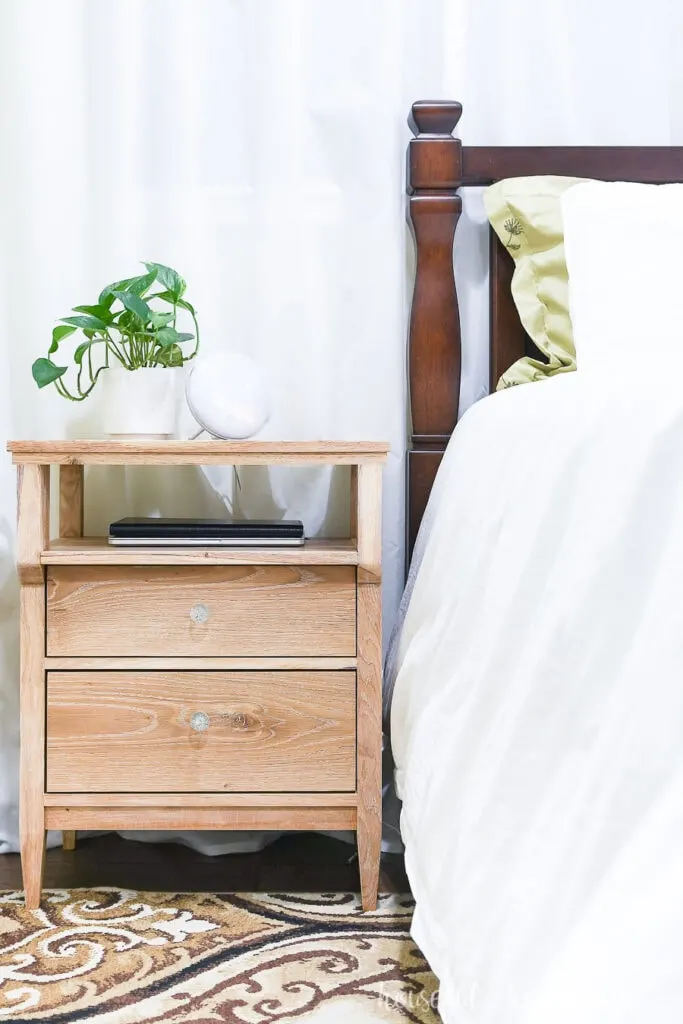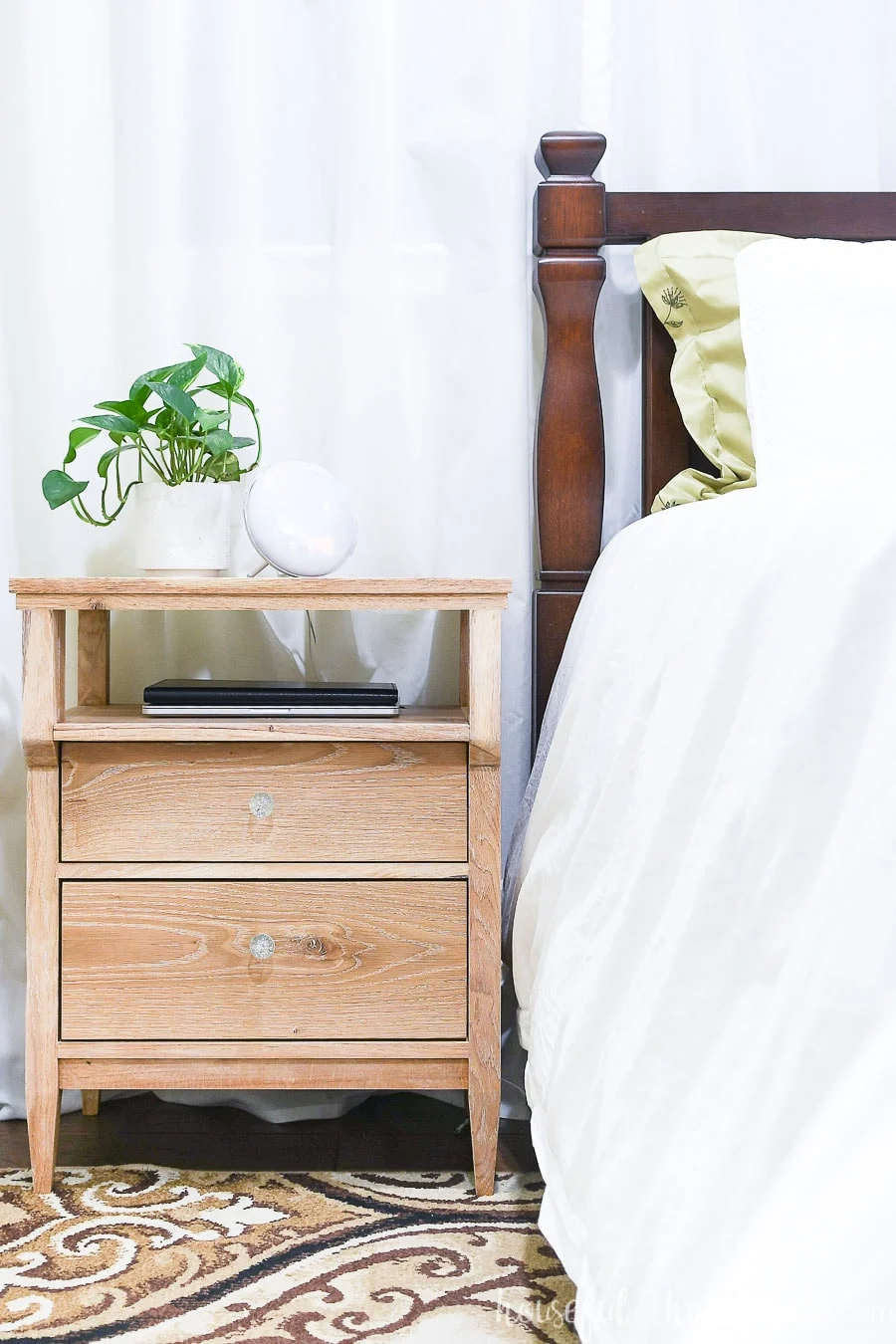 #1- DIY Fold-Away Desk from 2x4s
It is no surprise the number 1 post is this amazing folding desk! With everyone moving to working from home and online learning, desks were in high demand.
But this desk is awesome because you can fold it away when you don't need it. If you live in a small space or need a table for crafts/hobbies, this is the perfect DIY project for you.
Since no desks made the move with us (my desk was built into the closet so it had to stay), we needed desks and fast! This desk is fast, easy and fun to make!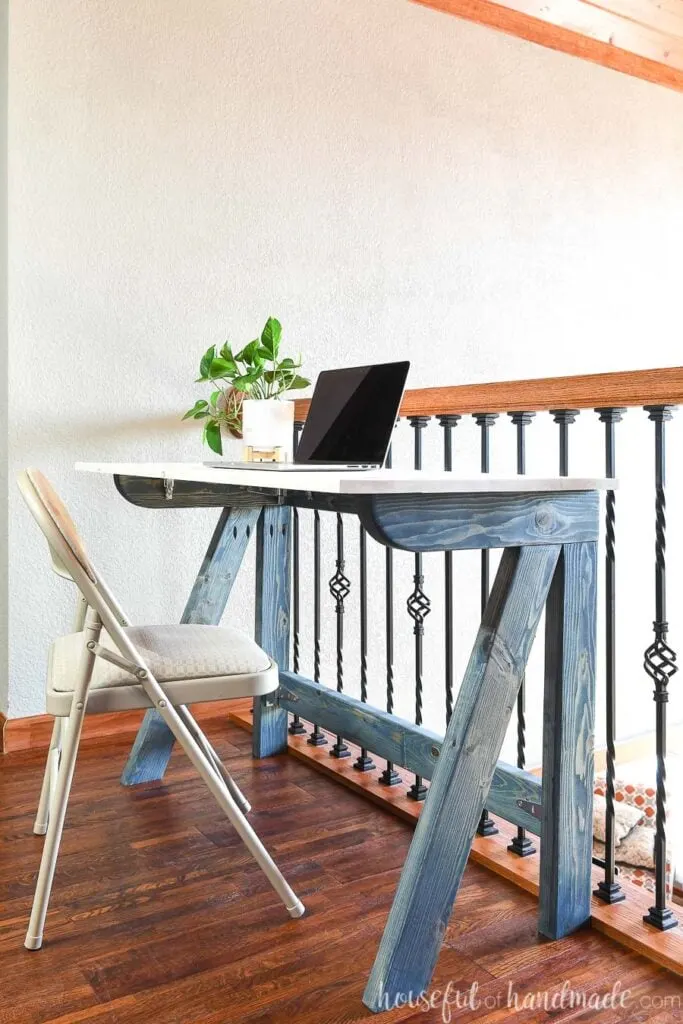 My Favorite DIY Projects
Since some of my favorites from 2020 did not make the list, I wanted to take a quick minute to highlight them! I'd hate for you to miss these amazing DIYs!
DIY Fire Pit
This was our first big outdoor project on our new property! We decided to build it in July… in Texas. Bad idea, but totally worth it.
The fire pit was a bigger project so I split the post into 2. First we got the area ready and made the cinder block bases. Second I built the benches with hinged seats for storage to sit on top of the bases!
And once the heat of the summer left, we have been enjoying many fire pit nights with s'mores and dutch oven dinners!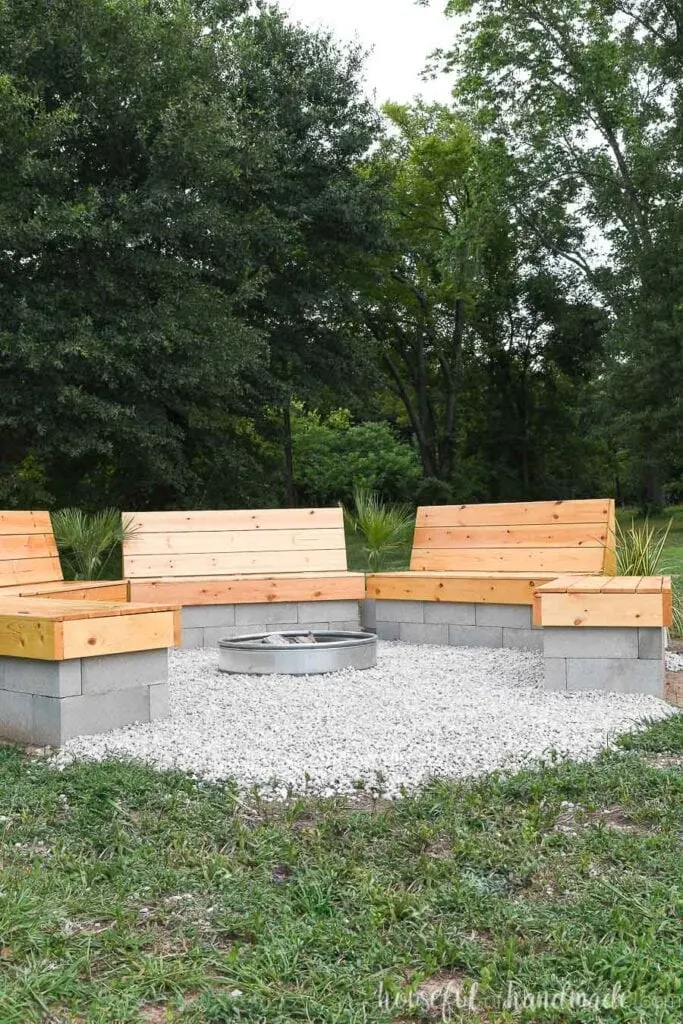 Carved DIY Wood Light Fixture
This project was my top Instagram post for 2020. And I am not surprised because it was so fun to see the wood light fixture come together in just 60 seconds.
It was sad to say goodbye to it because I left it hanging in the stairway of our old home. But I have plans to make a new wood light fixture over our kitchen island so stay tuned!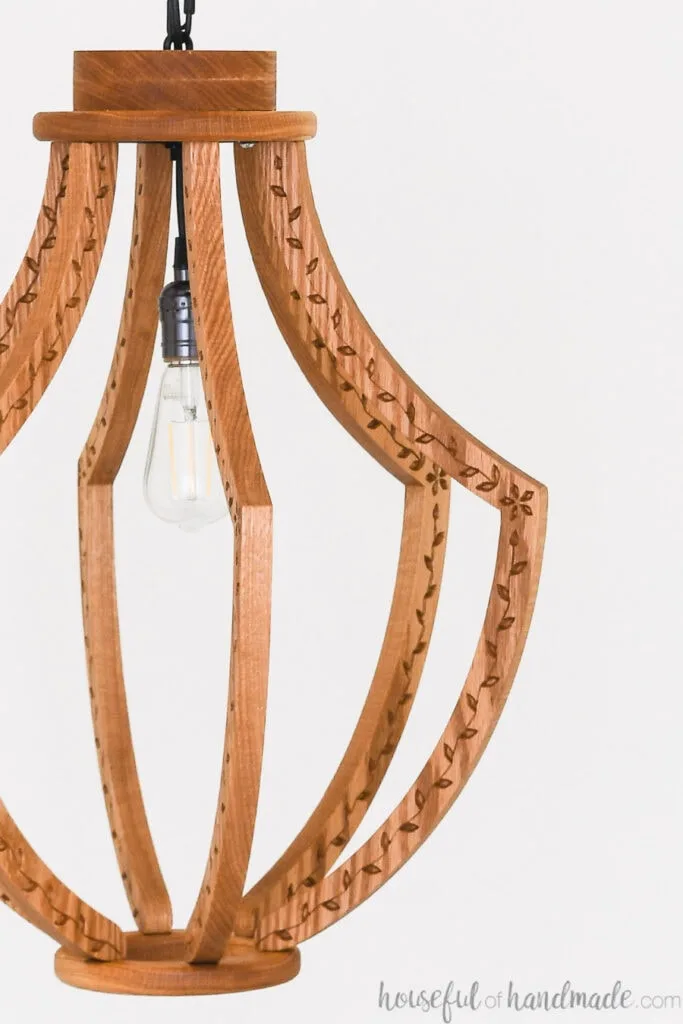 DIY Dining Table with Leaves
As much as I loved our old dining table, it did not make the move because it was just too big. I knew it would take up lots of precious space and it would not fit in our new house.
So instead, I made a new one! This project was so fun for me because it required some serious problem solving figuring out how to add leaves to the table.
The end result is an absolutely gorgeous dining room table with 2 leaves. Now I can have the big table I loved in Utah, but only when we need it.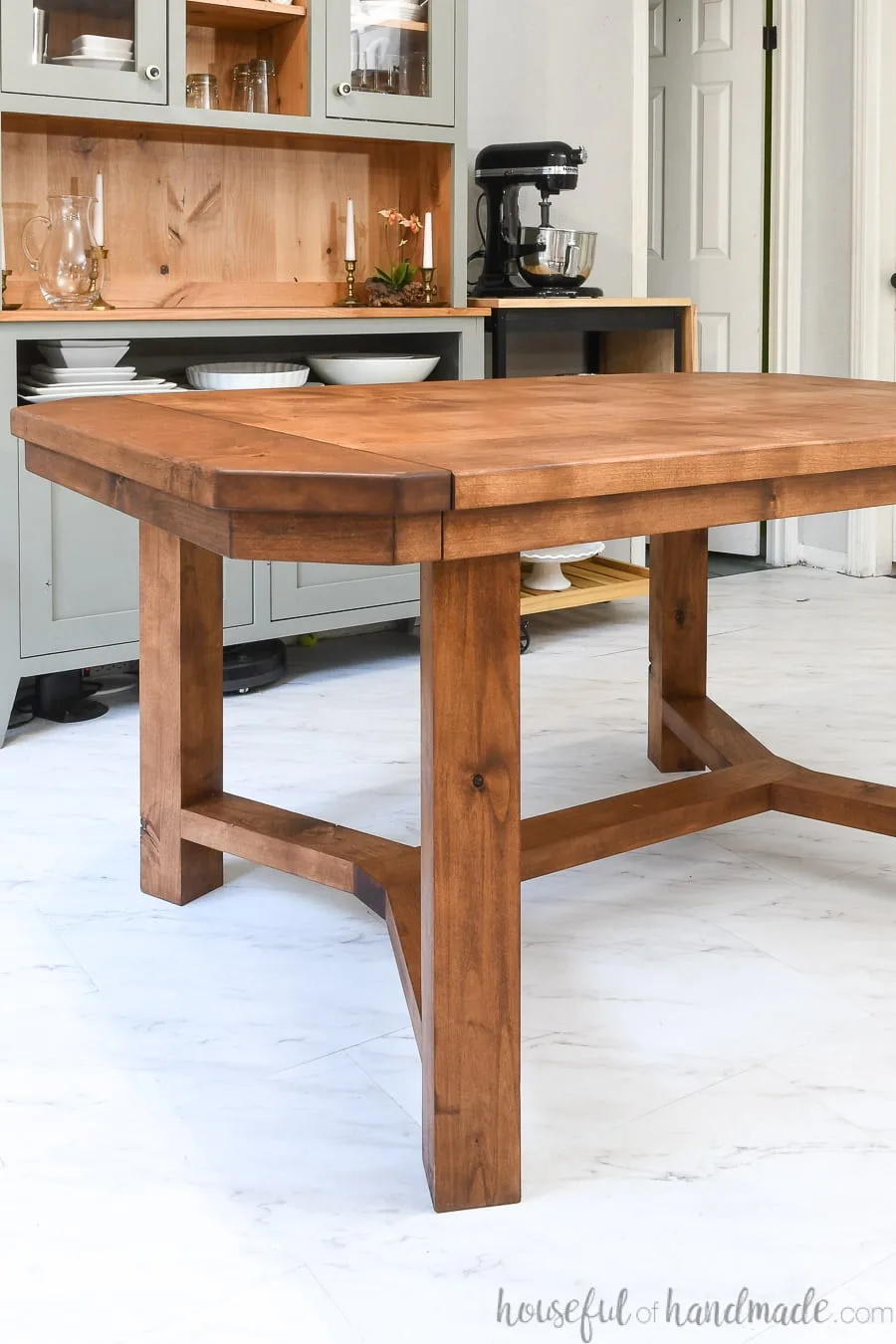 I hope I have inspired you to make plans for some new DIYs in 2021! I know we have lots of them.
To give you a sneak peak of what is to come, I am planning on fencing in a garden area with raised beds, building a chicken coop, building a lakeside pergola and so much more!
I can't wait to share it all with you in 2021!!!